ConnectWise Control provides immediate and secure remote access to attended or unattended computers, thereby allowing individuals, remote workers and IT teams to work efficiently from anywhere in the world.
Pros
Most ConnectWise Control plans include access to an unlimited number of unattended computers and devices.
Administrators can implement a high degree of user control with granular permissions for individuals and groups.
ConnectWise Control offers more than 100 free extensions and third-party integrations at most subscription levels.
Cons
Many of the platform's excellent communications features are unavailable with the entry-level plan.
The entry-level package is also lacking in features compared to similar offerings around the same price point.
Installation and removal are a bit more time-consuming than with other remote access software we reviewed.
Looking for more options?
For more options, check out the rest of Business News Daily's picks for the The Best Remote PC Access Software of 2023.
ConnectWise Control is an enterprise-class remote support tool with reliable features for unattended access.
ConnectWise Control has standout communications functions for smooth support sessions.
ConnectWise Control offers administrators immense control over the look, feel and user permissions across the platform, on top of more than 100 free extensions and third-party integrations.
This review is for small business owners considering implementing remote access software.
ConnectWise Control is a remote support and unattended access platform that shines in the hands of IT professionals who need to support customers with complex hardware and software needs. Middle- and upper-tier plans benefit from better than average communications tools like ConnectWise View – the web-based livestream video feature for remote troubleshooting – as well as support for voice over internet protocol (VoIP) audio meetings and access sessions. The vendor offers flexible monthly and annual payment options for all plans, including highly scalable options for the standalone unattended access plan that can evolve as your business grows.
ConnectWise Control Editor's Rating:
9.5 / 10
Pricing

9.4/10

Ease of use

9/10

Features

9.5/10

Integrations

9.9/10

Security

9.5/10
Why ConnectWise Control Is Best for Communication
Modern businesses and customer service departments have become increasingly reliant on VoIP phone systems to communicate with customers, but not all remote access and support plans fully support this technology like ConnectWise Control does through a number of telephone integrations, including GoToConnect.
In complex remote support settings, especially situations where the customer is experiencing issues with servers or other computing hardware systems, the ability to communicate using a separate video device allows technicians to troubleshoot onsite problems more effectively. With ConnectWise View, you can turn your service customer into a cameraperson, take control of their recording device, and walk them through any necessary repairs as if you were standing over their shoulder the entire time.
Most of the vendor's plans also offer helpful features like remote meeting tools, host chat, video recording and annotations to mark up a shared screen. For these reasons, we found ConnectWise Control to be the best remote access software for businesses prioritizing communication features.
Most businesses will want to invest in the vendor's middle- or upper-tier plan to enjoy what we consider ConnectWise Control's most attractive features and tools.<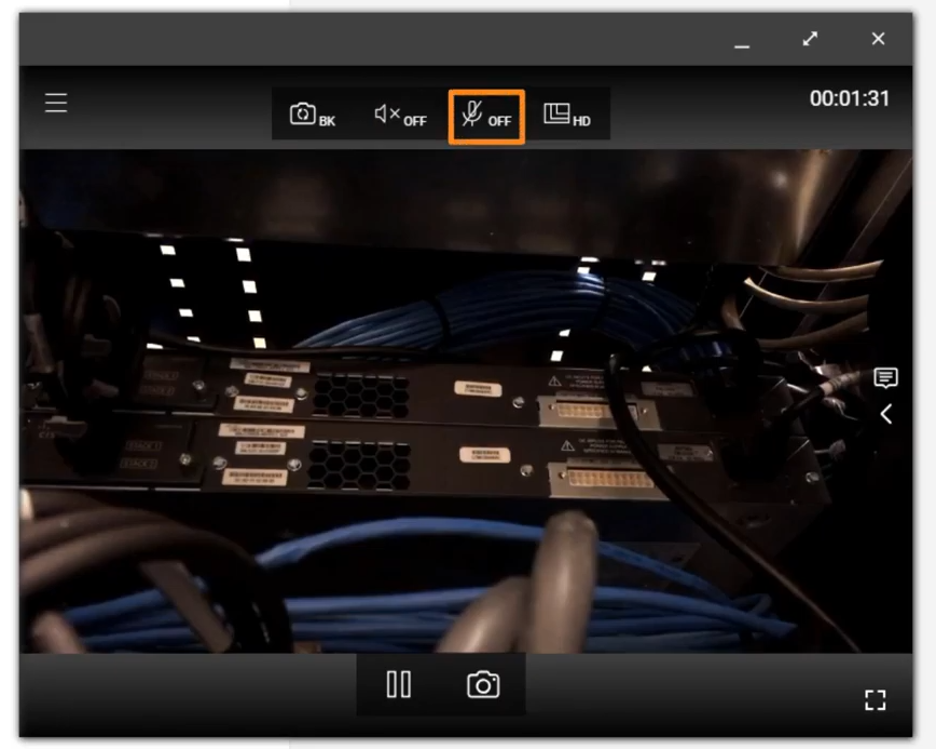 With ConnectWise View installed, you can use your customers' mobile devices to see the problem and walk them through the solution during a remote support session. Source: ConnectWise
Usability
While the initial installation and setup for ConnectWise Control is more complex than rival platforms we investigated, it's still far from difficult to use in remote support or unattended access settings. Most of the complexity during setup is the result of your ability to set granular permissions for your agents – you decide which features or levels of access to allow for individuals, groups, job roles and your remote access system as a whole. Once your platform is customized to your requirements, which includes deciding the look and feel of the platform with many color and icon settings, you can connect to unattended devices or invite a customer to a remote support session with just a few clicks.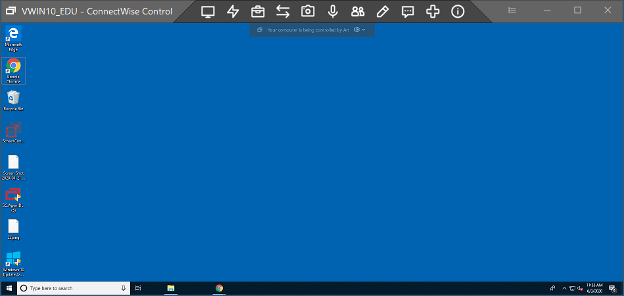 Once your customer has connected to the remote support session, you can immediately begin interacting with their machine. Source: ConnectWise
If you navigate to the "Access" tab on the left side of your ConnectWise dashboard, you'll see all the unattended access machines available to connect, with details about each machine's name, location and online status. Building a new installer for bulk deployment or inviting a single new machine for unattended access is accomplished easily by sending a download link for the appropriate operating system from within the program, through your email client or by copying the URL to send via the communication method of your choice. ConnectWise Control also has a unique feature called Host Pass that allows someone to host a session without logging into the system. We love that with Host Pass, you can invite a guest to host a session for a specific time period under a predetermined set of permissions. This means a third-party vendor can assist you if needed. From the access dashboard, you can also silently send files to your unattended computers without connecting to them and navigating through their menu or folder options.
ConnectWise Control Features
| | |
| --- | --- |
| ConnectWise View | Use web-based livestream video communications for especially challenging support sessions. |
| Integrations | Access more than 100 free extensions and integrations to optimize your remote support and unattended access sessions. |
| Customization | Change the visual theme, set user permissions, and add logos for an appearance that matches your brand. |
| Compatibility | Connect with systems running any major operating system or web browser, including servers and mobile devices. |
ConnectWise View
Available with the vendor's Premium subscription plan, ConnectWise View is a valuable web-based communications feature. This tool allows technicians to troubleshoot as effectively as if they were onsite through the end user's mobile device. Once you've invited your designated remote cameraperson with a randomly generated code and they've agreed to share their camera, you will be able to see their camera feed within the program. During your session, you can switch the camera direction, adjust the video resolution, turn off the microphone, turn off the speaker, pause the stream, and take a snapshot. These features improve communication between parties and make it easy for remote workers and technicians to troubleshoot servers and other hardware with the end user's help.
Integrations
ConnectWise has a vast library of more than 100 integrations and extensions, most of which are free to subscribers. You can find and download add-ons within the application's extension marketplace, arranged by categories like productivity, communication, translation/localization, templates, configuration, and look and feel. Here, you'll find popular support tools like Zendesk, Freshdesk and Outlook. Only the remote diagnostic toolkit and reporting dashboard are considered premium add-ons, and both are included with the Premium plan.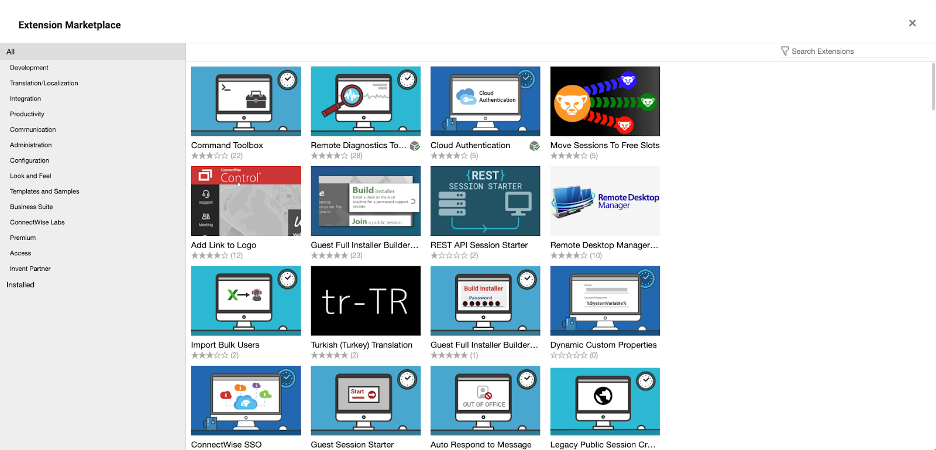 Optimize your remote support and unattended access sessions with more than 100 free extensions and third-party integrations. Source: ConnectWise
Customization
Administrators can customize the ConnectWise Control system to meet their company's needs and branding requirements. You'll find a variety of visual themes and colors to choose from in the administrator's appearance section. You can also easily change customer-facing icons and logos for a seamless aesthetic experience on your website and support sessions. If the default options don't give you enough control, you can further refine the system by installing the custom theme manager from the extensions marketplace. This free add-on allows you to customize your theme in eight sections, using hexadecimal color values or the color wheel to design your page. Admins can also set role-based security and permissions for individuals or groups, allowing varied access to systems and machines.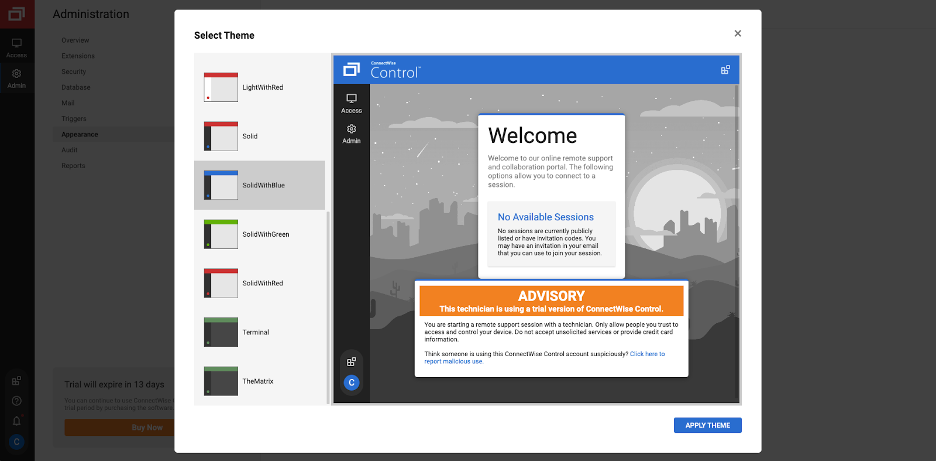 Administrators have access to a range of visual themes that can be further customized with any colors and company logos to match your business's branding. Source: ConnectWise
Compatibility 
ConnectWise Control supports many operating systems and web browsers. In addition to Mac, ConnectWise excels for support techs servicing customers running Windows 7, 8.1, 10 and 11 and Windows Servers 2008, 2012, 2016, 2019 and 2022. Browsers are well represented, with support for Firefox 52+, Safari 10.1+, Chrome 57+ and Edge 41.16299.579.0+. You can also connect with Linux machines for remote support and unattended access with minimum system requirements of x86_64 architecture and Glibc 2.17 or higher. Mobile phone apps are also available for Android and iOS devices to connect to your customers' Windows, Mac or Linux machines.
ConnectWise Control Cost
ConnectWise Control offers three tiered plans that include remote support and unattended access, as well as an agent-based access-only option (known as ConnectWise Control Access) for $30 per month when paid annually. Access plan subscribers are not limited by the number of technician licenses or simultaneous sessions allowed. The basic access plan supports 25 unattended agents, and you can add more agent accounts for an additional fee.
We appreciate that you can test out ConnectWise Control with a 14-day trial that doesn't require a credit card to activate. After that, its tiered plans break down as follows.
One: The One plan has a single-license restriction, allowing one connection for one licensed user. This package provides access to 10 unattended machines and features remote support, meetings, file transferring, printing, customization, branding, mobile technical support, multimonitor view, blank screen, auditing, annotations and two-factor authentication. It costs $27 per month when billed annually or $34 when billed monthly.
Standard: The Standard plan allows one user to make up to three concurrent connections and an unlimited number of unattended machines. This level comes with every feature included in the One plan, along with expanded chat options, remote commands, Wake-on-Lan, VoIP audio communications and support for mobile guest clients. The plan is priced at $42 per month per technician when billed annually or $54 when billed monthly.
Premium: The Premium plan allows one user to make up to 10 concurrent connections. This tier comes with every feature included in the Standard plan, as well as video recording, advanced reporting, remote diagnostic tools and ConnectWise View for video streaming. This plan costs $52 per month per technician when billed annually or $64 when billed monthly.
We highly recommend taking advantage of the vendor's free 14-day trial to make sure ConnectWise Control is the best fit for your company's unattended access and remote support session needs.
Setup
We found it takes a bit more time to install and set up ConnectWise Control than the average remote access product, but the process is not overly difficult or time-consuming. Much of the additional setup time comes from the significant number of configurable permissions you can assign globally or to individuals and groups. It makes sense to view this level of customization as an overall asset rather than a downside of the setup process.
During the initial setup, you can install a long list of free extensions, like language localization or integrations with third-party providers, including Zendesk, Freshdesk and Outlook. In many ways, this is another great asset, despite the time it adds to the implementation process. [See our review of Splashtop for an alternative remote access product with a more straightforward setup.]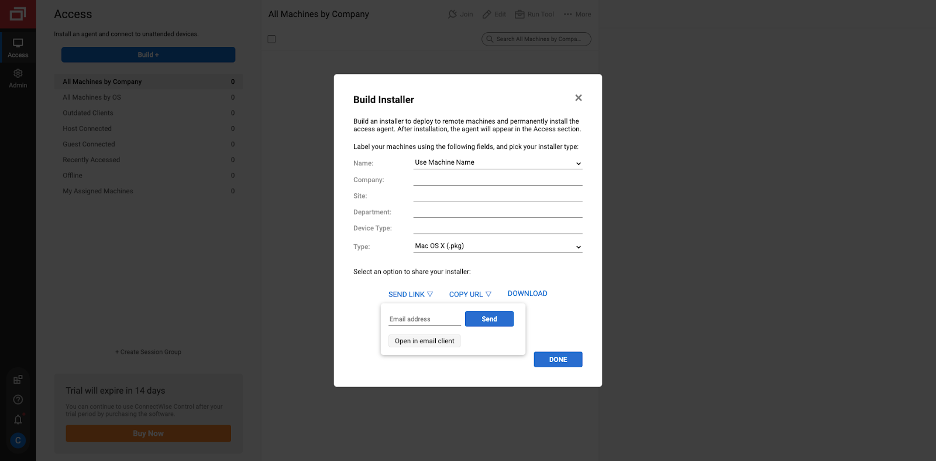 You can easily invite new machines with the access agent link or build a new installer for mass deployment. Source: ConnectWise
Customer Service
Impressively, ConnectWise Control provides 24/7 customer support via email, phone and live chat to all subscribers, which is not commonplace for this product category. You'll also have the option of submitting a support ticket directly from the ConnectWise platform. Other vendors charge extra for 24/7 customer support, as noted in our review of competitor Zoho Assist.
In addition to around-the-clock assistance from a technical support specialist, you also have access to an online self-help resource center filled with instructional on-demand videos, product demos, informative blog posts, e-books and case studies to help you make the most of the software's features.
ConnectWise Control offers better-than-average customer support compared to its rivals, greatly mitigating any potential difficulties with setup, implementation and usage.
Drawbacks
Because it places a stronger emphasis on being support solution for service professionals, ConnectWise Control is a slightly more complex system than other products, with a more in-depth implementation and removal process. In unattended access settings, Mac users will need to bypass security roadblocks to open the installation package from an "unidentified developer." You can bypass this malware security by pressing the Control key or right-clicking on the icon in your Downloads folder to open the file. While all remote access software requires you to adjust some security settings for installation on your unattended computers, most are more straightforward than ConnectWise Control.
We should also note that the usability of ConnectWise Control is limited if you get the entry-level One plan due to its restriction of one technician license per account. This package also feels hampered by the lack of support for iOS and Android mobile guest clients and Wake-on-Lan, both of which you can find for a lower price with other products we reviewed, including Zoho Assist.
Methodology
In our quest to identify the best remote PC access and support tools available, we spent dozens of hours researching and comparing products. We participated in live demos, took advantage of free trial accounts, reached out to customer service representatives posing as customers, and tested the platforms' features on numerous operating systems and devices. In all examinations, we considered pricing, ease of use, features, integrations and security, among other criteria. Our investigation of ControlWise Control and similar software led us to conclude it is the best remote access solution for those seeking strong communication tools.
ConnectWise Control FAQs
ConnectWise Control is a strong remote support and unattended computer access solution. Technicians use ConnectWise Control to troubleshoot issues with customers' computers and devices remotely. Many office and remote workers use ConnectWise Control to access their software and data on their office computers from remote machines.
Yes, ConnectWise Control Access is safe to use. It keeps your data secure and private through a number of cybersecurity measures, including 256-bit AES encryption. Other security features include multiple methods of authentication, role-based permissions, server-level auditing and self-hosting.
ConnectWise Control is priced competitively for remote support and unattended access solutions. The entry-level plan starts at $27, an increase of $4 from our previous review of this product. However, the price includes basic remote support functionality as well as access to 10 unattended computers. If you're looking for the least expensive option, we recommend checking out the limited-but-free plan offered by Zoho Assist.
Bottom Line
We recommend ConnectWise Control for …
Businesses supporting complex software and hardware that need to walk end users through a solution with live video communications.
IT service teams assisting customers with Unix and *nix operating systems.
Companies that prioritize remote support over unattended access but still want to use both solutions effectively.
We don't recommend ConnectWise Control for …
Businesses that are primarily looking for a remote support solution for their mobile customers.
Companies that want the fastest and easiest installation and uninstallation processes.
Business owners who need the lowest-cost solution for remote access and support.