isolved Payroll is our choice for the best payroll service for businesses that need a full suite of integrated HR and workforce management tools. It provides payroll and payroll tax services, employee benefits administration, onboarding, and much more.
Pros
isolved's payroll services integrate seamlessly with its broader suite of HR and management tools.
isolved's online learning experience platform helps businesses learn its systems and solve problems. 
Mixing and matching customized services is easy; you can add or remove functions as needed.
Cons
isolved doesn't share pricing information on its website; you'll need to call for a custom quote. 
Its payroll functionalities are limited in comparison to those of more comprehensive competitors. 
isolved discontinued its mobile app, which some employees may prefer for self-service functions.
isolved offers a suite of human capital management (HCM) tools to help businesses find a scalable HR solution that fits their needs.
isolved's human resources platform syncs payroll operations with HR, benefits and time-tracking systems.
isolved prioritizes employee self-service options, including accessing pay stubs and updating direct deposit information. 
This review is for small business owners considering using isolved for their payroll and HR needs.
Many small businesses need help with various HR functions, including payroll. isolved is a cloud-hosted provider with a suite of human capital management (HCM) tools that can efficiently handle payroll processing, payroll taxes, benefits administration, and other workforce and talent management functions. Handy self-service tools empower employees to monitor and change schedules, manage time cards, access benefits information and pay stubs, and more. Additionally, isolved's learning management system and resources can help businesses get the most from the platform.  
isolved Editor's Rating:
8.1 / 10
Pricing

8/10

Features

8.5/10

Usability

8.8/10

Employee self-service

7.5/10

Customer service

7.5/10
Why isolved Is Best for Companies That Need Full HR Functionality
isolved's HR and payroll features are part of a broader spectrum of functionalities, including talent acquisition, talent management, workforce management, HR and benefits services, and predictive people analytics. You can choose essential payroll services and add other features to create a custom HR solution for your business. There's also an integrated HR and Payroll module that merges employee and payroll recordkeeping data. We like that businesses can add or remove features as their business scales or pivots its focus. 
isolved's payroll functionality and interface are straightforward and easy to navigate and cover essential payroll management basics. You can calculate payroll liabilities, schedule payments, and create custom HR and payroll reports. The software automatically handles employment tax rate calculations and more. 
While isolved isn't the easiest platform to learn, the vendor provides a proprietary learning experience platform that hosts short courses and programs to help its clients get the most out of the system. 
isolved's wealth of HR tools and easy scalability make it our choice for the best payroll service for businesses that need full HR functionality.
isolved was founded in the mid-1980s in response to the introduction of COBRA requirements and continues to offer comprehensive COBRA support.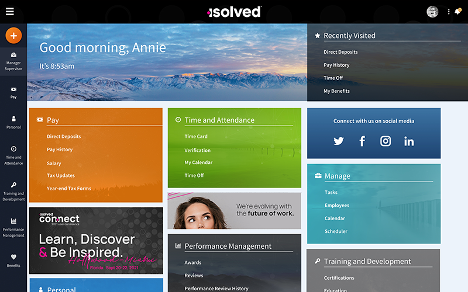 isolved prioritizes the employee experience by clearly displaying the information they need to manage their work lives. Source: isolved
Usability
isolved has a clean, uncluttered user interface. However, navigation isn't always intuitive, and accessing the various modules you need can be challenging. While isolved stands out as a payroll solution that works best in tandem with its wider HR and workforce management tools, many of its competitors are easier to use. For example, Gusto is exceptionally easy to use and seamlessly integrates with its other HR tools and resources. Read our Gusto review to learn more. 
However, we like isolved's exceptional online support options, which can help users learn the platform and its intricacies and get the most out of their investment. Educational resources include reports and scheduled events, including webinars and roadshows. White papers, infographics, e-books and numerous searchable articles can help users get familiar with isolved's tools. 
isolved prides itself on providing an "adaptive employee experience," granting users consistent experiences whether they access the platform from a desktop or mobile device. However, the company discontinued its isolved Go mobile app. While managers and employees can access necessary functions on their mobile devices, running payroll and creating reports can be challenging on smartphones. 
isolved Features
isolved has numerous offerings that can help a business with payroll and HR functions. Here are a few features we found notable: 
| | |
| --- | --- |
| Payroll functions | isolved provides essential payroll functions and is exceptionally flexible.   |
| Tax management | isolved can help your business stay tax-compliant.   |
| Learning experience platform | Online courses and training programs can help businesses learn about isolved's features and functionalities. |
| Benefits enrollment and administration | isolved supports employee-led benefits administration, reducing the burden on HR personnel. |
| Employee self-service | Employee self-service functions simplify clocking in and out, shift management, and scheduling. |
Payroll Functions
isolved can handle your business's essential payroll processing needs. We like that the vendor supports multiple payment methods. Your employees can receive compensation via direct deposit and several direct deposit alternatives, including payroll cards. isolved can handle multiple employee locations, classifications and lifestyle preferences. 
We also like that isolved includes off-cycle and on-demand payroll, salary revisions, and support for external payroll vendors. You can track and audit payroll, access federal and state-level payroll form management, and provide cash reimbursements for employee expenses. isolved can handle payroll deductions for employee benefits (like retirement plans), wage garnishments and workers' compensation.
However, isolved's payroll features aren't as robust as those of some competitors, so it may not be an ideal solution if you have more complex needs. For example, QuickBooks Payroll provides same-day direct deposits, which isolved doesn't. Read our QuickBooks Payroll review to learn about this comprehensive payroll solution.
isolved helps your business benefit from paperless payroll while adjusting for wage garnishments, workers' compensation and employee benefits like retirement plans.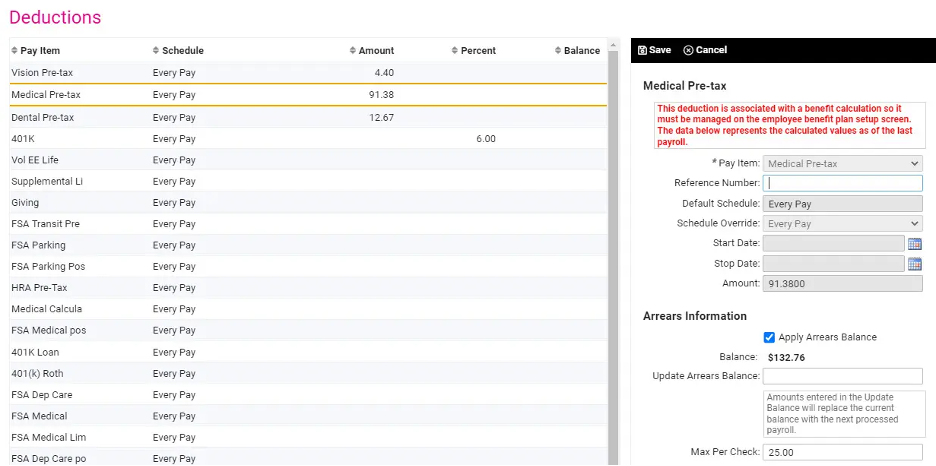 isolved automatically adjusts payroll for deductions like retirement plans and health insurance. Source: isolved
Tax Management
Dealing with payroll taxes and other tax issues can be a headache for business owners and managers. isolved can ease the burden by automatically calculating taxes, filing taxes with the appropriate agencies and remitting payments. It can even file payroll taxes in multiple states, which is necessary for many businesses with remote workforces. 
We like that the software can also process tax credit eligibility and alert businesses to potential payroll discrepancies, slashing the risk of your business incurring penalties.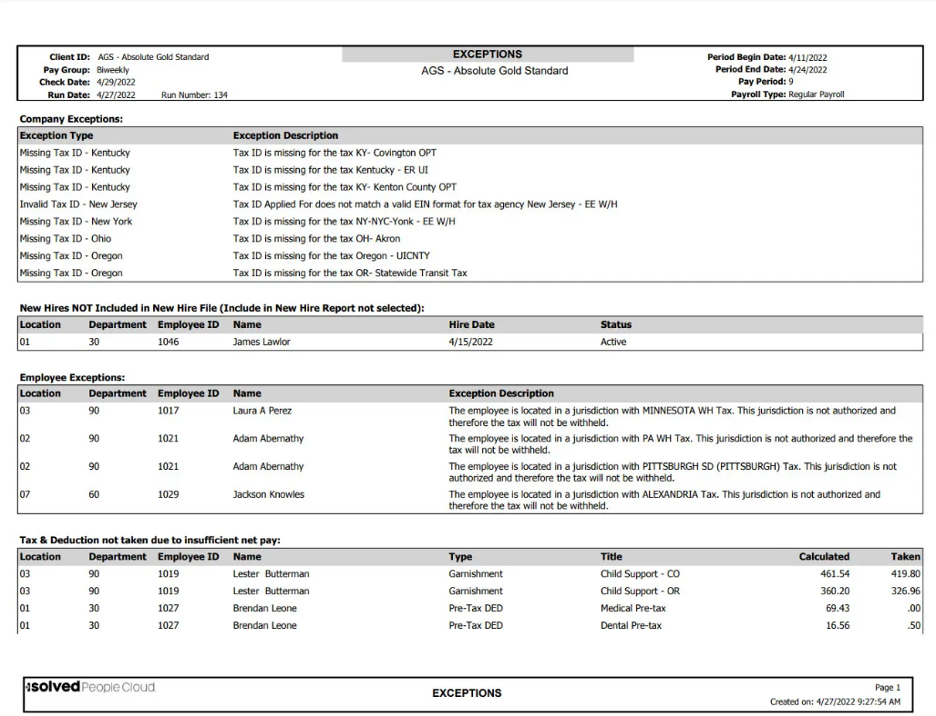 isolved will alert you to potential payroll discrepancies like missing tax IDs. Source: isolved
Learning Experience Platform
We were impressed by isolved's robust People Heroes University learning experience platform. It covers a wealth of training, courses and certifications for HR managers and employees, including employee onboarding, how benefits work, managing year-end processes and navigating career paths. 
HR managers can use this powerful resource to assign specific courses to employees as needed while ensuring unified training across the board. 
The People Heroes University platform has a gamification focus – employees earn badges and unlock new content – that fosters employee engagement.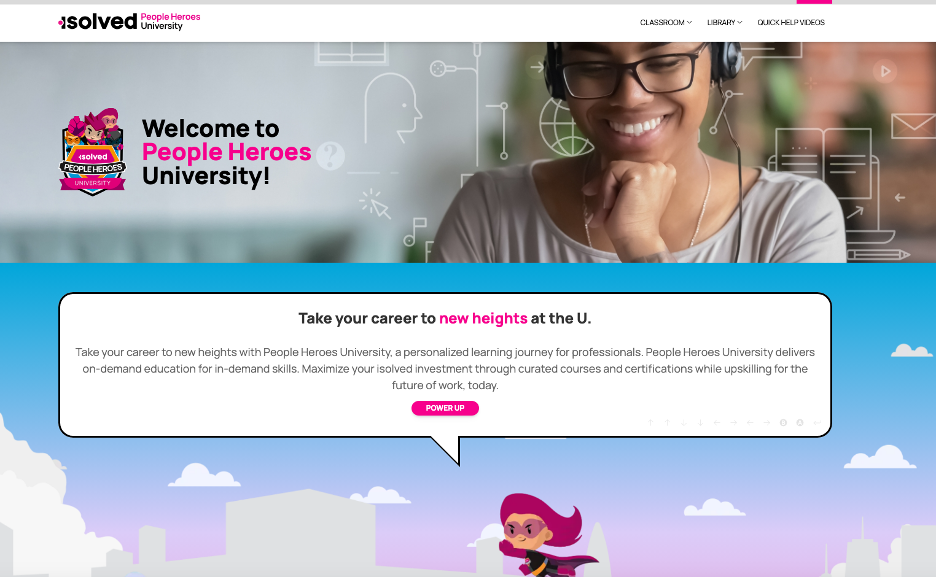 isolved's People Heroes University is a gamified learning experience platform that can get all your employees trained and up to speed. Source: isolved
Benefits Enrollment and Administration
isolved's benefits administration tools are on par with those of many payroll services we reviewed. Employees can research, select and enroll in available and appropriate benefits, including health insurance, retirement plans, flexible spending accounts and health savings accounts. Updates can be automatically fed back to insurance carriers and benefit providers, while integrated ACA and COBRA tools ensure compliance requirements are met.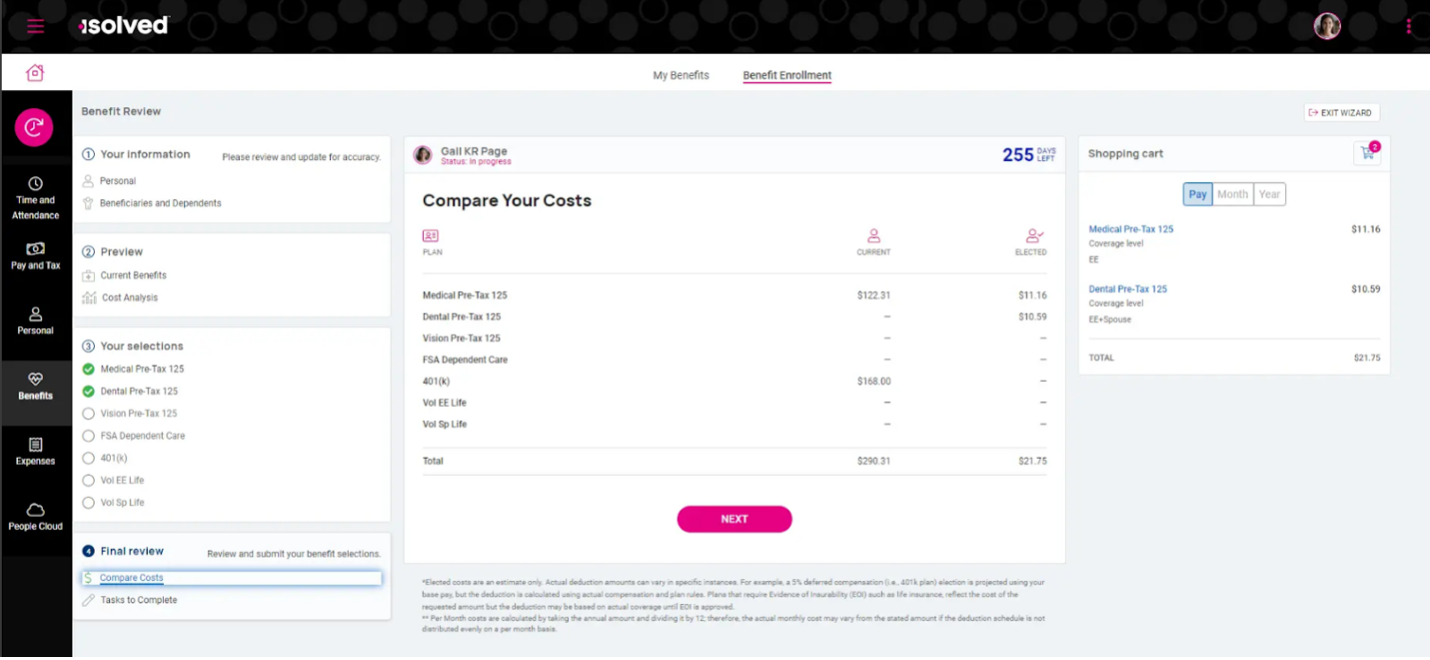 Employees can learn about their benefits options, choose benefits and compare costs. Source: isolved
Employee Self-Service Options
We really like that isolved emphasizes employee self-service to help create a better employee experience. Your employees can use the adaptive "employee experience platform" to sign in and access their data, benefits, W-2 forms, available paid time off (PTO) and pending changes. They can make time-off requests, and managers can approve them quickly. Note that you'll need to enable time and scheduling tools for some of this functionality. 
While isolved discontinued its mobile app, employees can access self-service tools from mobile devices or desktop computers. 
Not all competitors have this level of employee self-service. For example, as we detailed in our review of Paychex, you must upgrade to a premium platform to offer employee self-service.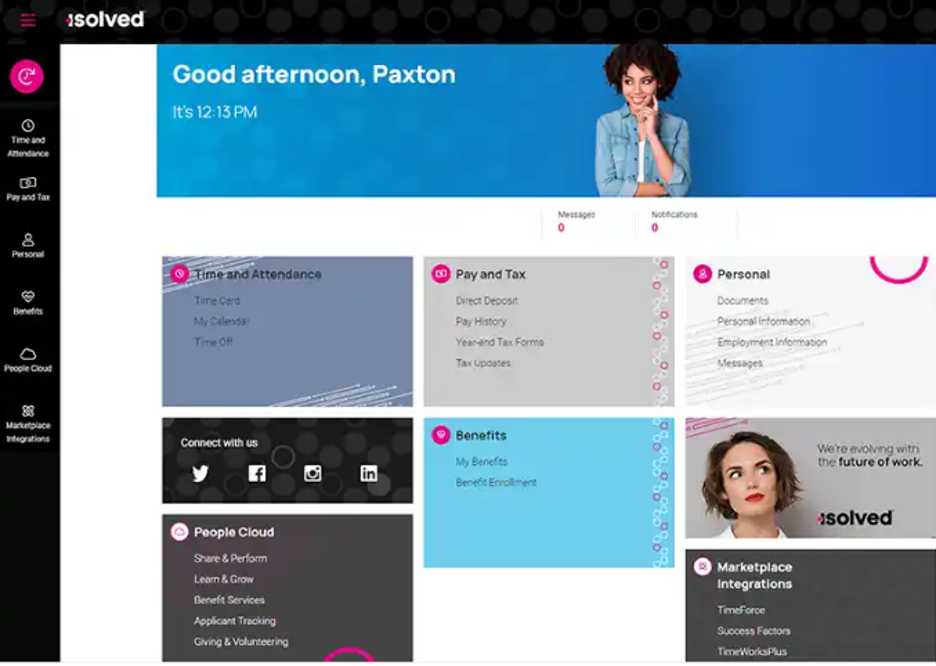 Employees can access the adaptive employee experience platform to view personal information, make time-off requests and more. Source: isolved
isolved Pricing
isolved provides tailored price quotes based on the services a business needs. Unlike many competitors, you can't go online to get an idea of how much your payroll and additional services will cost. The company says services are usually priced on a per-employee-per-month basis.
isolved offers the following service modules:
Attract & Hire
Onboard & Develop
Payroll
Human Resources
Benefits Enrollment and Administration
Benefit Services
Workforce Management
Share & Perform
Learn & Grow
HR Services
Predictive People Analytics
Giving & Volunteering
Financial Wellness
Setup
Your isolved setup process will depend on the features and services you select. If you need payroll services only, setup will be fairly straightforward. You'll need to enter your employees' information, pay rates and more. However, since isolved is best when utilizing multiple HR services, the setup process can be more complex. isolved does provide setup help via an implementation specialist to assess your needs and help you and your team get trained. 
While the isolved interface is user-friendly, you should expect a bit of a learning curve if you're accessing comprehensive services, and you'll likely need to spend time on implementation, onboarding and training. 
Customer Service
Businesses can reach isolved's customer service by phone or email via specific contact information in their account. You can reach an isolved representative Monday through Friday from 8 a.m. to 8 p.m. ET. 
We thought it was unfortunate that isolved doesn't provide 24/7 customer service, given the platform's potential complexity and the varying hours of entrepreneurs and businesses in many industries. Additionally, there's no live chat support option. And if your employees have questions, they're instructed to contact your HR manager – they can't contact isolved for help. 
Still, we appreciate isolved's online help resources. And we like that isolved is accredited by the Better Business Bureau and has an A+ rating. However, BBB customer reviews sit at 1.83 out of 5, with many citing customer service complaints. Still, review numbers are limited, suggesting its market presence isn't robust.
Drawbacks
isolved can bring many benefits to businesses that need essential payroll support and specific additional HR services. However, we identified the following downsides:
Pricing isn't available online. Pricing isn't listed on the isolved website. You must contact the company for a custom quote. While getting a custom quote makes sense when choosing a-la-carte services, many business owners like getting a general idea of costs for planning purposes. If you have straightforward payroll needs and want a simple pricing structure, check out our review of OnPay. This vendor charges a monthly base fee of $40 plus $6 per employee per month.
isolved doesn't support international payments. isolved won't work for you if you must pay employees who live abroad. Read our review of Papaya Global if you have international payroll responsibilities. Papaya Global can support payments in different currencies to over 160 countries.
isolved doesn't offer 24-hour customer service. isolved has limited phone and email customer service. If 24/7 customer support is a deal-breaker for your business, check out our review of ADP Payroll. This vendor's service is highly rated.
Methodology
When evaluating the best payroll services, we examined multiple vendors' payroll processes, integrations, pricing, usability, setup and other factors. We also checked customer reviews, researched Better Business Bureau ratings, and evaluated customer service response times and assistance quality. To determine the best payroll solution for businesses that need full HR functionality, we looked for plan customization options, a selection of workforce management features and add-on availability. Our goal is to help businesses choose the right payroll service.
isolved FAQ
The isolved platform is a suite of integrated HR, payroll, workforce management and HCM software aimed at managing entire employee lifecycles.
Yes. The platform's adaptive user interface works on multiple operating systems and platforms, including mobile devices.
Overall Value
We recommend isolved for …
Startups that need payroll integrated into a wider HR and workforce platform.
HR managers who want to empower their teams with many employee self-service options. 
Businesses that prioritize online learning resources. 
We don't recommend isolved for …
Businesses that want a full-featured, stand-alone payroll platform.
Companies seeking transparent pricing so they can compare platforms and costs.
Businesses that need 24/7 customer support.