ProTexting is a no-frills text message marketing platform with straightforward features that are highly accessible. The platform's color-coded dashboard and easily navigable tools make it the top text message marketing service for ease of use.
Pros
ProTexting has a color-coded dashboard that visually links certain features and analytics while showing you where to access the tools you need.
ProTexting's main features appear as dropdown menus on the left-hand side of your dashboard, through which you can quickly access certain tools.
ProTexting shows you what your messages will look like to recipients, while placing links, emojis and data tags within quick reach.
Cons
Although ProTexting abounds with built-in apps, it's relatively lacking in integrations, and all integrations must be manually activated.
ProTexting is limited in scope for its price point.
You must fill out two compliance forms before you can add or upload contacts, and ProTexting's processing of these forms can delay your setup.
Looking for more options?
For more options, check out the rest of Business News Daily's picks for the The Best Text Message Marketing Services of 2023.
ProTexting is a text message marketing platfom that displays its easy-to-use basic text message marketing features clearly on its dashboard.
ProTexting's tools are simple to learn, as they lack bells and whistles, and you'll clearly see how your messages will appear on a recipient's phone.
Alongside introductory texting tools, ProTexting offers thorough analytics, a plethora of free add-ons, and more advanced tools for a monthly fee.
This review is for small business owners and marketing professionals who are thinking of using ProTexting for their text message marketing.
ProTexting is a great choice of SMS marketing platform if you need ease of use without feeling overwhelmed by nice-to-have but unnecessary features. When you log into the platform, you'll see a color-coded dashboard that clearly displays your most important metrics. You'll also see your inbox and analytics alongside subcategorized messaging, contacts, keywords and apps tools. The essentials are right there and clearly organized and accessible from the get-go, making ProTexting our top pick for ease of use.
ProTexting Editor's Rating:
9.1 / 10
Ease of use

10/10

Navigability

10/10

Analytics

9.5/10

Setup

8.5/10

Pricing

7.5/10
Why ProTexting Is Best for Ease of Use
ProTexting is easy to use and navigate from the moment you first log into the platform. We were impressed with the clean, color-coded dashboard, pictured below. Notice how each metric in the second row is in the same color as the related hub up top. For example, the red color-coding clearly links your opt-out rate to your campaigns – the tool most closely related to opt-outs. We also like how easily you can create a new campaign from the dashboard and see your included toll-free number at the top right.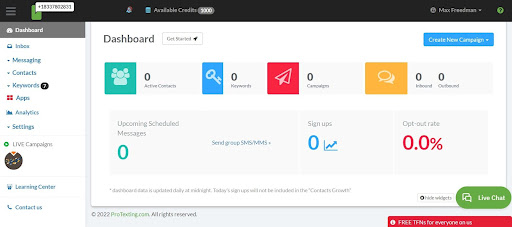 Admittedly, most of the text message marketing services we reviewed are easy to use. Podium, in particular, compares well to ProTexting in terms of usability. (Check out our full review of Podium if you want to manage customer relationships through SMS marketing.) However, ProTexting takes the cake because it couples simple tools with easy access. Notice that the tools on the left-hand side are dropdowns. These dropdowns contain all the individual tools you might want to use – you'll never need to guess where to find them. This feature elevates the ProTexting user experience above the competition.
Usability
While most text message marketing services we reviewed are user-friendly, ProTexting leads the pack. From its color-coded, uncrowded dashboard to the simplicity of each tool, ProTexting scores the highest on user interface and navigability.
All basic and mid-level ProTexting features are accessible from the dropdown menus on the left-hand side. For example, instead of loading a Contacts tool and looking for the "import contacts" button, you can manage all that from your dashboard dropdown. All ProTexting tools are equally easy to access and use. The messaging suite, in particular, makes composing and viewing messages easy. You can quickly add data tags, emojis and links to your texts and see how they'll appear to customers.
When you access a ProTexting tool, you'll see how the messages you're creating will look to your recipients. As you write your message,  a phone screen graphic on the right-hand side will be populated. This screen will display your text, links, data tags and emojis, which take mere seconds to add. You'll be left with no questions about how your content will appear to customers. While other text message marketing platforms have similar features, we found ProTexting's to be the clearest.
You can access your contact groups, keyword history and message history right from your dashboard. Expand the relevant left-hand side dropdown, then click directly on the tool you want to use.
You also won't encounter distracting clutter with ProTexting. In our guided demo with ProTexting's CEO, he mentioned that ProTexting's philosophy is "not to give a tank to someone who wants a car." ProTexting does lack customization options and guided training, but there's no reason you'd need either. The platform is so intuitive to navigate and use that customization and guidance options might waste your time. Even its analytics tool is crisp and clean, and in our research, we found most competitors' analytics views to be cluttered.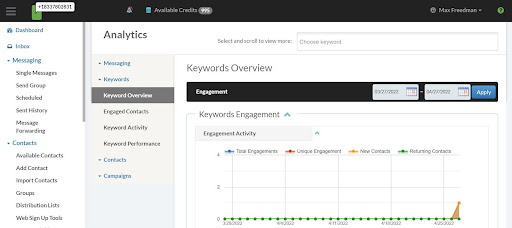 Features
| | |
| --- | --- |
| Color-coded dashboard | ProTexting's dashboard is uncluttered. Related tools and metrics appear in the same color. |
| Dropdown navigation panel | ProTexting houses its messaging, keyword and contacts tools under dropdowns for seamless dashboard access. |
| Robust apps tool | You can find several dozen add-ons and a few integrations in the well-organized ProTexting apps tool. |
| Clean, varied analytics | ProTexting offers a variety of analytics with especially clear graphics. |
| Compliance tools | ProTexting keeps you compliant with mobile carriers through certain features in the Contacts module. |
Color-Coded Dashboard
Intuitive navigation is important to any good text message marketing service, and that experience starts with what you see upon login. ProTexting excels on this front, thanks to its color-coded dashboard. Each metric in the bottom row is the same color as a tool in the top row. Should any of these metrics trigger an urge to dive deeper, you can click on the tool of the same color for more information. This quiet linking of metrics and tools puts ProTexting a step ahead of the game in terms of usability.
Dropdown Navigation Panel
ProTexting's navigability impressed us the most out of any platform. That's due to the dashboard's dropdown navigation panel. Click on a dropdown from the dashboard to see some of the most important tools in your wheelhouse. From there, you'll ee how to add contacts, send group messages or reserve keywords.
Robust Apps Tool
Many text message marketing platforms include a library of apps you can add to improve your experience. We found ProTexting's library to be the best-organized of them all. You'll see all your apps – 18 come with your account – alongside four additional sections.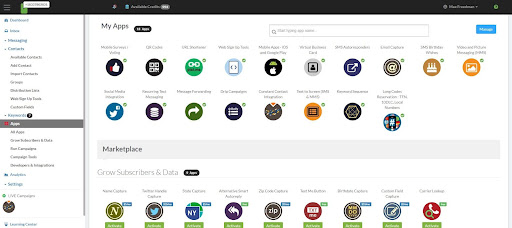 These apps – some of which are free and some of which cost additional monthly fees – pertain to subscriber growth and data, campaigns, and integrations. Free integrations include Shopify, Mailchimp and Zapier, though there is a downside: You'll have to manually activate them. That's not always the case with other text message marketing platforms.
Clean, Varied Analytics
Some text message marketing platforms include far fewer analytics than an email marketing service would, but not ProTexting. Analytics include the familiar (messaging activity) and the niche (contacts by state and city). Even the most complex of these are easy to understand, given ProTexting's clear graphics and colors and abundant white space, no matter how granular you get with your data.
If detailed, granular analytics matter more to you than ease of use, try Twilio, our top pick for analytics.
Compliance Tools
When you first add contacts to ProTexting, you'll need to confirm that you've obtained permission to text them. Although this process can delay your setup, it's an important step toward keeping your text message marketing operation legally compliant. You'll fill out a relatively short opt-in procedures brief detailing how you plan to use ProTexting. You'll include a brief opt-in guarantee alongside this form. ProTexting will review your forms and will let you add contacts after approval.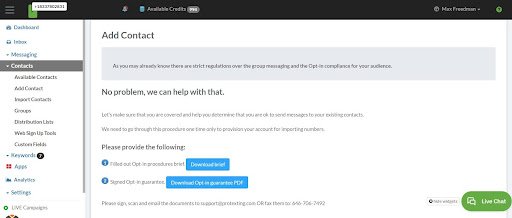 Cost
ProTexting is one of very few text message marketing platforms we encountered that doesn't offer a free trial. That said, the demo you can book through ProTexting's website partially makes up for the absence of a free trial. If your demo persuades you to sign up for ProTexting, you can choose from the below seven pricing plans. An SMS message costs one credit, and an MMS message (which includes media) costs three credits.
Startup: $49 per month; 1,000 credits; one keyword
Economy: $79 per month; 1,700 credits; two keywords
Standard: $149 per month; 3,300 credits; four keywords
Business: $299 per month; 6,700 credits; six keywords
Corporate: $499 per month; 11,000 credits; eight keywords
Corporate Plus: $899 per month; 20,000 credits; 10 keywords
Corporate Extra: $1,199 per month; 27,000 credits; 15 keywords
All plans include free incoming messages, MMS messaging and full access to all ProTexting features. Custom plans are also available.
ProTexting's prices aren't the most expensive around, but they are a bit high for what you get. You can get more messages per month with SimpleTexting, which comes with extensive customization features you can read about in our SimpleTexting review. You can get several times more messages with Textedly as well – check out our Textedly review for a low-cost, scalable solution.
There are 17 add-on apps available in ProTexting that require additional monthly fees. These fees range from $5 per month for zip code capture to $299 per month for access to the ProTexting messaging API. Other add-ons, such as ProTexting's QR code generator and appointment reminders, are free.
Setup
ProTexting arrives mostly ready to go, and since it's our top pick for ease of use, you'll have almost no trouble using it right away. That said, we identified one major drawback in the setup process: You can't add, upload or import contacts until you verify that you have these subscribers' permission to contact them.
When you first try to add contacts, ProTexting will present you with two documents. The opt-in procedures brief takes about 15 minutes to complete, and the opt-in guarantee should take under a minute. You'll have to wait for ProTexting to approve these documents before you start uploading contacts. A ProTexting customer support representative told us that this process takes no more than an hour if you submit your forms during business hours. Nevertheless, it delays the setup process in ways we haven't seen with other platforms.
As you wait for ProTexting approval, you can manually activate all your apps, since the process can be time-consuming, and get through the two lengthiest parts of your setup at once. Other than these two longer steps, setting up ProTexting is  simple: Just add your keywords and start sending messages. Despite ProTexting's compliance-approval process, you can send one-on-one messages right away.
The only costs associated with ProTexting setup are the monthly fees you'll pay for certain apps. Once you get through the compliance process, you won't pay any extra fees to upload your data. There's nothing to customize in ProTexting, so you'll get some time back on setup in that regard too. Overall, you're looking at an hour for basic setup, plus however long you'll wait for ProTexting to approve your compliance forms.
Customer Service
You can reach the ProTexting customer support team through the live chat widget in the bottom-right corner of your dashboard. Additional help is available at top right, where you'll see a green question mark. ProTexting's customer service phone number – and some common FAQs – appear when you click there. You can also contact ProTexting via email for support. All customer support is included in your pricing plan at no extra cost.
A ProTexting customer support representative told us that its customer service team is reachable from 9 a.m. to 6 p.m. ET on weekdays. These hours are relatively generous, though other brands also offer weekend support.
We tested out ProTexting's live chat tool to ask two questions that came up in our research. We heard back from an agent within two minutes and had full answers within another three minutes. This response and problem resolution time is on the faster side for text message marketing platforms' live chat tools.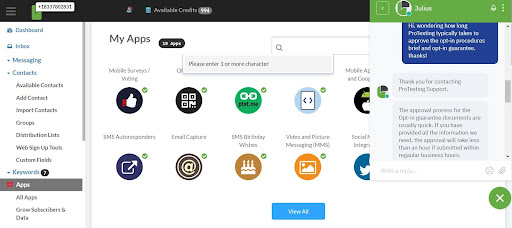 Drawbacks
Although ProTexting abounds with add-ons that the platform's software team designed and created themselves, you'll see relatively few native integrations. You'll also need  to manually activate any integrations you do want to use. These integrations include Zapier, meaning you can theoretically integrate ProTexting with almost any app, but it might take more time than other platforms with more native integrations or a platform like SimpleTexting that builds custom integrations in-house.
For all its ease of use and no-frills basics, ProTexting might not be the most budget-friendly option. While the app is well-stacked in terms of extra add-ons, many of these come at an additional cost. You also can't use ProTexting once you run out of monthly message credits, which are relatively limited for the brand's price points.
Additionally, only ProTexting requires you to submit compliance forms. The platform then spends an hour processing these forms before you can upload contacts. The process may take longer if you file your forms outside business hours. The result is a delay in setup for a platform that's otherwise simple.
Methodology
To help us research ProTexting, the platform's CEO gave us a guided demo and access to a free trial. (Notably, regular prospects can't get a free trial – only a free demo.) We sat down for free demos and used free trials for another four text message marketing platforms. We browsed every nook and cranny of eight other brands' websites as well. We also contacted ProTexting's customer support team to test its service and answer certain questions that our research raised.
FAQs
ProTexting's customer service is reliable. A live chat agent responded to us within two minutes and answered our questions within another three. You can reach ProTexting by live chat or phone from 9 a.m. to 6 p.m. ET on weekdays, and anytime by email.
ProTexting costs between $49 and $1,199 per month before add-ons, which range from $5 to $299 per month. Custom plans may cost more.
Overall Value
We recommend ProTexting for …
Small businesses that want easy-to-use text messaging marketing basics with the option to add high-level features.
Small businesses that want quick access to basic text message marketing features right from their dashboards.
Small businesses that are focused on compliance and willing to slow down their setup to get everything in order.
We DON'T recommend ProTexting for …
Small businesses that need to integrate their text message marketing platform with a variety of apps.
Small businesses more concerned with affordability than ease of use.
Small businesses that need to start texting immediately, without any setup delays.