Goal setting is crucial for business and personal growth, but tracking your goals keeps you on the right path. 
Free digital and analog tools help you track personal and professional goals to measure your progress and boost productivity.
Habits and best practices can bolster the effectiveness of goal-tracking tools and help you stay on track.
This article is for business owners and professionals seeking goal-tracking tools to help them stay accountable and boost their chances of successful goal achievement. 
The workplace is a natural goal-oriented environment, with built-in deadlines and opportunities to analyze progress and milestones. For example, small business owners trying to grow their business will set budget, profit and sales goals. Beyond the workplace, it takes additional effort to proactively set career and personal goals. In either case, setting goals is necessary for growth and advancement. 
While setting goals is essential, following through on those goals isn't guaranteed. Goal achievement requires steadfastly pursuing your goals, developing the right habits to support those goals and tracking your progress. 
Some people approach goal-tracking with straightforward analog tools like journals and whiteboards, while others prefer digital assistance. We'll highlight 10 free goal-tracking tools you can test to find the right accountability partner for achieving business goals, personal goals and career goals. 
Free goal-tracking tools to keep you on track
The following tools include features like reminders, performance analytics and integrated dashboards to make tracking goals easier and bring goal achievement within reach.
1. The Habit Factor Lite 
The Habit Factor Lite is a free habit and goal tracker that prioritizes positive behavior change and habit development to make goal achievement easier and more successful. Create your goal, align supportive habits and set up a four-week tracking period to record and reassess your progress. Select target habit days and gradually increase them to strengthen your habits organically. Motivational quotes and the ability to add photos personalize the goal-setting and tracking process. 
Track one goal and up to three supportive habits in the Lite version. You can upgrade to Habit Factor Pro for a flat fee of $5.99 to track unlimited goals and habits. There's also a companion book, The Habit Factor, if you're interested in delving more into the science of habit and goal achievement. 
Visit The Habit Factor website for more information. You can download The Habit Factor Lite for iOS or get The Habit Factor Lite Android app.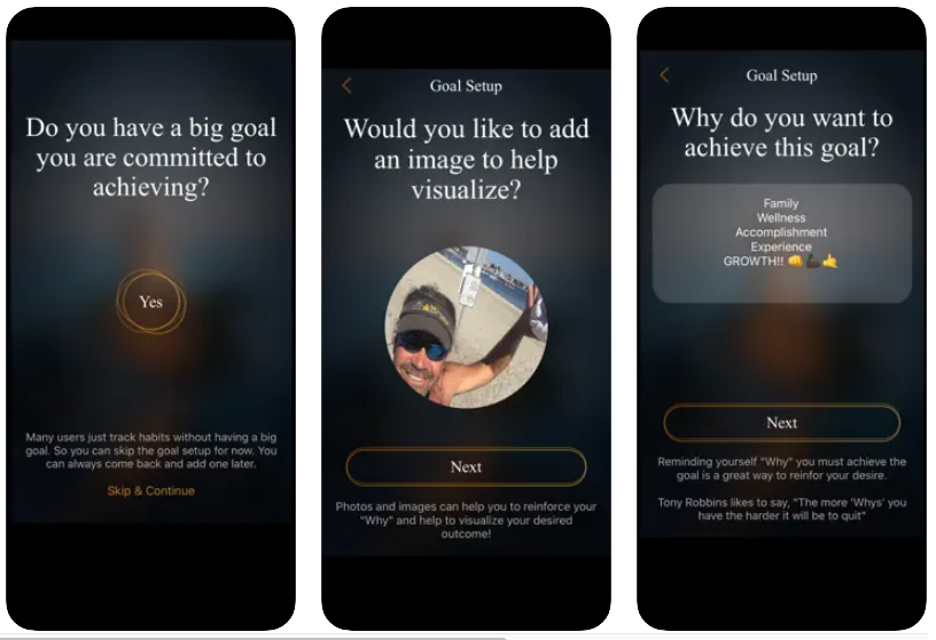 Source: The Habit Factor
2. Hive
Hive is a project management platform geared toward teams that aren't in the same place at the same time, letting members track individual and overall project goals. 
Hive's free tier allows up to 200MB of storage, 10 users, unlimited tasks and notes and more. You'll have to upgrade to the Teams tier for $16 per user, per month (or $12 monthly billed annually) to access time-tracking, shareable forms, an in-app calendar and other features.  
Visit the Hive website to learn more about this project management platform. You can access Hive via its desktop app, download Hive for iOS or get the Android Hive app.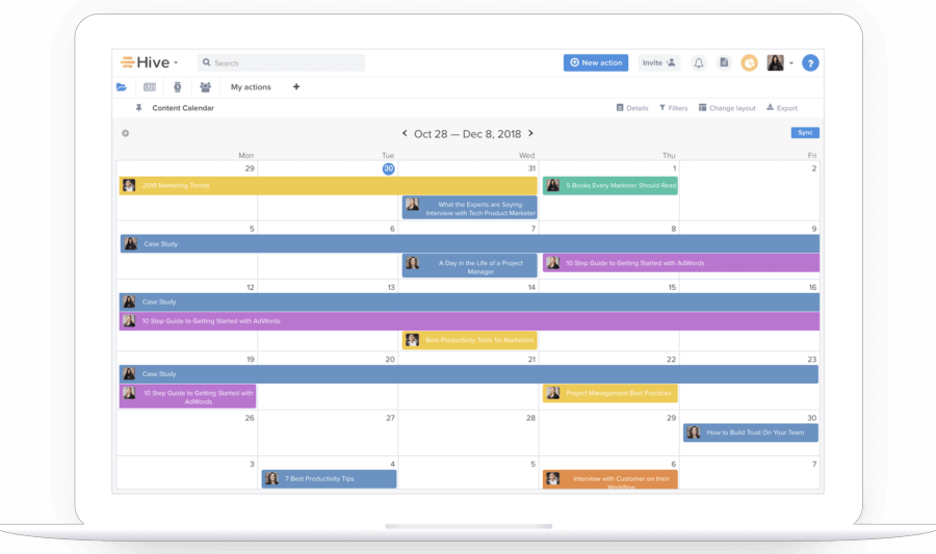 Source: Hive
3. Coach.me
Coach.me is a straightforward habit tracker designed to help users develop new habits or eliminate bad habits. Coach.me uses a questionnaire to help you determine goals. It tracks your progress with reminders and weekly reports and provides a support community to help you at any time. This free app also offers an optional paid experience of working with a coach one-on-one.
Visit the Coach.me website for more information. You can download Coach.me for iOS or get the Android version of Coach.me.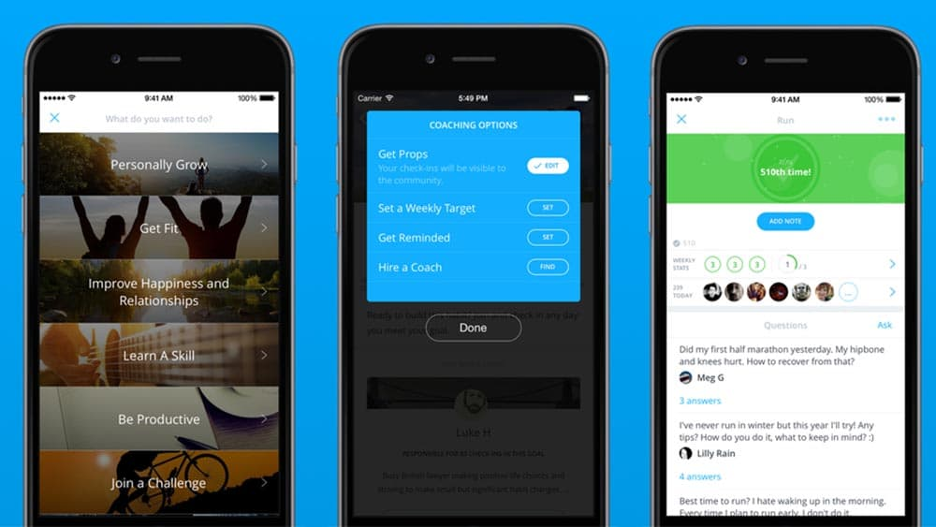 Source: Coach.me
4. HabitBull
HabitBull is a free productivity app that helps you create, manage and track your progress toward your goals. You can view your progress on specific goals and overall achievement. 
HabitBull includes visual measurements, including bar graphs, line charts and pie charts. The app will send daily reminders and store your data in the cloud so that you can access it from multiple devices. HabitBull also includes a chain-based calendar to encourage productivity. Days on the calendar turn green when you complete a task for each goal and red when you don't. This allows users to create a "habit chain" — a productivity concept comedian Jerry Seinfeld has discussed.
Visit the HabitBull website for more information. You can download the free HabitBull app for iOS or get the Android version of HabitBull. A $4.99 premium version unlocks additional features and functionality.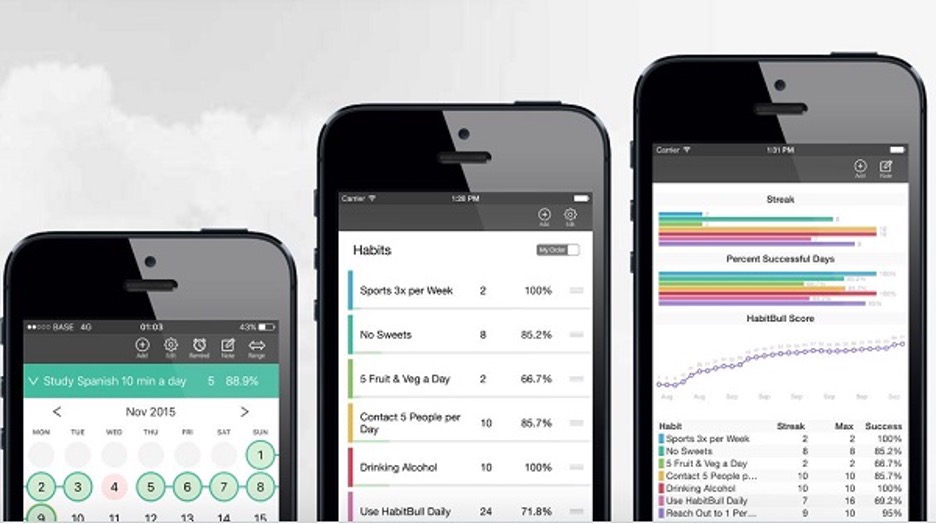 Source: HabitBull
5. Strides
Strides is an iOS-only app that features analytics and data on users' overall progress toward a goal. With Strides, you can add goals, set reminders and analyze your progress. Strides offers four progress-tracking interfaces based on targets, habits, milestones and averages. Each interface emphasizes different data to help instill a specific goal. This is a great feature for business owners looking to differentiate between developing good habits and achieving milestone goals.
Visit the Strides website for more information. You can download Strides from the App Store for free. However, you'll need to upgrade to Strides Plus for $4.99 to access unlimited tracking, sync, backup and more.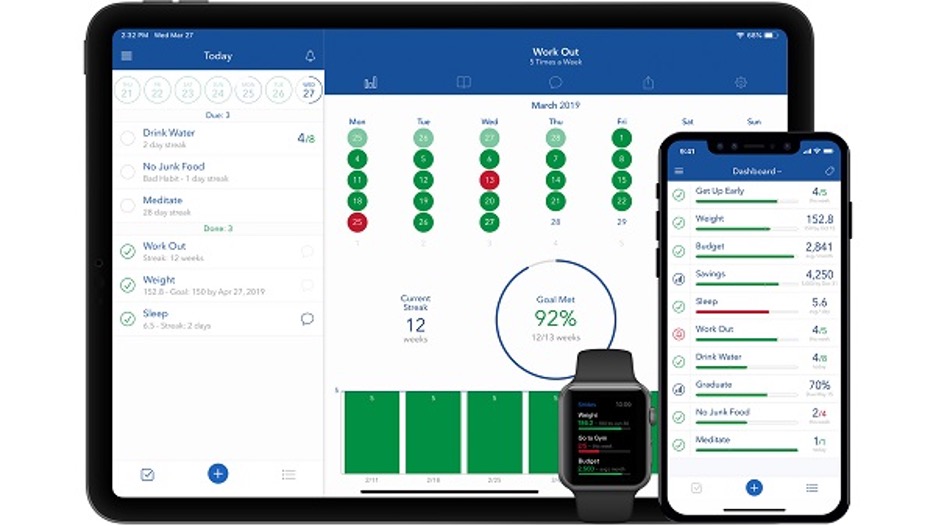 Source: Strides
6. Google Drive
Sometimes the best way to track your goals is the most straightforward. With Google Drive, you can use Sheets and Docs to create, manage and track your goals. By creating a dedicated goals folder, you can organize and view all your information easily in one place. While this tool doesn't include reminders, analytics or advanced tracking, it provides you with everything necessary to complete your goals.
You can break down goals into various sections to measure quarterly, yearly, weekly or even hourly successes. It's also ideal for a business owner to share goals with employees. Place them in a shared folder on the drive, and they have complete transparency on the business' goals every step of the way.
Sign up for Google Drive to access 15GB per user of secure cloud storage.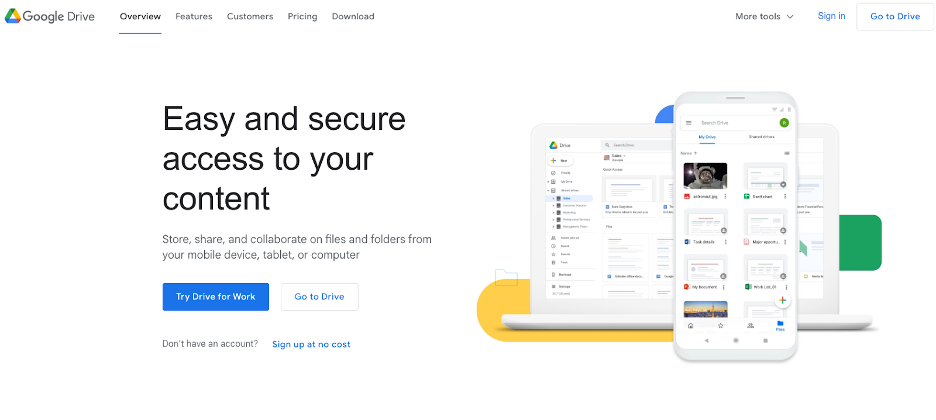 Source: Google Drive
7. Way of Life
Way of Life allows for quick goal creation and easy tracking through a color-coded calendar. It delivers advanced reporting and data daily. Throughout the day, the app prompts you to check in and mark whether you've completed a specific skill. Once recorded, the day will turn green or red. 
Like HabitBull, Way of Life includes a chain calendar, so you can see which days you've completed a task and edged closer to your goal. 
Visit the Way of Life website for more information. You can download Way of Life for iOS or get the Android version of Way of Life.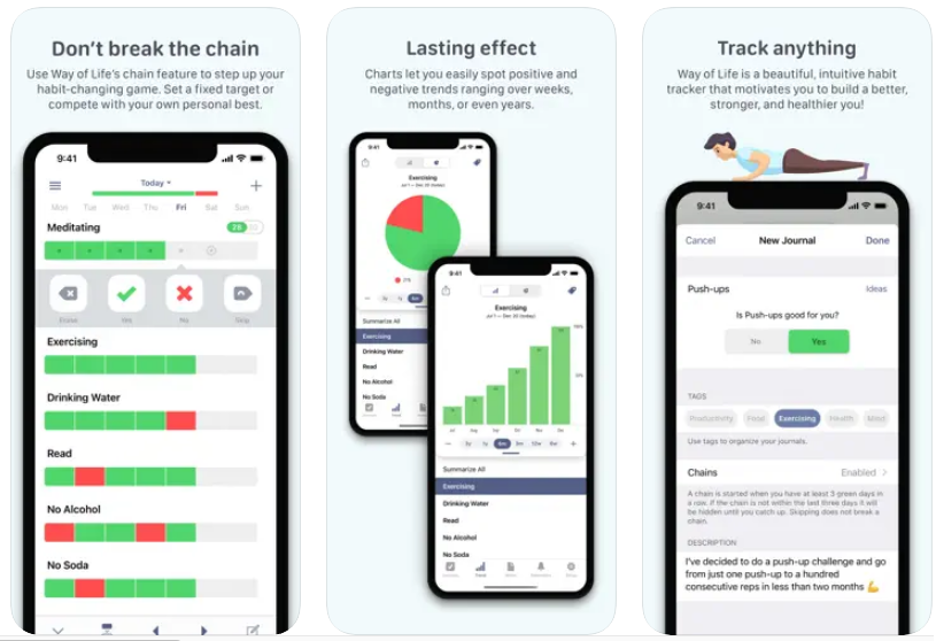 Source: Way of Life
8. SaveMyTime
SaveMyTime is an Android time-tracking app that tracks how you spend your time daily. Time tracking helps create productive habits, reduce wasted time and procrastination and improve your work-life balance. With more insight into how you spend your time, you can assess and plan better for the proper steps to complete your goals. 
Visit the SaveMyTime website for more information. You can download SaveMyTime for Android. An iOS version is reportedly in the works. 
9. Bullet journaling
The bullet journal method, developed by designer Ryder Carroll, is an analog planning system that tracks short- and long-term goals throughout the year. It incorporates scheduling, reminders, to-do lists, brainstorming and other organizational tasks. By using this system, users can track goals and plan their to-dos effectively and mindfully. 
Bullet journaling is a free system you can use with any notebook. The Bullet Journal website offers a free tutorial video showing how it works. Additionally, the Bullet Journal website sells a course and specially designed Bullet Journal notebooks and also offers a blog with support and feedback from users of this method. Official Bullet Journal companion iOS and Android apps cost $4.99 and provide a way to back up, tag and search notebooks. Download the iOS Bullet Journal Companion app or get the Android Bullet Journal Companion app.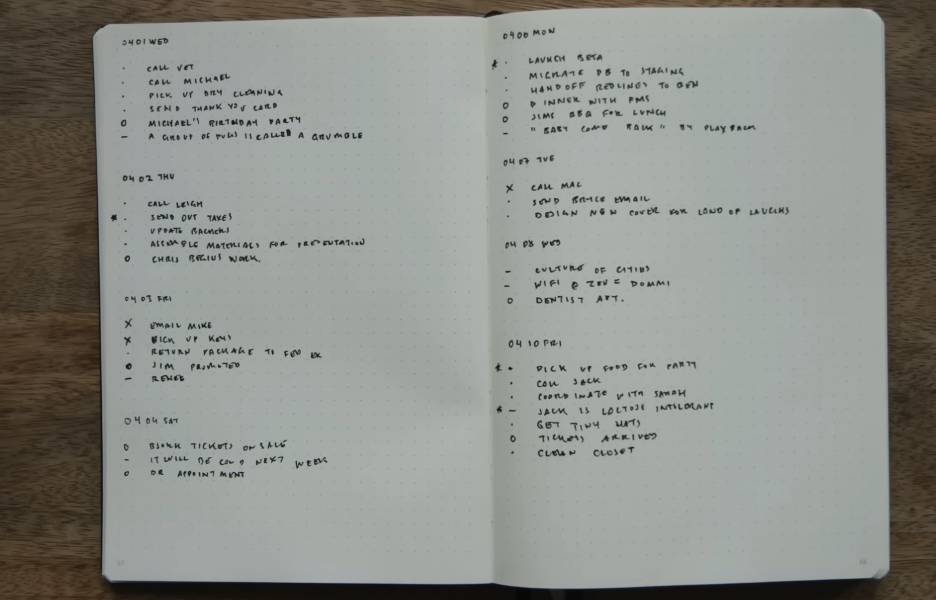 Source: Bullet Journal
10. Whiteboards
Despite excellent tech tools, sometimes an old-fashioned pen and paper or whiteboard is the most effective way to record, manage and track your goals. After all, most of your effort should be spent working toward your goal, not hyper-analyzing data. Many business owners and professionals track goals using a whiteboard or even Post-it notes.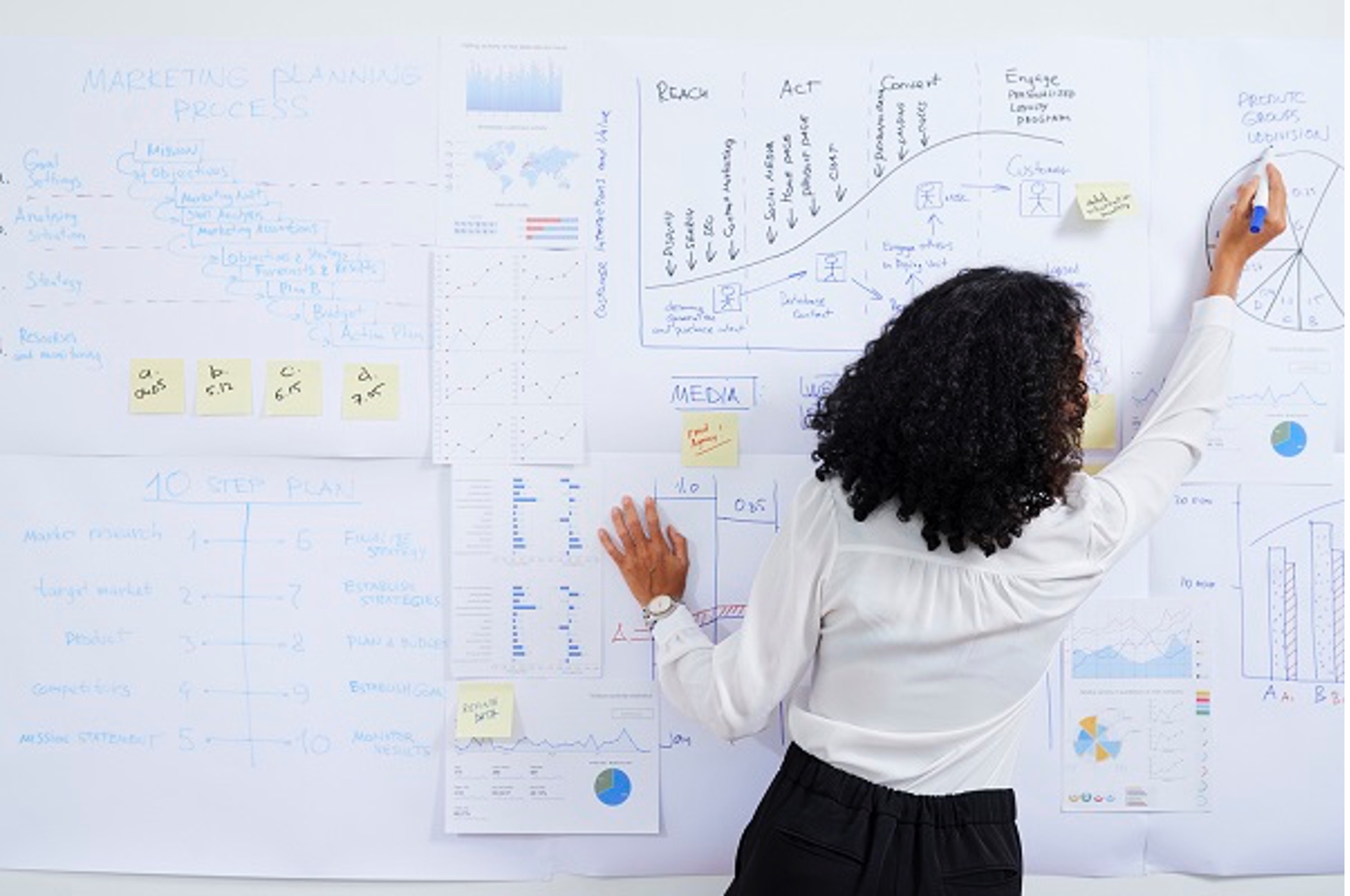 Source: Getty Images
Additional tips for improving productivity
Analog or digital tools can help you stay on track. However, you can also improve productivity by incorporating small but impactful methods into your daily routine. Here are some additional tips for improving productivity:
Take breaks: Frequent breaks can increase productivity. Ideally, take one break an hour to boost your productivity optimally. Remember to use breaks to reset your focus — checking work emails during your breaks doesn't count.
Set smaller goals: Set achievable business goals and personal goals to decrease the emotional and mental energy needed to complete the task. Seeing regular progress is motivating and inspiring.
Limit distractions: Distractions like using cell phones at work and chatting with co-workers can derail productivity in the workplace. If you work at home, family concerns, TV and myriad other factors can distract you. Proactively limit distractions to increase productive hours. If you're a business owner, distracted workers affect your bottom line, so fostering a focused culture with minimal distractions is especially important. 
Limit multitasking: Multitasking is a double-edged sword. Effective multitasking can help you get more done. However, too much multitasking means multiple endeavors aren't getting enough effort and attention. Be careful how much you take on; if you're a business owner or manager, be mindful of delegating too much to your team. 
Listen to music: Many people believe music can boost office productivity. However, it's up to the individual to decide if music enhances their productivity. The best music for productivity will vary based on personal tastes and your current activity. One theory says it's best to listen to music you like but that you've heard so often you don't need to focus on the lyrics or beat.
Declutter your space: Clutter can interfere with personal and professional goals by creating a chaotic atmosphere. You want your workplace to improve productivity, not detract from your goals.
Focus on progress when tracking your goals 
Hundreds of productivity tools and countless methods can help you achieve your goals. However, doing what works for you is essential to setting, tracking and achieving goals. Your most critical goal achievement tool is putting in the work and staying motivated. 
Whether you prefer pen and paper or digital assistance, goal tracking is about heading in the right direction. Taking a step back every so often is a normal part of progress, so don't get discouraged. Stay focused and productive, and you'll soon find yourself achieving your goals regularly.
Matt D'Angelo contributed to the reporting and writing of this article.