One of the top issues U.S. businesses face is poor time management. In an eight-hour workday, surprisingly little time is directed toward tasks that boost profitability and business growth. In fact, according to an Anatomy of Work Index whitepaper from Asana, employees spend just over a quarter of their day on high-priority, skilled tasks; and, according to The Alternative Board's December 2015 Small Business Pulse Survey, business owners spend only about a third of their day on urgent and essential activities.
Fortunately, straightforward and easy-to-use time-management tools can help get your business back on track. If you and your employees use Android smartphones, an array of excellent workday-planning apps can keep you organized, on track and able to focus on the most crucial aspects of running a business.
We've gathered nine top apps to help managers and teams organize their time and workflow to boost productivity and efficiency. While we're focusing on Android apps, many of these tools are available for other platforms, including iOS, Windows and Mac.
Best organization app: Remember The Milk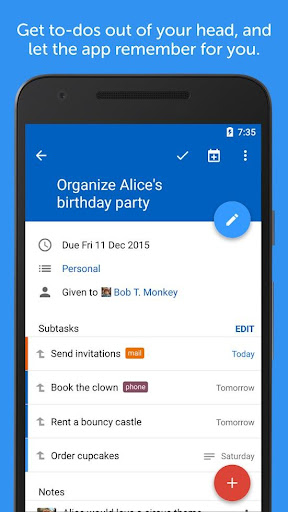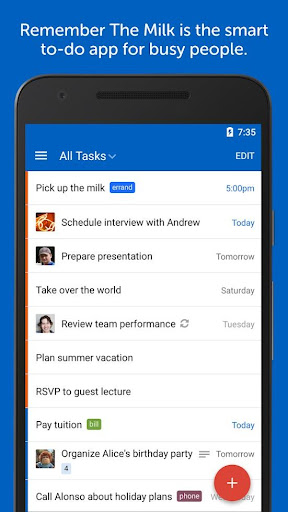 Image source: Google Play Store
Remember The Milk is a modern to-do list with digital enhancements that make it the perfect organization app for the overextended and forgetful.
With this app, you can tap out a to-do list that automatically syncs on all your devices. Then, Remember The Milk alerts you to upcoming tasks and obligations via SMS, Twitter, IM, text and email. Categorize each task with smart tags, in lists, or by priority or date. For recurring tasks, the app has a helpful repeat facility to provide timed, regular reminders.
Remember The Milk is free to download and use. However, its Premium version, available for $39.95 yearly, unlocks additional functions, including coloring your tags, syncing your to-do list with Microsoft Outlook, and breaking down tasks into subtasks.
Download Remember The Milk for Android or get the iOS version.
Best app for Kanban board fans: Trello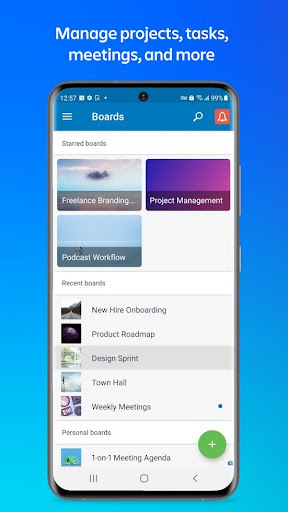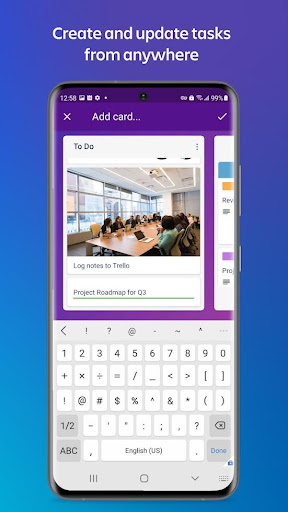 Image source: Google Play Store
More than 50 million people use Trello, which is based on the lean Kanban system of managing and improving work across teams. [Learn the pros and cons of Kanban and other project management styles.]
The interface is perfect for visual learners. With Trello, manage, share and assign tasks; projects; and meetings using lists and cards via Trello's board system. File-sharing between colleagues is easy via Dropbox or Google Drive, and messaging colleagues and conversation-tracking is quick and straightforward.
The Calendar view makes it easy for you and your colleagues to see what work must happen today and in the coming days. You can also see whether you and your team are up to date on projects and tasks in real time.
Trello is free to download and use, but the app offers in-app purchases for additional functionality. Trello's free version offers up to 10 boards per Workspace. Higher tiers start at $5 per user per month for larger teams.
Download Trello for Android or get the Trello iOS app. A Trello Windows desktop app and Trello Mac desktop app are also available.
Link all your Trello downloads so that the tool is available on all your devices. Start working on your phone, and finish the project later on your desktop computer.
Best app for multitaskers: Evernote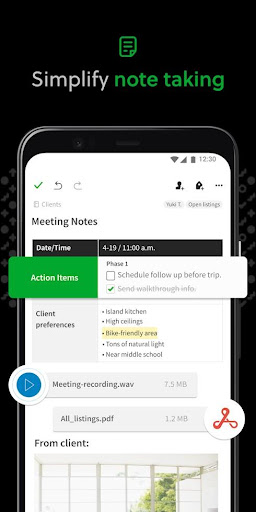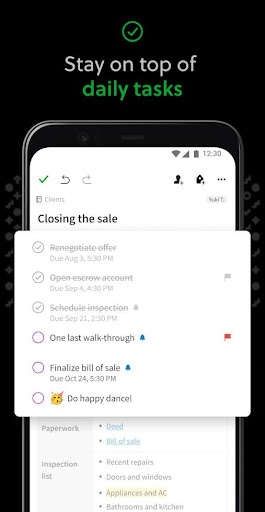 Image source: Google Play Store
With more than 225 million users, Evernote is the world's most popular personal productivity and note-taking app.
Connect Google Calendar to Evernote's Tasks tool to manage your to-do list. Create reminders for yourself on task due dates and receive notifications when a deadline approaches. [Learn more tips and tricks for using Google Calendar.]
As soon as you have a new idea, note it for later use. You can attach web links and clippings, audio files, photos, sketches, PDFs, Word documents, and text files on any note you create so that everything's in one place.
Evernote is free to download and allows syncing across two devices, 60MB worth of monthly uploads and up to three widgets on your customizable home screen.
Paid subscriptions offer additional functionality.
Evernote Personal: For $7.99 per month, you can sync unlimited devices, get up to 10GB of monthly storage and access extra widgets. Connect your primary Google Calendar account, get offline access, and search within the documents and images you've uploaded to the app. You also can add notifications, reminders and due dates to tasks.
Evernote Professional: For $9.99 per month, you get everything in the Personal plan, plus 20GB in monthly uploads, access to all widgets, and the ability to assign tasks to others and track their progress. You can also integrate the app with Microsoft Teams, Salesforce, Slack and more.
Evernote Teams: For $14.99 per month, Evernote Teams allows team members to collaborate and share knowledge.
Download Evernote for Android or get the Evernote iOS app. An Evernote Windows desktop app and Evernote Mac desktop app are also available.
Integrate Trello with the best CRM software to streamline your customer data and communications. Read our Salesforce review for a strong example of CRM software's capabilities.
Best app for establishing a routine: TimeTune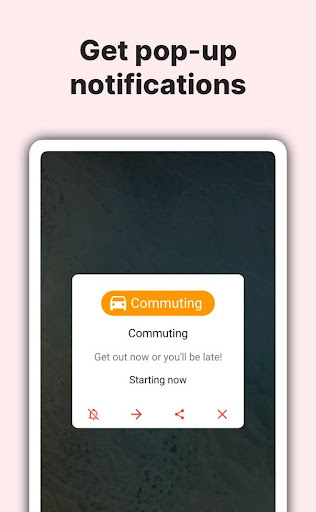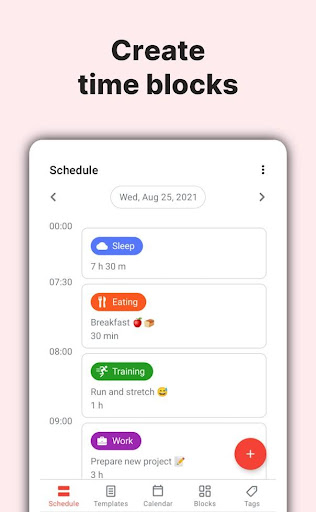 Image source: Google Play Store
The TimeTune app is based around the idea of creating time blocks where you devote attention to specific tasks. The goal is to create daily, weekly and monthly routines to increase productivity and streamline your schedule as much as possible.
Over time, the app analyzes how much time you spend on each task, allowing you to see whether you spend enough time on specific work. If you discover you're spending too much or too little time on a task, alter your time blocks accordingly.
TimeTune is free to download and use. It's supported by in-app advertising, but you can purchase an ad-free Pro version for $9.99.
Download TimeTune for Android or use TimeTune on a Windows PC via Android emulator.
Best at-a-glance organizer: Sectograph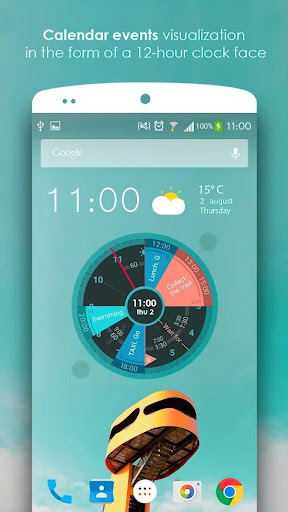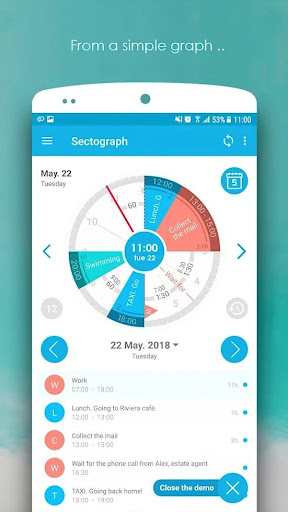 Image source: Google Play Store
Using a centrally placed 12-hour clock split into time zones, Sectograph users can see their tasks, appointments and other scheduled events drawn directly from their Google Calendar (a Microsoft Outlook Calendar integration is due shortly).
With smartwatch compatibility, the app's 12-hour clock can replace your current watch face. Widgets are also available to place on mobile, tablet, laptop and desktop screens.
Sectograph's Android version is free to download. It offers a premium version ($3.99 lifetime membership) with different color palettes, a 24-hour clock, notification bar widget and more. The iOS version is $2.99 to download and use.
Download Sectograph for Android or get the Sectograph iOS app.
Best for the Google ecosystem: Day by Day Organizer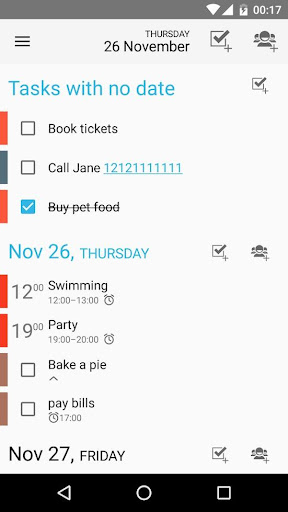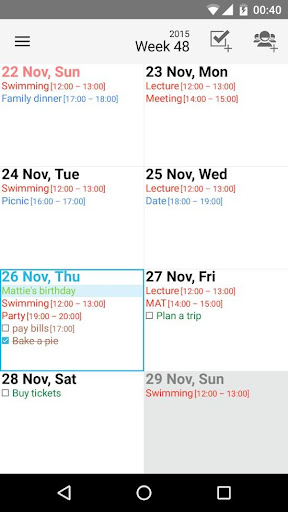 Image source: Google Play Store
Day by Day Organizer helps you plan and keep your schedule by syncing with Google Calendar and Google Tasks. The aesthetic is very Android KitKat (circa 2013), but don't judge a book by its cover.
You can see all your events, tasks and meetings in one list by day, week or month. Upload the birthdays of friends, family members and colleagues so that you never forget to buy a present.
Set tasks by priority and add subtasks and related to-do lists to specific tasks. Voice input is available, as well as a quick and intuitive search function.
Day by Day Organizer is free to download and use. However, after an introductory period, you lose access to many features. You can opt to subscribe to the app for $0.99 per month or make a one-time payment of $6.99 to maintain full functionality.
Download Day by Day Organizer for Android.
Best app for workweek planning: Doit.im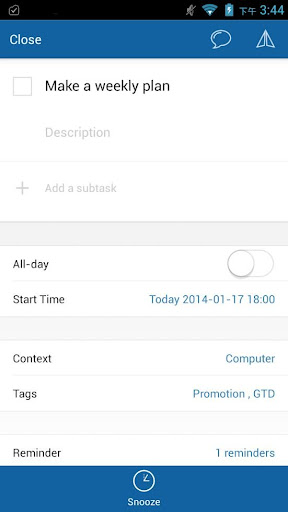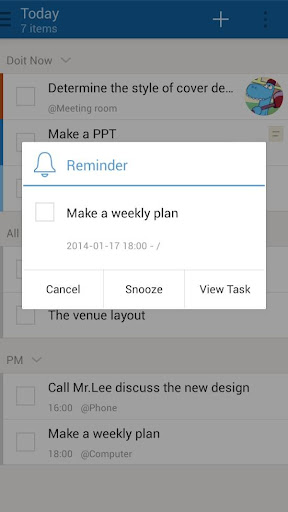 Image source: Google Play Store
Based on productivity consultant David Allen's Getting Things Done (GTD) task management system, Doit.im has been downloaded 6 million times since launch.
The underlying tenet of the GTD theory is that the more tasks and ideas there are in your head at a given time, the harder it becomes to decide what to prioritize.
You can create to-do lists in Doit.im, track the current status of tasks, forward tasks to colleagues and estimate how long tasks will take. The app's dashboard allows you to see the percentage of complete, incomplete and deferred tasks.
You can test Doit.im's full range of features for 30 days with its free trial offer. A subscription is $2 per month after that.
Download Doit.im for Android or get the iOS Doit.im app. You can also download the Doit.im Windows desktop app or the Mac desktop app. If you prefer not to download a desktop app, web browser plug-ins for Firefox, Safari and Chrome are also available.
Use one of the best employee-tracking apps to streamline your employees' accountability, client billing and multi-location supervision.
Best app for project planning: nTask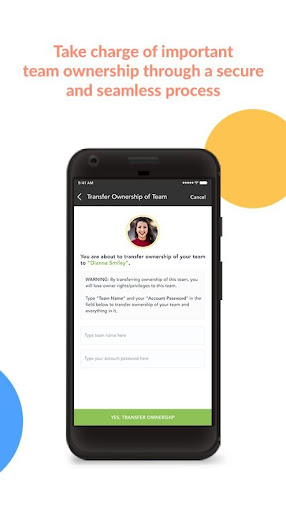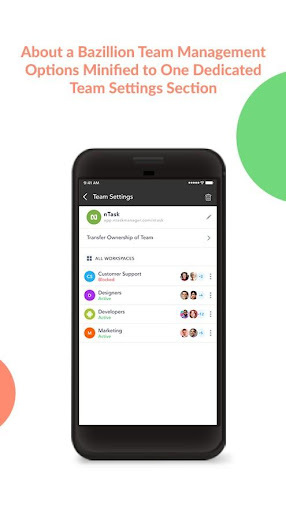 Image source: Google Play Store
Used worldwide by more than 250,000 companies, nTask is a project planner designed to help entrepreneurs successfully plan projects and allocate resources.
Plan projects using Gantt charts, and organize tasks for teams and individual team members using Kanban boards. Check the status of ongoing tasks, and assign priority to the most important ones. Documents can be shared between colleagues via nTask, and it's easy for colleagues to chat, make comments, record time spent on tasks and break out into dedicated workspaces.
NTask integrates with more than 1,000 apps, including Zoom, Google and Outlook calendars, Apple iCal, and Microsoft Teams.
The free version offers up to 100MB of storage for five team members and unlimited workspaces and tasks. For $3 per user per month, you receive 5GB storage, Gantt charts, and Kanban boards (similar to Trello). The $8 per-user-per-month tier provides 10GB of storage, risk management, Kanban board templates and more.
Best app for minimizing device distractions: RescueTime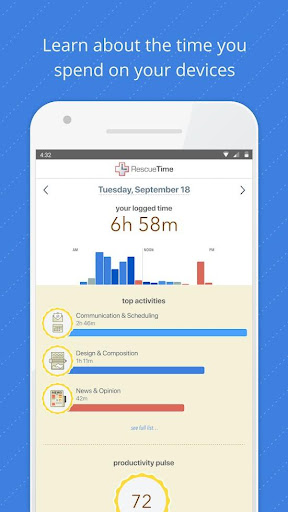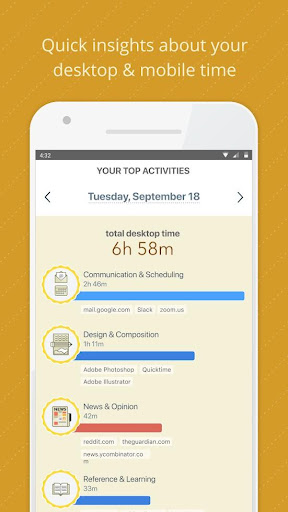 Image source: Google Play Store
RescueTime shows you how much time you spend on your devices (including your desktop and laptop) every day.
You'll see how your technology use impacts your work pattern and overall focus so you can set screen time goals. The app's FocusTime feature lets you block distracting websites during the time you set aside to concentrate on a task.
RescueTime also measures the time you're logged out of the app for lunch breaks, phone calls, meetings, sales appointments, administrative tasks and more. Over time, you'll get a much clearer picture of how you spend your workday.
RescueTime costs $6.50 per month. New users receive a $99 productivity e-book bundle when they sign up for a year's subscription. You can try the service for free for two weeks.
Download RescueTime for Android or get the iOS RescueTime version. You can also download RescueTime desktop apps for Windows and Mac.
Mona Bushnell contributed to the writing and research in this article.