Gone are the days of businesses having one choice when it comes to their phone system. Instead of everyone using a landline system, the internet and mobile phones have given rise to several types of new phone systems business owners can choose from.
To learn more about business phone systems, read our business phone system buyer's guide. Check out our best picks for business phone systems to see which systems we recommend.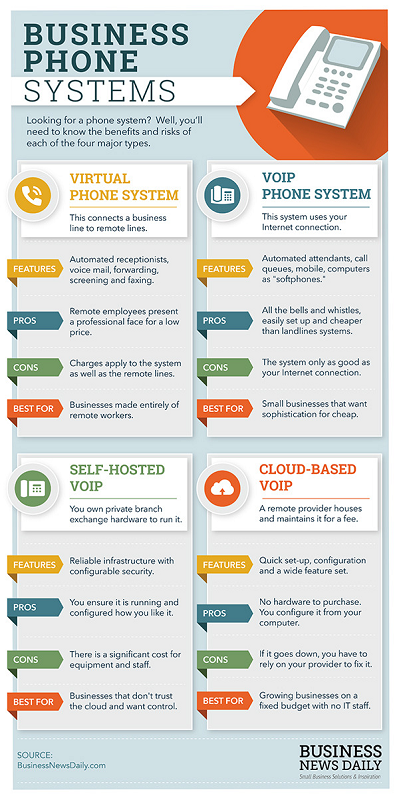 Credit: Grant Reinero / Business News Daily
Private Branch Exchange (PBX)
One aspect all business phone systems today have in common is the use of a private branch exchange (PBX) system. A PBX is what powers a business phone system by providing it with the functionality needed to offer numerous features and tools, like extension dialing, automated attendants, and ring groups.
Where phone systems differ is where the PBX equipment is located. Businesses with an on-premises phone system, whether it is a traditional landline or Voice over Internet Protocol (VoIP) system, have the PBX equipment housed onsite, within their business. When you choose cloud-hosted systems, everything is stored in the cloud. Calls are placed using the internet, and the provider hosts the data in one or multiple data centers spread out throughout the U.S.
"Cloud-based or hosted VoIP phone systems are a subclassification of VoIP service where the service provider houses the PBX system, and other essential hardware, at their location rather than yours," said Jeremy Owens, chief marketing officer at Seriously Smoked.
VoIP phone system
One of the reasons VoIP systems have become so popular with small businesses is that they provide access to features and tools – auto attendants, music on hold and voicemail-to-email – previously only available to larger companies. VoIP systems are the most popular alternative to landline services. Instead of using traditional copper wiring, like a landline system does, VoIP systems tap into your internet connection to make and receive calls.
"A VoIP phone system is a general term used to describe any communication system that utilizes the internet to transmit voice and media communications," said Alex Azoury, founder and CEO of Home Grounds.
According to Azoury and Owens, small business owners should be aware of a few benefits and downsides of a VoIP phone system.
Benefits
VoIP systems cost less than landline phone systems. The most inexpensive VoIP phone system is less than $20 per user, per month, while the most economical alternative for landline systems costs $50 per line, per month. In addition to the monthly costs, there are large initial capital investments with landline systems.
They are portable. Since it uses the internet, employees can use VoIP service anytime and anywhere as long as they have a stable and reliable connection. Additionally, remote teams can use the same phone number. [Read our review of Ooma Office, our top choice for phone system for remote teams.]
VoIP systems are easily scalable. If your business is growing, your demands for a better-unified communications system increase too. Companies can easily upgrade their plan with their service provider without upgrading hardware.
They have softphone capabilities. Softphone apps refer to software that enables non-phone devices to utilize phone-like abilities so that users can make calls using computers and mobile devices.
Businesses get access to advanced call features. VoIP phone system have it all: call forwarding capabilities, auto attendants, comprehensive call logs, metrics and analytics.
Downsides
The system is dependent on internet stability. Because VoIP systems use the internet to transmit data, your business can't use this service if there are problems with your internet service provider.
Location tracking is hindered. VoIP service makes it hard to trace the geographical locations of calls. If you need to make an emergency call to 911, for example, the authorities may have a hard time tracking where the call is coming from.
Cloud-based VoIP
Cloud-hosted VoIP systems don't require businesses to install any special hardware or equipment. It " … uses your internet and stores your information – calls, messages, contacts – in the cloud," said Corey Burke, vice president of telephony engineering at Dialpad. [Check out our review of Dialpad.]
A cloud-based VoIP system is especially appealing for businesses that don't have an IT team that is skilled in keeping a phone system up and running.
According to Owens and Burke, there are four benefits and three major limitations cloud-based VoIP systems have that small business owners should be aware of.
Benefits
Cloud-based VoIP systems are scalable. Almost all cloud services scale better with your business. Adding new lines requires very little effort. You won't need to change phone systems as your company grows.
Configuration and management are easy. Want to change office hours? Change your greeting? Add a department line? Start an office in London? All are doable in minutes via the web without any technical training.
It's easy to install and begin using. Because no major equipment needs to be installed, it is relatively simple for businesses to get up and running quickly with a cloud-hosted business phone system.
These systems are backed my multiple data centers. Cloud-based technology relies on servers housed in secure data centers, and choosing a service provider that uses numerous data centers allows users to enjoy virtually nonexistent downtime. Should a technical glitch affect one data center, there is another center that can handle its responsibilities.
Downsides
They can be expensive. Cloud-based VoIP systems are more expensive per phone than on-premises ones if everyone works in the same office. An on-premises solution may have a larger upfront equipment cost (actual phones and server equipment) but can cost less over time, according to Richard Tyndall Jr., a solutions engineer at SHI International Inc.
Again, cloud-based VoIP systems rely on a strong internet connection. If you're using a cloud-hosted system and your internet connection isn't reliable, you will have a hard time using the phone system.
It will require compatible equipment. Hosted VoIP requires companies to invest in specific equipment to take advantage of its features fully.
Self-hosted VoIP phone system
While a PBX phone system can be cloud-hosted, it can also be self-hosted, meaning that all of the hardware and software is stored in your office. Using a self-hosted system, also known as an on-premises system, gives businesses complete control over how the solution operates. You aren't relying on an outside provider to keep it up and running.
"An internet connection isn't the only way for a VoIP phone system to function. It basically uses computer networks, as opposed to plain old telephone service lines (POTS lines) inside of the office building or home office, for your remote workforce," said Tyndall. "It is common to find dedicated connections, such as PRI [primary rate interface] circuits, connecting these systems to the greater telephone networks."
Benefits
Self-hosted systems provide more personalized configuration. Since all the equipment is kept in your office, you can tweak things as you go based on your needs. You can purchase more phones, bigger servers, etc., and be there when they are delivered and implemented to make sure it's exactly how you want it for your small business.
Businesses have more control over their data. When data is sent to the cloud, you are largely trusting the provider that it's being stored safely in the cloud. With self-hosted options, you know where your data is stored. This can provide increased security (though you should take steps to secure and protect your data).
You monitor and control the quality of calls. You're can optimize network bandwidth usage and Codecs (encoding and decoding of voice calls) to configure call quality to fit your needs.
Self-hosted systems can be more cost-effective. As opposed to a cloud-hosted system where you need to purchase a subscription for each phone you install, with a self-hosted system, you can place as many phones as your business needs in areas where there may not be an employee at all time, and your cost essentially stays the same. You don't need any additional hardware or cloud subscriptions for those new phones.
Downsides
Self-hosted systems entail a significant upfront cost. It can be quite expensive at first, however, since you own the equipment, there are no subscription costs to maintain.
They are not always time effective. If you are installing phone service at a new location or another branch of your small business, it may take some time to get everything up and running – you have to buy all the same equipment, install it, etc., at your new location.
Virtual phone system
Virtual systems offer many of the same upgraded features and tools that VoIP systems provide, and they are a nice alternative for businesses with a large remote workforce. This system essentially works as an extensive call-forwarding service, as all calls to a main business line are forwarded to employees on their mobile or home phone lines.
Jonathon Wright, a management consultant at QA Lead, said virtual systems are an excellent choice for businesses just starting out, because they are a cost-effective alternative to traditional business phone systems.
"With cloud technology, virtual phone systems enable enterprises to harness the power of VoIP technology without investing the same amount of money for VoIP service providers," Wright said.
Wright also offered some benefits and downsides of a virtual phone system.
Benefits
Virtual systems help your company project a professional image. Virtual systems allow small businesses to emulate the call answering service of a large company using technology that intelligently directs customer calls to available employees in charge of handling support.
You can customize call introductions. You and your employees can personalize the greets and messages that prompt callers to press a specific number on their phone to reach specific departments or employees at your business.
You can easily upgrade or downgrade. As we have all learned from COVID-19, business can change overnight, and the demand for customer support can vary greatly. Because of that, personalizing your plan based on your current situation is possible with virtual phone systems.
You can use phone or non-phone devices as the medium of communication. The best part about using virtual systems is that businesses can use desktop computers, laptops, mobile phones, or tablets to answer incoming customer calls.
Downside
Virtual systems are not intended if your business places outbound calls. You must find a separate service provider for your sales and marketing team.
You may need to switch providers later. There may come a time when you outgrow a virtual phone system. If you reach that point, you'll need to find a new phone system provider and learn a new platform.