CareCloud's Features
Here are CareCloud's key features and the workflow advantages they foster.
| | |
| --- | --- |
| Appointment scheduling | CareCloud's robust appointment scheduling platform includes numerous filters and extensive color coding. |
| Billing and claims | The CareCloud billing and medical claims suite includes expansive coding libraries and thorough claim scrubbing tools. |
| Charting and notetaking | CareCloud's user-friendly charting and notetaking tools make it easy to access and add information to patient charts. |
| E-prescribing and labs | CareCloud includes reusable order sets that expedite your testing needs and flag potentially dangerous drug interactions. |
| Patient experience | CareCloud's excellent patient experience includes contactless payments, Clover-powered patient kiosks, custom workflows and a dynamic patient portal. |
| Patient payment | Patients can set up payment plans, as well as use their HSA or FSA or other uncommon methods. |
| Reporting and practice analytics | CareCloud's customizable practice analytics and reports show you all the good and bad factors behind your clinical performance. |
| Retail and e-commerce | CareCloud is the only medical software provider we reviewed that allows you to set up and maintain an e-commerce operation for additional revenue. |
| Revenue cycle management | CareCloud's RCM suite has all the tools common among medical billing services. |
| Telehealth | CareCloud's HIPAA-compliant, potentially reimbursable telehealth suite comes with onboarding and training. |
Appointment Scheduling
One of the scheduling features we liked most was CareCloud's color-coded and filterable calendar, which is sortable by appointment status and type. This was an easy way to streamline an individual user's workflow. You can choose a daily, weekly or monthly view and filter based on elements such as location or provider.
In the appointment status view, each status gets its own color. Upcoming appointments are light blue and change to light green when patients check in. After checkout, the color changes to dark blue if the patient's billing is pending, or dark green if the appointment has already been billed. Canceled appointments stand out in red. These color-coding features are among the most extensive we found in the medical software products we reviewed.
CareCloud's color-coding appointment scheduling tools are among the most comprehensive of the medical software we examined.
A list view shows the patient's name; the appointment date, time and location; the provider; the appointment type and status; and the patient's insurance eligibility if your front-office staff has verified it.
CareCloud makes insurance verification easy with individual and batch tools and additional color-coding capabilities. A green check means eligible, a red X means ineligible and a yellow exclamation mark indicates outstanding insurance issues.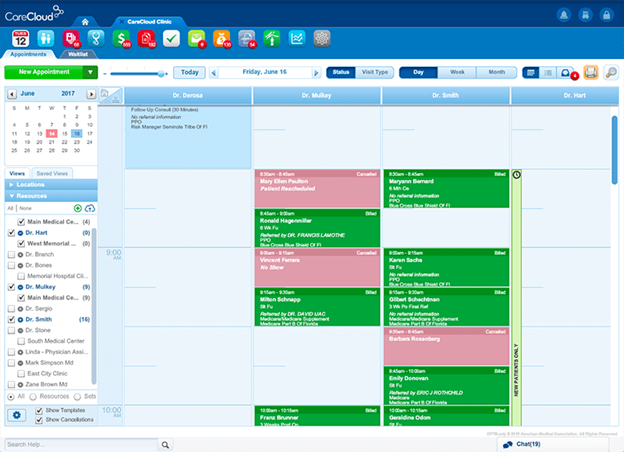 Billing and Claims
CareCloud's billing platform is integrated with its EMR system for rapid clinical data collection. This makes it speedy and simple to post charges and create claims. After a clinical note is signed, billing staff can verify the codes that CareCloud generates and add any other necessary codes. CareCloud includes a library of ICD-10, CPT, and E&M codes.
You'll also see encounters and bills labeled clearly in the CareCloud platform as unbilled, saved or posted for payer submission. CareCloud displays a complete list of patient checkouts in the unfulfilled encounters menu alongside the patient's information. This information includes the patient's name, appointment type, date, provider, location, insurance and remaining encounter value. With this information, you'll know which unfulfilled encounters to prioritize.
We liked that after claims are submitted and your charges are posted, CareCloud designates all unfulfilled encounters as saved. From your saved claims portal, your billing team can view real-time status updates. Your staff can also see provider information, as well as the final encounter value and ICD-10, E&M, and CPT codes.
Another useful feature is CareCloud's CollectiveIQ rules engine, which scrubs all claims and flags errors that could result in payer rejection or denial. This database is updated regularly with new errors that lead to rejections and denials from clearinghouses and payers nationwide.
You can also manage denied claims in CareCloud's billing portal. Alongside these claims, you'll see reports flagging the most frequent reasons for denial. If you also sign up for CareCloud's RCM services, you'll see medical billers' real-time progress within this same hub.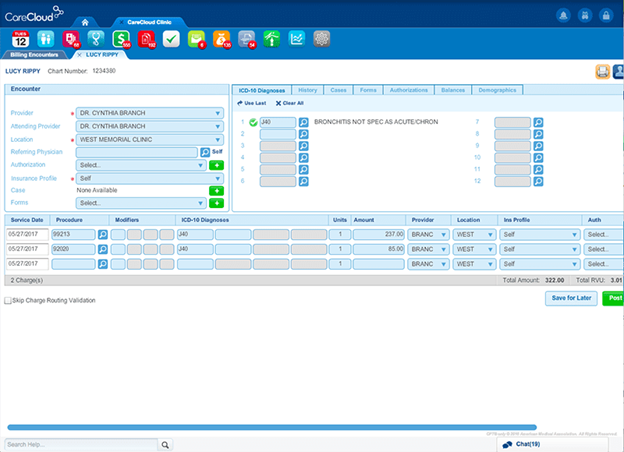 Charting and Notetaking
In CareCloud's charting tool, lists of upcoming appointments and checked-in patients offer an overview of the day's schedule. You'll see which exam rooms patients are located in and a list of completed appointments. We especially appreciated that we could drag and drop to move patients between lists, which we consider a must-have feature for medical software.
Viewing a patient's full chart is as easy as double-clicking their name. We like that CareCloud creates a running list of recently opened patient charts for rapid access, allowing users to easily toggle between charts for recent visits. CareCloud makes reviewing multiple charts at once easy with a series of tabs at the top of the screen. This is perfect for comparing recent charges with notes from the patient encounter without cluttering the display.
In the CareCloud charting portal, an Exam Notes tool lets you use custom or preset templates to streamline your notetaking. In CareCloud's Breeze suite, your notes will automatically populate with a patient's medical history and current information. You can type or use hotkeys or voice-to-text (via M*Modal or Dragon integrations) to take notes while maintaining focus on the patient.
CareCloud's charts offer a unique wand feature that auto-indicates a patient's information as normal and healthy. You can also click a list entry and color it red to mark it as abnormal. When patients describe their symptoms, you can cross-reference the red text on your chart to determine potential causes. We found these tools to be effective methods for improving provider decision-making through readily available information and recommendations.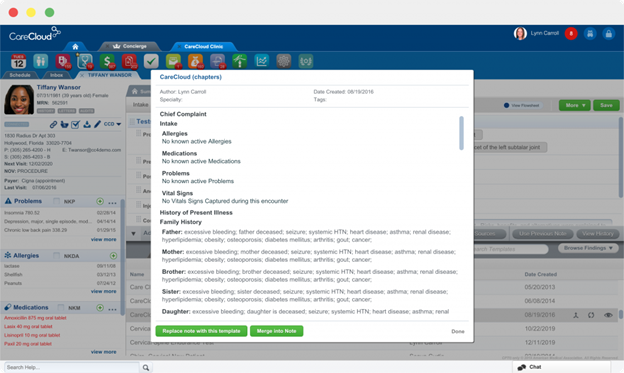 E-Prescribing and Labs
CareCloud allows you to create reusable order sets so you can easily convey your patients' testing needs to your staff and third-party practices. The CareCloud eRx suite also provides real-time intelligence at the point of care so you don't prescribe medications that could interact dangerously.
E-prescribing is an important tool for nearly every medical practice. Need consultative help in securing access to e-prescribing features? Check out our review of athenahealth's medical software to learn about some particularly great consulting services.
Patient Experience
Compared with other medical software providers, CareCloud's patient experience offerings stand out. Many of its software features that might typically be targeted at practices are instead geared toward patients.
For example, CareCloud's custom workflows are structured around a seamless patient experience, starting with pre-visit updates and reminders via the patient portal. For practices with the Breeze add-on, patients can use on-location Clover-powered check-in and checkout kiosks, which reduces work for the front office. Contactless payment options are also available. [See our Clover review to learn more about the vendor and its products.]
Certain patient or practitioner actions after an appointment will automatically trigger reminders to schedule future appointments so you never miss an opportunity to keep patients on the calendar. CareCloud also includes secure messaging tools to streamline communications with your patients. The platform goes beyond messaging to include loyalty campaigns designed to keep your patients coming back if they have future medical concerns.
Much of CareCloud's patient experience prowess comes from its dynamic patient portal. There, patients can check in and pay well before their appointment. You and your patients can easily communicate before appointments in this portal as well. The CareCloud patient portal also lets patients request, reschedule and set up reminders for upcoming appointments. As they do so, they can easily update their demographic and insurance information, which your staff must approve.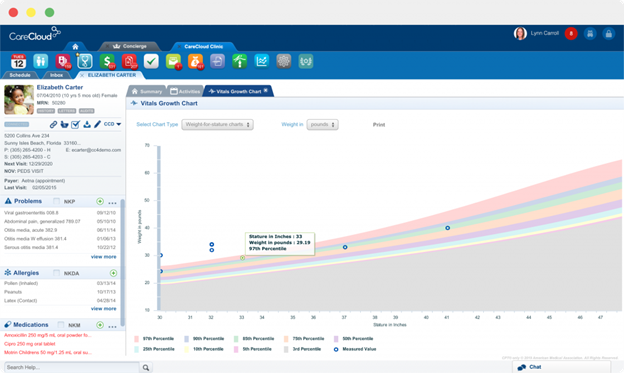 Patient Payment
CareCloud couples its comprehensive patient experience suite with unique payment tools. Although some of these features can be found in other medical software, most of CareCloud's strongest patient payment tools are unique.
One of the most notable features is the ability for patients to build their own payment plans. This way, they can make partial payments if they can't immediately afford the full cost of your services. Chances are, this feature means you'll wait less time to get paid.
When it's time to pay, patients can choose from standard credit cards, health savings accounts (HSAs) and flexible spending accounts (FSAs). CareCloud is the only medical software company we reviewed that makes HSA and FSA payments this easy.
CareCloud is the only medical software we found that streamlines patient payments through HSAs and FSAs. HSAs are typically part of high-deductible health plans.
Before patients pay, they can view a detailed statement that breaks down their current charges. Emailed receipts follow payments, which automatically post to your PMS.
Given its vast array of patient payment tools, CareCloud asserts that your patient collection rate will be 5% to 10% higher than with other software platforms. CareCloud also estimates you'll earn 10% to 20% more revenue per patient encounter.
Reporting and Practice Analytics
As with most of the medical software platforms we reviewed, CareCloud is equipped with comprehensive practice management and data tools. The platform's financial intelligence spans your entire operation, and you'll see this data in simple reports of your clinical performance. You'll also benefit from predictive analytics that include actionable big data.
The CareCloud analytics and reporting suite includes a customizable dashboard for your data. You can also enable and block report access for specific team members. CareCloud's easily accessible, data-heavy reports are available on both desktop and mobile devices. These reports help you determine all of the factors, both positive and negative, behind your practice's performance. You'll also be able to locate bottlenecks in your collections and billing cycle and solve these problems to bolster performance.
You can filter any reports you generate in CareCloud by payer, provider or staff member, and view them in daily, weekly and monthly formats. Set these customizable reports to generate on a regular schedule and export as PDF, XLS or CSV files.
Retail and E-Commerce
CareCloud is the only medical software we reviewed that includes tools to push your practice beyond standard medical care and into retail and e-commerce. While this capability isn't necessary for all practices, those looking for additional revenue streams may find it helpful.
Through CareCloud, you can set up a web store and manage your inventory, offer sales and discounts, and provide customers with real-time shipping updates. If customers don't complete their purchases before leaving your e-commerce site, you can send them reminders to recover their abandoned carts.
Revenue Cycle Management
CareCloud's RCM suite, CareCloud Concierge, is quite extensive. It stands out especially for its large number of features. CareCloud Concierge fully integrates with almost any EMR or PMS. An account management team will measure your growth with thorough analytics and reporting, and when you contact them, you can expect prompt responses. Beyond data, the account management team will ensure your practice remains in line with the most recent and pressing healthcare industry changes.
Your account management team will include experts in billing, collection and remittance. These professionals will seek to optimize your payment cycle, and others will post payments, work denials and issue patient statements. Additional billing services include medical claim submission, payer follow-up and negotiations, superbill charge entry, operative report coding, and claim error resolution.
As CareCloud Concierge manages your revenue cycle, it will keep your practice in line with the most recent Medicare Access and CHIP Reauthorization Act (MACRA) and ICD-10 regulatory changes. CareCloud Concierge can also assist you in receiving Council for Affordable Quality Healthcare (CAQH) quarterly reattestations, and government, commercial payer and managed care plans.
CareCloud Concierge maintains the above services will increase your collections by at least 7% while cutting your costs, as well as lower the number of days in accounts receivable by 33%.
Telehealth
CareCloud's HIPAA-compliant telehealth platform is included for all practices that use CareCloud and integrates completely with your EMR and PMS. You'll receive onboarding and training support for a seamless start.
The CareCloud telehealth suite includes all the tools you might expect from remote appointment software, including easy appointment starting, clear video and secure connections. Patients can use CareCloud's mobile app to view their appointments, and booking and rescheduling are easy. You can set up automated email and text patient reminders to lessen your administrative burdens.
CareCloud Setup
New CareCloud customers can contact the company's professional services team for training. Representatives told us that its customers typically need 90 days to fully implement their health system. However, you'll likely pay a steep fee for setup assistance.
If you need to migrate data from another EMR platform to CareCloud, the process comes with a price tag of up to $5,000. This high fee remains unchanged from previous years, but CareCloud has lowered its implementation fees, which start at $1,000 for medical software. However, even this price could be cost-prohibitive for smaller practices on a budget.
CareCloud's setup typically costs thousands of dollars upfront, which may be too expensive for smaller, budget-conscious practices.
For RCM, CareCloud setup starts at $1,000 per provider. The exact price may depend on several variables, including specialty and monthly claims volume. In general, CareCloud's prices may quickly push smaller or lower-volume practices past their limits. (If your practice falls into this category, see our review of Kareo and our athenahealth review for other medical billing software options; neither of these companies charges extra fees for setup.)
CareCloud's implementation fees fall into three tiers – Essentials, Enhanced and Enterprise – as detailed below.
Essentials
Essentials is CareCloud's $1,000 setup plan, which includes standard, off-the-shelf software configuration. It excludes customization, templates and data importing services, though it does include an introductory call. You'll also be enrolled in electronic data interchange. In addition, CareCloud will develop your interfaces with pharmacies and labs.
Notably, the Essentials setup plan lacks direct training. However, it does come with access to CareCloud University, which is full of self-guided training materials. It also includes a check-in with your account manager five days after you start implementation.
Enhanced
For the Enhanced setup, CareCloud charges a percentage of your collections; the exact percentage depends on your claim volume and value. With the Enhanced plan, you get several customization features as you set up your system. CareCloud also provides some guidance and training while overseeing your data importation.
Enterprise
Enterprise is CareCloud's highest setup tier. You'll need to request a custom quote to find out how much you'd pay for the package, but what you'll get is a fully hands-on, customizable approach to your setup, as well as thorough training.