With AdvancedMD's a la carte medical software features, your practice only pays for the feature it needs. That's part of why AdvancedMD is our best pick for large practices, given how high their EMR costs can get.
Pros
AdvancedMD's customizable service and feature plans can lower practices' medical software costs by up to 30%.
AdvancedMD's hands-on, lengthy setup assistance can help large practices get used to their new software.
Cons
The AdvancedMD a la carte model means some features that come standard with other medical software platforms cost extra.
As you add features, the AdvancedMD interface may become more difficult to navigate and use.
AdvancedMD is one of the most flexible medical software platforms, allowing you to pay only for the features you need. That makes it ideal for large practices with highly specific needs that might prove costly with other vendors.
AdvancedMD is best known for its efficiency-boosting "task donuts" and expansive selection of standard and custom reports.
AdvancedMD's drawbacks include costly add-ons that competitors offer as standard functions and a potentially overwhelming number of features.
This review is for owners and administrators of medical practices – especially large organizations with specific needs – considering AdvancedMD as their medical software.
Large medical practices often have custom needs, so it helps to have a comprehensive medical software platform that allows them to add new features to create a personalized bundle of medical software tools. We love that AdvancedMD customers can choose features a la carte. For example, if you want only some of the system's charting, telehealth, e-prescribing, scheduling, billing, patient reminder and performance reporting tools, you can pay solely for those. This customizability can yield lower prices, meaning that as you stack features, you can ensure you don't go over budget. As such, we named AdvancedMD our pick for the best medical software that meets the highly specific needs of large practices.
AdvancedMD Medical Software Editor's Rating:
8.8 / 10
Customization

10/10

Pricing

10/10

Consultation

7.5/10

Revenue cycle management

9.2/10

Telehealth

7.5/10
Why AdvancedMD Is Best for Large Practices
Large medical practices often need all kinds of tools, but some medical software platforms that combine electronic medical record (EMR) systems and practice management software (PMS) with medical billing software lack the most-sought-after features while including others that aren't needed. The best medical software, however, offers healthcare organizations plenty of choices, which is why we really appreciate AdvancedMD. This vendor provides many of its services and features a la carte, so customers pay only for the tools they need.
AdvancedMD's a la carte medical software plans are ideal for large practices with one-of-a-kind needs.
With AdvancedMD's a la carte model, the average customer saves up to 30% on their medical software costs. Once you've set up your custom suite, you can get up to 28 hours of hands-on training. After this training, you and your staff will be equipped to use your new medical software tools, all of which are features you've specifically requested and actually need.
Usability
Among the medical software platforms we've reviewed, AdvancedMD's interface ranks highly for user-friendliness. That said, it isn't perfect. For some users, AdvancedMD's vast suite of features, templates, workflows and shortcuts may prove more confusing than helpful. In researching the best medical software, we ultimately found solutions that have better usability. Read our full Kareo review to learn why it's our top pick for ease of use.
Still, AdvancedMD realizes that medical software can be overwhelming, and the company will gladly provide your team with one-on-one training (for an expensive fee). It also hosts a library of online setup resources. Nonetheless, AdvancedMD is so heavy on features and customizable templates that the learning curve may extend long after training.
AdvancedMD Features
Here are AdvancedMD's key features, with more details below:
| | |
| --- | --- |
| Charting and notetaking | You can look at essential patient information as you type notes or take notes via hotkeys or voice-to-text. |
| E-prescribing and labs | AdvancedMD includes standard e-prescribing features alongside two-factor authentication, security validation and audit histories that protect patients' data. |
| EMR dashboard | AdvancedMD's highly flexible, customizable dashboard includes "task donuts" that direct team members where they need to go to complete critical tasks. |
| Interoperability | AdvancedMD's interoperability tools streamline the sharing of meaningful use and immunization data with health registries and the sharing of patient data with other providers. |
| Medical billing | AdvancedMD's Claim Inspector tool and extensive claim scrubbing features result in a first-pass claim acceptance rate of 97.6%. |
| Patient reminders | AdvancedMD's automated voice, text and email appointment reminders are available in English and Spanish. |
| Reporting | The AdvancedMD Reporting Center includes several hundred standard and custom financial reports that the program recommends on your dashboard. |
| Scheduling | AdvancedMD's appointment scheduling tools streamline tedious work while identifying where in your clinic your patients are awaiting your arrival. |
| Telehealth | AdvancedMD's HIPAA-compliant telehealth suite fully integrates with the AdvancedMD EMR for comprehensive charting and notetaking. |
Charting and Notetaking
We liked that providers can connect with other healthcare professionals in their practice via any chart item. You can also quickly load your patient's vitals at the beginning of an appointment and just as easily access the patient's basic information and a chronological list of allergies, lab results, medications, and recent health insurance plans.
AdvancedMD offers customizable chart and notetaking templates for each appointment type. In our test of the system, we especially liked that when you're taking notes, typing isn't your only option; hotkeys and voice-to-text are also available.
During appointments, you can search AdvancedMD's ICD-10 code library and add relevant codes to your completed clinical notes. You can then send your finalized notes to AdvancedMD's billing team, who will manage your revenue cycle thereafter if you've signed up for AdvancedMD's medical billing services.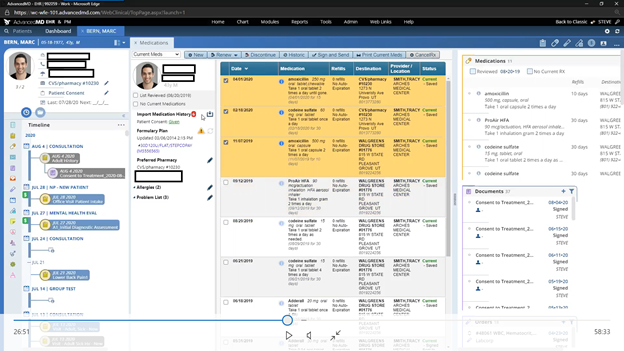 E-Prescribing and Labs
AdvancedMD's e-prescribing suite is accessible via desktop or mobile app. You can use it to view benefit and cost information based on formularies or patient-specific data. This information can be crucial to know before you send prescriptions to pharmacies.
AdvancedMD's geographic pharmacy search tool helps you pair patients with their pharmacies. The system also presents alternative prescriptions if a patient's insurance doesn't cover the original medication you've prescribed. The software flags concerning medication interactions before you complete prescriptions.
In addition, AdvancedMD offers Electronic Prescribing for Controlled Substances (EPCS) – that means two-factor authentication, security validation and audit histories – to keep your e-prescription data secure.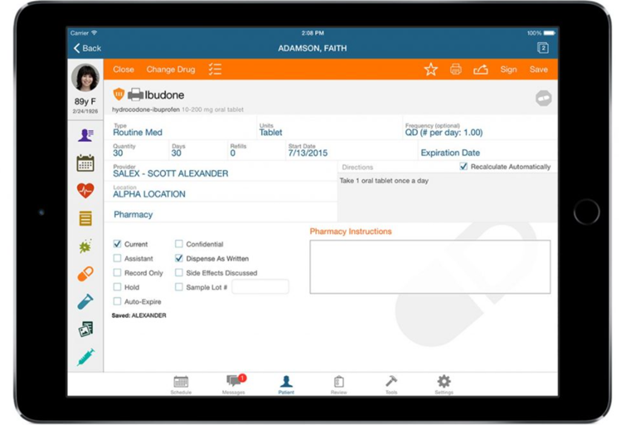 EMR Dashboard
AdvancedMD's EMR dashboard includes five groups of quick-access icons at the top. The blue group is for patient tools, and the red is for scheduling. Green means claims and billing, orange indicates payments received and yellow is for reporting. This simple top-bar navigation is seen in some other medical software, but it feels especially seamless and organized in AdvancedMD.
The AdvancedMD dashboard is well known for its standout "task donut" feature. When you click these donuts, you'll immediately be sent to certain tools. Such possibilities include being directed to AdvancedMD's HealthWatcher, which pulls up a list of patients who need appointments and suggests health plans to guide your patient encounters. With these convenient task donuts, you can streamline the work that comes before and after appointments while keeping your staff aware of upcoming patient needs.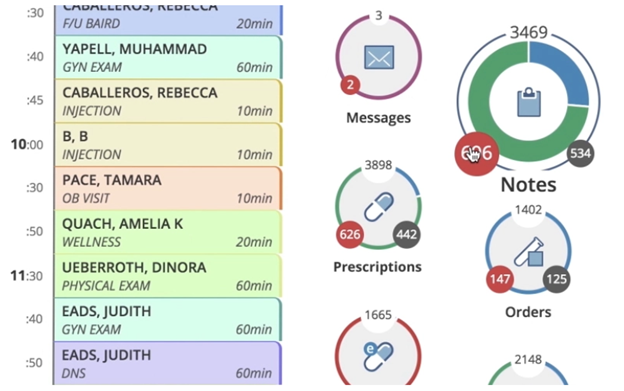 Interoperability
With AdvancedMD, your EMR, practice management and patient experience tools are linked in the cloud for peak interoperability. This interoperability function lets you share immunization and meaningful-use data with health registries. The system also facilitates the basic interoperability task of sharing data with third-party practices and providers.
Medical Billing
AdvancedMD's billing tools include medical claims management features for capturing and reimbursing claims from the same screen. The billing suite also has an integrated clearinghouse to streamline your claim uploads and remittance downloads.
We appreciate that AdvancedMD's Claim Inspector tool automatically scrubs all your claims to catch HIPAA, CCO and ICD-10 errors. The vendor says its first-pass claim acceptance rate reaches 97.6% with this feature. The company also offers claim denial software and auto-populates your claims and copay data.
AdvancedMD says its first-pass claim acceptance rate is 97.6%, which is exceptional in the medical billing industry.
Patients can use AdvancedMD's billing platform as well. They can pay bills online through the intuitive interface, which your front-office staff can log in to anytime, anywhere. In-person payments are accepted as well, and the software streamlines the process with instant information on patient eligibility, copays and more.
Patient Reminders
AdvancedMD sends patients automated reminders prior to their appointments. Through these reminders, patients can more easily cancel or reschedule appointments. When they keep their appointment, they can use the reminder's confirmation link to shorten their check-in time for their appointment by getting advance access to intake forms.
The voice, text and email patient reminders are also available in Spanish, which is very valuable. In either language, AdvancedMD can easily organize and filter all patient communications, including intake forms, reminders and even marketing campaigns.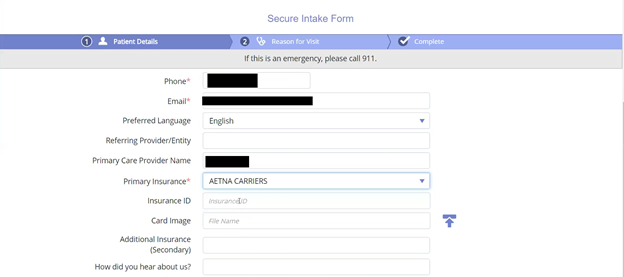 Reporting
Through the AdvancedMD Reporting Center, we gained access to more than 150 standard financial reports and nearly 500 custom reports during our testing. Medical and accounting experts designed these reports to help you drive your practice's financial performance, making them extremely useful.
AdvancedMD suggests the best reports to follow, but these recommendations aren't specific to your practice; all software users see the same reports. You can also search by report category to see the many options that might apply to your practice.
We particularly liked that whichever reports you choose will prioritize your organization's key performance indicators (KPIs), such as total appointments, accounts receivable, collections and patient demographics. You can also save these reports to your computer and open them in Excel to analyze the data. [Related article: Setting and Measuring KPIs]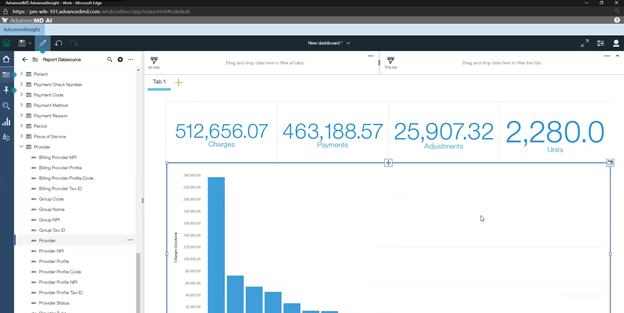 Scheduling
With AdvancedMD's appointment scheduling interface, you substantially reduce the frustration of navigating crowded calendars. You also get simple, quick tools at your fingertips for patient copay collection and check-in. The schedule snapshot tool displays your daily appointments based on resources, location or provider. It also lets you perform instant insurance eligibility checks on one or all of your appointments.
You can click appointments to see their type and duration. This view also displays the patient's clinical notes and contact information. Whenever and wherever you spot openings in your practice's calendar, you can easily schedule new appointments.
AdvancedMD also has recurring appointment tools so patients who need more than one visit can be booked swiftly. This feature lets you modify individual visits or add patients to waitlists. The system automatically moves patients from your waitlist to your calendar when an opening appears.
On appointment day, the software can tell you the exam rooms in which your patients await you. This function slashes patient wait times and leads to a smarter staff distribution among patients.
Telehealth
AdvancedMD offers HIPAA-compliant telehealth tools for connecting with patients who can't see you in person. It's great that the telehealth suite fully integrates with the EMR platform. In doing so, it gives practices a telemedicine appointment dashboard and tools for storing call screenshots in patient files.
AdvancedMD Costs
With AdvancedMD, you can build your own suite of features to cut your costs by up to 30%. Alternatively, you can choose a standard AdvancedMD bundle or ask for a custom quote. The vendor doesn't appear to offer a free trial, but you can request a no-cost demo video.
AdvancedMD operates on the same pricing model as many other EMR and PMS vendors, charging most users on a monthly per-provider basis. Encounter-based pricing is also available for certain practices.
If you choose AdvancedMD's encounter-based model, our research suggests you'll pay $2.18 per encounter per month and need to reach a minimum of $500 in monthly encounters. Mathematically, this translates to a minimum of 230 encounters per month.
Fees for AdvancedMD's per-provider-per-month model start at $729 for the a la carte Rhythm suite, which excludes medical billing services. You can also choose just PMS features instead of EMR to start at $429 per provider per month.
However, these options lack many features that come standard with most other EMR and PMS platforms we reviewed. Add-ons that cost extra include appointment scheduling, e-faxing, EPCS, credit card processing services, insurance eligibility checks and lab interfacing. The more features you add to your package, the more expensive AdvancedMD will be. This may not be a problem for larger practices that can save money via the a la carte options, but it could be cost-prohibitive for smaller ones.
You'll have to pay extra for several AdvancedMD add-ons that other medical software platforms include automatically. To learn about a more cost-effective medical software platform, check out our review of DrChrono.
AdvancedMD's revenue cycle management feature is also available as an add-on. You don't pay for this service at provider- or encounter-based rates. Instead, it costs 4% to 8% of your practice's monthly collections.
AdvancedMD Setup
Upon signing up with AdvancedMD, you can opt in to 28 hours of training, which can take one of two forms. You can either choose one-on-one guided training or browse AdvancedMD's library of online setup resources for self-service implementation.
However, the guided training is not included in most of the pricing plans; it costs extra. When we contacted AdvancedMD, a representative told us that a one-on-one training package is available for a flat fee of $5,000. This option includes setup, training and one-on-one hours with an implementation consultant.
AdvancedMD's implementation and training services are highly in-depth and personalized, but they're quite costly.
Customer Service
Customer support for AdvancedMD is available by phone, live web chat and a help desk ticketing system. We liked that remote access technical support is available to troubleshoot technical issues; a customer support agent can take control of your device remotely to fix the issue.
Drawbacks
Despite its numerous features, AdvancedMD has some drawbacks.
Costly add-ons: AdvancedMD requires you to pay extra for several features that other medical software providers include at no added cost. These add-ons include appointment scheduling, e-prescribing, e-faxing, insurance eligibility checks, credit card processing and lab interfacing. For some practices, having to pay extra for these key features may be a dealbreaker.
Overwhelming interface: Though it's relatively user-friendly, the AdvancedMD interface can be overwhelming for some users. It's packed with so many features, shortcuts, templates and workflows that the less tech-savvy users at your practice might struggle with it. In fact, some users are known to face challenges even after completing AdvancedMD's in-depth (and pricey) one-on-one training.
Methodology
We spent hours researching, analyzing and reviewing medical software to find the best products on the market. Our investigation included software demonstrations, phone interviews and customer service calls. We also considered customer service reviews available online, including those on the Better Business Bureau website.
For this AdvancedMD review, we pored over the vendor's website and contacted company representatives for more information. We chose AdvancedMD as the best medical software for large practices because its choose-what-you-want model and potential cost savings are ideal for meeting the highly specific needs of big medical offices without overspending.
AdvancedMD FAQs
AdvancedMD is used for digitizing patient charts; managing notes and prescriptions; implementing telehealth and interoperability measures; and streamlining front-office billing, scheduling and registration tasks. AdvancedMD also offers revenue cycle management services for practices that need to outsource their medical billing.
Yes, AdvancedMD is an EMR. It's also a PMS and a medical billing service. You can use as few or as many of AdvancedMD's EMR, PMS, and medical billing features and services as you need. Your pricing will depend on which features you choose.
Overall Value
We recommend AdvancedMD if …
You want to customize your practice's suite of medical software tools.
You want hundreds of report templates.
You need an encounter-based pricing model instead of a monthly per-provider fee setup.
We don't recommend AdvancedMD if …
Your practice does not have the budget to pay extra for certain features.
Your practice has more tech-averse than tech-savvy team members.