DrChrono offers the most important medical software features – including patient charting, telehealth, scheduling, e-prescribing, patient reminders and performance reporting – with flexibility and pricing that are ideal for small and newly opened private medical practices. In fact, DrChrono's reasonable costs for the features it includes stand out so strongly that we named DrChrono our pick for the best medical software for new practices.
DrChrono Features
Here are some of the features you get with DrChrono:
| | |
| --- | --- |
| Appointment scheduling | DrChrono's appointment scheduling suite is highly customizable and user-friendly, and includes real-time insurance eligibility checks. |
| Billing tools | DrChrono clearly indicates claims that have been created but not submitted while deftly scrubbing and coding claims, though not all plans include those tools. |
| Custom charts | DrChrono's customizable charts and templates vary by appointment type and, on an iPad, allow you to free-draw over patient diagnostic images. |
| Direct messaging | DrChrono's direct messaging suite enables secure patient communication, but it's not a substitute for email. |
| E-prescribing and labs | DrChrono's advanced e-prescribing tools are available with all plans other than the introductory Prometheus tier, which offers basic eRx. |
| Patient education tools | DrChrono offers patient education tools that cover numerous conditions and important medical advice. |
| Patient reminders | All DrChrono plans include patient reminders via email, phone, and text, but there are monthly maximums for the latter two types. |
| Revenue cycle management | DrChrono's RCM suite is expansive, but it's available only at DrChrono's highest price tier, Apollo Plus. |
| Reporting suite | DrChrono's highly customizable, filterable reports help you identify trends in your practice's financial performance and billing operations. |
Appointment Scheduling
DrChrono enables appointment scheduling through a standard calendar that can be viewed in a daily, weekly or monthly format. You can customize the calendar's columns to display specific practice locations, individual providers or other information.
The DrChrono appointment scheduling suite lets you book appointments in minutes, and as you do so, you can register new patients. This tool can come in handy for walk-in appointments, as you can immediately get these new patients into your system. The calendar's drag-and-drop view lets you reschedule appointments in a jiffy as well. If you need your calendar to indicate appointments by type, you can color-code them as needed.
DrChrono's scheduling suite can pair appointment types with the intake or consent forms patients need to complete. This pairing ensures patients are sent these forms after they book their appointments. As appointments approach, all DrChrono tiers except the entry-level plan (Prometheus) give you tools for checking patients' insurance eligibility in real time.
Although DrChrono can automate your patient appointment reminders, you can't send more than a preset maximum number of reminders when using phone or text, which is a disappointing limitation.
Billing Tools
DrChrono's billing tools save all clinical data and notes immediately after your encounter note is signed. After that, coders and medical billers can log in to DrChrono to scrub, code and file your medical claims.
The software also comes with extensive pending- and denied-claim tools. Each pending claim shows the claim's ID number, patient, payer, provider and value. Should you need to search for claims, these identifiers can act as filters. All pending claims also distinguish between the amount for which the claim has been billed and the amount paid.
The platform places a red exclamation mark next to claims your team has created but not yet filed. You'll also see clear indications of outstanding patient balances, and you can sort by 10 types of claim filters. These helpful filters include "ERA received," "in process at payer"" and "missing information."
Notably, these features are mostly absent from DrChrono's Prometheus and Hippocrates tiers, which prioritize electronic medical record (EMR) and practice management software over billing. However, you can create custom billing codes, auto-generated CMS 1500 forms, billing profiles and superbills with any tier.
Custom Charts
All DrChrono plans include customizable charts and templates. You can also use the system on an iPad to access free-drawing and text-addition capabilities that are ideal for marking a patient's diagnostic images as you please. Through this function, you can also take live images of your patient and draw on them. With the Hippocrates package and above, you get voice recording tools as well.
You can use DrChrono to load a different note-taking template for each appointment type. To do so, just click the Start Visit button after your patient checks in. You'll then see a note-taking template that matches your current appointment type.
All DrChrono charts also include tags known as patient flags. These color-coded tags include (but aren't limited to) the patient's insurer, statement balance, preferred lab provider and VIP patient status.
DrChrono's customizable charts overlap perfectly with your schedule, since you can also create custom appointment profiles. These start as templates that streamline your ability to add appointments and include medically relevant fields, such as the reason for the patient's visit. To optimize schedules, this tool can also set realistic time blocks for each appointment type.
Direct Messaging
All DrChrono tiers include direct messaging technology that lets you securely send patient documents and information. You can write and send these messages from the dashboard's messaging center or your patients' charts, but your communications will only reach other direct messaging platforms; DrChrono's direct messaging tools don't go to email inboxes.
E-Prescribing and Labs
Every DrChrono package includes the e-prescribing tools that come with all top EMR software, though the Prometheus level limits users to basic functions, including the following:
Sending one, several or compound prescriptions
Flagging potentially harmful interactions
E-prescribing and detailing pharmacist instructions through fax, iPad or iPhone (no Android app for doctors)
Searching for pharmacies based on a patient's location
Reviewing a patient's full prescription history
If you need to use a mobile device for e-prescribing, you're limited to iOS. DrChrono doesn't offer an Android app for doctors.
The advanced DrChrono e-prescribing platform comes with tools for saving each provider's preferred prescriptions and pharmacies. If you want to secure your advanced e-prescribing software with electronic prescriptions for controlled substances (EPCS), you can do so with all tiers except the introductory one.
DrChrono gives you extensive lab ordering features, such as tools for favoriting frequently ordered tests. However, the Prometheus tier doesn't integrate with Labcorp and Quest Diagnostics.
Patient Education Tools
All DrChrono packages have patient education features, though the Prometheus tier doesn't include patient access to custom library tools. DrChrono's patient education suite spans both common and unusual conditions, plus important medical advice for before appointments or procedures.
Patient Reminders
DrChrono's patient reminder technology is included in every tier, but unfortunately, there are monthly maximums for how many text and phone reminders you can send.
Prometheus: 100 reminders
Hippocrates: 150 reminders
Apollo: 300 reminders
Apollo Plus: 600 reminders
If you need more than your plan allows, you'll need to pay 5 cents per text or 15 cents per phone call.
DrChrono limits the number of text and phone appointment reminders you can send each month before an extra per-reminder charge kicks in.
Revenue Cycle Management
DrChrono offers a solid suite of RCM services, but they're available only with the Apollo Plus plan. This tier includes the following RCM functions:
Financial performance reports
Patient collections and statements
A claim status dashboard
Coding
Accounts receivable management
A dedicated billing manager, billing specialist and account manager for your practice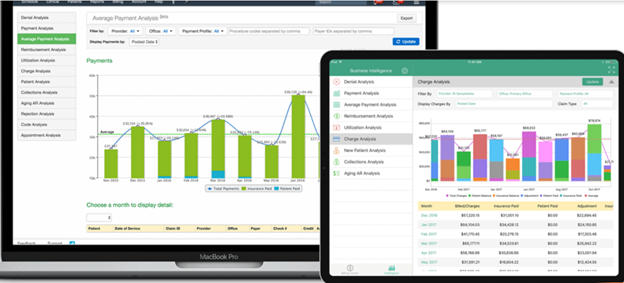 Reporting Suite
DrChrono's reporting suite is quite comprehensive. You can use it to detect trends in financial performance and billing operations and react to them accordingly. All reports are fully customizable, and you can apply various filters.
If you're on the Apollo Plus plan and use DrChrono's RCM suite, you can easily view your claims reports, which show each claim's status in the billing process. Additionally, DrChrono's billers are indicated in the same places you'd typically see your staff biller listed. This structure gives you an unobstructed view of DrChrono's approach to your RCM.