Kareo Medical Software Review
Kareo is a highly user-friendly medical software platform that's suitable for virtually any medical practice.
All Kareo customers get full access to all of the company's electronic medical record and practice management tools.
Kareo's only true drawback is its lack of practice management consulting services.
This review is for healthcare providers who are considering Kareo for their medical software, especially those who want an easy-to-use option.
The best medical software providers make it easy to find and use their tools for medical charting, note-taking, patient registration and demographics, billing, e-prescribing and lab ordering, telehealth and performance reporting. Kareo does this better than any of its competitors, and when you use the company's electronic medical record (EMR) system, you also get practice management tools. The result is a seamless, hassle-free user experience that's earned Kareo our designation as the best medical software for ease of use.

Kareo Medical Software
The Verdict
Kareo's electronic medical record (EMR) and practice management systems are the most intuitive of the medical software we reviewed, and it's an excellent, reasonably priced choice for virtually any medical practice.
Kareo Editor's Score: 88/100
| | |
| --- | --- |
| Customization | 90 |
| Pricing | 100 |
| Consultation | 60 |
| Revenue cycle management | 90 |
| Telehealth | 100 |
Why Kareo Is Best for Ease of Use
Kareo's dashboard resembles a social media feed, and given that most people are familiar with those platforms, this setup makes Kareo intuitive to navigate. Kareo couples this straightforward interface with features that you can reach in one or two clicks from almost anywhere in the platform. All Kareo integrations are similarly user-friendly. Additionally, Kareo's interface restructures itself based on the role of the person accessing it. This way, whoever is using the system has their most important tools readily available.
Because Kareo's interface resembles a social media feed, it's extremely easy to navigate. You can typically get from one feature to another in one or two clicks.
Pros
Unparalleled ease of use
Automatic inclusion of both EMR and practice management for all users
Cons
Limited hands-on practice management consulting
Lack of response to Better Business Bureau customer complaints
Usability
We found that Kareo offered the best user experience of all the medical software we reviewed. Kareo's interface looks like a social media feed – a design intended to make the software more intuitive.
Moving among Kareo features was effortless, and most tools are available from any part of the program in just one or two clicks. Kareo's integrations with lab software are just as simple and user-friendly.
The look of Kareo's dashboard depends on who is using it. We like that each setup can be tailored to each user's needs and tasks based on their role in the organization. Individual users can further customize and personalize their dashboards as needed. The Kareo dashboard takes you to both your EMR and practice management tools, so there's no need to toggle between multiple windows.
Kareo is extremely easy to navigate, but if you do have questions, Kareo provides one-on-one training for advanced functions.
Features
Here are some of the key features of Kareo's medical software:
| | |
| --- | --- |
| Appointment scheduling | Kareo's fully customizable, color-coded calendar includes myriad filters and tools for easy classification and rescheduling. |
| Billing tools | Kareo quickly captures charges, auto-generates patient statements and automates payment reminders to improve your medical billing process. |
| Charting and note-taking | Kareo makes viewing and modifying patients' medical notes a seamless process. |
| Claims and insurance | Kareo gives you tools for e-filing, rejected claims, denied claims and payment posting while passing all your claims through three rounds of internal review. |
| E-prescribing and labs | Kareo's e-prescribing and e-lab ordering software is certified, and you can favorite prescriptions and labs. |
| Flexible dashboard | Kareo's dashboard is highly customizable and extremely user-friendly. |
| Interoperability | Kareo maintains an interoperability requirements list, Medicaid Promoting Interoperability platform and CommonWell membership. |
| Patient portal | Kareo's patient portal expedites secure communication with patients around the clock. |
| Reporting | Kareo's customizable reports show data that point to missed opportunities, trends and inefficiencies. |
| Telehealth | Kareo's telehealth platform integrates with the company's EMR and practice management services. |
Charting and Note-Taking
Charting and note-taking are essential features in medical software, and Kareo excels on this front. The interface makes it as easy as possible to view and add to patients' medical records.
To access and modify patient files in Kareo, just take a glance at your daily agenda in the program. From there, click any patient's card in your schedule, and their record will appear. You'll see the patient's medications, history, vitals and plenty of additional important information. When you're ready to add information, just click the "+ Note" button in the top-right corner to enter note-taking mode.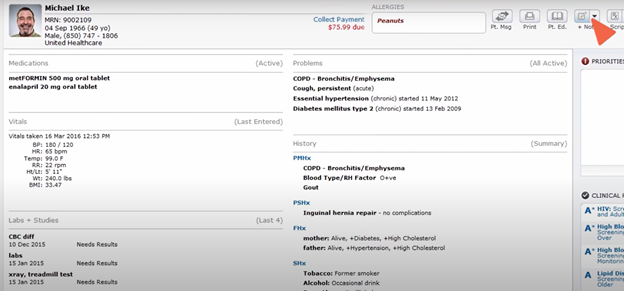 To take notes, just click the field where you want to add information and start typing. You can also customize your templates using Kareo's hundreds of available options. And with Kareo's "same-as-last-time" (SALT) tool, you can add clinical notes right to the information on file from your patient's previous visit. This feature is extremely useful for quickly updating patient records, especially for patients who regularly have the same results.
Use Kareo's SALT tool to quickly add information to your patients' most recent data.
Appointment Scheduling
On the practice management side, Kareo makes scheduling appointments a breeze. Just load Kareo's centralized calendar; then filter by day, week or month. You can also filter by provider, exam room, location, medical equipment and more, as well as run several filters at once.
You can customize and color-code your Kareo calendar, and the drag-and-drop tool makes rescheduling easy. Setting appointments is simple, too: Just add the patient's name, the reason they're visiting, the office they're visiting and their provider. You can also set up recurring appointments for patients who need regular visits.
Once appointments are scheduled, front-office staff can run a batch insurance eligibility verification check confirming that all scheduled patients have up-to-date, active insurance policies before their visit.
Billing Tools
Kareo's comprehensive billing dashboard includes, among other features, tools for capturing charges the moment patient encounters end. Kareo can also auto-generate patient statements to facilitate payment.
After you send these statements, you can follow up on them via the Kareo Patient Collect tool's email, postal mail and text statements and payment reminders. You can also implement macros and workflows to reduce the chances that you'll skip steps in the billing process.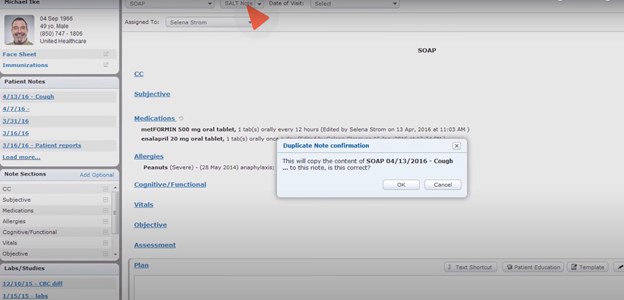 Claims and Insurance
Understanding what medical claims are being generated and submitted to payers through your billing software is key to keeping up with your practice's financial performance. We like that with Kareo's insurance and medical claims tools, you can link your practice to more than 8,000 insurers. We also found that you can confirm your patients' insurance benefits and e-file claims with payers. In our experience, it took just one or two clicks and only a few seconds to get from one billing tool to another, resulting in a much better navigation experience compared with most of the medical software we reviewed.
We also liked the simplicity of Kareo's tools for addressing rejected and denied claims, through which users can learn the ins and outs of each denied claim and pinpoint recurring reasons for denials. Additionally, through Kareo's payment posting tool, your billers can receive money from payers sooner. Kareo uses this tool for payment types such as automatic crossover, multiple adjustments and secondary remittance.
E-Prescribing and Labs
All good medical software programs offer highly important e-prescribing tools, and Kareo's features are both straightforward and certified. You can find the Kareo e-prescribing and labs suite right in your clinical notes.
It's simple to e-prescribe medications from Kareo's full library. Simply click Plan and then the Medications tab on the top right. In the window that appears, you can look for new medications, add patient instructions and send prescriptions to pharmacies. If you're prescribing medications that could lead to significant interactions, Kareo will let you know.
In addition to these features, which are common among medical software programs, Kareo lets you favorite medications that you prescribe regularly. Not all medical software providers offer this helpful feature.
Through Kareo, you can order labs just as you would medications. Find Kareo's labs tool in your notes; then browse test options and order what your patient needs. As with prescriptions, you can favorite frequent orders.
Flexible Dashboard
Kareo's flexible dashboard is a big reason we chose it as our pick for ease of use. With Kareo, we could quickly and intuitively pull up patients' appointments and medical information.
Kareo's dashboard allows you to mark patients as scheduled, in-office or done with their appointments. You won't have to manually mark patients as in-office or finished; check-ins are automated, and patients are automatically checked out when a provider completes their chart.
This ease of use extends to Kareo's integrations and interfaces with Quest Diagnostics and Surescripts. Through Surescripts, you can easily access a patient's past 12 months of medication history, and through the lab programs, you can see results electronically.
Interoperability
Kareo keeps your practice interoperable through its interoperability requirements list. Alongside this list comes a Medicaid Promoting Interoperability platform and access to Kareo's CommonWell membership.
With these tools, your practice is equipped to communicate with other practices and contribute to the Centers for Disease Control and Prevention's Immunization Information Systems database. Interoperability measures also keep you in line with the Meaningful Use standards of the Medicare and Medicaid EHR Incentive Programs. Beyond governmental measures, interoperability also makes it far easier for doctors at other practices to access your patients' medical information.
Although the terms are often used interchangeably, EMR and EHR systems are technically different things. Modern medical software includes EHR systems, which can transmit and receive patient data.
Patient Portal
Like all good practice management platforms, Kareo has a robust patient portal. This portal facilitates secure communication with patients for all purposes. It is accessible around the clock, and both you and your patients should find it easy to access and navigate the portal.
Reporting
Kareo's customizable reports can reflect all kinds of labels, benchmarks and goals, as well as data such as adjustments, encounters, refunds and charges. The diversity of data you can analyze in Kareo's reporting suite makes its tools especially excellent for multilocation practices.
Kareo uses your data to automatically flag missed opportunities, trends and inefficiencies. You should be able to see how certain providers are contributing to this data and then reorganize your team's tasks to close the gaps.
Telehealth
With Kareo, you can give patients the option of fully HIPAA-compliant telehealth. Private payers will fully reimburse your telehealth services. Kareo's telehealth platform completely integrates with Kareo's EMR and practice management software.
When you book telehealth appointments, Kareo can send patients their intake and consent forms so the patients can fill out and submit these forms well before their appointments.
Pricing
Kareo offers free trials to certain customers; you can contact Kareo to see whether a free trial is available for your practice.
When we contacted Kareo for pricing, we were told that "cost is dependent on a number of factors, like specialty, the number of providers, provider tiers (MD, NP, Therapist, etc.), claim submission volume, and any promotions currently in effect." This means you will need to contact the company and provide details about your business to get a precise quote.
In our previous research, Kareo told us that these are the platform's prices:
Physician-level providers: $500 per provider per month
Midlevel providers: $250 per provider per month
Therapists: $175 per provider per month
These fees cover both EMR and practice management. Many other medical software providers charge substantially more for access to both instead of just one.
Kareo is one of the only medical software platforms that offer both EMR and practice management tools to all paying customers.
Practices with lower volumes of claims can opt for lower pricing tiers with 50 included electronic claims. These tiers were priced as follows during our previous research:
Physician-level providers: $250 per provider per month
Midlevel providers: $125 per provider per month
Therapists: $87.50 per provider per month
No matter your pricing tier, each electronic claim after your first 50 costs an additional 99 cents. You can also opt for encounter-based pricing instead. In this arrangement, which may benefit new practices, you pay $1.50 to $3 per patient encounter, and you still get access to all Kareo tools.
Setup
Each Kareo customer is paired with a dedicated customer success coach for easy onboarding. For a new customer's first 90 to 120 days using the platform, this coach will regularly provide hands-on training to the entire team. However, Kareo has told us that, even without this assistance, most customers become proficient in the software within 30 days of implementation.
Training and continued customer support are part and parcel of the Kareo experience, so the company does not charge extra for these services. In addition, full setup assistance is available to every paying customer.
Customer Service
Customer service comes at no added cost with Kareo. The company operates a customer service line that you can access from 8 a.m. to 8 p.m. ET on weekdays. Kareo has more than 200 customer service agents, so your wait time isn't likely to be long.
Drawbacks
Kareo lacks substantial drawbacks, but these are two potential limitations.
No practice management consulting: Some practices may need hands-on consulting to maximize their profits, but Kareo lacks this capability. However, Kareo's tools are so user-friendly, affordable and comprehensive that you might be able to maximize your profits without them.
No responses to poor Better Business Bureau reviews: Kareo's Better Business Bureau page has more customer complaints than we saw with its competitors. Unlike other medical software providers, Kareo has not publicly responded to these complaints. This lack of response may be a downside for practice owners who are concerned with vendor accountability. If you're looking for a responsive and highly consultative medical software vendor, check out our review of athenahealth's medical software.
Methodology
We spent hours researching medical software. That research included software demonstrations, phone interviews and customer service calls, as well as analysis of customer service reviews available online, including those listed on the Better Business Bureau website. We spent several months browsing company websites, reading customer reviews and speaking with company representatives. When choosing our pick for ease of use, we compared the ease of navigation and general user-friendliness of top medical software providers. Ultimately, we found that Kareo went the extra mile to ensure ease of use, so we designated it our best pick.
What Is Medical Software?
Medical software comprises EMR and practice management system technology. Medical practices use EMR platforms to improve their charting, note-taking, interoperability, e-prescribing, lab ordering and telehealth offerings. Practice management platforms, on the other hand, assist with front-office billing, scheduling and other administrative functions. Learn more about EMR and practice management via our reviews of the best medical software providers.
Kareo Medical Software FAQs
Is Kareo an EMR system?
Yes, Kareo is an EMR system. It also has a practice management system. And when you sign up for one, you get the other at no extra cost.
Does Kareo do billing?
Yes, Kareo is also one of our picks for the best medical billing services, also known as revenue cycle management.
How much does Kareo's EMR system cost?
Depending on your practice size and specialty, Kareo's EMR will cost between $87.50 and $500 per provider per month. The low end of this range is highly competitive among the medical software we reviewed. Additionally, when you pay for Kareo's EMR system, you get its practice management software for no extra charge.
Bottom Line
We recommend Kareo for …
Small, new and growing practices.
Practices with multiple healthcare facilities or locations.
Practices that want intuitive, easy-to-use software.
We don't recommend Kareo for …
Practices that need extensive practice management consulting.
Businesses that need anything less than perfect vendor accountability.

Kareo Medical Software
The Verdict
Kareo's electronic medical record (EMR) and practice management systems are the most intuitive of the medical software we reviewed, and it's an excellent, reasonably priced choice for virtually any medical practice.

Max Freedman
Contributing Writer
Max Freedman is a content writer who has written hundreds of articles about small business strategy and operations, with a focus on finance and HR topics. He's also published articles on payroll, small business funding, and content marketing. In addition to covering these business fundamentals, Max also writes about improving company culture, optimizing business social media pages, and choosing appropriate organizational structures for small businesses.