The best medical software providers make it easy to find and use their tools for medical charting, note-taking, patient registration and demographics, billing, e-prescribing and lab ordering, telehealth and performance reporting. Tebra does this better than any of its competitors, and when you use the company's electronic medical record (EMR) system, you also get practice management tools. The result is a seamless, hassle-free user experience that's earned Tebra our designation as the best medical software for ease of use.
Features
Here are some of the key features of Tebra's medical software:
| | |
| --- | --- |
| Appointment scheduling | Tebra's fully customizable, color-coded calendar includes myriad filters and tools for easy classification and rescheduling. |
| Billing tools | Tebra quickly captures charges, auto-generates patient statements and automates payment reminders to improve your medical billing process. |
| Charting and note-taking | Tebra makes viewing and modifying patients' medical notes a seamless process. |
| Claims and insurance | Tebra gives you tools for e-filing, rejected claims, denied claims and payment posting while passing all your claims through three rounds of internal review. |
| E-prescribing and labs | Tebra's e-prescribing and e-lab ordering software is certified, and you can favorite prescriptions and labs. |
| Flexible dashboard | Tebra's dashboard is highly customizable and extremely user-friendly. |
| Interoperability | Tebra maintains an interoperability requirements list, Medicaid Promoting Interoperability platform and CommonWell membership. |
| Patient portal | Tebra's patient portal expedites secure communication with patients around the clock. |
| Reporting | Tebra's customizable reports show data that point to missed opportunities, trends and inefficiencies. |
| Telehealth | Tebra's telehealth platform integrates with the company's EMR and practice management services. |
Charting and Note-Taking
Charting and note-taking are essential features in medical software, and Tebra excels on this front. The interface makes it as easy as possible to view and add to patients' medical records.
To access and modify patient files in Tebra, just take a glance at your daily agenda in the program. From there, click any patient's card in your schedule, and their record will appear. You'll see the patient's medications, history, vitals and plenty of additional important information. When you're ready to add information, just click the "+ Note" button in the top-right corner to enter note-taking mode.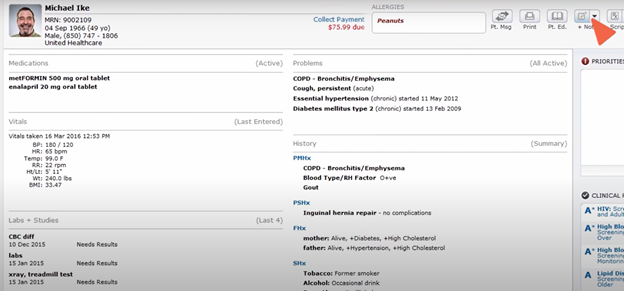 To take notes, just click the field where you want to add information and start typing. You can also customize your templates using Tebra's hundreds of available options. And with Tebra's "same-as-last-time" (SALT) tool, you can add clinical notes right to the information on file from your patient's previous visit. This feature is extremely useful for quickly updating patient records, especially for patients who regularly have the same results.
Use Tebra's SALT tool to quickly add information to your patients' most recent data.
Appointment Scheduling
On the practice management side, Tebra makes scheduling appointments a breeze. Just load Tebra's centralized calendar; then filter by day, week or month. You can also filter by provider, exam room, location, medical equipment and more, as well as run several filters at once.
You can customize and color-code your Tebra calendar, and the drag-and-drop tool makes rescheduling easy. Setting appointments is simple, too: Just add the patient's name, the reason they're visiting, the office they're visiting and their provider. You can also set up recurring appointments for patients who need regular visits.
Once appointments are scheduled, front-office staff can run a batch insurance eligibility verification check confirming that all scheduled patients have up-to-date, active insurance policies before their visit.
Billing Tools
Tebra's comprehensive billing dashboard includes, among other features, tools for capturing charges the moment patient encounters end. Tebra can also auto-generate patient statements to facilitate payment.
After you send these statements, you can follow up on them via the Tebra Patient Collect tool's email, postal mail and text statements and payment reminders. You can also implement macros and workflows to reduce the chances that you'll skip steps in the billing process.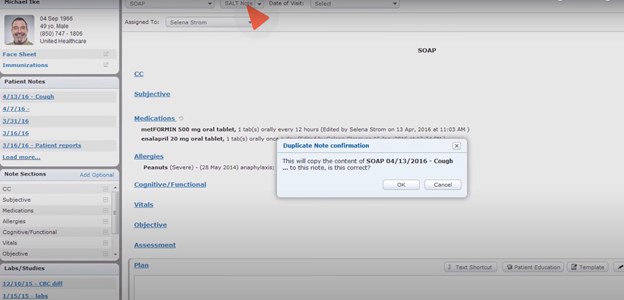 Claims and Insurance
Understanding what medical claims are being generated and submitted to payers through your billing software is key to keeping up with your practice's financial performance. We like that with Tebra's insurance and medical claims tools, you can link your practice to more than 8,000 insurers. We also found that you can confirm your patients' insurance benefits and e-file claims with payers. In our experience, it took just one or two clicks and only a few seconds to get from one billing tool to another, resulting in a much better navigation experience compared with most of the medical software we reviewed.
We also liked the simplicity of Tebra's tools for addressing rejected and denied claims, through which users can learn the ins and outs of each denied claim and pinpoint recurring reasons for denials. Additionally, through Tebra's payment posting tool, your billers can receive money from payers sooner. Tebra uses this tool for payment types such as automatic crossover, multiple adjustments and secondary remittance.
E-Prescribing and Labs
All good medical software programs offer highly important e-prescribing tools, and Tebra's features are both straightforward and certified. You can find the Tebra e-prescribing and labs suite right in your clinical notes.
It's simple to e-prescribe medications from Tebra's full library. Simply click Plan and then the Medications tab on the top right. In the window that appears, you can look for new medications, add patient instructions and send prescriptions to pharmacies. If you're prescribing medications that could lead to significant interactions, Tebra will let you know.
In addition to these features, which are common among medical software programs, Tebra lets you favorite medications that you prescribe regularly. Not all medical software providers offer this helpful feature.
Through Tebra, you can order labs just as you would medications. Find Tebra's labs tool in your notes; then browse test options and order what your patient needs. As with prescriptions, you can favorite frequent orders.
Flexible Dashboard
Tebra's flexible dashboard is a big reason we chose it as our pick for ease of use. With Tebra, we could quickly and intuitively pull up patients' appointments and medical information.
Tebra's dashboard allows you to mark patients as scheduled, in-office or done with their appointments. You won't have to manually mark patients as in-office or finished; check-ins are automated, and patients are automatically checked out when a provider completes their chart.
This ease of use extends to Tebra's integrations and interfaces with Quest Diagnostics and Surescripts. Through Surescripts, you can easily access a patient's past 12 months of medication history, and through the lab programs, you can see results electronically.
Interoperability
Tebra keeps your practice interoperable through its interoperability requirements list. Alongside this list comes a Medicaid Promoting Interoperability platform and access to Tebra's CommonWell membership.
With these tools, your practice is equipped to communicate with other practices and contribute to the Centers for Disease Control and Prevention's Immunization Information Systems database. Interoperability measures also keep you in line with the Meaningful Use standards of the Medicare and Medicaid EHR Incentive Programs. Beyond governmental measures, interoperability also makes it far easier for doctors at other practices to access your patients' medical information.
Although the terms are often used interchangeably, EMR and EHR systems are technically different things. Modern medical software includes EHR systems, which can transmit and receive patient data.
Patient Portal
Like all good practice management platforms, Tebra has a robust patient portal. This portal facilitates secure communication with patients for all purposes. It is accessible around the clock, and both you and your patients should find it easy to access and navigate the portal.
Reporting
Tebra's customizable reports can reflect all kinds of labels, benchmarks and goals, as well as data such as adjustments, encounters, refunds and charges. The diversity of data you can analyze in Tebra's reporting suite makes its tools especially excellent for multilocation practices.
Tebra uses your data to automatically flag missed opportunities, trends and inefficiencies. You should be able to see how certain providers are contributing to this data and then reorganize your team's tasks to close the gaps.
Telehealth
With Tebra, you can give patients the option of fully HIPAA-compliant telehealth. Private payers will fully reimburse your telehealth services. Tebra's telehealth platform completely integrates with Tebra's EMR and practice management software.
When you book telehealth appointments, Tebra can send patients their intake and consent forms so the patients can fill out and submit these forms well before their appointments.