Launched in 2019, Apple Card offers great benefits for consumers, including quick cash back and no fees.
While Apple Card doesn't have a business option, solopreneurs and small business owners who use personal credit to fund business expenses can take advantage of the rewards.
Apple Card is a Mastercard issued through Goldman Sachs; as such, most small businesses can accept it as a payment method from customers.
This article is for small business owners interested in Apple Card, either to accept as payment or to use for small business purchases.
Apple Card launched in 2019 with a suite of features that appeals to both Apple-product lovers and those who don't use iPhones, Apple Watch or other electronics from the tech giant.
Editor's note: Need a credit card processor for your business? Fill out the below questionnaire to have our vendor partners contact you with free information.
Although the company doesn't offer a business credit card, Apple Card's unique features may be beneficial for self-employed individuals and small business owners. Here's what Apple Card offers and how you can put it to work for you.
>>Read next: Payment Fraud Impacts 293 Million People — Is Your SMB Safe?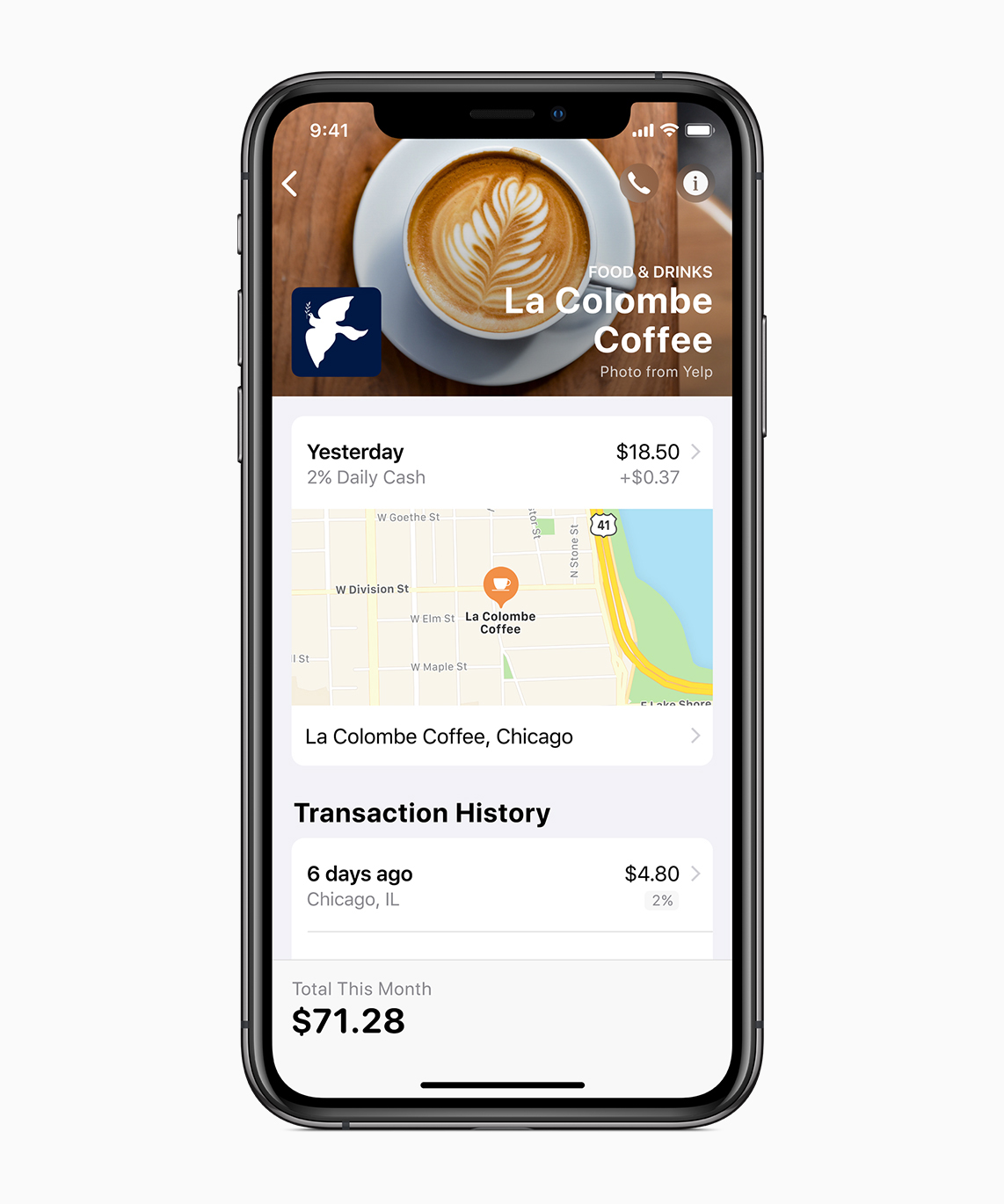 Image credit: Apple
What is Apple Card?
Apple Card is a rewards-based credit card that gives consumers cash back on various categories of purchases. Because Apple pushes the card as part of its ecosystem, users reap more rewards when they buy Apple products and use Apple Pay on their iPhones to pay for purchases. But customers still get a 1 percent reward if they use the card for other purchases. Cash-back rewards are deposited daily — not monthly, like with most cards — under "Daily Cash" in the Apple Wallet app.
"It's not a bad card," said Chris Kuiper, director of research at Fidelity Digital Assets. "It's got cash back. It's got 1 percent on everything — 2 percent if you use Apple Pay, which is becoming a bigger thing, and 3 percent on Apple products. But for all the other benefits, other cards already offer them, or you can get specialized cards for those things."
However, in addition to using Apple Card with Apple Pay, consumers can use a physical version of the card for purchases from vendors that don't accept Apple Pay. It's a sleek titanium card with the customer's name etched into the surface. The card is notably devoid of other information, such as the credit card number, CVV number, expiration date and signature box.
What are Apple Card's fees and features?
In a helpful move for consumers, Apple Card doesn't charge late fees, annual fees, cash-advance fees, international fees, over-limit fees, financing fees or any of the other pesky fees other credit card issuers charge. The Wallet app shows the cardholder exactly where and how much money was spent and automatically breaks down spending into color-coded categories. Cash-back rewards are dispensed daily and can be spent immediately. 
In October 2022, Apple announced there will be a new high-yield savings account feature available to Apple Card users. This function was supposed to be released with iOS 16.1, but it still hasn't been launched as of April 2023. 
In the meantime, the entire system is designed to give customers more control over how much they spend and get back, combined with the flexibility of using the iPhone with Apple Pay for purchases and the physical Apple Card at places that don't accept Apple Pay. Millions of retailers now accept Apple Pay, and Insider Intelligence/eMarketer forecasts that 56.7 million people will be using it by 2026, up from 45.4 million in 2022.
Apple Card offers a zero-fee structure, quick cash-back rewards and a sleek design that fits in well with other Apple products.
What are the benefits of Apple Card for small businesses?
Observers note some respectable and unique, if not revolutionary, touches to Apple Card, such as machine learning and geolocation tracking of your spending. These features may be exciting for consumers, but what about small businesses?
Rivka Gewirtz Little, CEO of digital identity verification company Socure, said Apple needs to "do something to make Apple Card more relevant" for small companies because, despite "some nice and usable elements, it is a consumer product. This does not appear to be a business or corporate offering."
Nonetheless, Little said there are some attractive management and visibility features that would benefit very small companies and solopreneurs who don't mind using personal cards for business expenses.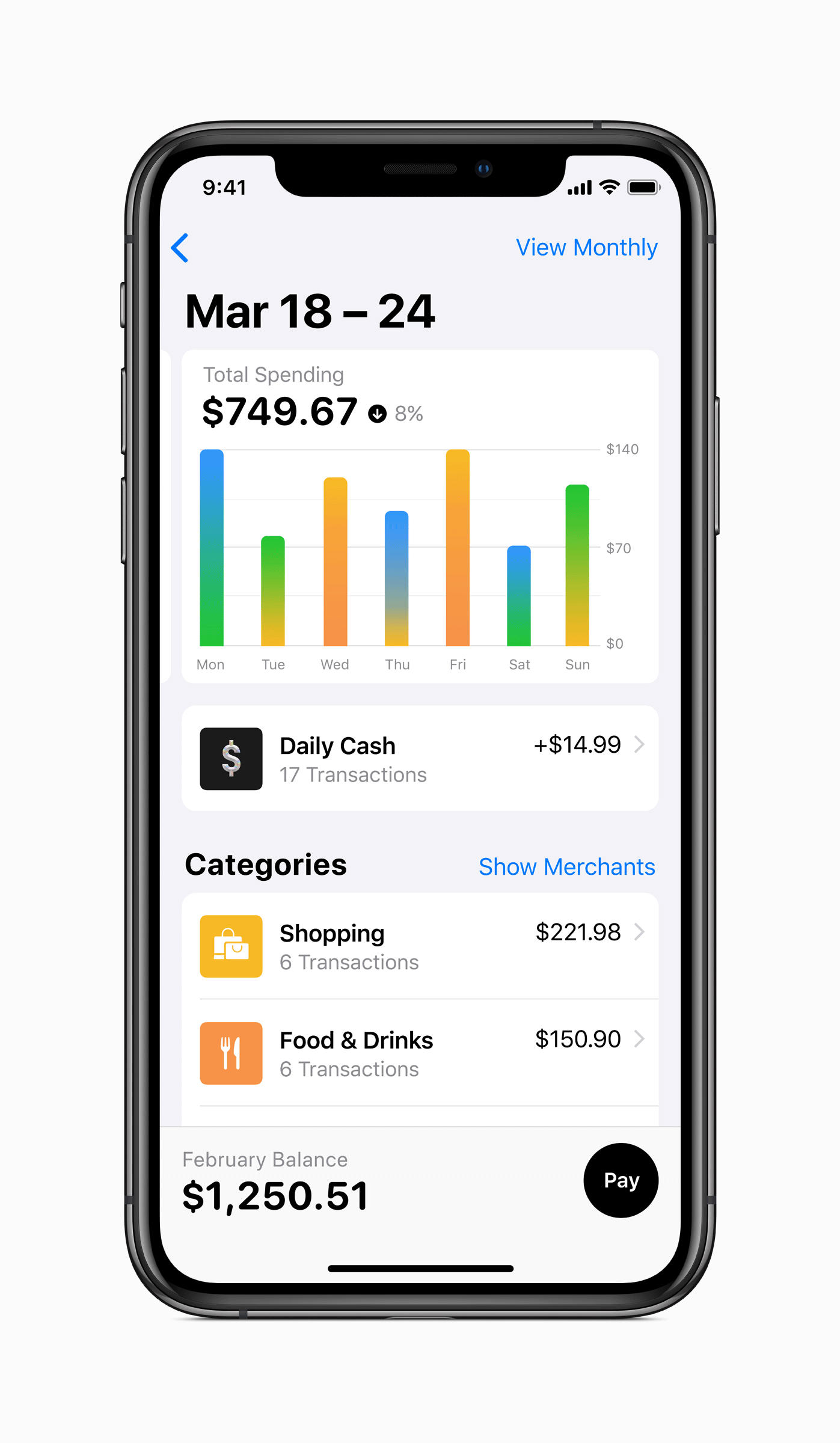 Image credit: Apple
1. Apple Card offers spending insights that are easy for solopreneurs to track.
When you use Apple Card, it gives you reports of where and how you spent your money. These are easy to access through the Wallet app or the Apple Card website. Built-in fraud protection and instant sign-up and deployment may also throw Apple Card into the plus column for very small business operations, since it cuts back the waiting time generally needed to get a credit card up and running.
But there are limits to those advantages. "There are some nice features in terms of manageability and visibility of spending, so if you're really a small company, it could help you," Little said. "But if you have more than a few people, then you want to have a view of what everyone is spending on your company card, and at that point you're going to need a procurement card and some sort of management app." [See the top expense trackers.]
2. Financial health tools attached to Apple Card can help small businesses.
Lisa D. Ellis, partner and senior equity analyst at MoffettNathanson, said Apple Card's reporting tools set it apart from other co-branded credit cards like the Amazon credit cards, PayPal Cash Card and Nordstrom Card.
"The primary differentiator of Apple Card is that Apple [has] a set of 'financial health' tools tied to the card, analogous to the 'physical health' tools Apple has tied to Apple Watch, like monitoring your heart rate or tracking steps," Ellis said. "The financial health tools … enable the cardholder to better track expenses [and] manage credit."
Even if business owners are using top accounting software, the financial tools available with Apple Card may be helpful for getting a look at your business's monetary health from a different vantage point. 
3. Businesses can save on credit card fees with Apple Card.
Credit card fees can quickly add up, putting a burden on a solopreneur who is already carefully watching their spending. Because Apple Card doesn't charge the many fees that other business and personal credit cards do, solopreneurs can more comfortably — and strategically — use it to make essential business purchases.  
While Apple Card isn't offered as a traditional business credit card, solopreneurs and self-employed individuals may find the financial insights, expense tracking and no-fee perks helpful.
Can small businesses accept Apple Card?
Small businesses that want to accept Apple Card may already be able to do so if they have relatively new credit card processing equipment that includes EMV technology and NFC abilities, which allow them to accept chip cards and contactless payments. If you only have a chip card reader, your customers can use that to pay with the physical Apple Card. [Check out our best credit card processing recommendations to learn more about this equipment.]
"In terms of small businesses accepting the card, it [is] run through Goldman Sachs and the Mastercard network, so … the real question is whether they want to integrate the whole Apple Pay system," Kuiper said. "That's just going to come down to how much convenience they want for their customers and if they think that's going to open up a whole new swath of clientele or customers that they wouldn't have before — like, would someone pop into one store over another because they accept Apple Pay or don't?"
One incentive to integrate Apple Pay and other mobile wallets is the rising interest in contactless payments. Usage of contactless payments rose in response to the COVID-19 pandemic and consumers' increased preference to tap their iPhone or Apple Watch instead of touching shared surfaces.
Small businesses can accept the physical Apple Card using a chip card reader and the Apple Pay version using a contactless card reader.
Apple Pay and Apple Card may be the future
Some experts take a distinctly optimistic view of the overall Apple Card zeitgeist because accepting the card is a straightforward process for small companies, especially those familiar with Apple Pay.
"For small businesses and retailers that operate online and already accept Apple Pay, this is a huge benefit, as consumers will be anxious to use the card and begin shopping online at participating stores," said Bart Mroz, CEO of SUMO Heavy, a consulting firm specializing in digital commerce strategy, design and development.
For businesses that do not yet support Apple Pay, the titanium card's link with Mastercard encourages its use, widening the potential for additional customers and profits.
Whatever judgments small companies may have about Apple Card, they can be sure of certain benefits: fewer fees and instant rewards. Beyond that, when you're able to accept payments your customers make with Apple Card and Apple Pay, you give them the convenience of using their preferred payment method at your business. That's a win-win.
Rebecca Neubauer and Jackie Dove contributed to this article. Source interviews were conducted for a previous version of this article.