One of the biggest advantages to the Apple Watch is its ability to change styles to meet your needs. Whether you're heading out for a long hike or attending a black-tie event, there's an array of Apple Watch bands ready to turn your watch into a casual accessory or a bold statement. The following watch bands include stainless steel links, silicon bands and loop bands.
No matter which Apple Watch you have or want to buy, a voluminous selection of watch bands awaits you. The Apple Watch 5 is still compatible with the bands you may already have with previous editions of the watch.
When purchasing an Apple Watch from the Apple Store or website, you instantly get a choice of several bands and finishes, including the popular Link Bracelet, Sport Band, Sport Loop and Nike-branded Sport Band, all of which can also be purchased separately for $49. High-end leather watch bands from Hermes ($489), Apple's leather Modern Buckle Band and the Milanese Loop ($149) are also available separately from Apple.
Alongside Apple, many third-party vendors periodically release a fresh crop of watch bands. Why go with a third-party watch band? For one thing, there's a tremendous number of them in every style, color and price. Whether you prefer bands, loops, classic buckles, linked bracelets, nylon, leather, earth tones, metal or whatever your imagination can conjure, you will find an Apple Watch band for every professional environment, lifestyle, occupation and fancy. Here are some of our favorites.
Best boho band
Nyloon Bellamy Apple Watch Nylon Band
A beautiful nylon watch band with vibrant colors, the Nyloon Bellamy has a comfy fabric feel against your wrist. At $39.95, it fits most wrists in either the large or small watch sizes. Eight holes provide sizing flexibility, with many colors and varieties to choose from. While the band can start off a little stiff, it softens up considerably after you wear it a few times.
Best Apple Sport Band look-alike
Epic Classic Silicone Apple Watch Band
Epic's Classic Silicone Apple Watch Bands are nearly dead ringers for the Apple Sport Band, but they are much less pricey at $14.99. With 25 vibrant colors to choose from, the 42mm band works with the 44mm Series 4 wristband case, and the 38mm band works with the 40mm Series 4 case. Soft and comfortable, the band is sold with three parts, with both the small/medium and medium/large bands for a proper fit.
Best retro band
Speidel Twist-O-Flex
Are you a Twist-O-Flex fan? If so, get ready to enjoy your favorite band on the Apple Watch. While always popular as a style, the Twist-O-Flex metal watch bracelet, reminiscent of the 1960s, has proven a great fit for Apple's timepiece. As an added attraction, it can also twist itself into a pretzel. The Apple Watch Twist-O-Flex has that familiar design, made with brushed stainless steel and a black and silver aluminum expansion band. It is strong, resists sweat and expands 5 inches from its original size. It comes in small, medium and large in black, silver and brushed. As always, it's super easy to slide on or off.
Best artistic watchband
Casetify Floral Collection
Sure, you want an Apple Watch, but some people may wish to express their artistic side, especially if you're in any sort of creative profession. Casetify gets the picture. With its floral and striped collections, made from crosshatch Saffiano vegetable-tanned leather, floral Apple Watch bands are gorgeous, soft and scratch-resistant. The collection, which costs $45 per band, features a wide selection of designs, including roses, daisies, peonies and even cactus. All florals and stripes fit both size watches.
Best budget nylon strong sports band
JUUK Vitero nylon band
The JUUK Vitero nylon band is affordable with a sleek, rugged look. The band looks both athletic and classic, calling to mind old field watches used by soldiers in the 20th century. This woven band comes in three colors – olive, red and black – and is made with durability and comfort in mind. While this band may not have the same flash factor as a Milanese band or a refined leather band, it does have the durability. At $35, it's an affordable alternative to some of the Apple Watch's pricey bands.
Best for treacherous trips
Pad & Quill Field Strap for Apple Watch
If only the best will do – and the extra cost won't set you back too much – consider the Pad & Quill Field Strap for Apple Watch. For $99.95, you can wear this band anywhere, from the office to a pickup basketball game. The Field Strap combines a refined look with rugged, water-resistant Cordura fabric and stitching from UV-resistant accent thread. Full-grain leather accents and a soft interior complete the look. You can get this elegant piece in a nickel or matte black finish. Made for the 44mm Apple Watch 4 and all previous-generation 42mm watches, each watch is signed by its artisan.
Best strappy watchband
Arrow & Board Triple Tour Apple Watch Band
By now, everyone is familiar with the Hermes Double Tour Strap, made for a bit of fancy wrist-wrapping for an equally fancy price of $489. Arrow & Board takes that line of thinking in a slightly different direction with the much less expensive Triple Tour, a band that is literally split down the middle to offer you a third wearing option for $99. The Triple Tour watch band can be worn with both straps surrounding the watch face or on the left or right side, and it is made to order. It's available for all Apple Watch sizes in tan, black and medium brown.
Best budget leather band
Mkeke Genuine Leather iWatch Band
It may be inexpensive at just $10.99, but you can't go wrong with this Mkeke vintage leather watch strap that exudes old-time charm for wrist circumferences of 6.7 to 8.3 inches. It features high-quality leather craftsmanship and, while designed to be comfortable, looks dressy and elegant for the office or business meetings. The stainless steel buckle lets you easily strap on or remove the watch, while the band is easily adjustable to fit your wrist. The Mkeke comes in classic black and saddle brown.
Best budget Milanese Loop
The Ninth Co. Milanese Apple Watch Band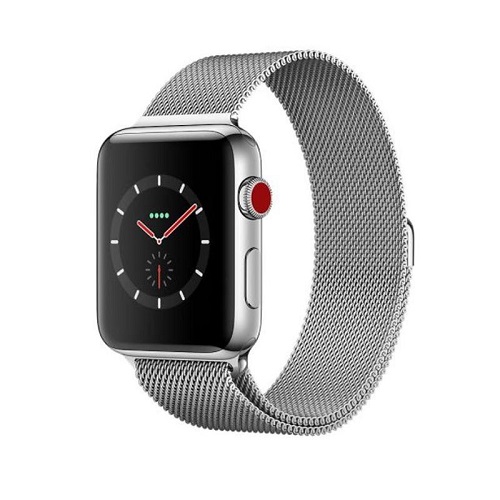 Apple's gorgeous Milanese Loop is a bit pricey for some buyers at $149, especially if you only want to wear this style for more formal occasions or important meetings. But there are several more budget-oriented options available for Apple Watch lovers. The Ninth Co. offers an elegant Milanese Loop band for just $34.99. There are 13 colors to choose from and two sizes. The band is easy to adjust and gives your workday watch a cool mesh design that stays light on your arm.
Best NATO band
Southern Straps NATO Strap
The Southern Straps band is tough but handsome, with stitching running down each section, giving your wrist an original flair. At $39, it proudly completes your outfit for the office or any outside event. Southern Straps are all individually made, both leather and nylon bands. The sturdy look owes to a single piece of nylon that doubles over, sealed and stitched. With 84 different Apple Watch band combinations to choose from, the NATO band fits all sizes of available Apple watches.
Matt D'Angelo contributed to the reporting and writing in this article.