Want to use your iPhone as a point-of-sale (POS) system for your business? Getting started is easy, and processing transactions isn't rocket science either. But with a plethora of credit card processors for iPhone available, the biggest challenge is choosing which one is right for your business.
The basics of how credit card processing works are the same regardless of what method is used. It's simply a matter of the necessary data being transmitted to the payment processor, which in turn passes the data on to the relevant banks and/or association networks to verify the transaction.
The only difference is it's your iPhone that is transmitting the data rather than a traditional payment terminal, which makes it a lot more portable and affordable, something that many small businesses will appreciate.
Small businesses have many choices for mobile credit card processors, from independent vendors that offer all types of credit card processing to merchant account providers, banks, and other financial institutions. Go with the wrong one, however, and it could cost you time and money.
To help you narrow down your choices, here is a rundown of the three types of credit card processors for iPhone and how they work.
[For a closer look at iPhone credit card processing and mobile POS systems, check out our reviews of credit card processing companies and our roundup of the best POS systems.]
Option 1: App and reader
The app-and-reader combo is definitely the most popular mobile credit card processing solution available for iPhone. It's also one of the easiest to use. Businesses simply sign up for a merchant account with the provider of their choice and then download the provider's app to their iPhone.
Most app-and-reader companies send their merchants a free credit card reader that plugs directly into the iPhone's headphone jack or lightning port. With the reader in place, you can start accepting payments everywhere you bring your iPhone by simply plugging in and swiping the card as with a traditional payment terminal.
While the free option is a great way to start, most processors offer an upgraded Bluetooth credit card reader for $50 or less that supports contactless and chip payments, extending payment options for your customers. This also offers you additional protection against fraudulent charges, following the October 2017 EMV liability shift.
If you go with an app and reader for mobile credit card processing, your choice of provider depends on how much you want to pay and whether or not you'd also like additional services. Most processors will charge you a nominal flat fee per transaction and then a percentage of the sale, typically somewhere around 2.7%.
One such app-and-reader vendor is Square, our recommendation for the best mobile credit card processor. Find out more by reading our Square review.
Option 2: App and terminal
If you're looking for a mobile credit card processing solution that's a little more robust, then the app and terminal option may be what you need. While it still relies on an app, this setup looks like a more traditional POS system.
Much like mobile card readers, mobile credit card terminals can be used anywhere you have your iPhone. They come with some additional features to help you streamline your business, maximize profits and better leverage your existing customer base. For instance, many mobile terminals are equipped with all of the capabilities of a regular POS terminal, such as inventory management, built-in customer relationship management software, staff management capabilities, marketing tools and advanced analytics.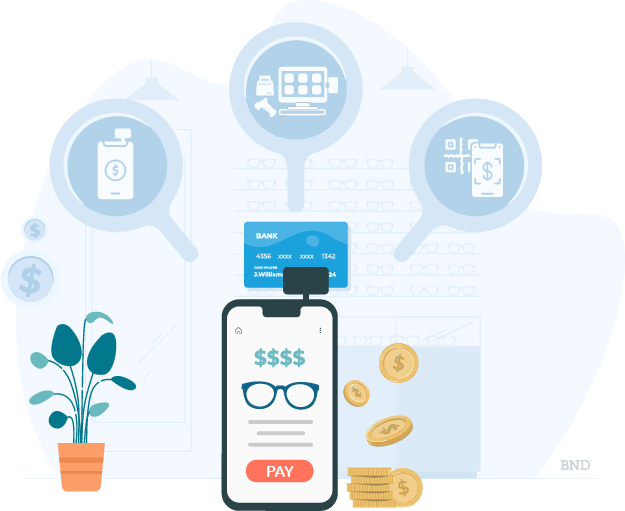 For businesses that have a fixed location, multiple staff members, or consistent inventory, this remains an easy-to-use option while offering more functionality, along with some added reliability.
The terminals may come with a complete set of equipment, including a barcode scanner, cash register, receipt printer, and contactless or near-field communication reader, which allows you to accept contactless cards or services like Apple Pay and Google Pay, and reduces your liability for fraudulent charges. Customers always appreciate flexibility, and a terminal can provide more in that regard than most strictly app-and-reader solutions.
Many companies, like Square, that offer a simple app and reader have an upgrade path to an app-and-terminal solution, allowing your credit card payment solution to grow with your business. Some app-and-terminal solutions, however, carry a monthly fee, so you need to determine whether the added functionality is worth that fee. [Are you feeling stuck with how much your current credit card precessors charges you? If so, see our guide on how to negotiate lower credit card processing fees.]
Option 3: App only
If you're looking for a way to accept mobile payments with your iPhone without having to swipe a credit card, you're in luck: There's an app for that. Instead of forcing you to deal with clunky credit card readers and dongles, some credit card processing apps use the iPhone's camera. This method can work in several ways, such as by capturing a photo of the credit card, scanning the credit card number or reading a quick-response (QR) code.
While the convenience of not needing special hardware for a transaction is great, there are some downsides.
First, this is a more unusual setup that many customers will be unfamiliar with. Further, you are taking a picture of their credit card, which may not go over very well with some consumers.
Second, transactions are processed as card-not-present transactions – the same as if you had typed the credit card in –  which are considered more risky by the card processor, and, thus, are charged at a higher rate. Unless you are very infrequently accepting credit card payments, the processing costs you'll pay using this method will quickly surpass the cost of even the upgraded app-and-reader solutions that accept contactless payments.
Finally, this method is slower. You need proper lighting to get a good scan of the card or QR code, plus you may need to ask the consumer for additional details, such as their ZIP code, all of which adds to the time it takes to process a credit card transaction.
App-only mobile credit card processing isn't as common today, but Flint is one option that remains on the market and is part of the payment processor Stripe. [Are you just getting started? Learn more about how your business can start accepting crest card payments.]