ADP offers small businesses a variety of employee retirement plans. Integration with its payroll software, strong customer service and a hand-holding customer service approach makes it our best pick for small businesses.
Pros
ADP offers a variety of investment options and retirement account types appropriate for businesses of all sizes.
The 401k Essential plan offers transparent pricing and full-service retirement plan administration.
The company offers a comprehensive suite of payroll, HR, and benefits tools and services.
Cons
ADP does not disclose fees for services other than its 401k Essential package.
The 401k Essential plan may be cost-prohibitive for businesses already equipped to administer retirement plans in-house.
ADP is primarily known as a large payroll company.
The company offers employee retirement benefits suitable for any small business.
ADP's 401k Essential plan offers transparent pricing and full-service plan administration.
This review is for small business owners and HR professionals who are considering ADP as their employee retirement provider. 
Many businesses want to outsource the management of their employee retirement benefits to a company that has the expertise and resources to take the burden off of employees. The best employee retirement service providers are equipped to do just that, and ADP is a great example.
ADP is a large, established payroll services company that provides retirement benefits through an all-in-one platform. The company also offers employee retirement benefit accounts. It can be a cost-effective and easy-to-use solution for businesses of all sizes.
ADP Employee Retirement Editor's Rating:
9.1 / 10
Transparent pricing

8.5/10

Low employee invetment fees

9/10

Variety of plans

8/10

Customization

10/10

Integration with HR and payroll tools

10/10
Why ADP Is Best for Small Businesses
If your business has employees, it's usually a good idea to use an independent payroll services provider. Whether you already use ADP or still need a payroll provider, it's an easy way to streamline payroll, retirement and health benefits. The 401k Essential plan makes it easier to offer an employee retirement plan by simplifying employee account setup and maintenance, and ADP Run is a cost-efficient payroll option as well. The brand is undoubtedly one of the best employee retirement plan providers.
ADP Retirement Plan Features
| Feature | 401(k) | 401k Essential |
| --- | --- | --- |
| Employee mobile app and financial planning tools | Yes | Yes |
| Employee self-enrollment | Yes | Yes |
| SMARTSync Comprehensive Plan Automation | Yes | Yes |
| Administrative fiduciary support | No | Yes |
| Investment management support | No | Yes |
| Compliance readiness and testing | No | Yes |
| Government filings | No | Yes |
401(k)
ADP offers employers a 401(k) retirement plan that puts the company administrator in charge of selecting and monitoring investments over time. Plan administrators get access to a specialized ADP manager to help with implementation, as well as technology and tools that assist in building, implementing and administering a companywide 401(k). ADP's 401(k) plan can also be synced with the ADP payroll software and ADP HR outsourcing tools through SMARTSync Comprehensive Plan Automation.
While this may be a good option for very small businesses with investing and recordkeeping experience, managing a retirement plan can be extremely overwhelming for larger operations. These companies may fare better with ADP's 401k Essential plan.
401k Essential
ADP's 401k Essential plan offers a full-featured 401(k) with additional assistance with administration and compliance. The plan is also fully customizable, making it easy to adjust every aspect of the plan to meet the needs of your business. This includes tailored automatic enrollment options, employee eligibility requirements, employer contributions, vesting schedules and safe harbor plans.
Because of the efficiency and peace of mind that come with these added services, ADP's 401k Essential plan is a great fit for large businesses seeking efficiency and automation. It's similar to the fully managed plans that ShareBuilder 401k offers, though often more expensive. In fact, ShareBuilder 401k is our top pick for low fees; read our ShareBuilder 401k review for more information.
Additional Features
Onboarding and support: Every ADP plan administrator gets access to a specialized ADP manager who helps with retirement service implementation. This service is on par with most employee retirement vendors.
Automation: ADP's SMARTSync Comprehensive Plan Automation lets current ADP payroll and all-in-one HR clients integrate their payroll system with 401(k) plan recordkeeping systems. Administrators can use this feature to save time, improve accuracy and reduce the risk of compliance oversights.
Investment manager services: Companies can opt to work with financial services firm Mesirow to get co-fiduciary or investment manager services. Alternatively, ADP's affiliate, ADP Strategic Plan Services LLC, can assist with investment fiduciary services. Either option can take the pressure of selecting and monitoring investments off your business's HR team and reduce the risk of being audited by the IRS or the Department of Labor.
Compliance: ADP provides independent recordkeeping services to help your business stay on top of compliance requirements without the risk of bias. Its automation tools also reduce the risk of compliance-related errors, and the 401(k) Essential plan includes compliance readiness and testing, as well as government filings.
Online resources: ADP customers have access to a large library of online resources to help with plan administration, tax and compliance requirements, and investment decisions. Because ADP is a full-service HR platform, there are also resources related to payroll, recruiting and hiring, and other types of employee benefits.
Mobile app: The ADP mobile app makes it easier for employees to enroll. The integrated MyADP Retirement Snapshot calculator also lets employees calculate their retirement savings and plan for the future. On this front, ADP wins over ShareBuilder 401k, which entirely lacks a mobile app.
Employee tools: In addition to accessing ADP's mobile app, employees can take advantage of the ADP Achieve employee education resources and financial wellness program. The company also leverages its employee records data to offer plan participants personalized insights and benchmarking so they can make smarter investment decisions.
ADP offers a variety of services in addition to employee retirement benefits. Consider using ADP if you also want to take advantage of the company's other offerings, such as payroll services.
Account Types
Businesses that choose ADP as their employee retirement benefits provider can select from a few types of employee retirement plans. Each plan has its own rules and regulations, as determined by the IRS.
401(k): ADP offers a 401(k) plan wherein plan administrators must select and monitor investment options and handle compliance-related issues. Business owners can also select the 401k Essential plan, which includes more substantial customization, administration and compliance support.
SIMPLE IRA: With administration fees as low as $480 per year, ADP's SIMPLE IRAs involve less paperwork and fewer compliance requirements than a 401(k) plan. There are also no minimum requirements for participation. Notably, ADP's main name-brand competitor in the HR services and benefits space, Paychex, also offers SIMPLE IRAs.
SEP IRA: A SEP IRA through ADP is designed for small business owners and self-employed individuals who want flexible contribution amounts and no required compliance filings. This gives ADP an advantage over Human Interest, which doesn't offer retirement plans for solo business owners and entrepreneurs. That said, Human Interest is our top pick for affordability; read our Human Interest review to learn why.
Investment Options
Companies that offer employee retirement plans through ADP get access to a wide selection of investment options, including the following:
Money market
Stock and income mutual funds
Index funds and lifestyle funds
Specialty funds, including real estate and technology
Socially responsible equity funds
Treasury Inflation-Protected Securities (TIPS) bonds
While ADP offers most of the typical investment options available in employer-sponsored retirement plans, the list of individual funds is relatively short. We felt that other retirement vendors we reviewed, such as Human Interest and USA 401k, were more transparent about the investment options they offer. It's also unclear whether ADP allows companies to offer employee stock purchase plans through their retirement accounts.
ADP Cost
ADP does not publish its pricing online for some of its services. The two services for which it does list prices are 401k Essential and, to a lesser extent, SIMPLE IRA.
For 401k Essential, the base monthly fee is $150, with an additional fee of $4 per participant. On top of that, ADP charges 0.10% of eligible assets as an annual fee for investment management services. The minimum you must pay for this fee, which is billed monthly, is $20.83 per month. These prices are about on par with, if just a touch more expensive than, some competitors' prices.
For SIMPLE IRAs, the ADP website indicates that administrative fees start at $480 per month. This is the only pricing information given for this type of employee retirement plan.
Outside this, in general, ADP prices vary based on plan customizations. If your business already uses ADP for payroll and other HR services, contact your account representative to learn more about ADP's retirement plan pricing. You can also get a quote via telephone or by navigating to Start Quote from the homepage.
If you prefer more transparent pricing from your employee retirement vendor, USA 401k may suit you better. Read our USA 401k review to learn why this brand is our top pick for transparency.
Ease of Use
Even though pricing is not disclosed on ADP's website, it's easy to build a plan and get a quote. Just click the Start Quote button on ADP's website and provide contact information and relevant details about your business. Once your request is submitted, an ADP representative will contact you to schedule a consultation. You can also get a quote by calling the company.
Once you sign up for ADP's retirement benefit services, you can automate a number of tasks through the SMARTSync Comprehensive Plan Automation tool. You will also be assigned a specialized ADP manager who will help streamline the setup and implementation. Customizations and implementation assistance are even more robust with the 401k Essential plan, which includes administrative fiduciary support, investment management support, compliance readiness and testing, and government filings.
From the employee perspective, ADP's mobile app makes it easy to enroll in 401(k) benefits and to change investments, while the Retirement Snapshot calculator and online resources help employees research funds.
These ease-of-use factors place ADP on par with or just above many of its competitors. We were especially impressed with the extent of automation available through the 401k Essential plan.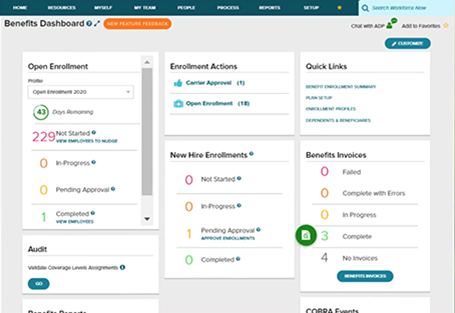 The ADP benefits dashboard provides an overview of employee benefits and allows team members to manage their retirement benefits directly. Source: ADP
Customer Service
Beyond setup and implementation, automation tools make it easy to administer an ADP retirement plan by integrating the platform with a business's existing ADP payroll and HR services. There is also a client administrator support page that answers common questions.
Likewise, employees can access several popular customer support topics to get quick answers and the most relevant contact information. There are also a number of educational resources and tools, including the ADP mobile app and the MyADP Retirement Snapshot calculator.
ADP lists several numbers on its website at which it can be reached. We like that the company keeps itself so available to both prospective and current customers.
Drawbacks
While ADP is a very strong company, its retirement benefit services do have some drawbacks. For one, ADP does not disclose online the fees for some of its retirement solutions. This could inflate the overall cost a small business expects to pay once it signs up for ADP's employee retirement plans.
Additionally, smaller businesses with the capacity for in-house administration may struggle to justify paying for the 401k Essential plan. Keeping employee retirement plan administration in-house may be the better option for these businesses.
Methodology
To choose our top employee retirement vendor pick for small businesses, we compared several retirement plan providers known for their breadth of services. Many small business owners are so pressed for time that they need to streamline their operations as much as possible, ideally through relatively few vendors. In other words, the best employee retirement vendor for small businesses should be able to cover retirement alongside all related business needs.
In particular, the best small business employee retirement plan provider should also offer HR, payroll and employee benefits services. It should be a household name in all these spaces so that the quality of its work speaks for itself. Its website should also be clear, upfront and easily navigable. ADP met all these criteria better than any other provider.
ADP FAQs
ADP is a much larger, more established company than Gusto. That said, Gusto is among our picks for the best HR services and best payroll services. Given ADP's size and legacy, the brand has considerably more robust offerings. However, ADP is also less transparent about its pricing and likely to be more expensive in many cases.
You can call 877-537-1196 or 877-749-1852 to start the process of registering for ADP's employee retirement services. Current customers can call 800-929-2170 or 844-227-5237.
Overall Value
We recommend ADP for …
Small businesses of all stripes, especially those that use ADP to manage their payroll and other HR needs.
Large businesses that need help with IRS compliance and other recordkeeping requirements.
We don't recommend ADP for …
Small businesses that can administer plans in-house.
Businesses that require fully transparent pricing to make informed employee retirement vendor decisions.
Dock Treece also contributed to this article.