TriNet HR Outsourcing Review
TriNet offers top-of-the-line, industry-specific support in all key HR areas.
With TriNet, you have access to a wide range of valuable HR services, like payroll, risk mitigation, employee benefits administration, and training and development courses.
TriNet's online platform is hosted in the cloud and accessible by both administrators and employees from anywhere.
This review is for business owners who are considering partnering with TriNet for their HR outsourcing needs.
TriNet rates as one of the best overall options for human resources outsourcing (HRO) providers. It scores relatively high in all categories we track, and it regularly shines in customer service, which is arguably the area that counts the most in HR outsourcing. One thing that is particularly special about TriNet's customer support and service offerings is the company's ability to provide industry expertise to customers. With its solid support and terrific products within the platform, TriNet is our choice as the best HR outsourcing provider for industry-specific support.

TriNet HR Outsourcing
The Verdict
TriNet offers all of the key services businesses are looking for in an HR outsourcing partner and an unmatched level of customer support, earning our pick for the best HRO for customer support.
TriNet Editor's Score: 92/100
| | |
| --- | --- |
| Customer service | 100 |
| User interface | 90 |
| Benefits offerings | 100 |
| Payroll functionality | 95 |
| Pricing | 75 |
Why TriNet Is Best for Industry Expertise
TriNet was one of the only HROs we reviewed that offers industry-specific expertise and support. TriNet has HR support staff with expertise in a wide range of industries and provides the most comprehensive industry-specific support features. Subscribers can be matched with support team members that are knowledgeable about their specific industry, including regulatory compliance considerations and recruiting and hiring. Customers can work with their dedicated HR support team to navigate challenges and get answers to industry-related or general HR questions. TriNet is a particularly great option for businesses in fields like healthcare, manufacturing and finance that have special considerations in terms of regulations, safety or industry best practices.
TriNet works with industry experts to bring specialized HR support and solutions to customers. TriNet supports a wide range of industries, including ecommerce, financial services, manufacturing and nonprofits.
Pros
TriNet can connect customers with specialists from a wide variety of industries to provide industry expertise on a variety of HR matters, such as compliance, hiring and workers' compensation.
The company offers an extensive range of benefits options.
Cons
TriNet's pricing structure is not transparent. You will need to get a custom quote from the company to find out how much the service costs.
There is a five-employee minimum to enroll in TriNet's HR outsourcing services.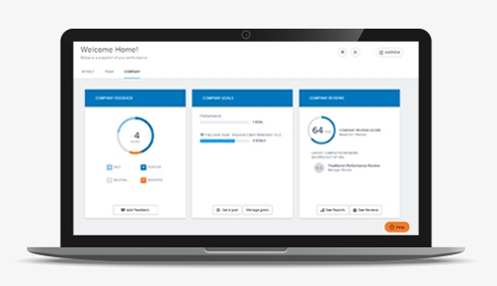 TriNet shows key information at a glance, with simple, organized dashboards and widgets. Credit: TriNet
Usability
TriNet's easy-to-use platform gives you access to all of your HR services from one central location. The cloud-hosted software is accessible from anywhere with an internet connection, and its sleek interface is easy for both administrators and employees to navigate.
With TriNet's user-friendly dashboard, business owners and HR personnel can quickly get a clear view of key HR information with helpful graphs and data visualization tools. Administrators can access workforce analytics data and reporting related to payroll and compensation. TriNet offers over 20 standardized payroll, billing and HR reports, but users also have the option of creating custom reports. Strong HR reporting can be incredibly helpful to business owners for strategic decision-making, so we appreciate that TriNet offers a decent variety of reporting options with information presented in a highly readable and easy-to-understand format.
We also liked that business owners can set a number of different user permissions. Setting varying users permissions is a great way to ensure that employees have access to everything that they need while maintaining a high level of data privacy when it comes to personal employee information, such as Social Security numbers, payroll and banking information, and other sensitive data.
TriNet's user permission options were more expansive than those of many competitors we reviewed. There are user permissions for benefits, HR data and payroll, and managers can go down the large list of permissions and check the boxes for the access types that the user needs. We liked how customizable this process was, as many competitors have more generalized tiers that you have to choose from, while TriNet has boxes for immigration data, compensation data or I-9 forms.
Employees can also use TriNet's self-service portal to view their pay stubs, request time off, enroll in benefits and update their direct deposit information. These features are available through TriNet's cloud-based online platform or the company's mobile app. When shopping for an HRO solution, it is always important to consider your employees' experience as well as your own.
In addition to the online portal, TriNet offers access via its mobile app for iOS and Android devices.
TriNet's many integration options also contribute to its ease of use. The TriNet Integration Center offers many prebuilt solutions that allow you to sync other programs with your HRO service, including QuickBooks, Oracle NetSuite, Xero, Sage, Microsoft and Google.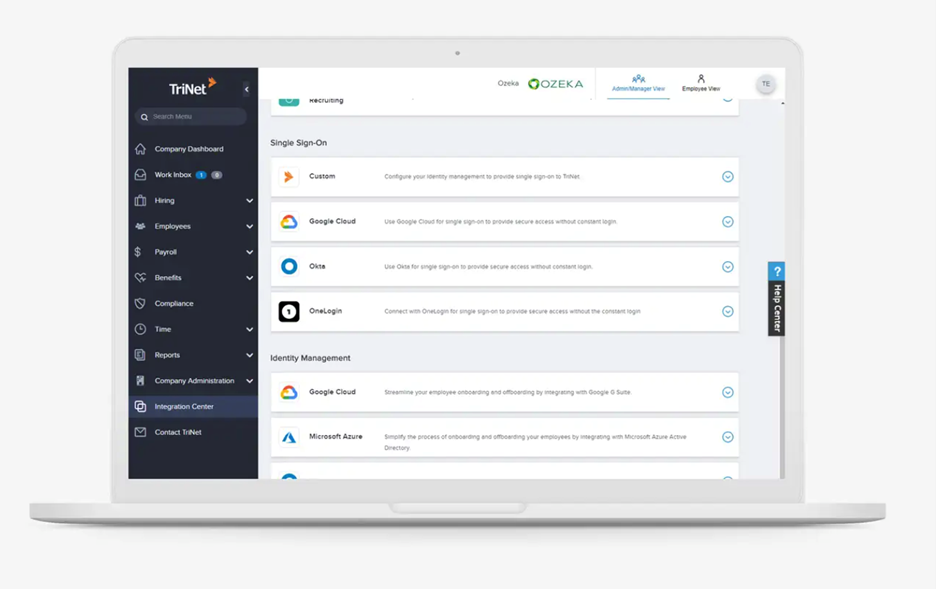 TriNet offers a wide selection of valuable integrations. Source: TriNet
TriNet Features
| | |
| --- | --- |
| HR services | TriNet's industry-specific support takes HR services to the next level. |
| Employee benefits | Thanks to its size as a company and its large customer base, TriNet is able to offer attractive benefits options. |
| Payroll and taxes | In addition to payroll processing, TriNet can help with tax filing and W-2 preparation. |
| Risk and compliance | TriNet partners with businesses to reduce risk-related concerns, including workers' compensation claims. |
| Training and development | TriNet offers various training courses that fit a plethora of business needs and demands. |
HR Services
Like the other HR outsourcing services we reviewed, TriNet offers support for the core HR functions like recruiting and hiring, compensation, benefits administration, and regulatory compliance. One of TriNet's unique qualities is its industry-specific HR support teams. TriNet designates its HR teams by a business's industry, size and location. This means that your support team not only will be HR experts (with knowledge in payroll, benefits, risk management, etc.), but will also have either direct or indirect experience in your company's field or industry.
Employee Benefits
TriNet has broad employee benefits offerings, including health, vision and dental insurance; employee retirement savings plans; commuter benefits; auto and home insurance policies; and wellness programs. What makes TriNet stand out is that it can use its size to help you secure premium benefits from top carriers. Access to these benefits is appealing to many employees, so this allows small and midsize businesses to compete with larger companies for top talent.. It also gives your employees access to discounts on various products and services.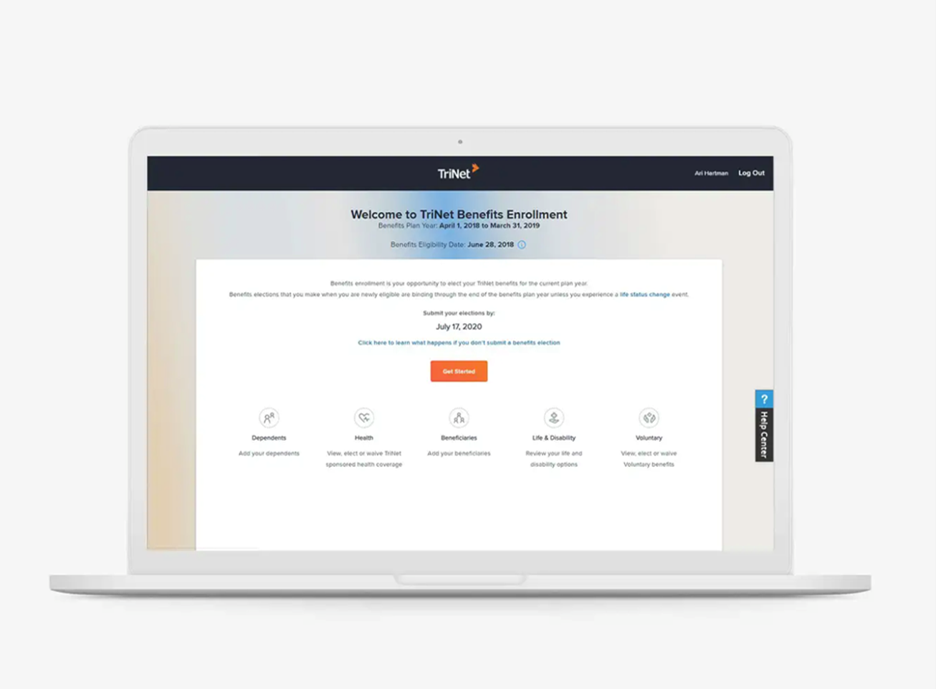 TriNet's self-service option makes it easy for employees to participate in open enrollment. Source: TriNet
Payroll and Taxes
TriNet's payroll services include full payroll processing, which allows you to choose your pay schedules and make payments to employees via direct deposit. TriNet also handles all of your payroll tax responsibilities. This includes withholding the proper deductions each pay period and making those tax payments to the proper local, state and federal agencies. TriNet also prepares your year-end tax forms, such as W-2 forms.
To ensure smooth payroll runs, the payroll software works in conjunction with TriNet's time and attendance system. This makes sure your employees are paid accurately for the time they worked. The software can easily track and manage paid time off as well.
Risk and Compliance
TriNet aims to not only reduce your overall risk and compliance concerns, but also help you understand what your regulatory obligations are and why they matter. This service extends to TriNet's claims management team, who can assist your management team and employees with workers' compensation and other safety-related claims. TriNet helps ensure your company's OSHA compliance, can provide safety training to your employees and offers employment practices liability insurance.
Training and Development
TriNet offers hundreds of training courses through its learning management services. These include courses on finance, business ethics, computers and writing. This can help your employees add to their skill sets and secure professional certifications. TriNet also offers performance management tools to help managers set realistic goals for their team members and track their progress.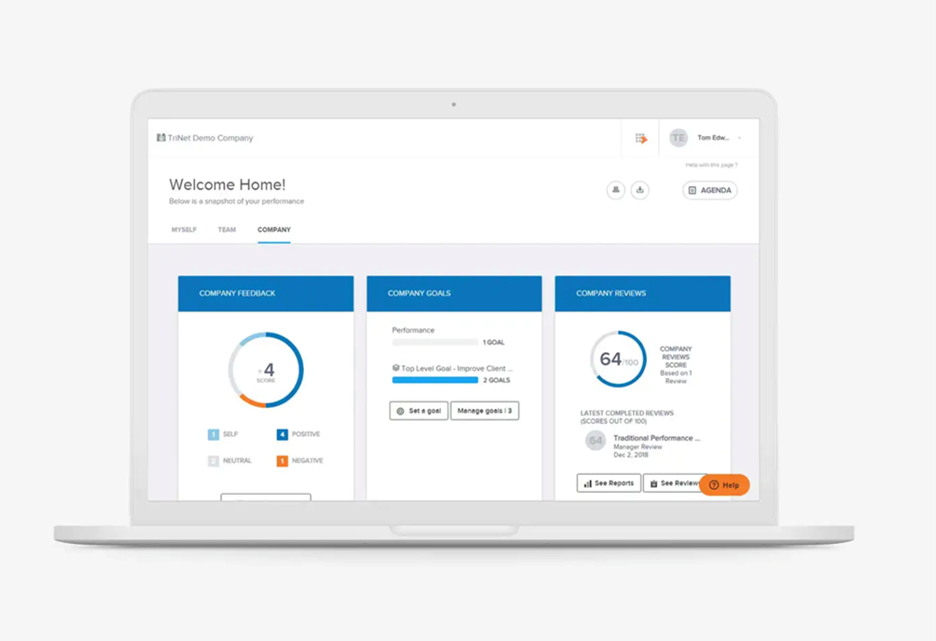 TriNet provides many options to help employees set and reach their goals. Source: TriNet
TriNet Cost
TriNet offers bundled HR service packages as well as the ability to customize your own service plan. This service flexibility results in a lot of price variance. TriNet does not provide pricing options online; you need to contact the company directly to get a custom quote. The cost will be based on the services you want to outsource to TriNet and how many employees you have.
One stipulation is that you must have at least five employees in order to outsource your HR to TriNet. If you have fewer than that, you will need to look at other HR outsourcing options. Consider our Paychex review for an overview of a service that doesn't have an employee minimum.
TriNet doesn't require you to sign a long-term contract. As long as you provide a 30-day written notice, you can cancel at any time, though a cancellation fee may apply in some situations.
Setup
As TriNet uses its own proprietary HR software platform, it knows how to onboard new customers seamlessly. The occasional challenge is that businesses' IT departments can't always "actively partner" with TriNet's onboarding team, due to the unique design and setup of TriNet's products.
Once you sign up, you'll work closely with a TriNet onboarding specialist to get started. This transition can be seamless, so long as you have your employee and business information ready. Implementing TriNet takes approximately two weeks on average. However, larger businesses or those with more complex needs may have longer implementation times.
Did you know? Once your employees are in the system, they can use the self-service option to view their pay stubs, request time off, enroll in benefits and update their direct deposit information.
Customer Service
TriNet offers one-on-one HR support through its Connect 360 service. As a client, your company will have access to 24/7 support on all HR-related issues. You can reach TriNet's HR experts by phone or live chat. You can also send them an email or fill out an online form. This anytime access to personalized support is a huge plus for businesses that don't have their own HR experts on staff and are looking for guidance in certain HR issues.
TriNet is one of the only companies we reviewed that employs industry-specific support teams. This means you can receive expert help from someone who has experience in your industry or a similar field, which is especially important when you need to maintain industry-specific certifications, track changes in regulation and policy requirements, and meet complex HR needs unique to your sector.
In addition to the personal support, you can find resources such as videos, demos, webinars and e-guides on TriNet's website.
Drawbacks
If you are looking to use only one specific service to keep your costs low, TriNet may not be your best option. Since each plan includes some standard services, such as payroll processing and risk mitigation, you may end up paying for services you don't need.
Another potential downside is the five-employee minimum. For many businesses, this is not a big hurdle to clear, but it bars smaller businesses that are just starting out from working with TriNet.
Methodology
We analyzed dozens of HRO services to identify our top picks. While conducting our research, we reviewed product videos and customer testimonials and attended a demo with TriNet staff. We identified TriNet as the best HRO for industry expertise due to the wide range of industries that it serves, the expert support offered to customers and the positive customer feedback regarding industry-specific customer support and HR guidance.
TriNet FAQ
What HR outsourcing services does TriNet provide?
TriNet can handle benefits administrations, payroll processing, compliance and risk management, as well as provide personalized HR guidance and expertise.
What industries does TriNet support?
TriNet provides support and expertise in most industries. Some of the primary industries that TriNet serves are education, financial services, technology, consulting and e-commerce.
How much does TriNet HR outsourcing cost?
TriNet charges a per-employee fee for HR outsourcing. The company does not publish its pricing online, so you will need to contact TriNet to get a customized price quote.
Overall Value
We recommend TriNet for …
Businesses that prioritize excellent customer support or need extra help navigating certain HR areas.
Businesses that want hands-on support from a team of HR professionals with expertise related to their industry.
Companies with complex compliance needs related to their industry.
We do not recommend TriNet for …
Small businesses with fewer than five employees.
Businesses that want only a few services and don't want to pay for others that all TriNet customers are required to use.

TriNet HR Outsourcing
The Verdict
TriNet offers all of the key services businesses are looking for in an HR outsourcing partner and an unmatched level of customer support, earning our pick for the best HRO for customer support.

Kaylyn McKenna
Contributing Writer
Kaylyn McKenna is a freelance writer specializing in business, tech, and leadership. She received her MA in Industrial-Organizational Psychology from Touro University, and enjoys using her industrial psychology background to share management, HR, and organizational effectiveness tips with small business owners. She has covered topics related to business law, compliance, employee retention, company culture, and management strategies.