Gmail is an integral product in today's professional environment, but it can't do everything on its own.
There are hundreds of applications that integrate with Gmail to increase performance and add additional features
Every add-on has its pros and cons that depend on what you're looking to accomplish within your organization.
Launched in 2004, Gmail has grown to more than 1.2 billion users – and counting. It recently released some new updates including email snoozing, nudging users to read emails that require a time-sensitive action and confidential mode that allows senders to set and expiration date for sensitive data. To make using the platform even more efficient and keep that enormous user base happy, Google launched third-party add-ons for Gmail. 
These native extensions allow users to access applications from right within their email, saving them time by not requiring them to constantly toggle back and forth. 
The add-ons currently work on your computer and via the mobile app on Android (Google is "working with Apple to bring Gmail Add-ons to iOS users" at a later date). There are currently a few add-on extensions available in the Google Workplace Marketplace. Here are five of our favorites that will help your business take its email to the next level.
RingCentral for Gmail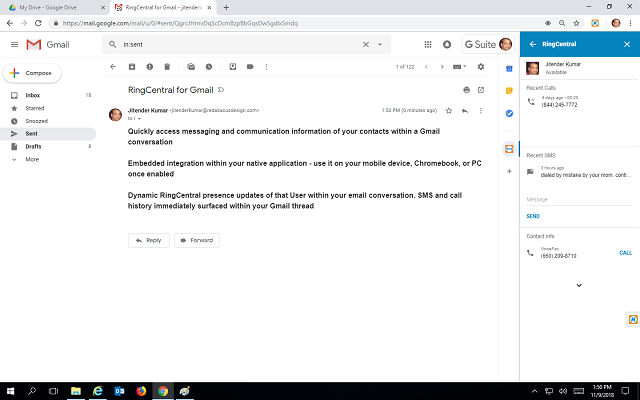 With this add-on, users can access the cloud-based phone system from within their email. Once the extension is installed, RingCentral contacts, messages, call history are displayed in your Gmail message threads. Users can also see the on/offline status of their Ring Central connections, send SMS messages and make outbound calls.
Trello for Gmail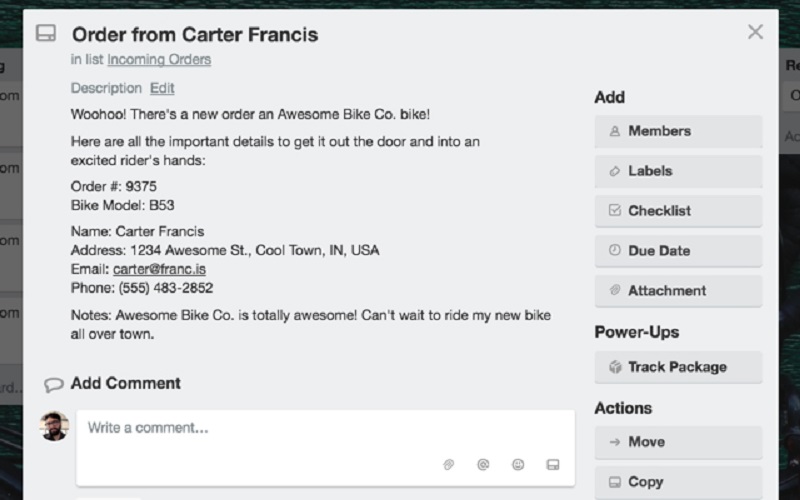 The Trello extension for Gmail helps keep your inbox organized and you working at maximum productivity. Users can convert their emails into to-do's, which they can send directly to Trello boards and lists for action. Email subject lines are automatically added as a card description, which makes viewing easy and ensures that nothing gets lost.
Streak CRM for Gmail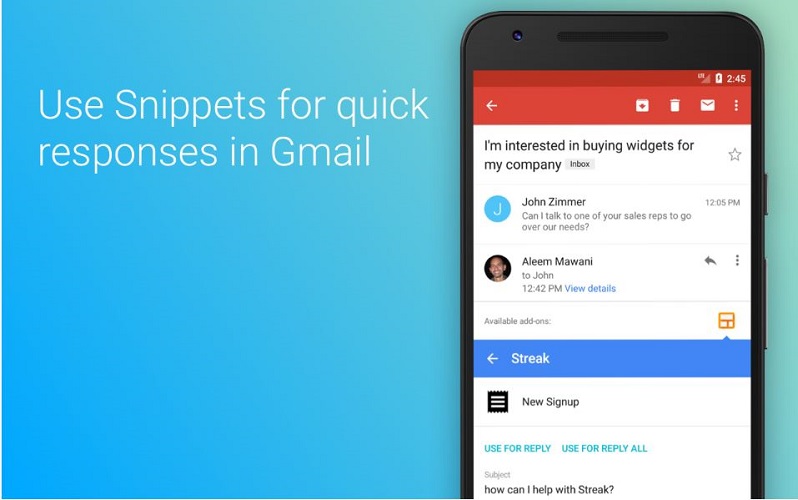 Manage your entire sales process from your inbox. The Streak CRM for Gmail add-on lets you track customer correspondence, support and sales, plus you can then share that data with your team from within Gmail. You can also schedule emails to be sent when they will be the most impactful and track when they are opened.
Hire for Gmail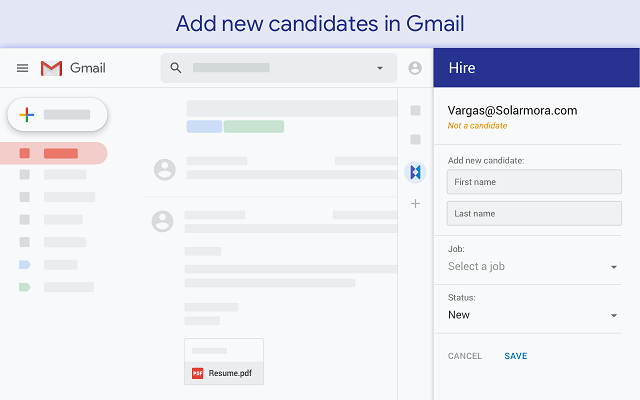 Wouldn't it be great if the recruiting process was simplified? Well, that's exactly what the Hire extension aims to do by streaming the steps within Gmail. Users can review candidate applications, respond to job applicants and schedule interviews from their inbox without going back and forth through applications. It also allows users to view and track team member interactions so you never have to wonder if someone followed up.
Smartsheet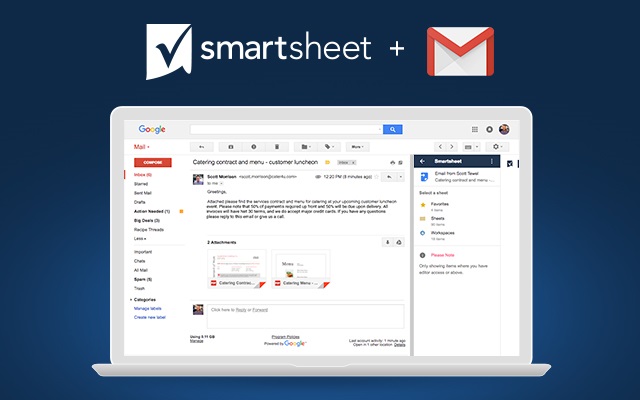 Smartsheet has become a major go-to project management solution for staying on top of deliverables, deadlines and who is responsible for each task. Users can add entire emails and attachments in addition to chiming in with comments to specific Smartsheet rows to provide context. Further, users can import their contacts directly to Smartsheet to share projects, all without leaving their inbox. 
Zoom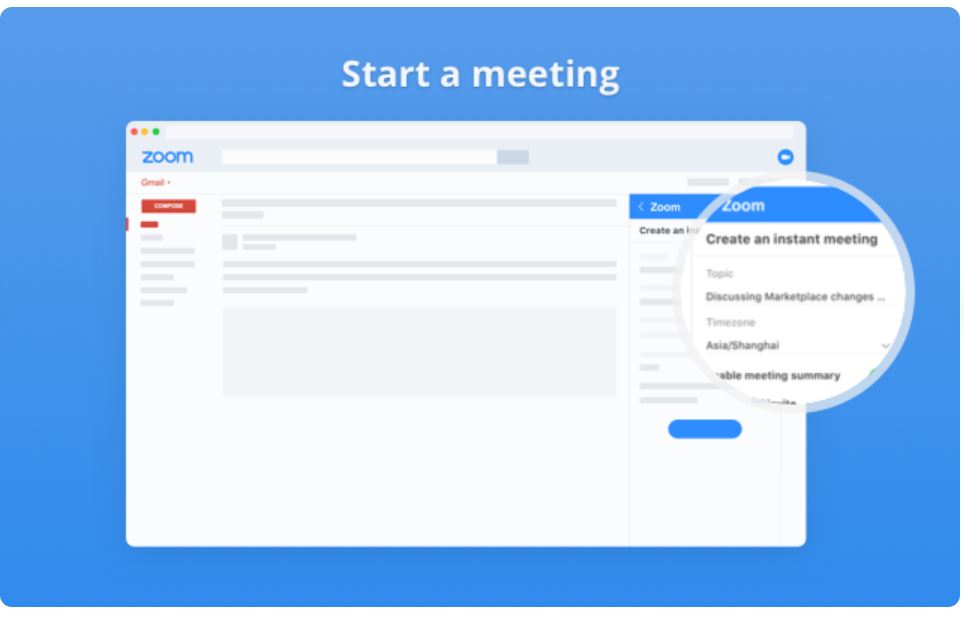 Zoom is a great app for communicating online that easily integrates with Gmail. It's cloud-based, peer-to-peer software that can be used for video chatting, conference calls and a variety of other tasks. Users can schedule a call through Zoom and email the invite to colleagues using Gmail. The link can be saved in Google Calendar so attendees can keep track of calls. It's a great app for businesses that have employees who telecommute or work in different locations and works perfectly with Gmail.
Dropbox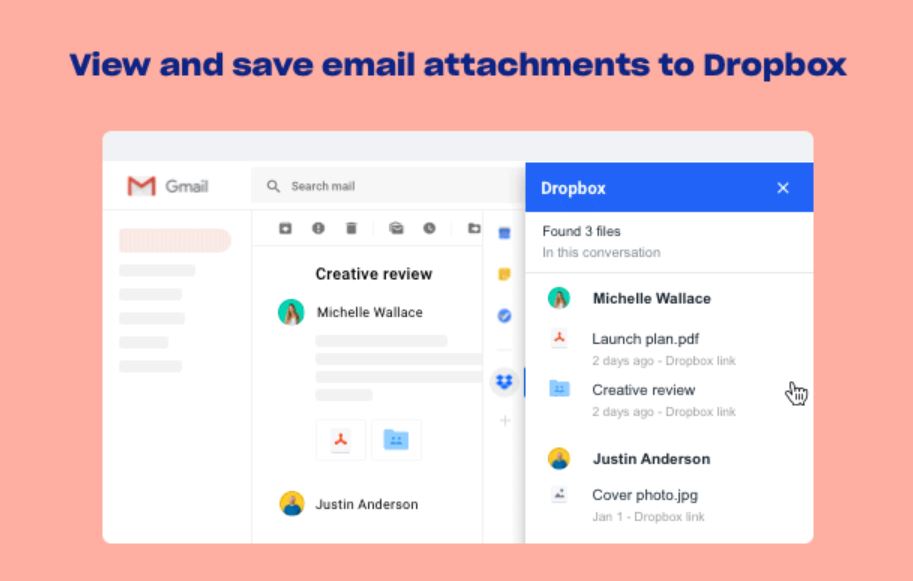 Dropbox is a cloud-based file hosting service that can be added to Gmail. It's a great service for businesses that need to access large files in different settings and locations. Say you have a video or document that needs to be accessible to your entire organization. Rather than emailing it to everyone, just upload it to Dropbox and send out the link. It's an easier, more efficient way to store and access documents that seamlessly integrates with Gmail. 
Slack for Gmail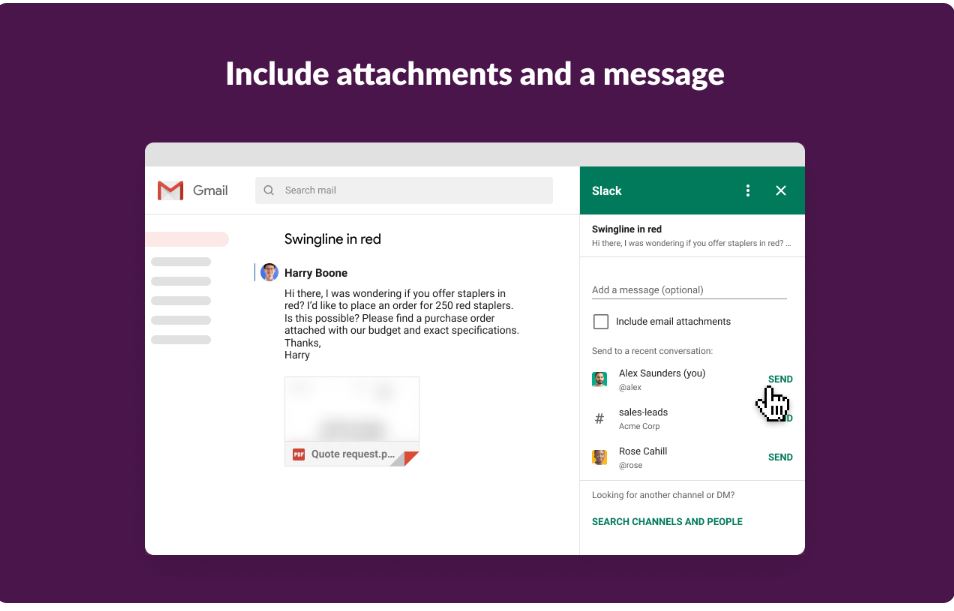 Another great communication tool that can be added to Gmail is Slack. Slack is a messaging app and productivity tool that businesses can use to organize employee communications. If your company already uses Slack or is looking for a way to streamline messaging, the Slack for Gmail App is an add-on you should consider. It allows users to switch between platforms at their convenience and makes sending attachments and organizing chats more straightforward and accessible to your entire team.
 DocuSign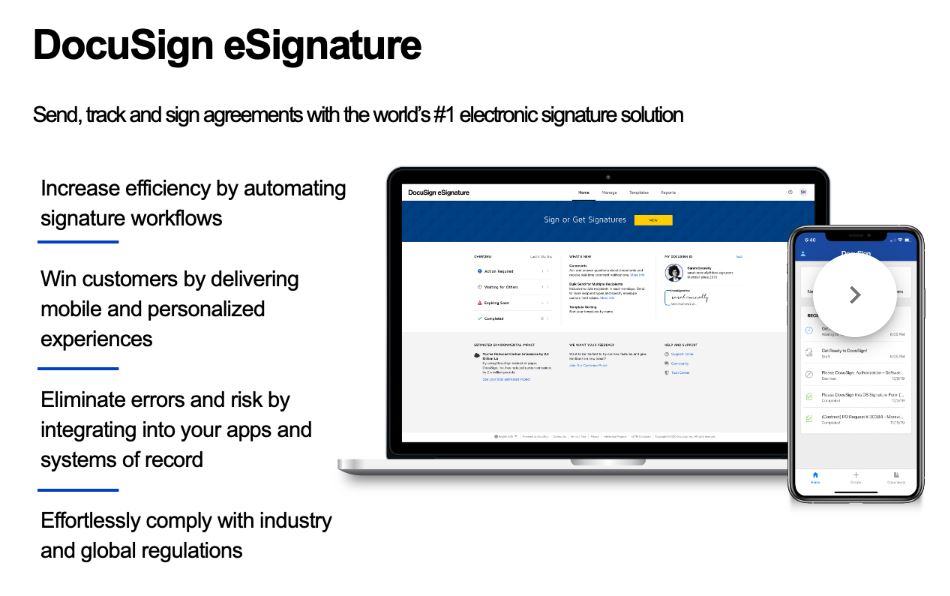 DocuSign is a great addon for businesses that process documents that require signatures. It's an app that annotates documents and creates electronic signatures. It can be used by lawyers, marketers, real estate agents, consultants, freelancers or any industry professional whose business depends on official documents being signed and recorded. The DocuSign for Gmail Addon makes it simple and painless to request an electronic signature. The last thing you want when requesting the authorization of important business is a glitch in your technology. DocuSign for Gmail makes this process as smooth as possible and can be a great resource for anyone processing contracts.
Boomerang for Gmail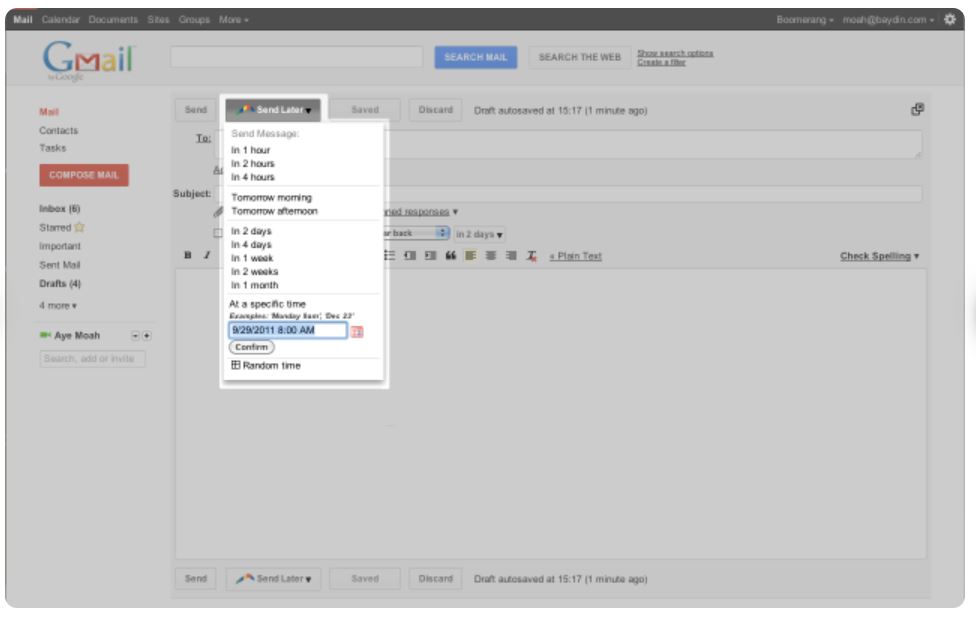 Boomerang is a productivity tool that works well with Gmail. Integrating the two platforms allows users to schedule emails, set follow up reminders, enable read receipts, and perform a variety of other useful functions. Boomerang has even created a feature that uses AI to analyze emails and help users improve their writing. It's a useful platform for those who are looking for a convenient way to organize emails and improve communication. 
Gmelius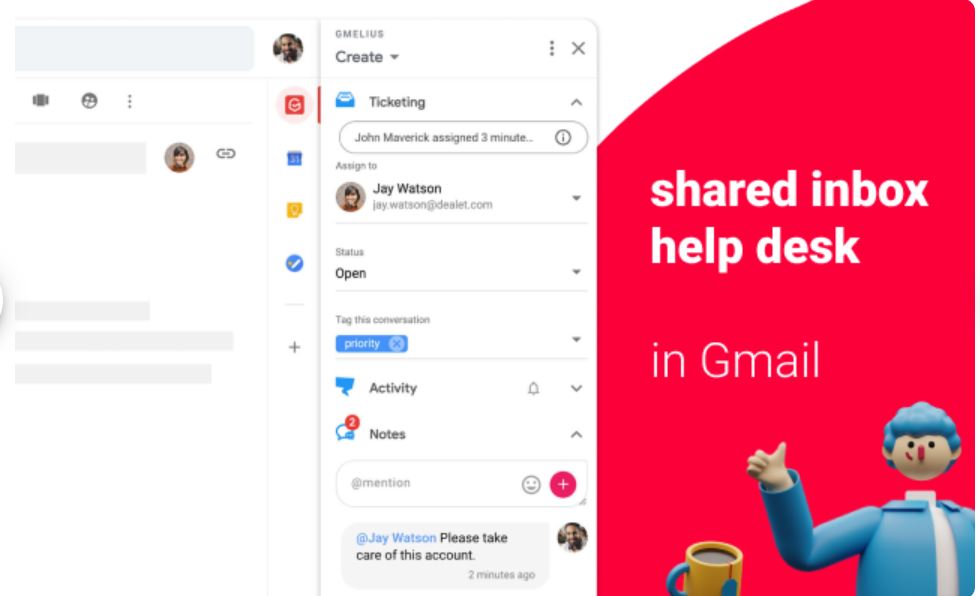 Gmelius is a dashboard for all your productivity tools. It's amazing if you're looking to download several of the addons mentioned in this article. It's a platform that allows users to create an organized space for all their communication platforms – Trello, Slack, Gmail, etc. Each platform has its unique advantages and your team likely uses more than one addon to coordinate workflow. Gmelius makes it simple to keep teams organized and on track, by creating one interface where they can view messages and other communications.