When choosing a credit card processor, compare fees, setup time, customer support and payment options.
Reputable credit card payment processing tools for small businesses include Square, Helcim, Flagship Merchant Services, Netverify, BAM Checkout, PayPal Here and Stripe.
Some payment processing tools enable alternative forms of payments, such as mobile payments, whereas others authenticate a customer's identity to reduce credit card fraud.
This article is for small business owners who need tools for facilitating customer credit card and digital wallet purchases.
You are missing out on sales if your small business doesn't accept credit cards.
Credit card processing services don't always make it easy for small businesses to get started. With fees that aren't readily apparent and terms of service that are complex, it can feel as though the cards are stacked against the little guy.
Small business owners need not worry – there are tools to ease the process. We've selected seven credit card processing services to help small business owners accept credit cards – whether online or in person – without the headaches.
What to look for in credit card processors
Among the most important factors to look for when choosing a credit card processor are:
Fees. You may encounter several fees in your credit card processing agreement. Whenever you're dealing with a new processor, remember that processing fees are negotiable.
Setup time. Choose a credit card processor that can quickly open your account and, if needed, guide you through installing your equipment. Setup should be quick and simple.
Customer support. Installation is just one instance in which you need to reach customer support. You might experience technical difficulties with your credit card processing devices or have a question about a fee. In both cases, you should be able to quickly reach customer support.
Pay types. Ask whether your processor accepts Visa, MasterCard, Discover, and American Express as well as near-field communication (NFC) technology that enables mobile wallet payments, such as Apple Pay.
Editor's note: Looking for the right credit card processing service for your business? Fill out the below questionnaire to have our vendor partners contact you about your needs.
7 credit card payment processing tools for your company
In a sea of choices, there are credit card payment processors that can help your business safely and securely accept multiple payment types. These options include:
1. Square
With Square, you can accept credit card payments anytime, anywhere, including from your mobile device or tablet. To get started, register for an account and attach your Square card reader to your iOS or Android device. You'll get comprehensive point-of-sale software and the ability to replace a standard cash register with an iPad-powered checkout counter POS system.
Additional Square software and hardware solutions are available. These solutions include a new technology through which customers can scan a QR code at a restaurant to order and pay for takeout without directly interacting with staff or holding physical menus. 
2. Helcim
Helcim is a payment processing tool with interchange-plus pricing and transparent fees and rates listed on its website. With volume-based discounts and low rates that don't change as your account grows, Helcim is affordable for all kinds of small businesses.
You can use it for in-person, online, and mobile payment processing as well as recurring payments, invoicing, and multicurrency processing. Helcim has 24/7 phone support, doesn't charge early termination fees, and account approval takes just minutes. [Read our full review of Helcim.]
3. Flagship Merchant Services
Flagship Merchant Services doesn't charge early termination, setup, and gateway fees, making it more affordable for small businesses than other options. Its rates are likewise competitive, with both interchange-plus and tiered pricing available.
Flagship Merchant Services provides you with a merchant account and numerous in-person, mobile and online payment processing tools. Flagship also integrates with the Clover POS system for businesses with more complex sales and transaction needs. Applying for an account is easy, and you'll have 24/7 customer support if you're approved.
4. Netverify (Jumio)
Jumio's fraud-scrubbing tool helps you verify that your customers are who they say they are.
Online merchants embed Netverify into their websites as part of the checkout process. Netverify allows customers to snap a picture of their driver's license (or other ID) using a smartphone, tablet, or PC webcam. Once the image is taken, the tool verifies authenticity in as little as 60 seconds. That's much faster and more convenient than asking a customer to fax or mail a copy of their ID.
The tool can verify identifying documents from more than 60 countries, including passports, ID cards, driver's licenses, bank statements, and utility bills. Jumio says its software is smart enough to immediately identify – and reject – unauthentic documents. All submitted information is secured with 256-bit encryption to prevent identity theft.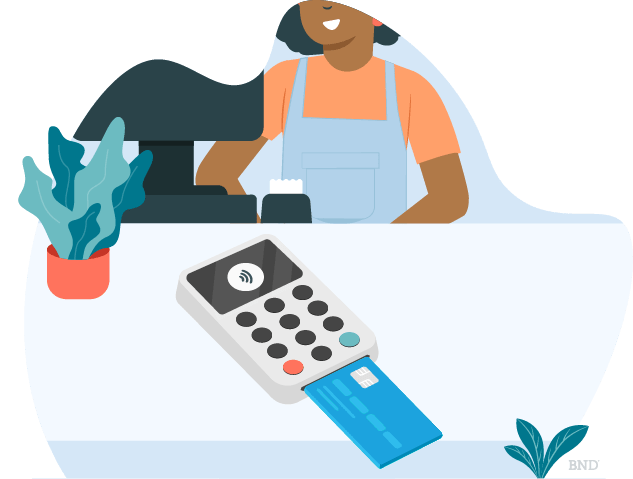 5. BAM Checkout (Jumio)
Paying online is convenient for customers, but keying in unwieldy credit card numbers is a pain.
Netswipe from Jumio gives customers an easier way: The tool lets users pay by snapping a photo of their credit card; it's almost as easy as swiping your card through a traditional card reader.
According to Jumio, customers can use their smartphone or tablet to scan a card in as little as five seconds, whereas traditional key entry takes 60 seconds or more, on average. Having a quick and convenient way to pay could help contribute to a positive buying experience and encourage repeat business.
The system is compatible with iOS or Android mobile devices and computers with a webcam.
6. PayPal Here
Mobile credit card processing services like PayPal Here make it easy to accept credit cards in person using a smartphone or tablet.
PayPal Here, and other similar services, send you a dongle that attaches to your iPhone, iPad or Android device, allowing you to swipe physical credit cards wherever you are.
One major benefit of mobile credit card readers is that they work with the devices you already own. There's no need to carry around additional hardware besides the reader add-on itself. Most credit card readers attach to your device via the headphone jack or charger port and are small enough to fit in your pocket.
The smallest businesses have the most to gain by opting for mobile credit card readers, which are cheaper and far more portable than traditional options.
7. Stripe
Stripe's easy setup empowers your online store to accept credit card payments immediately. Additional Stripe plugins connect your Stripe account with hundreds of other key business software platforms. You can customize your account to suit your e-commerce needs, and you won't incur hidden fees, thanks to Stripe's flat, transparent pricing.
Brett Knuckles contributed to this article.