Insperity HR Outsourcing Review
Insperity offers one of the largest ranges of HR outsourcing services and products tailored to companies with employees in multiple states and up to 5,000 employees.
Its customizable HR services include employee recruitment and onboarding, training, policy and handbook creation, performance evaluations, and job description development.
Among the HRO providers we researched that offer comprehensive, consistent and cost-effective services, Insperity is our best pick for mid-sized businesses.
This review is for small business owners and managers considering Insperity for their HR outsourcing partner.
Insperity has long specialized in comprehensive human resources solutions for companies with 100 to 1,000 employees. A la carte HR solutions are also available through Insperity, allowing companies to get as much or as little support as they need in any area of HR. We found that Insperity was one of the only HRO services that specifically tailored their offerings to effectively meet the needs of businesses with 400 to 1,000 employees. Due to the wealth of benefits options, compliance tools and training resources tailored to mid-sized companies, we chose Insperity as our top HRO for midsize businesses.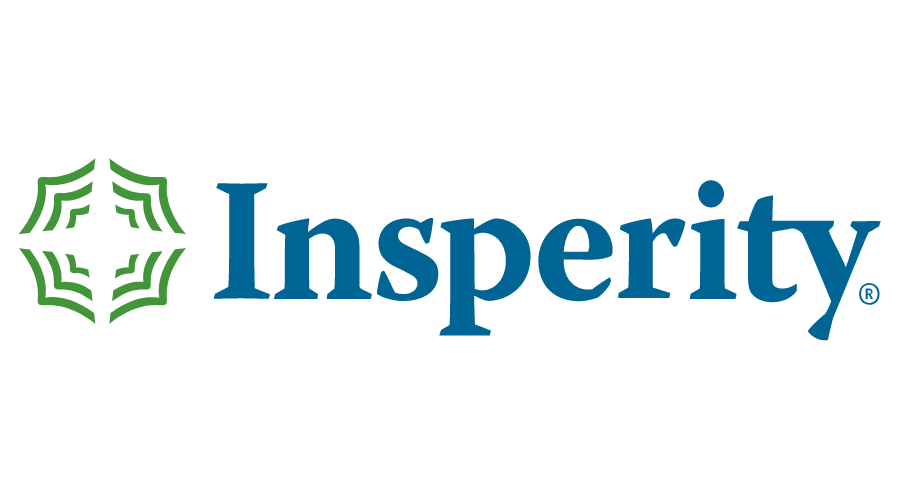 Insperity HR Outsourcing
The Verdict
Insperity is our pick for the best HRO provider for large businesses, offering seamless integration with key business software and flexible pricing plans. The company has experience providing HR services to multiple companies with over 1,000 employees.
Insperity Editor's Score: 91/100
| | |
| --- | --- |
| Customer service | 100 |
| User interface | 95 |
| Benefits offerings | 85 |
| Payroll functionality | 100 |
| Pricing | 75 |
Why Insperity Is Best for Midsize Businesses
Insperity offers strong HR outsourcing solutions designed for midsize businesses. Most of the HROs that we reviewed offer services largely tailored toward small businesses. However, Insperity offers small business solutions, as well as specialized solutions for midsize employers with up to 1,000 employees. It also provides access to a team of dedicated professionals with decades of experience managing HR for midsize businesses.
We felt that Insperity's service offerings addressed many of the biggest HR challenges associated with running a midsize business. Midsize businesses are often in an awkward in-between area where they do not have the same resources that enterprise businesses have, but still have a large number of employees to oversee. With growing employee numbers comes more compliance matters (some employment laws and leave types do not apply to small or very small businesses), more paperwork and more paychecks to process.
Pros
Insperity offers specialized support through its dedicated team of HR professionals. HR outsourcing customers get direct access to their assigned specialist  team for help when they need it.
Insperity provides employees with access to a large library of training and development resources.
Cons
Insperity's pricing structure is not publicly available. Prospective customers need to contact the sales team to get a customized quote.
Insperity has a five-employee minimum for its HRO services.
Insperity reports that 98 percent of worksite employees' calls are resolved within 7 minutes. Employers can feel confident that Insperity will provide timely solutions to any questions or concerns.
Usability
Insperity solutions are easily customizable to ensure you get what you need for smooth and effective operations. Its HR management services can help your company with recruitment, employee onboarding and offboarding, online training, policy and employee handbook development, conflict resolution, termination, performance management, and leadership development.
Insperity's online self-service portal is available to every person in your organization. Your employees can access all their HR-related information and edit most of their own data, such as their home address and W-4 withholdings.
Insperity's portal is user-friendly and intuitive, which is useful for companies that maintain small HR teams that don't have time to train every employee and answer a lot of questions on the platform. It also is helpful for businesses with complex benefit packages and workplace policies that may need regular review by employees; they can review them through the employee handbook within the self-service portal.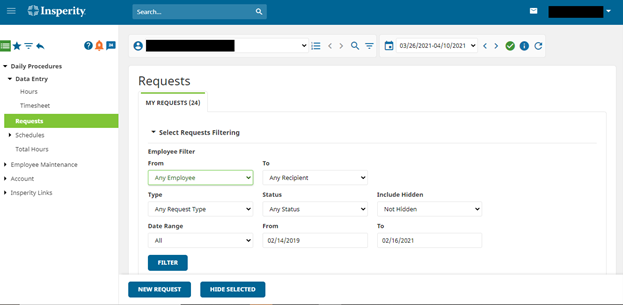 Employees can submit time-off requests for review by supervisors at any time. Source: Insperity
Insperity also provides an easy-to-navigate e-learning portal that employees can browse to find online courses and training materials related to their role or interest areas. Employees can search for a specific topic, select from the featured courses or view recommended training materials in the portal. Managers can also assign training tasks to their direct reports within the platform.
Insperity Features
| | |
| --- | --- |
| HR services | Insperity offers a reliable team of HR specialists to provide rapid assistance and offer advice. |
| Employee benefits | Employees get access to Fortune 500-level benefits, including medical, dental and vision coverage. |
| Payroll and taxes | Insperity processes payroll and manages tasks such as W-2s and W-4s, employment verification, payroll management reports, and garnishment and deduction administration. |
| Risk and compliance | Your company can receive workers' compensation coverage and liability insurance guidance as needed, plus assistance with HR-related government reports, wage claims and audits, EEO services, and more. |
| Training and development | Insperity can help you create an employee handbook, job descriptions, recognition programs, and employee training and performance management programs. |
| HR technology | Insperity's user-friendly software allows you to automate and streamline crucial HR tasks such as payroll and benefits management. |
HR Services
You can customize Insperity's HR management services to meet your company's needs. Insperity offers partnership in all the common areas of HR management, including recruitment and onboarding, online training, employee handbook and policy development, performance management, termination and dispute assistance, and leadership development.

The employee dashboard allows workers to view their pay stubs, 401(k), time and attendance, and benefits information from one screen. Credit: Insperity
Employee Benefits
Insperity stacks up well against other PEOs and HROs that offer comprehensive benefits services. Insperity's offerings span 401(k) plans, healthcare plans, short- and long-term disability plans, employee assistance programs, and life insurance plans. Your employees can use Insperity's self-service online portal to modify and review their benefits as needed.
Payroll and Taxes
Insperity automatically provides standard payroll processing software as part of its HRO platform. Similarly, it features a section for time and attendance tracking, which allows managers and employees to request and monitor paid time off, including sick and vacation time. You and your staff can also access your important tax forms on demand.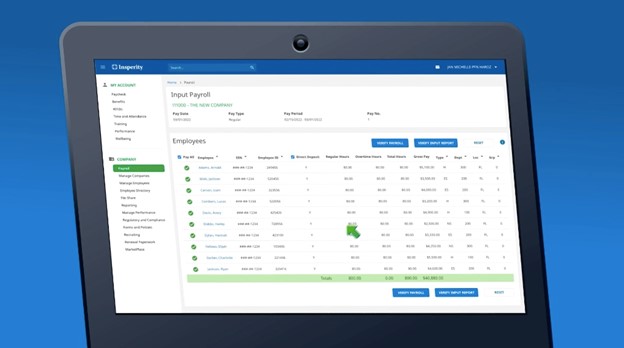 Insperity's platform can help employers run payroll efficiently and accurately with its payroll processing and verification tools. Credit: Insperity
Risk and Compliance
Insperity's wide-ranging risk and compliance services include claims management, workers' compensation, and employee development and training. The company can also cover recruiting and hiring tasks like employee screenings, employment practices liability insurance, termination and unemployment claims assistance, drug-free workplace policy development, and EEOC services. These services are critical to ensure your business doesn't run afoul of the law or open itself up to potential lawsuits.
Training and Development
Insperity offers extensive training and development opportunities for employees, including more than 5,000 online courses that your team members can follow at their own pace. It also offers 30,000 online books and resources that can help any member of your staff improve their knowledge on various HR topics. For companies that want a one-on-one training and development experience, instructor-led virtual training is also available.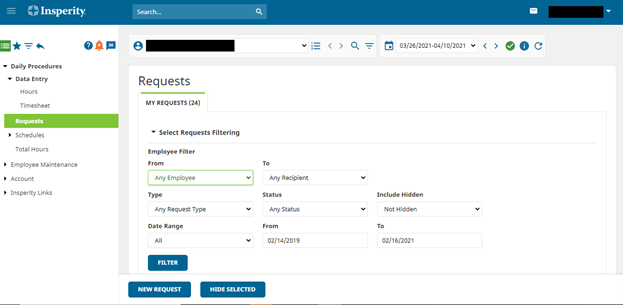 Insperity makes it easy to manage the entire employee review process. Credit: Insperity 
HR Technology
Transforming your business into a smooth, well-supported machine is one of Insperity's main goals for its HR services. It achieves this goal through its cloud-based, integrated platform, which allows you to automate and organize your company's HR functions and gives your employees access to all their information. Additionally, the Insperity Premier solution gives you all-in-one access to HR, payroll and business performance tools.
Insperity's time-tracking solution is TimeStar, which allows your employees to clock in and out by badge (you can use Insperity's hardware for employee badges), biometrics (fingerprint), mobile app or web punch on a company computer.
Insperity Cost
Insperity does not list basic pricing on its website. One helpful note, however, is that Insperity charges per employee instead of by payroll percentage, which allows a little more consistency in pricing of the service over time, as your payroll is likely to fluctuate more often than your staff size.
On the more positive side, Insperity does not require lengthy contracts; a 30-day notice is adequate to part ways with the company. If you want individual HR services without a co-employment model, you can opt for Insperity's Workforce Acceleration program. This option still requires you to enroll in Insperity's payroll service, but it offers every other service a la carte. For example, you can add or disregard its accounting, recruiting, insurance, 401(k) and retirement services as you please.
Insperity's costs depend on the size of your team and the scope of services you require. Most agreements require only 30 days' notice in writing to cancel service, rather than making you sign a long-term contract.
Setup
Insperity makes the setup process straightforward. Its full-service HR software can integrate with most other business software platforms and works just as fluidly on macOS as it does on Windows.
When you sign up with Insperity, you will be paired with a dedicated account executive who oversees your company's implementation of the software. This account executive serves as a liaison between you and Insperity, and they can help you add or subtract services from your plan as needed.
A user portal for employers and employees enables you and your staff to review your key compensation and benefits information. The app includes two-factor authentication for security and provides access to pay stubs, 401(k) plans, employee benefits, health savings and flexible spending accounts, time and attendance software, performance management software, and the many training materials that Insperity offers.
When you start with an HRO service, you should check its credentials. Insperity is accredited with both the ESAC and the IRS. It also ranks well with the Better Business Bureau, where customers give it an A+. These accreditations and endorsements demonstrate Insperity's reliability as an HRO service provider.
Customer Service
Insperity's customer service employees are available by phone  from 8 a.m. to 8 p.m. ET. However, HRO customers also receive a direct phone number and email address for their dedicated support staff, so they won't have to call the general line very often.
Insperity provides dedicated account management teams, which means you will have points of contact at the company who know your business and your circumstances. Insperity also maintains a team of experts in key HR areas, including payroll, performance management, recruiting and hiring, and workplace safety. They can help you craft policies and make the right choices for your business's situation.
Drawbacks
One of the longtime drawbacks that customers have reported is Insperity's five-employee minimum, which prevents the smallest companies from working with Insperity. For possible exemptions, contact Insperity's customer service.
We also struggle with the lack of clarity on the fees for service. Potential customers must call ahead to discuss pricing with a sales representative. We would like to see base prices or estimates on Insperity's website at least, giving you some guidance as to how the service will fit into your budget before you take the time to reach out.
Lastly, Insperity offers no ability to alter healthcare, 401(k) and other types of plans. Insperity can manage these benefit services for your company, but you must accept the plans exactly as offered, with no customization available.
Methodology
To find the best HRO service for midsize businesses, we analyzed dozens of HR outsourcing offerings and looked into what they could offer to mid-market businesses. We believe that it is important to work with an HRO vendor with extensive experience supporting other clients in your business size range. We liked that Insperity had offerings for small and midsize businesses and understands the difference in the HR needs of both sizes. We also liked that Insperity provided quantifiable results when it came to compliance support and customer service outcomes.
Insperity FAQs
What business size can Insperity HRO support?
Insperity can provide HR outsourcing services for employers with five to 5,000 employees.
What employee benefits can Insperity provide?
With Insperity, employers can offer their employees a wide range of medical, dental and vision insurance options. In addition, Insperity can provide flexible spending accounts, life insurance and disability insurance for employees.
What compliance tools does Insperity offer?
Insperity can help with payroll compliance EEOC complaints, drafting employment policies, terminations, employee leave and more.
Overall Value
We recommend Insperity for …
Companies that want thorough guidance during the setup phase and beyond.
Midsize and large businesses with fewer than 1,000 employees.
We do not recommend Insperity for …
Companies on a tight or very specific HR budget that want to compare prices online before contacting companies.
Companies that want highly flexible, customizable employee benefit plans.
Very small businesses and startups (fewer than five employees).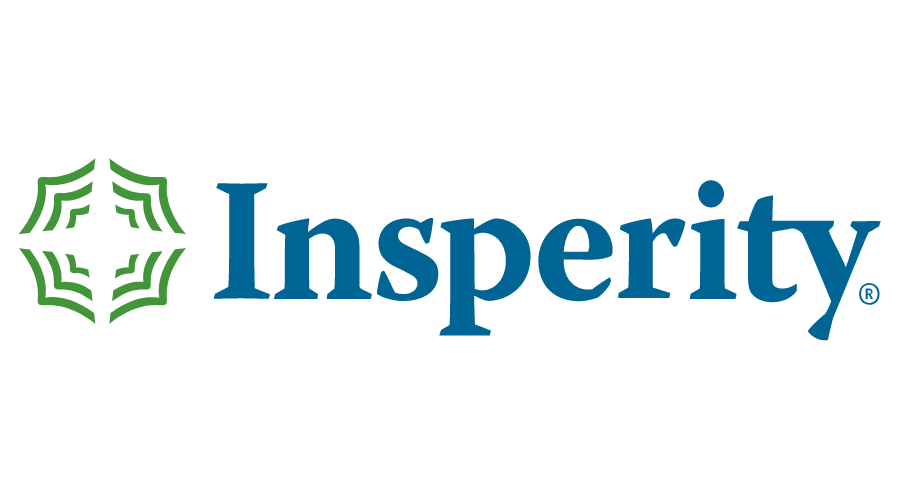 Insperity HR Outsourcing
The Verdict
Insperity is our pick for the best HRO provider for large businesses, offering seamless integration with key business software and flexible pricing plans. The company has experience providing HR services to multiple companies with over 1,000 employees.

Kaylyn McKenna
Contributing Writer
Kaylyn McKenna is a freelance writer specializing in business, tech, and leadership. She received her MA in Industrial-Organizational Psychology from Touro University, and enjoys using her industrial psychology background to share management, HR, and organizational effectiveness tips with small business owners. She has covered topics related to business law, compliance, employee retention, company culture, and management strategies.