TextMarks is a user-friendly SMS marketing service that's ideal for businesses that want added support. Company reps are quick to answer all questions by phone, live chat and email, and you get onboarding and ongoing API support.
Pros
TextMarks is known for excellent customer service across a variety of channels.
It's among the easiest text message marketing services to use and understand if you're new to SMS marketing.
It offers some of the most intuitive customer segmentation tools available.
Cons
TextMarks doesn't include two-way messaging, a common feature in other text message marketing services.
It's one of the most expensive text message marketing services we reviewed.
It doesn't allow you to add contacts – subscribers must sign up themselves – or send MMS messages.
TextMarks is a simple text messaging service that offers multiple segmentation tools.
The setup is easy, and you can request a free demo to preview the product.
TextMarks provides exceptional customer service and is a great option for small businesses that have a lot of questions about text message marketing.
This review is for small business owners and marketing professionals who are interested in using TextMarks for text message marketing campaigns.
TextMarks is a simple and intuitive text message marketing service that excels at customer support, which is why we selected it as our top pick for customer service. Company reps provide quick, helpful information across a variety of channels, and they can even help you get set up with the software. That kind of hands-on support makes this service a good fit for small businesses that are new to text message marketing.
Check out all of our text message marketing service best picks.
TextMarks Editor's Rating:
8.5 / 10
Customer service

10/10

Audience segmentation

9.5/10

Ease of use

9.5/10

Pricing

7.5/10

Messaging options

6.5/10
Why TextMarks Is Best for Customer Service
TextMarks is our best pick for customer service because the company is readily available via phone, live chat and email. You can get in touch with TextMarks from 10 a.m. to 8 p.m. ET on weekdays, which means you can reach TextMarks during standard business hours in any time zone in the contiguous U.S. And when you do, you'll probably love the experience; TextMarks users rave about the brand's customer support.
Admittedly, some other text message marketing services offer weekend support, whereas TextMarks does not. However, the company more than makes up for this minor drawback with a customer service feature we haven't seen with other SMS marketing services: Platinum, Enterprise and Custom plan users can receive 30 minutes of advanced API integration support at no extra charge. This hands-on assistance separates TextMarks from the pack.
Certain TextMarks plans include 30 minutes of advanced technical support for your API integrations.
Usability
One of the biggest draws of TextMarks is how simple it is to use. The software is straightforward to navigate, even if you're new to SMS marketing. The company also provides all of the resources and support you need to set up the software.
TextMarks can be used for a variety of text message marketing purposes. For example, you can send messages to large groups of customers at one time, run campaigns targeted to specific customer demographics, provide info to customers and clients who request it, and generate leads. This versatility helps you meet a range of SMS marketing needs.
TextMarks makes it easy to manage your current subscribers and monitor your list as it grows. Another factor that makes this platform easy to use is that it has a full-featured mobile app; you get the same level of functionality on a mobile device as you do on a desktop computer. This ensures that you can take full advantage of the software no matter where you are located.
Features
| | |
| --- | --- |
| Mass messaging | Send thousands of texts at one time. |
| Security and privacy | Rest assured that TextMarks never sells your information to third parties. |
| Scheduled alerts | Schedule texts and alerts to subscribers. |
| Auto-responder | Set automatic responses for keyword texts. |
| Lead generation | Collect data on potential customers. |
Mass Messaging
With TextMarks, you can send everyone on your contact list a message at the same time. In addition, you can notify employees of any changes to the schedule or provide other important updates about the company. Group texts also let you send reminders about upcoming meetings or projects.
Long gone are the days of relying on phone trees or mass emails that many people won't even open. And if you need to send a last-minute notice to your employees, you don't have to worry about calling everyone individually. With mass text messaging, you can reach thousands of people at once.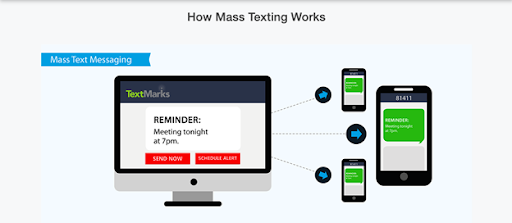 Security
When you use TextMarks, you can rest assured that all of your information will be kept safe. You never have to worry about confidential customer or employee information being sold to third parties.
Scheduled Alerts
TextMarks makes it easy to schedule text messages and alerts. This is helpful, especially if you're planning an upcoming promotional event. Or, if you have a meeting coming up, you can schedule reminders for your employees.
Auto-Responders
You can't respond to every customer who signs up for text messages, which is why it's helpful to set up an auto-responder. You create a keyword for users to text, and the auto-responder replies to them automatically.
For example, let's say you're running a contest for your customers. All participants will text a keyword, and they will get a notification that their response was received. And if you need more keywords throughout the month, you can purchase them for an additional fee.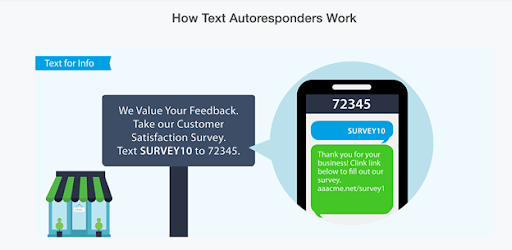 Lead Generation
TextMarks can help you build a more extensive marketing network with each person who signs up for your text messages. Each time a customer texts your business's keyword, their information is sent directly to your company, allowing you to generate new leads.
You can use TextMarks' segmentation tools to reach different customer groups and demographics.
Cost
You can choose from four TextMarks pricing plans. Each plan comes with unlimited subscribers and at least 15 custom keywords. There is typically a $199 setup fee, but TextMarks often waives the fee if you sign up for an annual contract. Here's what you get with each plan:
Gold
The Gold plan costs $219 per month and is best for small businesses and organizations that require less support. This plan comes with up to 10,000 messages per month and 15 custom keywords.
You can use this plan to send mass text messages, set up auto-responders and utilize advanced list segmentation. Plus, the service provides robust reporting features, so you can see how many people have opted in and out of your text messages.
Platinum
According to TextMarks, the Platinum plan is the company's most popular pricing tier. This plan costs $549 per month and is a good fit for growing businesses and organizations. Whereas the Gold plan provides customer support only through email, Platinum members can take advantage of phone support as well. The Platinum plan comes with 35,000 messages a month and 20 custom keywords. In addition, TextMarks provides personalized consulting to help you optimize your marketing campaigns – a feature we found with only a few other text message marketing services.
Enterprise
The Enterprise plan costs $1,099 per month and is ideal for large companies and organizations. The plan comes with 100,000 messages a month and 30 custom keywords. Enterprise users can create more customized text messaging plans and access historical data usage and messaging logs. With this plan, TextMarks also works with you to navigate Federal Communications Commission compliance regulations governing spam text messaging.
Custom Annual Plans
TextMarks offers annual custom plans for enterprise organizations. The pricing is based on your exact needs, and you must contact the company to receive a quote. A significant perk of having a custom plan is the ability to send an unlimited number of messages per month and use unlimited keywords.
Setup
It's relatively simple to get started with TextMarks. Once you set up your demo through the site, you follow a simple three-step process to create your account. To begin, you set up your programs and keywords. Once you have your account information, you simply log in and select Programs and then Register Program. Then, you fill in the name of your business and your contact information and select the content type: marketing, informational, nonprofit, religious or political. Finally, you include a brief description of your program, and your setup is complete.
On the TextMarks pricing page, you'll see an offer to waive the $199 setup fee. Although TextMarks typically describes this as a limited-time offer, the promotion has remained available almost every time we've researched TextMarks over the years.
Customer Service
One thing that really stands out about TextMarks is the company's excellent customer support, which receives rave reviews for its speedy response times and patient representatives.
The company gives customers multiple ways to get in touch, including email, phone and live online support. You can reach TextMarks via phone and live chat from 10 a.m. to 8 p.m. ET on weekdays. Customer service options vary based on the plan you choose, so it's important to understand your needs before selecting a plan.
The support team is extremely helpful during the onboarding process. Whether you need assistance with getting your text messaging program up and running or with tweaking a current campaign to improve your results, TextMarks is there for you.
In addition, all Platinum and Enterprise plans include 30 minutes per month of advanced API integration support. This extra level of service is what helps make TextMarks' customer service stand out, because it ensures that you get the most out of the platform and that it integrates well with the rest of your business's applications and programs.
If phone support is important to you, be sure to choose the Platinum or Enterprise plan.
Drawbacks
One downside of TextMarks is that some organizations, especially startups and small businesses, may find the pricing a bit steep. When you're trying to keep your monthly expenses low, even the $199 monthly price tag can seem cost-prohibitive. If you are looking for a more affordable service, check out our review of Textedly, which offers plans starting at $24 per month.
Depending on your needs, another potential drawback is that TextMarks doesn't allow for two-way communication, so recipients can't reply to your messages. If your business needs this feature, read our review of EZ Texting, which allows you to receive and respond to direct messages from customers.
Furthermore, you can't manually add new subscribers (they must add themselves), and you can't include images or videos in your messages.
Methodology
To review TextMarks, we browsed the company's website and read customer reviews, and we did the same for 12 other text message marketing services. In previous years, we also used a free trial, but this year, we only got free trials for five brands. We also browsed the websites of another seven text message marketing companies. The information we obtained gave us the context we needed to compare TextMarks with other text message marketing services.
FAQs
TextMarks lets businesses send the same text message to thousands of people at once. It can also help you generate leads.
TextMarks plans start at $219 per month and go up to $1,099 per month. Custom pricing plans are also available.
Bottom Line
We recommend TextMarks for …
Businesses that want hands-on support as they get up and running.
Growing businesses that could benefit from the extra advertising.
Retailers that send promotions to customers.
We don't recommend TextMarks for …
Startups that want the most affordable text messaging service.
Businesses that need two-way texting.
Businesses that need to communicate internationally.
Max Freedman contributed to the writing and research in this review.