Twilio offers a wide range of technology solutions but is perhaps most well-known for its SMS marketing services.
Pros
Twilio Flex offers businesses a choice between paying monthly or per usage hour.
The solution accepts customer input through almost any web, social or telephony-based channel.
Twilio Flex's single-pane agent interface is intuitive to use.
Cons
Setup often involves coding, which could deter less technically minded users.
Monthly pricing is considerably more expensive than many rivals.
Twilio Flex is an extensively customizable omnichannel contact center solution.
Twilio Flex covers core channels like phone and email while encompassing social media, encrypted messaging apps and chatbots.
The company offers a free trial with 5,000 active user hours, which is far more generous than many rival platforms.
This review is for small business owners who are considering investing in Twilio Flex as their contact center software provider.
In a market of fine margins between the best contact center software suites of 2023, Twilio Flex represents something of an outlier. Its core functionality may be similar to other omnichannel routing and communications platforms, but it adopts a very different setup approach. We've never encountered a contact center platform as heavily reliant on code, let alone one offering a free 16-bit-style RPG game for learning how to complete those coding tasks.
Users can update workflows and routing rules as needed, bringing in third-party customer relationship management (CRM) integrations when necessary and dovetailing Flex with legacy systems and even rival platforms. Even if you rely on prebuilt interfaces and templates, Flex offers plenty of monitoring and analytics. While Flex has abundant features, we found it to be an excellent choice for businesses that require automated messaging and customization.
Twilio Editor's Rating:
8.2 / 10
Pricing

8.8/10

Features

9/10

Flexibility

9.2/10

Ease of setup

7/10

Support

7.2/10
Why Twilio Flex Is Best for Automated Messages
Twilio Flex is an optimal solution for automated messaging. Unlike some of its rivals, it offers programmable voice, messaging and video application programming interfaces (APIs). Agents can also step in and conduct live video conversations, if necessary. Because it dovetails with Google Contact Center AI, Flex users can easily preload recommended responses, and the system can source relevant information and answers almost instantly.
We also liked that Flex embraces niche corporate communication channels like Telegram, helping ensure customer inquiries reach the right agent in good time, whether they're texting, emailing, WhatsApping or using conversational artificial intelligence (AI) chatbot support tools.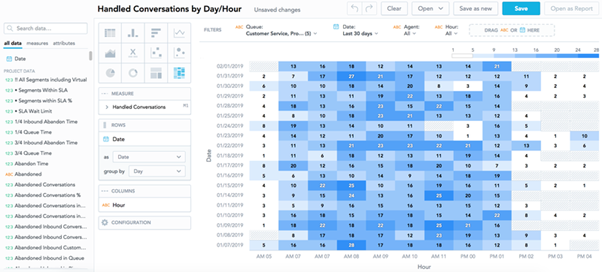 Twilio Flex dashboard displaying conversations by day and hour. Source: Twilio Flex. 
Twilio Flex also has a chat widget called Flex WebChat that allows agents to respond to live chat inquiries from customers directly on your website.
Usability
In many respects, Twilio Flex adopts the industry best-practice approach of rival platforms like GoTo Contact Center. [Read our in-depth GoTo Contact Center review to learn more.] We were impressed that everything an agent must see is contained within a single-pane interface that avoids gaudy colors and presents vital data cleanly and concisely. Extensive metrics tracking and data recording are integrated into the system, making it easy for supervisors to see how a team or agent performs and where they can improve.
We liked that the agent's single-pane interface perspective contains live updates of what a customer is viewing and any registered contact data on file for that person's account. We were also impressed by the solution's extensive automation capabilities, including preprogrammed responses like customizable short message service (SMS) messages agents can send after order completion or at other stages of client interaction. Programmable bots support bespoke experiences from CRMs and other back-office systems; they can also be replicated across any channel, standardizing the user experience(UX) no matter what platform a customer uses.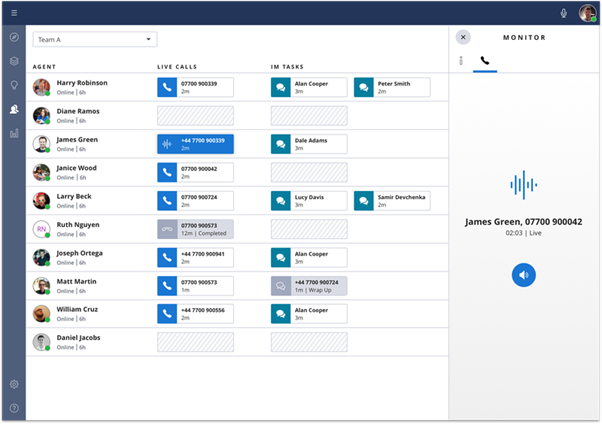 Twilio Flex agent-monitoring overview. Source: Twilio Flex.
Twilio Flex Features
| | |
| --- | --- |
| Numerous inbound channels | Flex supports communications from email and SMS, voice and social media, WhatsApp and web chat. |
| Push notifications | Companies that need real-time client-interaction notifications can set up push notifications. |
| Integrate with existing setups | Flex can replace your existing contact center or augment it by adding remote agents, new channels, interactive voice response (IVR) and chatbots. |
| Customize agent experience | Agents can manage tasks across numerous channels through a single user interface (UI). |
| Track key performance indicators (KPIs) | There's extensive scope to review KPIs, right down to the percentage of abandoned inbound conversations in queues. |
| Track reports and insights | Customizable reporting offers oversight of individual agents and the wider contact center. |
Numerous inbound channels
While some entry-level contact center platforms assume everyone will contact you by phone, we appreciate that Twilio recognizes we live in an omnichannel age. Flex supports voice, email and web chat communications as well as text messaging and secure messaging apps like Telegram and Facebook Messenger.
Push notifications
You can set up inbound and outbound push notifications to inform agents or clients of important communications. Interactions through all media are housed in a single-pane display screen. You can also set up push notifications if thresholds are breached.
Integrate with existing setups
We were impressed that Flex offers hundreds of integrations with third-party platforms, such as Lionbridge AI translation and Invoiced, and also works with legacy hardware and software. There are no $700 handsets on sale here — only cloud-hosted software designed to embed within some of the best CRM solutions like Zendesk and Salesforce [read our in-depth Salesforce CRM review to learn more].
Customize agent experience
Adopting the single-pane view familiar from competitor platforms, Flex allows supervisors to manage multiple channel inputs through a single UI. Engagement workflows and intelligent routing ensure priority communications are addressed first, while Google Contact Center integration is standard.
Monitor KPIs
We liked Twilio Flex's intuitive interface for setting and measuring KPIs. You can investigate percentages — handled conversations, abandoned calls in queues and typical abandon time — review individual agent performances and focus on a particular hour of the day. Scorecards are also integrated.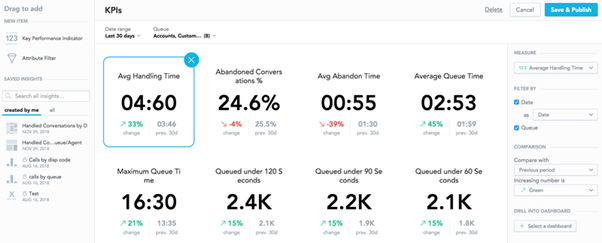 Twilio Flex KPI-monitoring functionality, including average handling time. Source: Twilio Flex.
Twilio add-ons include Message Sentiment, a sentiment analysis tool created in partnership with IBM Watson. This add-on can help businesses track customer opinions via SMS, surveys and other feedback channels.
Track reports and insights
In an area where competitors often fall short, Twilio Insights allows admins and supervisors to handle performance management by creating bespoke reports about agent and center performance. Prebuilt or bespoke reports support customized attributes attached to interactions, triggering automatic alerts if key thresholds are breached.
The Twilio Insights dashboard provides a detailed agent overview. Source: Twilio Flex.
Flex is unusual in offering the ability to integrate with rival platforms like Salesforce. Read our Salesforce Service Cloud review to learn more about this solution.
Twilio Flex Cost
Twilio breaks from its competitors' conventional pricing structures by allowing its customers to pay per hour instead of per user per month. This format is ideal for companies that experience seasonal fluctuations in inquiry volumes, such as holiday retailers. You can also pay $150 per user, per month — a higher price than many competitors, although it's still comparable with midrange Salesforce platforms.
Another bonus is that Twilio offers 5,000 active user hours free as part of a trial package. This trial is limited in scope — it doesn't include self-hosted UIs or the Insights platform — but still gives prospective clients time to familiarize themselves with the platform and decide if it's right for them. We liked this original take on the trial period, which is less limiting than rivals like RingCentral, whose free trial only allows two handsets and 50 minutes of domestic calls.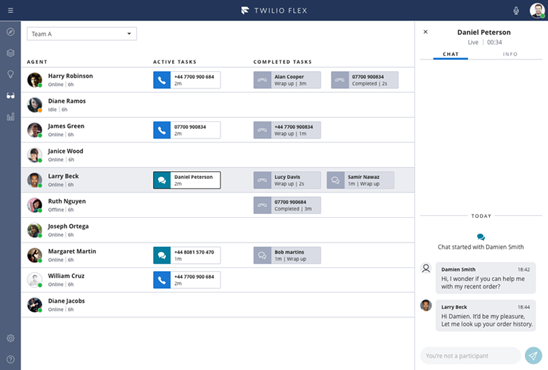 Twilio Flex light chat monitoring dashboard. Source: Twilio Flex.
Twilio Flex Setup
If you're happy to use the standard interfaces, Flex is no more challenging to set up than its rivals. For instance, the Insights analysis portal lets you replay conversations with a simple timeline indicating conversations, holds and silence while adding color-coordinated distinctions to agent and customer voices. Supervisors can rate empathy, politeness, customer identification, satisfactory resolution and more. You can even vary the playback speed.
On the flip side, we found that configuring customized components is rather code-heavy as opposed to the visual drag-and-drop interface Flex's rivals use. Twilio has attempted to mitigate this by creating a coding game called TwilioQuest. Inspired by RPGs of the 1980s and 1990s, this retro-styled program is a free download on PC, Mac and Linux, appealing to gamers, anyone over 40 and people who like play-based learning. It even has a suitably 16-bit soundtrack.
If you're not comfortable getting under the hood of Flex's software, even with its gamification strategy, you'll be limited in terms of functionality and potentially fail to capitalize on the platform's full potential.
Twilio Flex Customer Service
Because Flex is one of many Twilio products, the company website directs you to a generic Help Center page. Unless you want to communicate through a chatbot, you'll struggle to track down a number for anyone other than the sales team. There is a support ticket section, but we found it hard to find via the website; it involves using an online form to specify the business-impact level your issue is causing.
We liked that self-service support extends to a comprehensive, searchable company blog regularly updated with step-by-step guides and checklists, often covering integration technicalities. Flex also has a document repository that covers everything from core concepts to supervisor barge-in and queued callback solutions. Again, though, we found that this resource quickly descends into talk of node provision and scripts — anathema to people not comfortable with coding.
Twilio Flex Drawbacks
As the previous section makes clear, customizing Flex will be challenging if you haven't had at least some exposure to program code. Flex's rivals make the customization process far more akin to drag-and-drop website building tools like Wix. While Flex lives up to its name by offering flexible solutions, it's not a platform we can recommend to anyone who doesn't know their software development kits (SDKs) from their APIs.
This caution also extends to customer service. While the Changelog is a welcome online resource, it's written for a tech-savvy audience. Equally, the superb TwilioQuest coding game is still leading people along a path they might not otherwise wish to venture down when rival platforms offer no-code visual interfaces.
Methodology
To determine the best contact center solutions in today's market, we've compared and analyzed the capabilities and features of various contact center software solutions. Regarding Twilio, we paid particular attention to the complexity of its coding-led interface management and the sheer wealth of third-party integrations. We also overlooked industry-standard features — it's unremarkable nowadays if a contact center software provider promises a 99.999 percent service level agreement.
Twilio Flex FAQs
At the time of writing, Twilio Flex can be augmented by almost 250 partnerships and external platforms, from Deloitte and PwC to Discord and Zendesk.
No. Plenty of out-of-the-box data views allow supervisors and admins to drill down from department-wide performance indicators to individual conversations and wrap-up times. You don't have to access the portal for tailoring custom dashboards and reports if you don't want to. However, you'll miss out on advanced functionalities like report scheduling and extended analytics.
Clients include Yelp, Lyft, Electrolux, Shopify, Toyota Connected and HubSpot.
Overall Value
We recommend Twilio Flex for: 
Companies that want to micromanage omnichannel inbound communications.
Firms where granular team and agent insights are valuable.
Businesses keen to integrate CCS with existing software or legacy infrastructure.
Gamers who can learn how to create Flex coding by immersing themselves in TwilioQuest.
We don't recommend Twilio Flex for:
Technophobes or people who find coding languages impenetrable.
Companies on a limited budget.
Businesses that want easily accessible tech support around the clock.