Five9 is a powerful platform for omnichannel contact centers, offering straightforward workflow mapping and extensive third-party integrations. However, this functionality comes at a price.
Pros
Five9 offers extensive third-party integrations.
Transparent package pricing makes purchasing seamless.
Comprehensive functionality makes Five9 a straightforward solution.
Cons
Five 9's Core package doesn't include omnichannel support.
Only the most expensive package offers analytics or workflow apps.
Five9's Intelligent Cloud Contact Center offers four different service tiers depending on the client's needs and complexity.
Unlike other brands in this sector, Five9 focuses exclusively on contact center solutions.
Customers can extensively adapt Five9's core platform with over 150 services and integrations.
This review is for small business owners who are considering implementing Five9 to manage their contact center operations.
In a crowded marketplace, Five9 stands out as the best contact center solution for companies requiring third-party software connections. We liked how its dedicated marketplace supports dozens of integrations with blue-chip brands like Microsoft, Oracle and Twitter. Customers can view integrations by category (e.g., agent assist or call tracking) or by industry — you can choose from over 20 sectors, including agriculture, wholesale and distribution. We also recommend Five9 for small businesses that need a straightforward contact center solution at a transparent price. While pricing is on the high side, the product's overall ease of use makes Five9 an excellent option for smaller companies that don't want the complications of program code or superfluous features.
Five9 Editor's Rating:
8.8 / 10
Pricing

8.4/10

Features

9.2/10

Flexibility

9/10

Ease of setup

8.8/10

Support

8.6/10
Why Five9 Is Best for Integrations
We were impressed that Five9 has over 150 integrations boosting its Intelligent Cloud platform's flexibility. Users access integrations in the self-evidently titled Five9 CX Marketplace via a simple Buy button that allows registered customers to add connectors and applications. Integrations include competitor products (e.g., RingCentral and Salesforce), productivity tools (e.g., IBM Watson Speech to Text and Google Drive) and SaaS providers (e.g., Oracle and Zoho). Social media integrations include dedicated connectors for Twitter and Slack. Additionally, the Google Gmail connector can create email marketing automations for clients with a Google Calendar subscription.
Our only criticism is the lack of transparent pricing for these add-ons. That's a shame because we found Five9's otherwise transparent pricing to be a plus (see the Five9 Cost section below).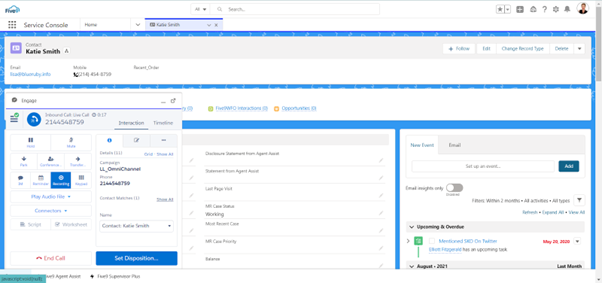 Five9's service console for its Salesforce adapter. Photo Credit: Five9
Five9's extensive CRM integrations include Salesforce, Oracle, Microsoft Dynamics, Netsuite, ZenDesk and Freshdesk.
Usability
The Five9 agent screen is minimalist, in stark contrast to its competitors' relatively cluttered interfaces. We liked its effective use of dark blues and grays, which makes it easy to identify various panes on screen. Drop-down menus support activities like breaks, follow-up work and training sessions.
On-screen call controls provide soft support for handsets or headsets, with prominent buttons for keypads, muting, transfers, and inserting audio files. The analytics sections (general and speech-specific) are busier, with drop-down submenus at one side of the screen reminiscent of Windows Explorer, while graphs and pie charts provide a more colorful take on real-time data recording.
Automated decision trees use clear drag-and-drop interfaces, unlike the coding-driven approach adopted by Twilio Flex. (Read our Twilio Flex review to learn more). We appreciated that even a beginner can quickly grasp how these flowcharts work.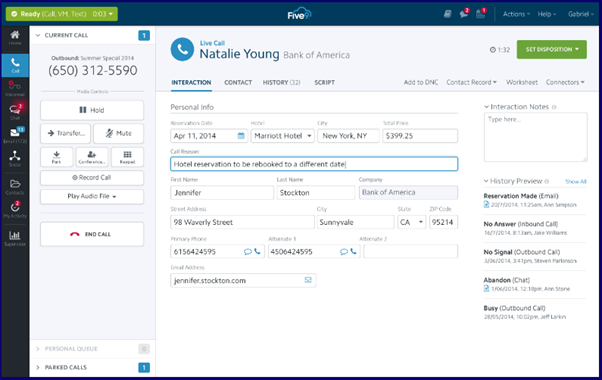 Five9 inbound call center agent screen. Photo Credit: Five9
Five9 Features
| | |
| --- | --- |
| Extensive CRM integrations | Whether pre-built or customizable, integrations make it possible to tailor your Five9 package around your firm's unique requirements. |
| Workforce optimization | Five9's WFO package can be built in or combined with third-party services from the likes of Verint. |
| Performance management | Customizable dashboards tailored for different roles permit bespoke key performance indicators (KPIs) and metrics. |
| Intelligent virtual assistants | IVAs tackle basic tasks that don't require human input, helping to pre-qualify inquiries. |
| Voice contact center essentials | Every Five9 solution includes key tools like call recording and geolocation redundancy. |
| Omnichannel support | Although the base package doesn't include it, Premium plans and above extend across chat and email as well as phone. |
Extensive CRM Integrations
Alongside existing integrations for the best CRM software solutions like Zendesk and Salesforce (read our in-depth Salesforce CRM review to learn more), Five9's awkwardly named Agent Desktop Toolkit Plus includes technical functionalities like REST APIs and reference UIs. While we don't think most small business customers will use these functions, tech-savvy clients or companies with more complex needs will appreciate them.
Workforce Optimization
While many of Five9's rivals focus on routing and call management, we like that Five9 permits a deep dive into agent behavior. Real-time analytics and reporting identify anomalies and detect trends across all channels. The platform also offers  agent desktop monitoring, automated scoring, evaluations and speech analytics using word clouds.
Performance Management
Alongside real-time performance management visibility, Five9 provides recognition and reward tools via gamification and customizable wallboards. We like that users can search transcripts for words or phrases and even use sentiment analysis to identify emotions or sentiments as they occur.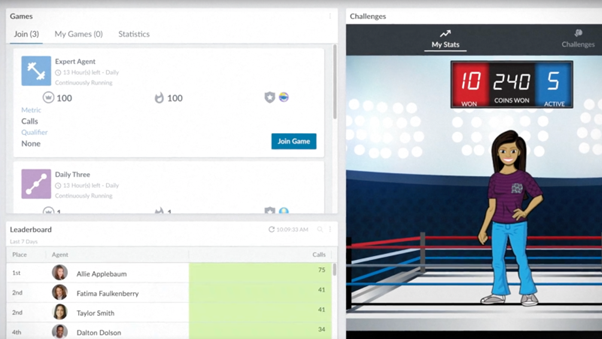 Five9's agent dashboard gamification helps boost agent engagement. Photo Credit: Five9
Intelligent Virtual Assistants (IVAs)
You might expect IVAs to be a staple of contact center platforms nowadays, but many of Five9's competitors don't offer them. We appreciated Five9's take on IVAs, which prequalifies inbound inquiries, handing off communications between different channels and automating follow-ups while generating real-time recordings and analytics.
Voice Contact Center Essentials
We like that all of Five9's packages include telephone support, including interactive voice response (IVR), dialer and reporting tools, queue management, and call recording. These features support inbound, outbound or blended voice contact centers, with thousands of agents potentially located in various global locations.
Omnichannel Support
In addition to phone support, Five9 embraces email, live chat support, and secure messaging apps (Twitter, WhatsApp and Facebook Messenger). We like that agents can view contextual information from old interactions and self-service channels, escalating and prioritizing communications between different platforms.
Five9 Cost
Five9's pricing is competitive across the industry.
Core. The Core package starts at $149 per concurrent user per month. However, it's effectively restricted to telephone communications.
Premium. For $169 per concurrent user per month, you'll receive Premium's omnichannel support and basic quality management tools.
Optimum. Optimum pricing starts at $199 per concurrent user per month and includes workforce management and proactive workflow notifications.
Ultimate. Ultimate ($229 per concurrent user per month) offers speech and interaction analysis alongside a more nuanced workflow automation system.
Like Twilio, Five9 also offers the option of pay-per-use pricing, though you'll have to negotiate this with a sales rep.
However, third-party integration pricing gives us pause. Prices aren't publicized, and even registered Five9 users can't investigate costs without speaking to an agent. This is a rare example of opacity about the company's pricing, and it stops us from being confident enough to recommend such integrations to prospective customers.
By contrast, the most expensive Salesforce contact center package costs 12 times more than the cheapest. (Read our review of Salesforce Service Cloud to learn more.)
Five9 Setup
While competitor platforms offer a choice between web browser access and mobile apps, we found Five9 to be more limited. Although the software is cloud hosted, it doesn't offer both iOS and Android options like some of its rivals. There's no Android app, and the only iOS app is for supervisors using iPads. As such, agents and supervisors use the same interface; however, we like that the interface is intuitive and neatly color-coded.
Setting up intelligent virtual assistants is equally straightforward, and you can use IVAs across any channel — web, voice, SMS or WhatsApp.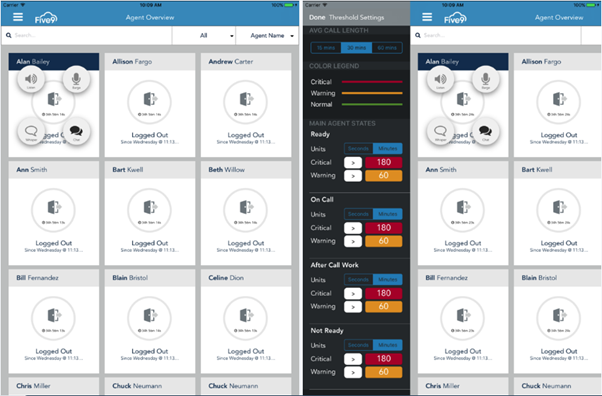 Five9's iOS app showing an agent overview. Photo Credit: Five9
Five9 Customer Service
It's always reassuring when a company prominently posts a national toll-free number front and center on its website, and we appreciate that Five9 does this. Web chat and email support are also available 24/7, reflecting Five9's presence in Europe, Brazil and Australia.
The company's website gives registered users access to data sheets, company blogs, reports and webinars. You can listen to podcasts, read e-books, or study white papers through a searchable database of topics and themes. The truly dedicated can even register for upcoming conferences or watch keynotes and footage from past events.
It's worth noting that in a 2021/22 market evaluation by DMG Consulting, Five9 achieved near-perfect scores from independent customer reviews across categories as diverse as product features and WFO and WEM capabilities.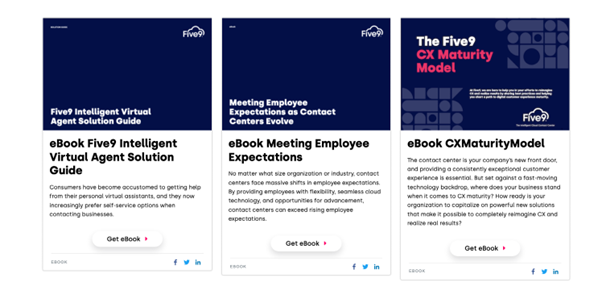 Five9's free downloadable e-books provide resources for customers. Photo Credit: Five9
Five9 Drawbacks
There's a lot to like about Five9, but the offering comes at a price. When you consider that RingCentral packages start at just $33 per user per month, Five9's Core package seems expensive at $149 — especially since it doesn't include omnichannel support. (Read our RingCentral review to learn more.) As big fans of transparent pricing, we're disappointed that Five9 doesn't advertise its third-party solutions and extensions with the same clarity as its four primary packages.
Additionally, Five9 is missing some of its competitors' helpful features. For example, Five9's lack of mobile app offerings may affect some customers. We found its sole iOS app to be heavily restricted and largely superfluous. There's none of the hardware provision that rivals like GoTo Contact Center provide (check out our GoTo Contact Center review for more information). The company also offers less data archiving than the 25 months RingCentral provides.
Methodology
To determine the best contact center solutions in today's market, we've compared and analyzed the capabilities and features of various contact center software packages. Regarding Five9, we scrutinized the level of customer support offered, the number of third-party integrations supported, and the depth of functionality in each subscription tier. It's expected that any contact center software provider will promise a 99.999 percent SLA (as Five9 does), so we overlooked these industry-standard claims and provisions.
Five9 FAQ
Five9's workforce automation interface is among the most intuitive we've seen in this sector. Horizontal or vertical pathways include clear Boolean instructions, and graphical wizards help create new reactions or processes and identify key targets and triggers.
No. While rivals like Salesforce and GoTo offer entire suites of standalone SaaS tools and platforms, Five9 is a dedicated contact center solutions provider. It doesn't sell third-party hardware, host conferencing and webinar tools, or offer its own messaging app.
While other contact center software providers treat 24/7 support as a premium feature (and consequently leave it out of cheaper packages), every Five9 customer has access to support when needed.
Overall Value
We recommend Five9 for …
Companies that want a user-friendly omnichannel contact center platform.
Firms keen to dovetail their contact center software with third-party APIs.
Admins who want simple drag-and-drop workforce management tools.
Businesses that need the reassurance of round-the-clock support on any package tier.
We don't recommend Five9 for …
Firms on a tight budget.
Managers who want communications tools like messaging apps or conferencing software.
Omnichannel contact centers searching for the most inexpensive option.