AlphaStaff PEO is a PEO provider that offers robust HR, hiring and onboarding support. Due to AlphaStaff's intuitive applicant tracking tools and professional recruiting support, it is our top pick as the best PEO for recruiting.
Pros
AlphaStaff is a well-rounded PEO with recruiting, payroll, benefits and compliance tools.
Customers can receive expert hiring guidance and recruiting support.
AlphaStaff is an Employer Services Assurance Corporation (ESAC)-accredited PEO
Cons
AlphaStaff does not offer transparent pricing.
The UI appears slightly outdated.
AlphaStaff is a comprehensive PEO with a wealth of hiring and HR tools.
The PEO provider employs a team of experienced recruiting experts to help businesses find the best candidates.
AlphaStaff Hiring is an intuitive applicant tracking system built into AlphaStaff's platform.
This review is for business owners who want to learn more about AlphaStaff PEO and whether it is the right fit for their organization.
AlphaStaff is a professional employer organization (PEO) with flexible human resources (HR) and recruiting offerings designed for small businesses and franchises. AlphaStaff offers a well-rounded tech platform with applicant tracking capabilities, a seamless digital onboarding workflow, robust reporting and more to help businesses cut down on administration and hire more efficiently. AlphaStaff employs experienced recruiters and HR experts to guide small businesses through common employment concerns, including finding top candidates and hiring compliantly. Due to the service's combination of expert recruiting personnel and well-designed applicant tracking tool, AlphaStaff is our top pick for the best PEO for recruiting.
AlphaStaff Editor's Rating:
8.6 / 10
Customer service

8/10

User interface (UI)

9/10

Benefits offerings

9/10

Payroll functionality

9/10

Pricing

8/10
Why AlphaStaff Is Best for Recruiting
AlphaStaff is a PEO service that provides full-service recruiting support along with traditional PEO hiring services, such as onboarding support, hiring guidance and compliance expertise. The platform also includes a built-in applicant tracking system (ATS) to streamline recruitment. Many PEO providers offer limited recruiting capabilities, but AlphaStaff provides an expansive range of technology and expert recruiting support to help employers find the right hire.
The AlphaStaff platform includes the user-friendly AlphaStaff Hiring ATS. This system can be used to post jobs, add screening questions, review applicants, schedule interviews and onboard new hires. Employers can leave notes and track the status of applicants with the included ATS tools. These tools make it easier for small businesses to create a streamlined, efficient hiring and onboarding process.
AlphaStaff also employs professional recruiters with extensive training and recruiting industry knowledge to help small businesses find the best hire for their needs. Businesses that use AlphaStaff's recruiting team also receive a 90-day replacement guarantee, where any candidate terminated within the first 90 days will be replaced with no added cost to the employer.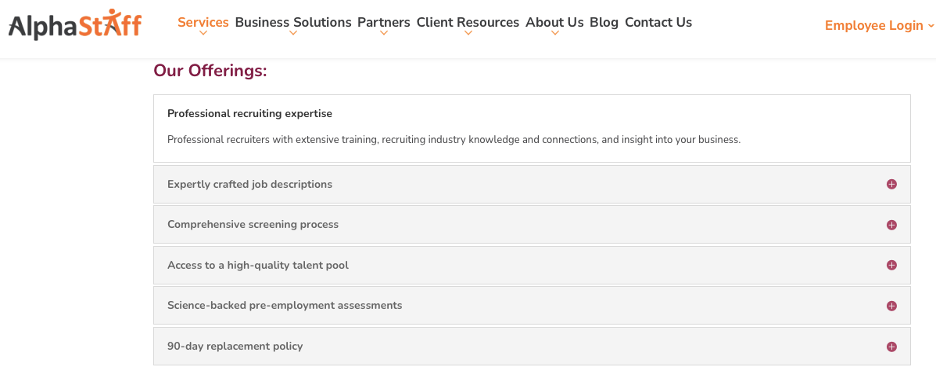 AlphaStaff offers a wide range of recruiting tools to help you find the best candidates for your open roles. Credit: AlphaStaff
ESAC-accredited PEOs must meet stringent guidelines related to ethical conduct, regulatory compliance and financial stability.
Usability
AlphaStaff's platform does look a bit old or outdated in some areas, but the UI is still easy-to-navigate. Employees can access a number of self-service features to easily update their address, request paid time off, check pay statements and complete other activities on their own.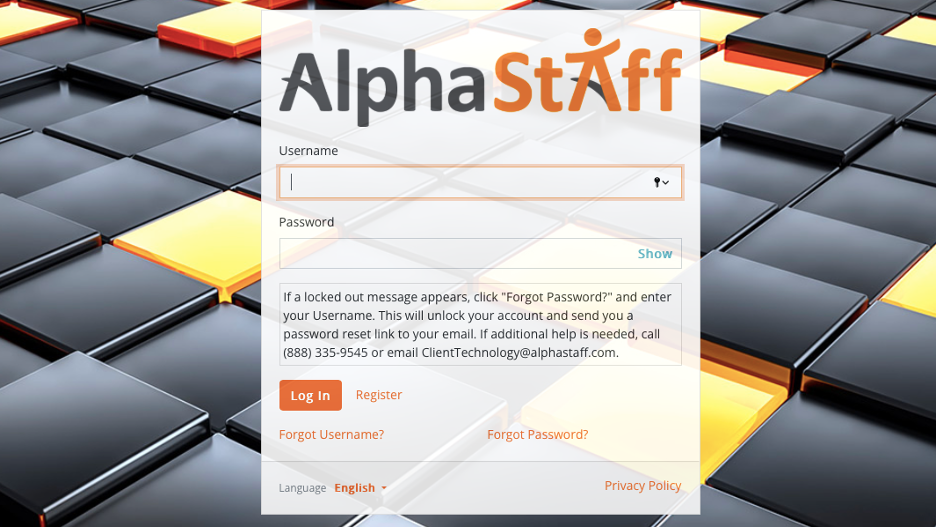 Employees can also log in to AlphaStaff's platform to access self-service functions. Credit: AlphaStaff
One of the standout features within the platform is AlphaStaff Hiring, the built-in ATS. Having an ATS built into an all-in-one human capital management platform provides a more integrated hiring workflow where organizations can manage applicants and current employees — all in one platform. It also makes it easy to convert candidate information over to the employee database while onboarding a new hire.
AlphaStaff features an advanced reporting system, based on SAP Business Objects, that can deliver real-time, data-driven reporting. The AlphaStaff system can produce custom reports in XLS or PDF format with supporting graphs visually depicting the requested data. These reports can be automated and scheduled or created as-needed. Users can also access a configurable reporting dashboard with the charts and metrics most relevant to their role.
AlphaStaff team members can help you build a customized report library based on your organization's unique reporting and analytics needs.
AlphaStaff Features
| | |
| --- | --- |
| Applicant Tracking | AlphaStaff Hiring organizes applicant data to help employers hire efficiently. |
| Talent Search Recruiting | Get help from AlphaStaff's recruiting experts to find your next hire. |
| Payroll | Let AlphaStaff manage payroll processing and tax deductions. |
| Benefits Administration | Provide high-quality benefits plans to employees through AlphaStaff. |
| Performance Management | Create performance goals and strategies to support key business objectives with AlphaStaff's HR experts. |
Applicant Tracking
AlphaStaff's built-in applicant tracking features include user-friendly digital tools to help small businesses post job openings and screen applicants. AlphaStaff's ATS feature, AlphaStaff Hiring, includes integrated screening questions and assessments to help employers gauge applicants' skills and fit for each role. The platform presents applicant data in a clear manner so that hiring managers can review and rate candidates easily and add notes on the candidate's application or interview performance.
Talent Search Recruiting 
AlphaStaff's talent search recruiting offerings provide more hands-on recruiting support to small businesses. The company's expert recruiting advisors can craft job descriptions, support candidate screening and recruitment efforts and provide guidance on hiring compliance. Businesses that use AlphaStaff's recruiting consulting services also receive a 90-day guarantee where candidates that are terminated or quit within the first 90 days will be replaced with no questions asked.
Payroll
AlphaStaff supports payroll processing through a user-friendly web platform and hands-on support from a certified payroll team, AlphaStaff's platform can automate the entire payroll process and improve payroll and tax compliance. AlphaStaff handles timesheets, payroll deductions, W-2s and payroll processing. Employees have the choice to receive their payments through direct deposit, paper checks or a provided debit card.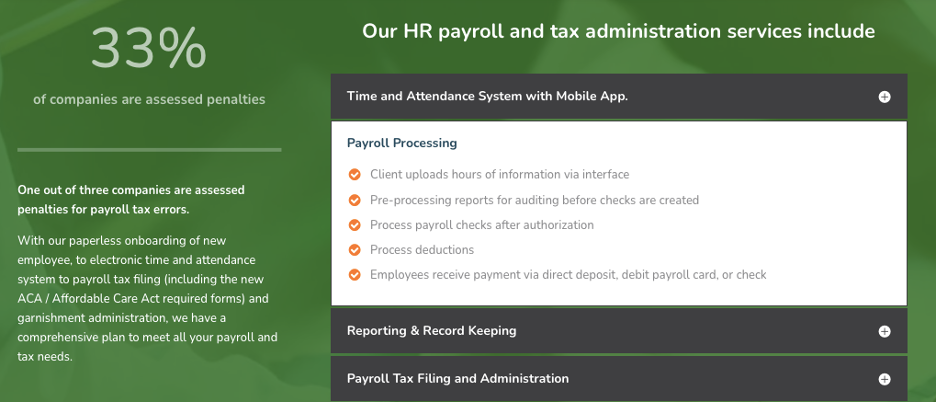 AlphaStaff offers comprehensive payroll processing support. Credit: AlphaStaff
Benefits Administration
AlphaStaff offers comprehensive benefits packages for employees. The PEO service has partnerships with industry-leading benefits providers to help small businesses access Fortune 500-level benefits offerings. If you'd prefer to keep your existing benefits, that is fine too. AlphaStaff is relatively flexible when it comes to benefits and small businesses that are happy with their existing offerings may continue to make them available to employees.
 AlphaStaff supports online, telephone and paper benefits enrollment so that organizations and employees have the flexibility to handle open enrollment in their preferred manner. AlphaStaff also offers a benefit advisory service where AlphaStaff brokers can provide guidance on benefits options, eligibility tracking and Affordable Care Act compliance.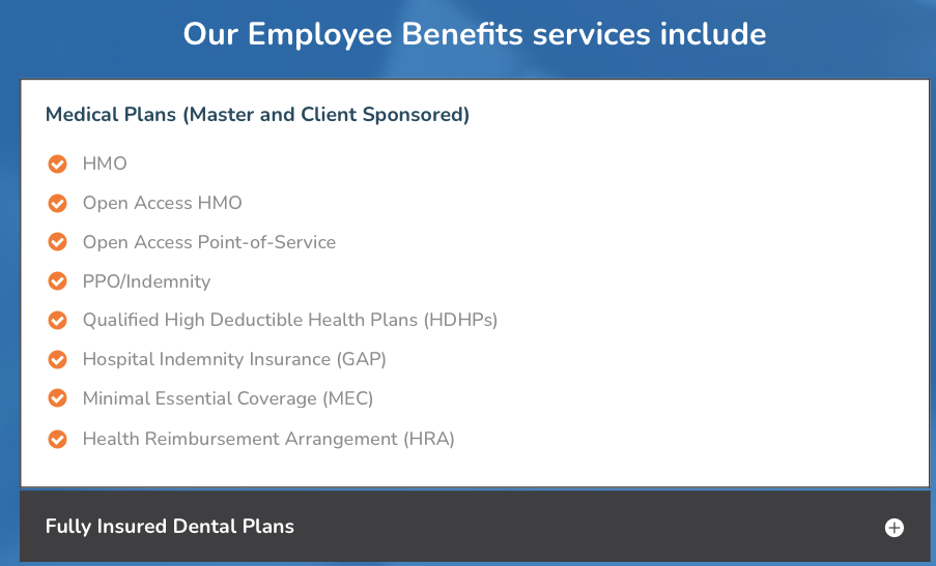 AlphaStaff offers a wide range of medical plans and employee benefits. Credit: AlphaStaff
Performance Management
AlphaStaff's team of HR experts can provide coaching and guidance on key performance management strategies and practices. These HR experts can help your organization craft performance goals and compensation strategies that align with your business goals. AlphaStaff can also support career development plans and leadership training programs. Performance management is often overlooked or underdeveloped in PEO offerings, so we liked that AlphaStaff offers fairly strong performance management support.
AlphaStaff Costs
AlphaStaff does not list pricing information on its website. Instead, interested customers can contact AlphaStaff for a personalized quote tailored to their own business needs. AlphaStaff's plans are fairly customizable and can be built to fit each individual company's needs. Businesses that would prefer to work with a PEO provider with more transparent pricing should take a look at our Justworks PEO review or Papaya Global PEO review.
AlphaStaff Setup
The first step in getting started with AlphaStaff is to set up a meeting with a sales team member. This AlphaStaff team member will help create a custom quote and build a service package for your organization. Once you're ready to move forward, the AlphaStaff team will guide you through platform setup and connect you with HR experts to set up HR, recruiting and compliance strategies as needed.
During the implementation stage, AlphaStaff can also build a customized report library based on your organization's reporting needs so all of the data you need is easily available within AlphaStaff's reporting system. Many competing PEO providers that we reviewed have customizable reporting tools, but we like that AlphaStaff created this personalized custom report library for you at setup so that it's easier to access the reports that your business needs right away rather than having to build them on your own.
AlphaStaff Customer Service
AlphaStaff provides customer service by phone and email from 8:30 a.m. to 5:30 p.m. EST on weekdays. This support window is a bit smaller than many of the other PEOs that we reviewed and we would have liked to see a live chat option available. Businesses looking for a PEO option with 24/7 support may want to consider the vendors featured in our Deel PEO review and Paychex PEO review.
In addition to the standard customer support options, AlphaStaff customers have access to a variety of customer resources, including business webinars, blogs and monthly AlphaAdvisor compliance updates. These resources cover key business and compliance topics including end-of-year tax compliance, legal changes related to employment, strategic HR and more.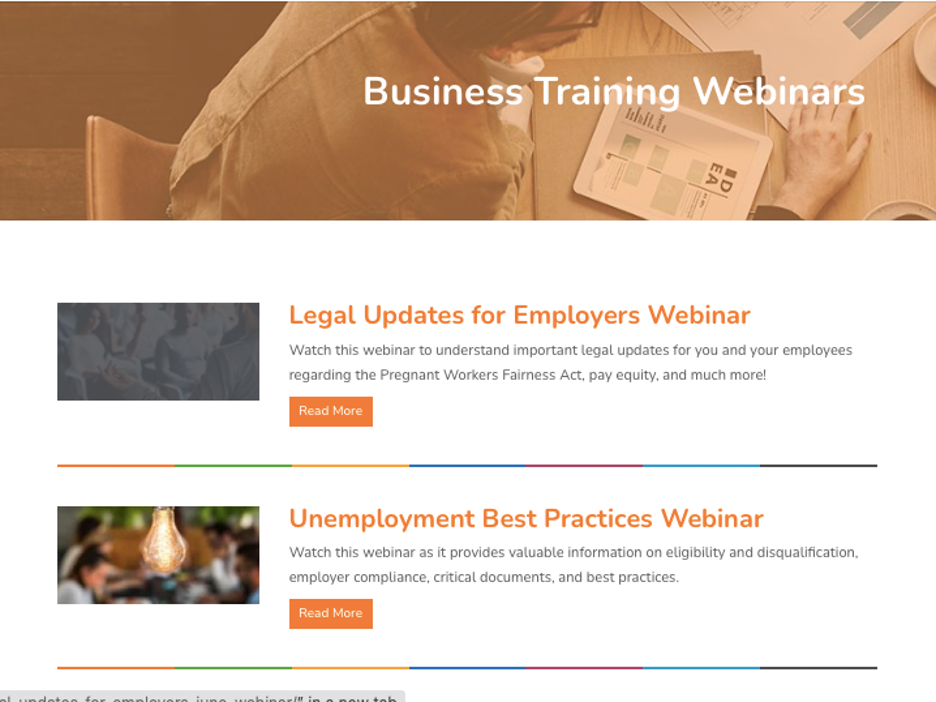 AlphaStaff provides a library of business training webinars covering key compliance and HR topics. Credit: AlphaStaff
AlphaStaff Drawbacks
One drawback is that AlphaStaff does not offer transparent pricing. This is somewhat common within the PEO industry, though several competitors, including the one featured in our Papaya Global PEO review, provide either a clear, transparent pricing structure or a starting rate for different service offerings. However, AlphaStaff is fairly flexible with its service offerings, so it is understandable that pricing can vary largely based on your organization's service selections and thus that quotes must be customized.
The AlphaStaff interface also looks a bit outdated compared to several competing PEOs that we reviewed. Its mobile app capabilities are also a bit limited compared to some competitors that we reviewed. For this reason, AlphaStaff may not be the best fit for more tech-focused startups. If you're looking for a more updated, tech-forward PEO, check out our Justworks PEO review to see why we chose Justworks as the best PEO for startups.
Methodology
We analyzed dozens of PEO providers to identify the top PEO vendors on the market. We watched product videos, reviewed customer feedback, reached out to the company directly and reviewed AlphaStaff's service offerings to evaluate AlphaStaff's PEO offerings. When looking for the best PEO for recruiting, we evaluated the quality of each PEO's tech platform recruiting functions along with the specific recruiting-related expert support options.
AlphaStaff FAQs
Yes, AlphaStaff is accredited by ESAC.
AlphaStaff does not publicly disclose its pricing.
AlphaStaff PEO offers an all-in-one HR platform that includes a built-in HR platform along with expert HR support.
Overall Value
We recommend AlphaStaff for…
Small businesses that need robust recruiting tools and support.
Organizations looking for highly customizable reporting capabilities.
We don't recommend AlphaStaff for…
Businesses that want transparent pricing.
Small businesses that prefer a more updated tech platform.
Companies looking for 24/7 customer support.