M-Files is an easy to use document management software that has one of the most intuitive interfaces we examined in our review. It mirrors the familiar Windows File Explorer interface, so most users will require little to no training.
Pros
M-Files offers an intuitive, familiar interface; users of Windows File Explorer will quickly pick up navigation and functionality.
Users can search documents by metadata and text, allowing for quick identification of key information.
The software offers built-in workflow automation to assist in project management and organization, thus saving teams valuable time.
Cons
Although M-Files is accessible on almost any internet-connected device, these devices do not automatically recognize the software. Users will need to install separate software and set permissions to get full functionality across devices.
M-Files automatically organizes information by metatags rather than keywords. If you are used to traditional document management and organization systems, you may need time to adjust.

M-Files is a metadata-driven document management system with an intuitive interface and a minimal learning curve.
Users can quickly upload and search documents using keywords and/or metatags, as well as share and collaborate with other team members.
Straightforward installation, along with DIY and guided implementation support, makes it easy to get started with M-Files.
This review is for small business owners who are considering implementing M-Files.
Usability is a top consideration for any business software, as an unwieldy platform that requires extensive training inevitably means workflow disruptions and wasted resources. Our research and analysis of document management systems led us to recommend M-Files as the best document management system for ease of use. We chose M-Files from dozens of document management systems for its familiar user interface and low learning curve. Ease of implementation and onboarding, along with vast customization options and several useful features, makes M-Files an especially user-friendly document management system.
M-Files Editor's Rating:
9.4 / 10
Storage capacity

8.5

Features

9.4

Integrations

9.6

Ease of use

9.8

Workflow

9.6
Editor's note: Looking for a document management system for your business? To help you choose the one that's right for you, fill out the questionnaire below for more information from our vendor partners.
Why M-Files Is Best for Ease of Use
M-Files offers a clean and intuitive user interface that makes it easy to get started without any previous experience with the system. While some other programs we reviewed had steep learning curves, we found that M-Files doesn't require extensive training to get started. We like that the system employs drag-and-drop functionality and that many of the software's functions can be accessed with just a few clicks from the dashboard. Users can also search for files by using metatags or document text, thus allowing for efficient identification and categorization.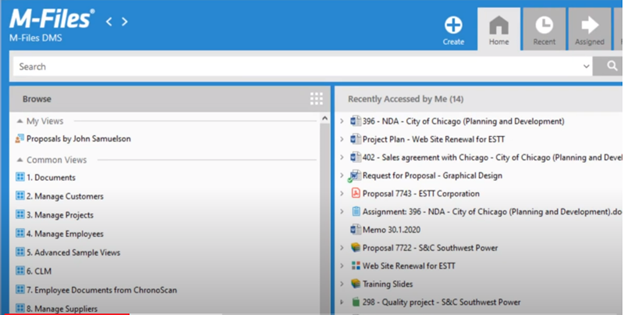 M-Files offers a clean user interface that is easy to navigate and organize. Source: M-Files
M-Files replicates the familiar feel of the Windows File Explorer layout on PCs. It includes functions that most users are comfortable with, like copying and sharing files with a simple right-click and drag-and-drop function. We liked that the familiar style of the interface reduces the cost and burden of training employees to use M-Files, so you can get up and running quickly once the software is implemented.
Usability
We found M-Files to be the most user-friendly document management system we reviewed, including the implementation, setup and overall user experience. 
The M-Files setup is straightforward, with a range of implementation options. Users can take the DIY route with text-based installation instructions and self-guided onboarding, which is made easier by the software's familiar and intuitive dashboard. If organizations have more complex setup needs, they can also purchase packaged implementation support, which not all competitors offer.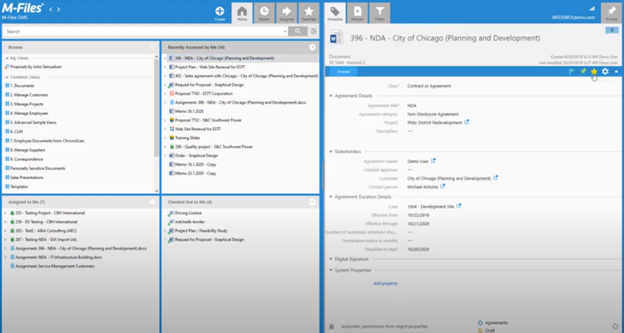 M-Files displays numerous metadata details for each document in your system. Even more detailed data may be available when you classify a file as a specific type of document, such as a contract or agreement. Source: M-Files
After installation, M-Files appears as an additional drive on your computer. As with any other drive, you can drag and drop files into M-Files. You can access documents stored in M-Files and copy them to any other drive to create local copies if needed. You can also create and save documents from any other program directly into M-Files, just as you would with any other drive.
M-Files offers plenty of customization, including solution templates, configurations, add-ins and application programming interfaces (APIs). That means M-Files can be connected to your wider software ecosystem to provide seamless communication across apps — a feature we found especially important for document management systems. As your central repository of all your digital files, document management systems should be able to connect to key systems, like your payroll software, accounting software and HR software.
With a user-friendly interface and collaborative features, M-Files allows teams to easily and efficiently manage business-critical documents.
M-Files Features
| | |
| --- | --- |
| Image scanning and OCR | M-Files integrates with your existing document scanner, using optical character recognition (OCR) to automate metatags and categorization. |
| Workflow automation | M-Files allows teams to automate file categorization, review and approval notifications. |
| Version control | M-Files keeps a record of each document's history, which is ideal for maintaining an auditable trail of changes or for reverting collaborative documents to previous versions. |
| User permission settings | Users can set permissions to tailor access and editing availability by employee role. |
| Offline access | Files can be designated for offline use; any changes made offline will be automatically synced to online devices. |
| File sharing | Users can share files with colleagues, clients and third parties via the M-Files interface or Microsoft Outlook. |
Image Scanning and OCR
M-Files works in tandem with your document scanner and uses OCR to recognize text and automate the metatag process, thus categorizing scanned files for you. You can add more metatags manually to improve the organization of your documents, but M-Files' OCR feature will give your archive a baseline of searchability. The automation process is especially useful for businesses that are transitioning from a paper archive to a digital one, because it rapidly translates thousands of paper documents into an organized digital file cabinet without much human effort. M-Files has a built-in search engine, so by plugging in a few keywords, you can locate your documents even if you haven't manually added any metatags.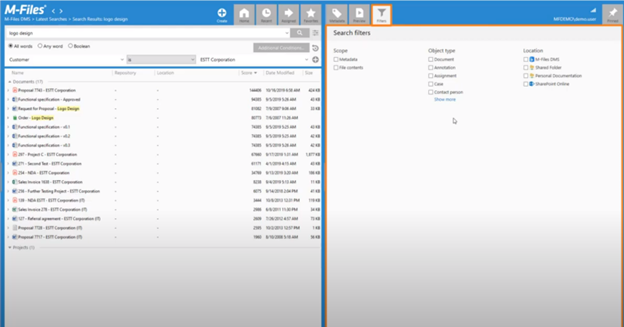 You can easily search for and retrieve digital and scanned documents in M-Files using specific keywords and search filters. Source: M-Files
Workflow Automation
M-Files, like most of the document management systems we reviewed, offers workflow automation tools that can help you streamline your processes, including review and approval notifications for contracts, standard operating procedures, and file categorization. Setting up custom workflows is key to keeping your office running smoothly and saving time. By streamlining workflows, you can be sure that no approvals are skipped by mistake, as well as free up your employees' time so they can move on to their next tasks.
Version Control
Version control is a critical function we looked for in each document management system we reviewed, as it allows users to collaborate on and edit documents without losing old information. M-Files keeps a record of each document's history, including when it was last opened, who opened it and what changes they made. This makes it much easier to keep tabs on evolving documents. Users with permission can revert a document to a previous form, so you never need to be worried about accidental deletion or mistaken edits resulting in the loss of an important document.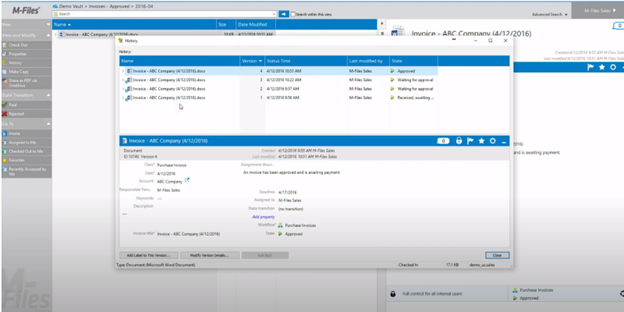 You can view all previous versions of a specific document with M-Files' detailed version history. Source: M-Files
User Roles and Permissions Settings
We consider settings for user roles and permissions a must-have feature of any document management system. These settings allow administrators to set different levels of access for certain users. For example, managers in the human resources department might require access to each employee contract, while the typical employee should not be able to see these. M-Files offers a range of permissions, allowing you to tailor access and editing ability to each employee's role within the organization. You can also give certain users priority over others; for example, edits by a manager or executive could take precedence over those by entry-level employees.
To learn more about some of the most robust user roles and permissions settings we found, read our review of FileHold document management system.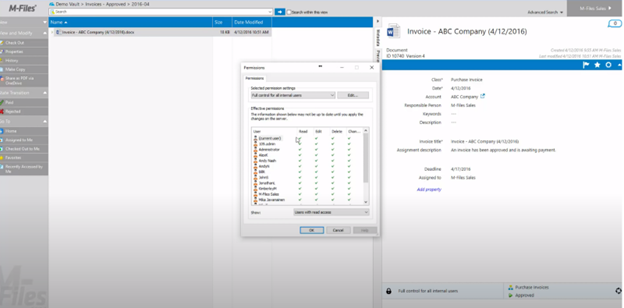 If you want only specific users to have access to a document, you can toggle permissions on and off for actions such as read, edit and delete. Source: M-Files
Offline Access
An important feature we didn't find with every document management system we reviewed is the ability to work on documents when you're not connected to the internet. With M-Files, users can designate certain files for offline use, which comes in handy when you're traveling by airplane or to a location with poor connectivity. Files can be designated for offline use by project, file type or client. The designated files are then available on the user's computer or mobile device. Any changes the user makes while they're offline will automatically sync across all users once network access is restored.
M-Files is also available as a mobile app on iOS and Android devices. Mobile users can upload, review and electronically sign documents on the go, and data will sync with cloud-based and/or on-premises software.
File Sharing
Many organizations rely on their document management system for collaboration, so we like that M-Files has an easy-to-use file-sharing feature. Users can share files seamlessly with colleagues, clients and relevant third parties directly in the M-Files interface, without having to send email attachments every time a document is updated. M-Files also integrates with Microsoft Outlook, which makes it easy to transfer email attachments directly to the M-Files drive.
M-Files Cost
M-Files offers tiered pricing that's based on your business's needs (such as the number of users) and the type of system (on-premises, cloud-based or hybrid). You'll need to contact M-Files for a custom quote for your business. 
Businesses can choose from three platforms: M-Files Base, M-Files Team and M-Files Business. M-Files Base is an on-premises solution with basic features, while M-Files Team and M-Files Business can be either cloud-hosted or hosted on your servers, thus offering a wider range of functions. Here's a breakdown of each edition and its features: 
M-Files Base: The Base package includes useful features such as metadata-driven architecture, search access from desktop, mobile and web access, automated workflows, version control, Microsoft integrations, external database integration, OCR, community support, and support for external repository connectors.
M-Files Team: The Team package includes everything in the Base package, plus advanced search, importing tools, DocuSign integration, a reporting module and standard support.
M-Files Business: The Business package offers everything in the Team package, plus advanced document comparison, better support for self-hosted deployments and artificial intelligence tools.
Before you commit to buying, you can download a 30-day free-trial version to see if M-Files is a good fit for your company.
M-Files Setup
M-Files has a straightforward DIY setup with text-based installation instructions and self-guided onboarding videos. For organizations with more complex support needs, M-Files also offers implementation packages that include training, rapid deployment and managed services. We like that M-Files provides a range of setup options for organizations with different needs.
Customization options within M-Files are plentiful and easy to implement compared with those of other document management systems we reviewed. The program offers solution templates, configurations, add-ins and APIs, making it simple to build a platform that meets any company's unique needs. M-Files also works with both internal and third-party add-on products and extensions, making for seamless integration and deployment.
To get started, companies can purchase a single license subscription, which is an advantage over other document management solutions requiring multiple licenses. With just one license, users can deploy the software in the cloud, on-premises or both.
M-Files Customer Service
M-Files offers customer support via email, web chat and phone. Prospective customers are prompted to fill out a contact form or connect with a support representative via web chat. Existing customers have access to a customer portal that allows them to submit tickets and access phone and email support. Users also can take advantage of M-Files' robust community support, which includes video guides, webinars and open forums.
Customer support is typically available Monday through Friday between 8:30 a.m. and 5:00 p.m. in the customer's time zone. However, higher-tier plans provide 24/7 service, which not all document management vendors we reviewed offer. M-Files has offices and representatives across eight countries, offering a broader reach than entities based solely in the United States.
M-Files Drawbacks
With M-Files, you can access your documents from nearly any internet-connected device through a browser, but first you will have to download a client to the device you're using. That means you would have to anticipate using a device for it to recognize M-Files as a location you can save documents to, which could be a challenge if you're on the go and without a reliable internet connection.
M-Files catalogs several metatags on a document to index it, and this facet of the software has a slight learning curve. To make the document easier to find with M-Files' search engine, you and your employees will need to add your own specialized tags, especially if your business deals with a high volume of documents. This way of filing may take some time to get used to if you're accustomed to traditional methods of organizing digital documents.
Methodology
To find the best document management systems, we researched some of the best document management software on the market today. We investigated each provider's services by watching tutorials and how-to videos, testing out the system whenever possible, and reading user reviews. 
During our research into the best document management system for ease of use, we considered the overall user experience, from setup to daily use of the system. We also considered accessibility from multiple devices, the file cabinet structure, search capabilities, scanning options, editing abilities, collaboration tools, workflow features, and costs. Ultimately, we selected M-Files as the best document management system for ease of use due to its familiar interface, intuitive navigation, and lack of training needed to get started.
M-Files FAQs
You can use M-Files to organize and search documents for keywords and metatags, as well as to share documents across your entire team. The metadata-driven software allows your company to automate processes, find information quickly, and ensure information control and compliance. Key features of the program include optimized searching, offline and mobile access, e-signing capabilities and document change notifications.
Yes, M-Files allows you to export data to archive files, sync data across multiple vaults or free up server space. This functionality is available via M-Files Admin, where you can select a document vault for a one-time export. You will have to define the content package's new location as well as which elements to export.
M-Files Discovery is a product within the M-Files suite that processes large document archives to quickly find business-critical information. You can use it to automatically categorize and classify documents, as well as to search for personally identifiable information and other critical keywords or metadata.
Overall Value
M-Files offers high value for companies seeking a powerful, easy-to-use document management system with an intuitive interface.
We recommend M-Files for … 
Mid-market to enterprise-level B2B companies.
Workers who process and manage large volumes of documents.
Teams with frequent document collaboration.
We don't recommend M-Files for …
Small businesses with low-volume document management needs.
Businesses that need a free document management solution.