FileHold Express Review
FileHold is a scalable software that offers up to 4TB of storage capacity at its highest pricing tier.
The software offers an extensive user permissions system, perfect for businesses with numerous employees and departments.
FileHold is equipped with optical character recognition (OCR) software that converts text on typed documents into searchable data.
This review is for small business owners who are considering implementing FileHold as a scalable solution. 
Many small businesses aspire to grow, so when they purchase business software, they need to know it can scale along with them. They want the ability to easily upgrade storage capacity, add more advanced features, and configure new user roles and permissions as the team expands.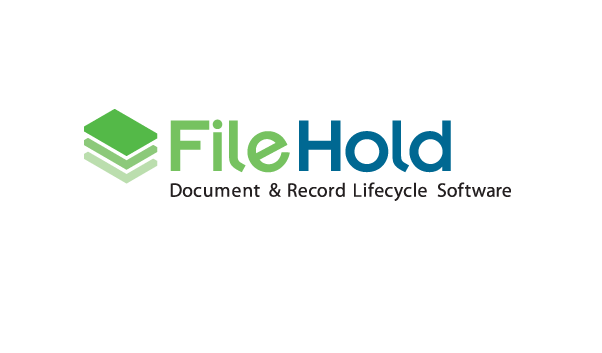 FileHold Express
The Verdict
FileHold is our choice as the best scalable document management system. Out of dozens of competitors, we chose FileHold for its impressive list of features and upgradable add-ons that can customize each business's software to suit their needs. Businesses of all sizes can make FileHold's wide range of scalable document management features work for them.
FileHold Editor's Score: 94/100
| | |
| --- | --- |
| Storage capacity | 95 |
| Features | 97 |
| Integrations | 92 |
| Ease of use | 96 |
| Workflow | 92 |
Editor's note: Need a document management system for your business? Fill out the below questionnaire to have our vendor partners contact you with free information.
Why FileHold Is Best for Scalability
FileHold stood out among its competitors as the best software for scalability because of its ability to store millions of documents with the right hardware configuration for your business's needs. Businesses looking to scale up will likely find value in FileHold's storage capabilities, as it comes with between 32GB and 4TB of storage space. This large capacity allows businesses to grow with the software, regardless of their size (although additional fees may apply for larger storage capacity.)
While FileHold works best with five to 20 users, businesses can seamlessly convert to a FileHold Enterprise license to scale the software. At the enterprise level, FileHold supports thousands of users, allowing your team to grow exponentially and still use the same platform.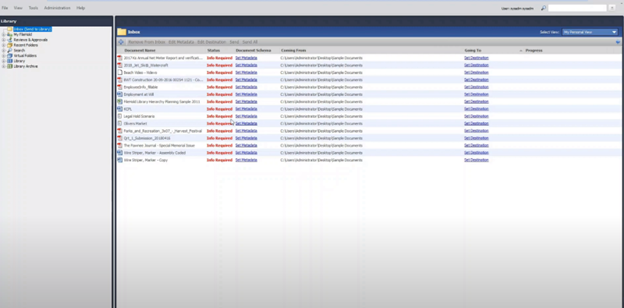 FileHold's high storage capacity means it can grow with your business as your document management needs evolve. Image source: FileHold
Pros
FileHold is scalable with the right hardware configurations and can be used to store millions of documents.
Unlike many competitors in the industry, FileHold offers a full-featured free trial with no credit card required, so businesses can see how the software fits its workflow.
The software offers numerous add-on features so businesses pay for only the features they need.
Cons
FileHold customer support may not be suitable for those who prefer to get help over the phone.
FileHold's on-premise solution isn't compatible with Macs.
FileHold only offers a cloud-based solution through a third-party host.
Usability
FileHold features an easy-to-navigate user interface. Its design is dated, but uncluttered and intuitive. We liked that FileHold's dashboard gives users a clear overview of their digital archive and allows them to navigate through a file cabinet structure akin to Windows File Explorer. Users can easily integrate documents they're working on in Microsoft Word, Excel, Outlook or PowerPoint using office integration; many other programs can be integrated as well.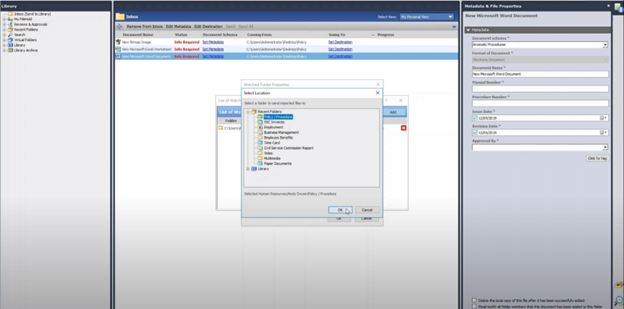 Filehold users can take advantage of built-in Microsoft Word integrations, such as creating and saving Word documents from within the system. Image source: FileHold
The software arranges documents by using folder trees in a document library. On the left side of the interface, the software stores and handles all document management activities, including filing and reviewing documents, on a central dashboard. This allows for easy navigation in a few clicks and eliminates the need to switch between multiple screens. 
For added convenience, FileHold provides a MyFileHold folder at the top of the library. This folder contains cabinets and drawers containing the most frequently used, recently accessed and recently added documents, a useful feature that most document management systems we reviewed didn't offer.
FileHold offers a competitive advantage with its wide array of resources for new users, including extensive training curriculums to learn about both the fundamentals and the software's more in-depth features.
FileHold Features
| | |
| --- | --- |
| Built-in search functionality | Quickly find specified document versions (and archives) by searching for the file name, metadata or both.  |
| Document check-in/checkout | FileHold's check-in/checkout system ensures only one user is making edits to a document at a time. |
| Versioning and offline editing | Users can easily edit documents from anywhere with or without internet access; the software will synchronize with the library once the internet connection has been restored.  |
| User permissions and restrictions | FileHold allows administrators to set 11 different security roles for documents so users only have access to the files they need.  |
| OCR technology | The software uses OCR technology to scan any photo or document and convert its text into readable data.  |
| Calendar tools | FileHold offers a calendar tool that can be used for basic project management tasks, making collaborating within the system even easier. |
FileHold's features work together seamlessly without complicating the system or confusing users. This product offers premium features at an added cost, including workflow capabilities, the option to create guest accounts for read-only users, and an electronic signature functionality. Here are some of the standard version's most useful features for users that need a scalable document management solution.
Built-In Search Functionality
The built-in search engine makes navigating to specific documents quick and easy. The search function allows users to search by file name, metadata or both. Users can search document archives or exclude those from the search if they're only querying active documents. In addition, you can tailor your search to either include all versions of documents or only the latest version.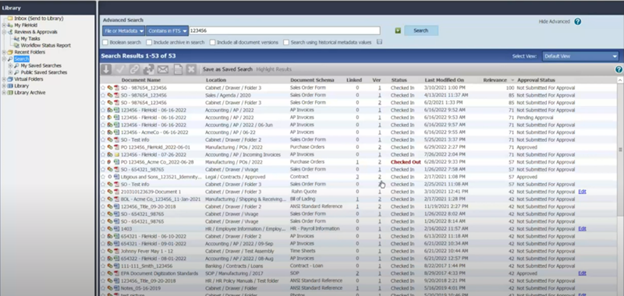 Users can easily locate and retrieve their documents with FileHold's robust search functionality. Image source: FileHold
Document Check-In/Checkout
FileHold's check-in and checkout feature blocks more than one person from working on the same document at the same time. You can also set alerts that automatically notify co-workers when documents are available and unavailable, and when changes are made to files. FileHold's version control feature allows users to review or revert to previous versions of files at any time. Some document management systems allow multiple users to collaborate on a file at once. If you prefer this method of editing documents, consider our review of M-Files.
Versioning and Offline Editing
FileHold records a log of everyone who accesses each file and when they do so, creating an auditable trail of activity. Users can review previous versions of documents after changes have been made. If needed, you can revert to previous versions of documents, enabling users to restore old content that may have been erroneously changed or deleted, a critical function we looked for in our reviews. 
Unlike with its competitors, FileHold allows you to edit documents at any given time, whether or not they have an internet connection, by checking in to a document and downloading it to a "working folder" stored on a user's local hard drive. Once the internet connection is restored, choose between three synchronization options to handle edited documents: download newer file versions from the library, upload files that were updated offline, or remove duplicate or older files from the local computer.
User Permissions and Restrictions
FileHold features a robust user roles and permissions system that allows admins to restrict users' access to only the documents that pertain to their job roles. You can set 11 security roles for documents, more than any other document management system in our review. Each role varies regarding what the individual can access or change in the system, whether that means read-only access or system administrator privileges. 
You can also create custom permission settings for each cabinet, drawer, folder and even individual file. These features are especially important for growing teams. As your company scales, you will need to create more permissions and restrictions to ensure access to documents is properly controlled and monitored.
OCR Technology
FileHold offers scanning software with optical character recognition (OCR) that automatically converts the text on typed paper documents into editable and searchable data. This streamlines the process of digitizing records by making it easier to categorize files and search for them later. This helps identify key words or phrases that can be used to sort files with minimal user effort, enabling FileHold to support large scale digitization projects with ease.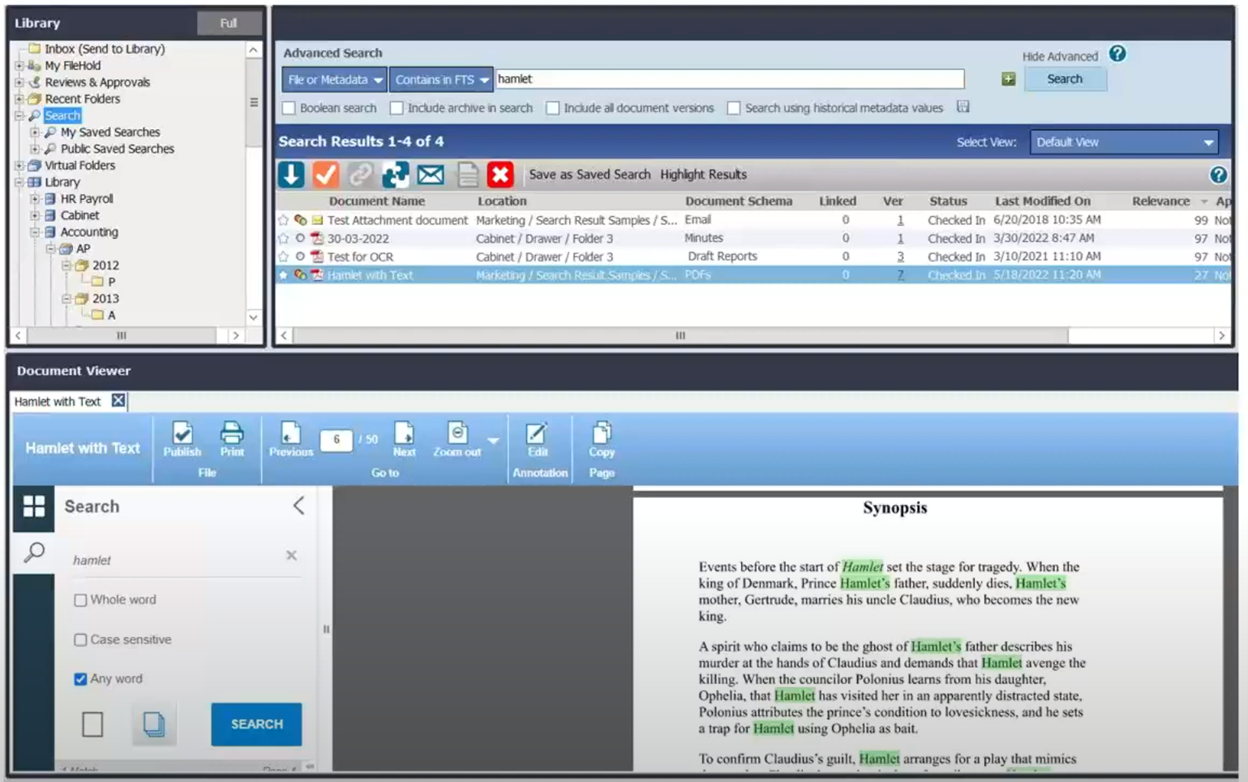 The best document management software offers OCR functionality to make scanned paper documents easier to search. Image source: FileHold
Calendar Tools
We liked that FileHold includes a calendar that keeps track of uncompleted tasks, which enables basic project management functionality. This is especially useful for teams that collaborate on creating and editing documents directly within the system. Users can be assigned to specific tasks and put on deadline, complete with notifications when the due date is approaching. All users with permissions can view the calendar to see whether or not a project remains on time and which tasks need completing.
FileHold Cost
While FileHold does not disclose its exact costs, which depend on the scope of your needs and the size of your business, the company's pricing model offers several ways of paying, including methods designed to accommodate small businesses. One option is 24 months of interest-free financing (or more, depending on the number of users you require) and a monthly subscription option for companies with five or more users. Contact a FileHold sales representative for a quote.
You can also purchase the on-premise version of FileHold with a simple one-time license payment. Continued software updates and technical support require an annual subscription renewal fee of 20 percent of the original licensure cost each year after the first year of service. You will also need dedicated IT staff to maintain an on-premise server.
FileHold offers a two-week free trial with access to all its features. Few other document management systems we reviewed offer this opportunity to test out the software before you buy.
FileHold Setup
Getting started with FileHold's on-premise system is simple. First, confirm your computer system is supported, as FileHold requires either a physical server or virtual machine for the software to run. Non-FileHold IT personnel can easily install this software without any required experience or certification, which isn't the case for some of FileHold's competitors. The server can be easily installed via a complete auto-installer package, with installation taking less than two hours once the server has been configured. 
FileHold is intended for between five and 20 users, which is the average range of users for many small and growing businesses. Some features  are only available to those with the premium software, including workflow capabilities, electronic signature functionality, and the option to create guest accounts for read-only users. 
If you're planning to scale up in the near future, you can easily convert FileHold licenses into FileHold Enterprise licenses, which means you're safe to start out with a lower tier and upgrade as needed without a costly or difficult transition to a completely different platform. 
If you're looking for a cloud-based software-as-a-service (SaaS) option, be aware that FileHold only offers its document management solution through a third-party host. In other words, your setup process and usage experience may differ from the native on-premise solution.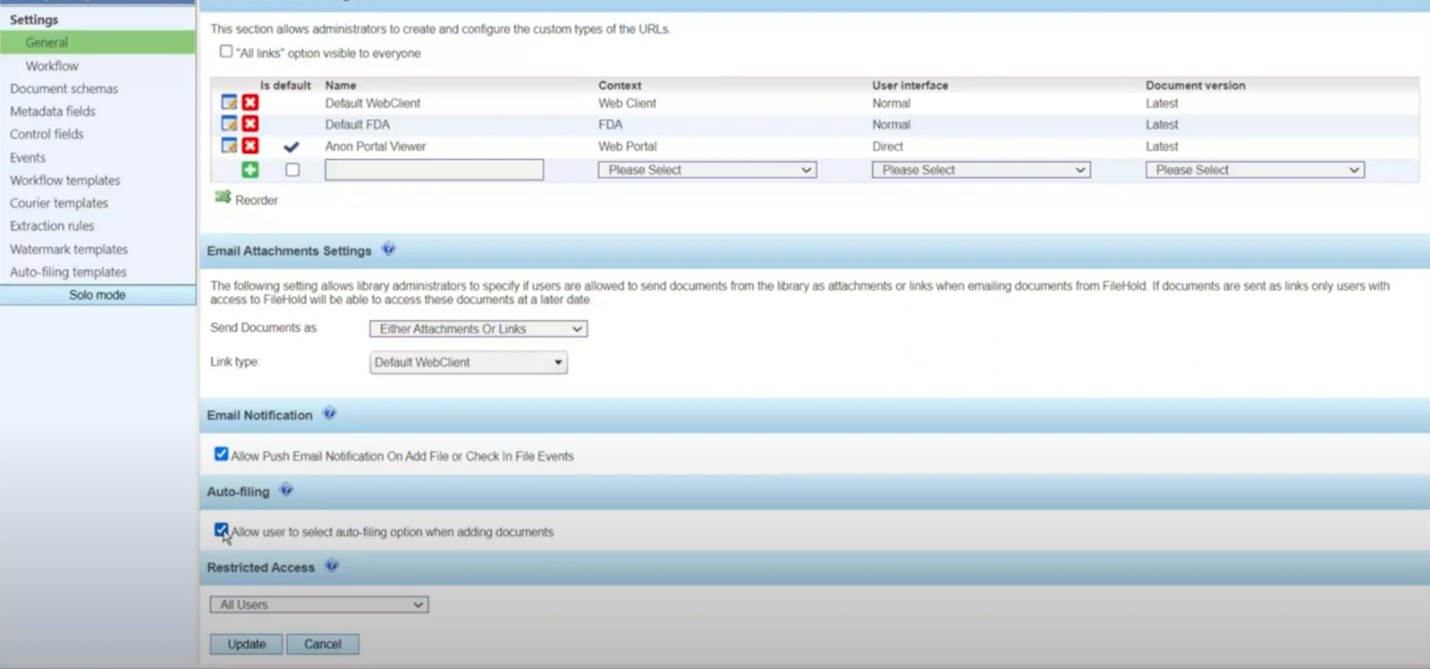 FileHold allows you to configure templates for auto-filing certain types of documents, as well as automate push email notification for certain actions within the system. Image source: FileHold
FileHold has been certified by Microsoft as a software that is user-installable, meaning you don't need to call in an expert to do the installation work for you. For help with self-installation, users can access the detailed installation guide and take advantage of the software's auto-installer package.
FileHold Customer Service
We were pleased with the customer service we received from FileHold. The best way to reach support is through email, though, which could be a minor hindrance. However, the email response was quick based on our experience. The FileHold representative answered all our questions in detail, with links to the website with additional information.
Once your system is up and running, you can contact FileHold's customer support team by email or by submitting an online help ticket. Unfortunately, phone service is not an option. The company's website also provides extensive resources, including a series of user resources. In addition, the software includes built-in access to help guides.
FileHold Drawbacks
FileHold is available on both a cloud and on-premises version, but the cloud version requires a third-party host. That means that FileHold isn't the organization storing and managing your data, so you need to trust the third-party selected either by you or FileHold during the setup process. If you opt for an on-premises solution, you need your own server and an IT expert on hand to maintain it, which can result in additional costs that are prohibitive to many small businesses.
It's also important to note that the on-premises system isn't compatible with Mac computers. If your office is Mac-based, you'll need the cloud-based, web browser version. If you need an on-premises solution for Macs, look at another application.
Another possible shortcoming is that customer support is available only via email and online. Even though we received an extremely quick response when we emailed, some businesses might prefer to call for help.
Methodology
To help you find the right document management system, we researched and analyzed dozens of options. We started with a pool that included all the vendors on our best document management software list. We researched each provider by investigating its services, watching tutorials and how-to videos, testing out the system when possible, and reading user comments. 
During our research into the best document management system for scalability, we considered various pricing tiers and their storage capacities and user limits. We also considered how easy it would be to upgrade to a new pricing tier as your team grows. In addition, we factored in overall ease of use, the file cabinet structure, search capabilities, scanning options, editing abilities, collaboration tools, security measures, integrations, workflow abilities, mobile access, customer service, and cost. In the end, we chose FileHold as our best pick for document management system for scalability.
FileHold FAQ
Is FileHold a scalable document management software?
FileHold uses a web-services-oriented architecture that allows for advanced configurations, making it a highly scalable software solution for businesses. With the right hardware configurations and consulting expertise, business owners can use the software to store and search through millions of documents.
Does FileHold integrate with Microsoft Office?
Yes, FileHold can easily integrate with much of the Microsoft Office suite, including Word, Excel, Visio, PowerPoint and Outlook. Additionally, the software integrates well with other third-party applications including Adobe Acrobat Sign, DocuSign, Kodak Alaris, QuickBooks, Salesforce, Sage, SAP, eScribe and Yardi.
Is FileHold a secure document management system?
FileHold offers businesses a secure, centrally-located library of documents that allows businesses to minimize their risk and comply with privacy regulations and directives, including the General Data Protection Regulation (GDPR), Health Insurance Portability and Accountability Act (HIPAA), Personal Information Protection and Electronic Documents Act (PIPEDA), Personal Information Security Specification, and Australian Privacy Principles (APPs).
Overall Value
We recommend FileHold for … 
Growing small businesses that are looking for a solution to expand with them. 
Businesses of all sizes that are looking to mix and match their add-on features as necessary.
Organizations with large storage requirements that are looking for a secure solution.
Companies that require document management software that easily integrates with their most important applications.
We do not recommend FileHold for …
Companies that use Mac-based operating systems.
Businesses that prefer to resolve issues over the phone.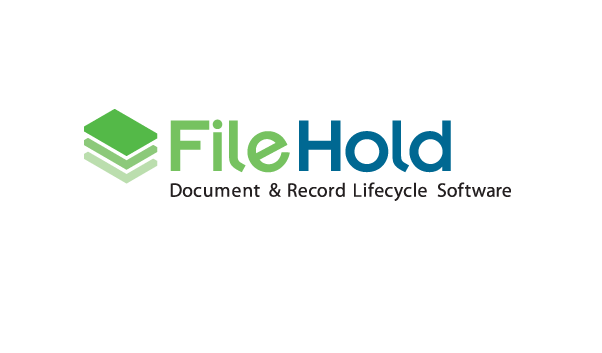 FileHold Express
The Verdict

Nicole Fallon
Community Member
Nicole Fallon has written hundreds of B2B-focused articles on topics such as marketing, business technology, leadership, and HR/organizational management. In addition to covering small business trends and software reviews, Nicole runs a digital marketing agency, where she and her team create high-quality content for a wide range of B2B and B2C brands.