It's common knowledge that email marketing has many benefits and is one of the best ways to grow your business. Email marketing has a higher return on investment than other channels and is an effective way to convert subscribers to customers.
But before you can engage in email marketing, you must build your opt-in email list. We'll explain opt-in email marketing and share tips for email marketing best practices.  
Editor's note: Looking for the right email marketing solution for your business? Fill out the below questionnaire to have our vendor partners contact you about your needs.
What is opt-in email marketing?
Email marketing involves sending commercial emails to your email contact list, also called your subscribers. However, before you can send emails to your subscribers, you must receive their permission. This system is called opt-in email marketing. 
Opt-in email marketing is an essential aspect of complying with FTC regulations. You must also make it easy for subscribers to opt out of your list if they no longer wish to receive your business emails.
Opting in vs. opting out
Opting in to receive email messages: Opt-in email marketing means you ask permission before sending people promotional emails. When you collect an email address from a website landing page or pop-up form, a new subscriber willingly gives you their email address. By opting in, they agree to receive marketing emails and promotional offers from your company in the future. 
Opting out of email marketing messages: Opting out means that subscribers withdraw their permission for you to email them. Usually, they do this by selecting an "unsubscribe" button at the bottom of your emails. Alternatively, they can change their email preferences.
Make your opt-in opportunities clear and easy to find on your website. A common email marketing mistake is providing unclear ways subscribers can opt in.
Why do customers have to opt into your emails?
When subscribers opt into your emails, they give your business explicit permission to email them in the future. Here are three reasons why this permission is critical:
CAN-SPAM Act
You must give customers the choice to receive emails to comply with an online business law called the CAN-SPAM Act. This regulation sets guidelines for how your business can use commercial email marketing. 
According to the Federal Trade Commission, failing to comply with the CAN-SPAM Act could lead to fines of up to $50,120 per email. Fortunately, the law isn't difficult to follow. Its requirements include the following: 
You must not use false information.
The subject line must clearly state what the email is about.
You must disclose that your email is an ad.
You must include your company's name and address at the bottom of the email.
The email must give recipients an easy way to opt out.
You should honor opt-out requests immediately.
If you hire a company to handle your email marketing, you must ensure they follow these requirements. It's your responsibility to monitor an email service's actions on your behalf.
GDPR
Your email marketing campaigns must comply with the General Data Protection Regulation (GDPR). The GDPR is the European Union's privacy law; it applies to your business if you collect EU citizens' email addresses. 
Like the CAN-SPAM Act, the GDPR states that your company must receive explicit consent before emailing a subscriber. You must also make it easy for subscribers to opt out of future email communications. 
Brand protection
Good email opt-in practices will help you protect your brand. Email marketing is a tool for building relationships with your subscribers. But if you send them spam emails or make it difficult for them to opt out, they'll stop trusting you.
Additionally, if subscribers report your emails as spam, your email delivery rate can diminish. If your company has an unusually high number of complaints, your email service provider could even suspend your account. These situations will negatively impact your business and could hurt your sales and profitability. 
Single vs. double opt-in systems
Opt-in email marketing has two primary tactics: single opt-in and double opt-in:
Single opt-in email marketing: If you require a single opt-in, a subscriber has to enter their email address only once before they start receiving your emails. 
Double opt-in email marketing: A double opt-in method means subscribers must enter their email address and agree to receive your emails. Then, as an additional step, they'll receive a confirmation email and click a link to verify that they want to join your email list. If they don't finish this final step, your email service provider won't add them to the list.  
Using a single opt-in process can help you grow your email list faster because subscribers have to do less work. Some subscribers may be too busy to take the extra step of verifying their email addresses. Meanwhile, the double-opt-in method may create a higher-quality list of active subscribers who are genuinely interested in receiving your communications.
No laws require a double opt-in system, so whichever method you use depends on your preferences.
3 examples of good opt-in email enticements
Are you looking to create an email opt-in form but unsure about getting started? Here are a few examples to inspire your efforts:
1. I Will Teach You to Be Rich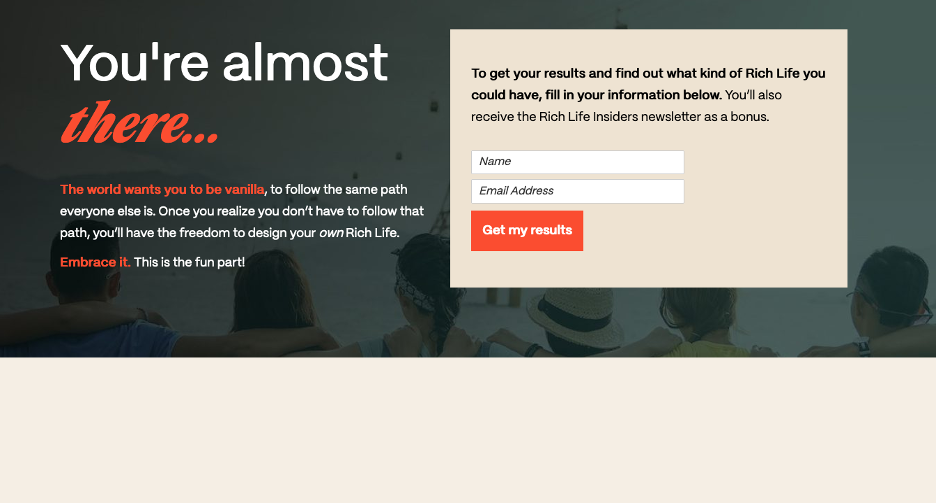 Source: I Will Teach You to Be Rich
Here's why this opt-in form works:
Ramit Sethi clearly understands his audience ― people who want to make more money and aren't interested in cutting costs.
The website presents a quiz with simple questions to help you "find your rich life." It promises to direct you to a customized method of finding financial stability. 
Website visitors must enter their email addresses and consent to receive the site's newsletter to see the results of their quiz, start their journey to riches and reap the rewards.
2. ActiveCampaign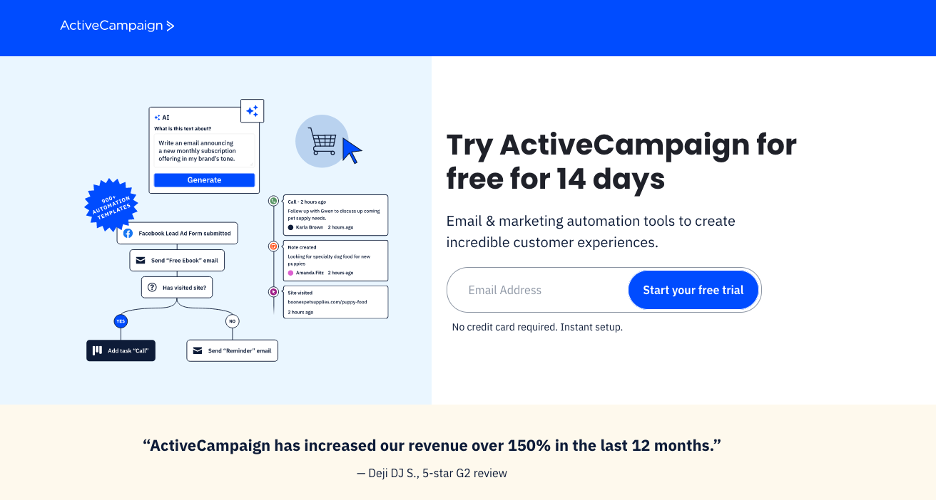 Source: ActiveCampaign
Here's why this opt-in method works:
The language is simple and gets straight to the point. You don't have to read through a lot of text first.
The benefits of signing up are apparent; subscribers can create incredible emails and receive a free 14-day service trial.
ActiveCampaign makes it easy to get started: All you have to do is enter your email address; you don't have to enter your credit card information.
The user quote at the bottom attests to the success potential customers can enjoy if they sign up for the service. 
3. Salesforce
Here's why this opt-in works:
Salesforce presents all the benefits of a generous 30-day free trial. It entices users further with the promise of a low $25 payment plan if they sign up after their free trial.
The graphics show the software's intuitive interface. 
The text emphasizes that you don't have to enter credit card information or make any commitments. 
The signup form is straightforward and clear. 
Opt-in email marketing is the only compliant approach
You must give your customers the opportunity to opt in and out of your company's email list to comply with local and overseas policies. When your consumers opt in, they give you their permission to send weekly newsletters, promotions and marketing messages. And if they choose to opt out, you should remove them from your list immediately.
Once you have new subscribers, keep them engaged by providing valuable content, personalizing your emails and varying the types of content you send. That way, you'll continue to grow your list and maintain an active subscriber base that looks forward to reading your emails.
Linda Pophal contributed to this article.
d