Monday.com is our best pick for campaign management, as it offers customizable templates, workflow automation, various schedule views (calendar, chart and workload), and an ideas and requests board that helps you monitor progress and manage campaigns.
Pros
Monday's wide selection of templates, helpful features, campaign management and automation propel marketing teams toward their goals.
Monday is among the best on the market at fostering seamless workflows and collaboration.
Monday offers a 14-day free trial, and paid plans start at levels suitable for small businesses on a budget.
Cons
The software could have a steep learning curve for users who have no prior experience with project management tools.
Monday sends out a lot of email notifications if individual users don't take the time to set up their preferences.
Creating and executing email marketing campaigns isn't just about short-term targets; it's also about cultivating an ongoing relationship with your audience. Email marketing campaign management remains an important part of the digital marketing mix and a useful tool in a marketer's toolbox.
Monday is a popular and versatile work management tool marketers can leverage for email marketing campaigns. Using monday, users can develop an automated experience that streamlines all of their team's campaign tasks and schedules content accordingly. The platform offers the ability to plan, execute and monitor email marketing campaigns with a drag-and-drop workflow builder, among other helpful tools, making it our pick for the best email marketing solution for email marketing campaign management.
monday.com Editor's Rating:
8 / 10
Pricing/value

8.2/10

Features

7.0/10

Customizations, add-ons and integrations

8.2/10

Ease of use

8.0/10

Customer service

8.8/10
Usability
While its user interface is relatively easy to navigate, we noticed monday has its complexities, especially for beginners. We found that adjusting to the system takes time, as there are many features and integrations to configure when you set up your account. For instance, there are numerous templates to choose from and tools to sort through. However, we quickly resolved this issue in our review as we became familiar with the software through trial and error, and there are some training videos that explain how to use certain tools.
In terms of customization, monday is exceptional. We like how the software allows you to personalize any template you choose for email marketing purposes and to automate various processes for campaigns. We also found effective tools for email retargeting campaigns, an important tactic to stay in front of audience members who have interacted with your brand before.
Our testing also found that monday integrates seamlessly with other platforms and offers many data-powered tools to keep your information organized and up to date. Great for overall work management, monday is especially useful for email marketing campaign management.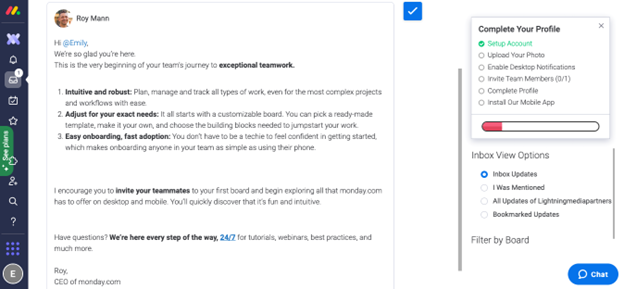 Monday offers excellent customer service should you need clarification or assistance or with any part of the software. In our experience, a simple email yields an almost immediate response with detailed instructions and an invitation to speak further.
Monday Features
Monday has many features that make it a great choice for an email marketing campaign management solution.
| | |
| --- | --- |
| Campaign ideas and requests board | This board gathers all ideas and requests for email campaigns to monitor their progress. |
| Forms | This feature streamlines request processes to ensure none of them slip through the cracks. |
| Workflow automation | Automations reduce the steps you have to perform manually. |
| Status board | This board provides real-time updates on requests and campaign progress. |
| Data-powered tools | There is a calendar, chart, and workload view to help you keep track of all processes and tasks. |
| Email integrations | Integrations with Gmail and Outlook allow you to send and receive emails with anyone in your contact list, while integrations with programs like Mailchimp help track campaign data. |
Campaign Ideas and Requests Board
The campaign ideas and requests board records all campaign initiatives throughout their life span, from ideation to fulfillment. This includes all requests for client emails, both those that are still incoming and those currently in progress. We found this board to be especially helpful if you have various teams and departments that require multiple emails to go out to your target audience members. Team members can add requests with detailed information, then managers can approve them before moving them to the project list.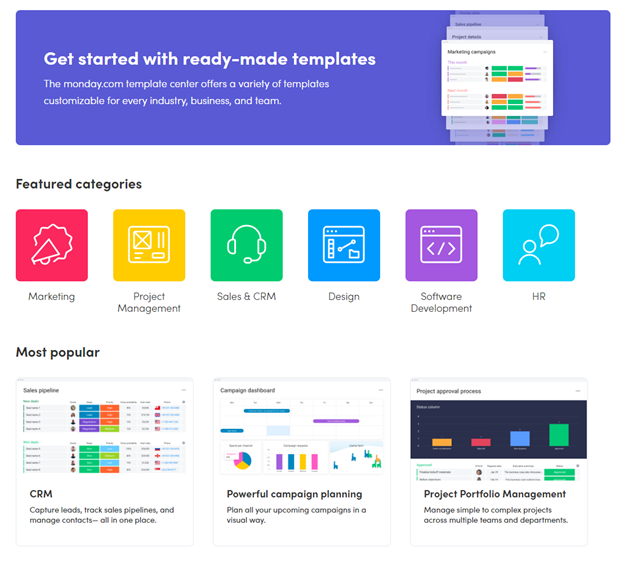 Forms
The Forms feature of monday streamlines all requests received from both internal departments and external clients, making sure they're all reviewed in one location. The form includes the email name, category and other details needed to explain the initiative. It offers questions as prompts to help you fill out the necessary information and can then be shared with the team or embedded on your internal website. Anyone with access to the link can fill out the form and submit it to the board as a new item to be reviewed.
Workflow Automation
There are many steps involved in email marketing, many of which require significant time and effort. Through monday's marketing automation tools, you can cut down on the manual work you have to do when handling requests and updating campaign progress. Examples include triggering notifications to involved parties and automatically updating the status of a request.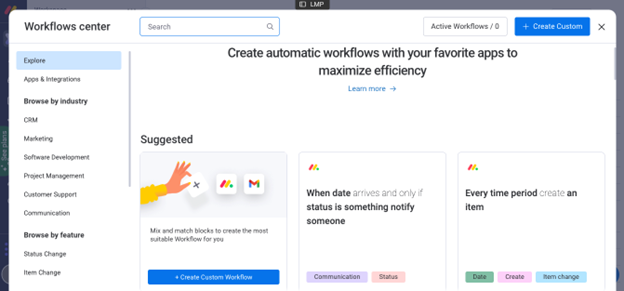 Campaign Status Board
The status board allows you to track and review the progress of tasks and your email campaign strategies. While this is a common feature for work management and email marketing platforms, monday's Campaign Status board organizes campaigns into groups (upcoming, sent and stuck) and various columns (people, status, date, numbers, formula, etc.). We like how this allows you to go into great detail for a more insightful and organized experience.
Data-Powered Tools
Monday uses your data to create powerful tools like a calendar view, which maps out all of your tasks and campaign dates in an interactive calendar. There is also a chart view and workload view. The chart view breaks down data from your board into a chart, which we noticed made it easy to read and review. For instance, it breaks down requests by priority (high, medium or low) and status. The workload view, on the other hand, helps you identify if anyone is taking on too much work or if someone has more free time and space on their to-do list to pick up extra tasks.
Email Integrations
We found that monday offers multiple email integrations that allow users to send, receive and track emails from within the platform. It syncs with Gmail and Outlook – two of the most popular business email clients – so you can manage communications from specific items on your monday boards. In addition to being able to compose and send emails, you can set up automations to send emails when certain actions are taken on your boards, such as updating an item status, or after a certain period of time has elapsed since an action.
Additionally, monday integrates with email marketing tools like Mailchimp so you can keep your mailing lists up to date and get valuable data about campaign performance within your boards. You have the ability to set up automations, such as adding contacts to your Mailchimp lists as you add them to your monday boards and creating action items on the board when subscribers take an action from your Mailchimp campaign.
Monday's automation tools enable you to focus on the tasks that require more creative insight, increasing collaboration and efficiency within project teams.
Setup
Once you sign up for an account, you can start a free trial or choose the plan that best suits your company's needs. You'll have to decide how many of your team members you'll add to the software, the level of service you'll require and the length of your commitment.
Through our testing, we noticed that the setup process can be a bit confusing, as there are many details to work out. First, visit your profile page, click the notifications section and choose which updates you'd like to receive by email; you'll be bombarded with countless emails otherwise. Then, start inviting members of your team to join you. Remember, you pay for the number of users you have, so invite only those who will be directly involved in these processes. For instance, if you'll use monday for email marketing campaign management instead of companywide projects, you'll likely need to purchase seats for your marketing department only.
Then, you can start creating templates or choose from existing ones and customize them. We found this might take some trial and error, and you might need a few weeks or even months to organize your account the way you like it. However, setup is relatively easy and straightforward.
You can save money by managing your email marketing campaigns with monday, because you'll need to purchase seats for your marketing department only, rather than companywide access for larger projects.
Customer Service
Monday offers a few ways for customers to get in contact with them. You can email any questions or concerns to monday's customer service team 24/7. Its team is known to be extremely helpful and responsive, following up with customers in a reasonable time frame via email.
Monday has many online resources as well. We like that the video center has a library of tutorials for getting started, best practices and advanced features. These videos are a great way for anyone who wants to learn more about using the platform and its features. They also have quick answers to common questions on the monday website for users to find answers to issues instantly.
Drawbacks
There is a significant learning curve to monday for those who don't have much experience with the software or similar online project management software. The number of templates, features and project boards available on monday can be overwhelming at first and require some adjusting, and the exact offerings of its plans can be difficult to understand.
Another drawback we noticed is the number of email notifications you get if you don't take the time to set up the notification service initially. Fortunately, it is easy enough to change your preferences around notifications, so this drawback is easily circumvented.
Email campaigns are not monday's specific use case. Rather than dedicated email marketing software, it's a comprehensive workflow management tool that is useful for organizing all sorts of projects, including email marketing campaigns. However, the platform's project management features include tools tailor-made for email marketing campaign management.
Methodology
To determine the best email marketing services, we compiled a list of popular platforms based on our careful research of each service's online reputation. We spent several weeks researching each of these email marketing services further by investigating their offerings, watching tutorials and how-to videos, testing the software (when possible), and reading user reviews. We also evaluated each service's pricing structure and customer service by contacting each of our finalists and posing as a business owner looking for email marketing software. When researching monday, we considered which features would be most important to a growing marketing department with numerous internal and external stakeholders for email campaigns.
Monday FAQs
No. Monday is a project management and CRM platform, not email marketing software. However, it does include integrations with Gmail and Outlook, letting you send and receive emails from within the platform. It also offers task management tools specifically designed for email marketing, making it a useful tool for marketing teams that are planning out and managing the creation of email marketing campaigns.
Monday offers an individual "free forever" plan, but it lacks many email marketing campaign management features. The software's paid plans start at $8 per user per month. However, nonprofit organizations and other eligible businesses may qualify for a no-cost or discounted plan.
Monday emphasizes that it takes clients' data very seriously. The company strives to keep data private and confidential, and it promises that your data is never seen by anyone you do not want seeing it.
Overall Value
Monday is our best pick for email marketing campaign management because of its various templates, helpful features that organize workflows, and automation that ensures a seamless experience for the creation of email marketing campaigns. While it can be costly, it's a useful platform for managing internal campaign workflows.
We recommend monday for …
Small business owners looking for email campaign management software to organize and automate email marketing tasks.
Teams that want to expand their email marketing efforts to increase brand awareness.
Businesses with various departments looking to achieve seamless workflow and collaboration within email marketing campaigns and projects.
We do not recommend monday for …
Business owners with low-level or basic project management needs.
Businesses that want a dedicated platform for email campaign management.