Rubex by eFileCabinet Review
Rubex by eFileCabinet features three plans – Ignite, Growth and Enterprise – each with large storage capacities ranging from 1TB to 20TB.
The top features we tested include secure file sharing, mobile app accessibility, cloud storage integration, custom folder templates and document collaboration.
Rubex by eFileCabinet is great for small businesses looking for a document management solution that can support a large volume of files as they scale.
This review is for small business owners who are considering implementing Rubex by eFileCabinet.
For organizations with a large amount of digital files, storage capacity is a top consideration in a document management system. We found Rubex by eFileCabinet to be the best document management system for optimal storage capacity, offering up to 20TB of storage space. In addition, we chose eFileCabinet for its useful features, cost-effectiveness and transparent pricing. Small businesses can leverage eFileCabinet as a comprehensive platform for document management with large storage capacity without breaking the bank.

Rubex by eFileCabinet
The Verdict
Rubex is a low-cost document management software solution that includes a robust mobile application that works as well on mobile devices as it does on desktop. Its three pricing plans can fit the budget of any business.
Rubex by eFileCabinet Editor's Score: 97/100
| | |
| --- | --- |
| Storage capacity | 100 |
| Features | 98 |
| Integrations | 98 |
| Ease of use | 90 |
| Workflow | 98 |
Editor's note: Looking for a document management system for your business? To help you choose the one that's right for you, fill out the questionnaire below for more information from our vendor partners.
Why Rubex by eFileCabinet Is Best for Storage Capacity
We chose Rubex by eFileCabinet as our top pick for storage capacity because it offers three plans hosting immense storage capabilities ranging from 1TB to 20TB, much more than any of the other document management systems we reviewed. This makes the system a great choice for businesses that either have a large number of documents to store, or expect to grow significantly in the coming years.
Additionally, Rubex by eFileCabinet offers significant security measures, so businesses storing a large amount of documents can rest assured their data is safe from prying eyes. Rubex supports multifactor authentication, password complexity verification and security compliance audit records to ensure your organization is staying up to date with security best practices at all times. With an effective user role and permissions settings feature, administrators can also make sure access to sensitive documents is limited to those who really need it.
Rubex by eFileCabinet is our top-tier pick as the best document management software for storage capacity, thanks to its expansive storage offerings and exceptional security.
Pros
The user interface resembles an email inbox, much like Microsoft Outlook, where you can organize your files in one window while annotating them in another. 
The software can integrate with other programs, such as Google Drive and Microsoft OneDrive, to directly download and transfer files.
Each plan offers the same features, from email import to file auditing. 
Cons
Multiple windows within the user interface may make it difficult for first-time users to get the hang of the system.
The higher-priced plans hold exceptionally more cloud storage, up from 1TB per account in the Ignite plan to 20TB per account in the Enterprise plan. Additionally, the Ignite and Growth plans have only five and 50 custom folder templates, respectively, while the Enterprise plan boasts unlimited templates.
Usability
We found the overall user experience of Rubex by eFileCabinet to be relatively straightforward, thanks to its modern, well-organized user interface. While there is a slight learning curve for new users, the company provides resources like webinars and training to help new users adjust.
Rubex by eFileCabinet can be accessed either through a unique desktop application or right on your browser. The software's user interface is similar to that of an email inbox, where the left side of the screen displays useful document information, including folder trees that can be customized for easy accessibility. The top of the screen features a toolbar that can be used for creating documents in the system or collaborating on existing documents with other users. We liked that this toolbar is clearly labeled with drop-down menus that grant easy access to virtually every major feature in the system, making for intuitive navigation even without training.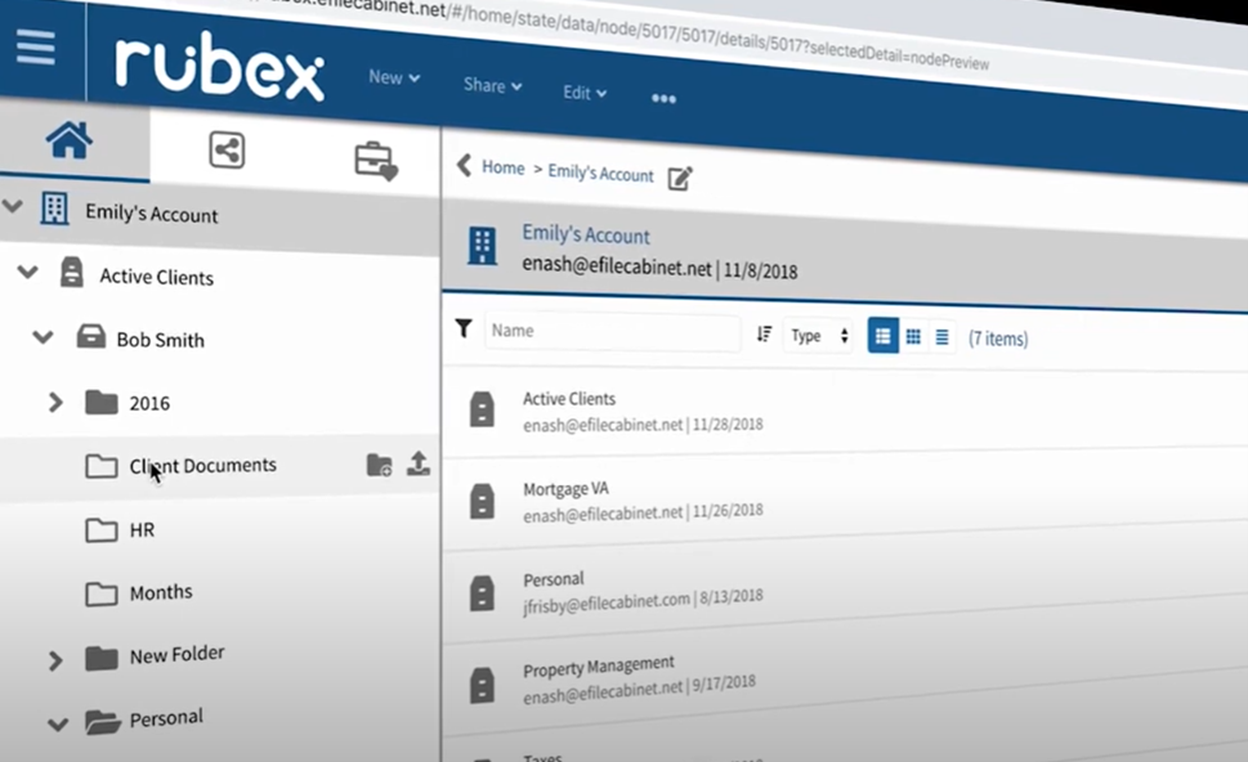 Rubex's email inbox-like interface and organization provide a familiar feel and a shallow learning curve for new users. (Image source: Rubex by eFileCabinet)
Since Rubex by eFileCabinet is a cloud-based document management software, users can easily request files from external sources to download into their systems to be automatically named and sorted. Unlike competitors, the software provides secure sharing and the option to provide direct links for immediate access to important documents. Rubex by eFileCabinet also integrates with other programs such as Google Drive, Microsoft OneDrive and Salesforce. 
Rubex by eFileCabinet integrates with external programs such as Salesforce, Microsoft 365 and OneDrive, and Google Drive.
Rubex by eFileCabinet Features
| | |
| --- | --- |
| Storage capacity | Cloud storage holds up to 20TB of data in the Enterprise plan. |
| Mobile application | The mobile app allows users to access their documents from anywhere. |
| Secure file sharing | Confidential files can be sent safely and securely with SecureDrawer. |
| Version control | Those with multiple documents are able to monitor each file and easily view version control/history. |
| User Permission Settings | User roles and permissions settings allow admins to control which users can access which documents, an important feature for protecting sensitive information. |
| Custom Templates | Custom templates and automated workflows help streamline your team's process of creating documents and collaborating on edits. |
| OCR | The zonal OCR tool can scan documents and make them fully searchable on the program. |
| Metadata | Affixing metadata tags to documents (in addition to the ones OCR generates) helps to create a searchable archive that is organized and easy to navigate for everyone. |
Storage Capacity
Rubex by eFileCabinet provides immense storage capacity capabilities for small businesses with excess data. Cloud storage capacity is 1TB per account in the Ignite plan. The Growth plan boosts capacity to 5TB per account, and the Enterprise plan holds 20TB of combined cloud storage. We found Rubex's storage capacities to far exceed those of any other document management system we reviewed, with even the most basic plan offering a considerable amount of file storage.
Mobile Application
Rubex by eFileCabinet offers a user-friendly mobile app with additional access to its web portal, SecureDrawer. This app provides quick access to the documents you use most. The home page displays files you have recently worked on and those you have marked as favorites. In addition, there is a menu tab with a search bar to quickly locate any document in the system and a link to view all your cabinets, drawers and folders.
Secure File Sharing
Rubex by eFileCabinet's SecureDrawer allows you to encrypt and electronically send confidential files as large as 1GB to co-workers or clients. For Rubex by eFileCabinet's cloud-based platform, it requires several security precautions to ensure files are always protected, a feature we found especially useful for sensitive files such as those including financial information or HR documents. All documents are stored in the company's data centers, which are certified Level 1 PCI-compliant. For maximum protection, documents are encrypted in transmission. These security measures are critical when you're trusting a third-party custodian to monitor and manage your documents.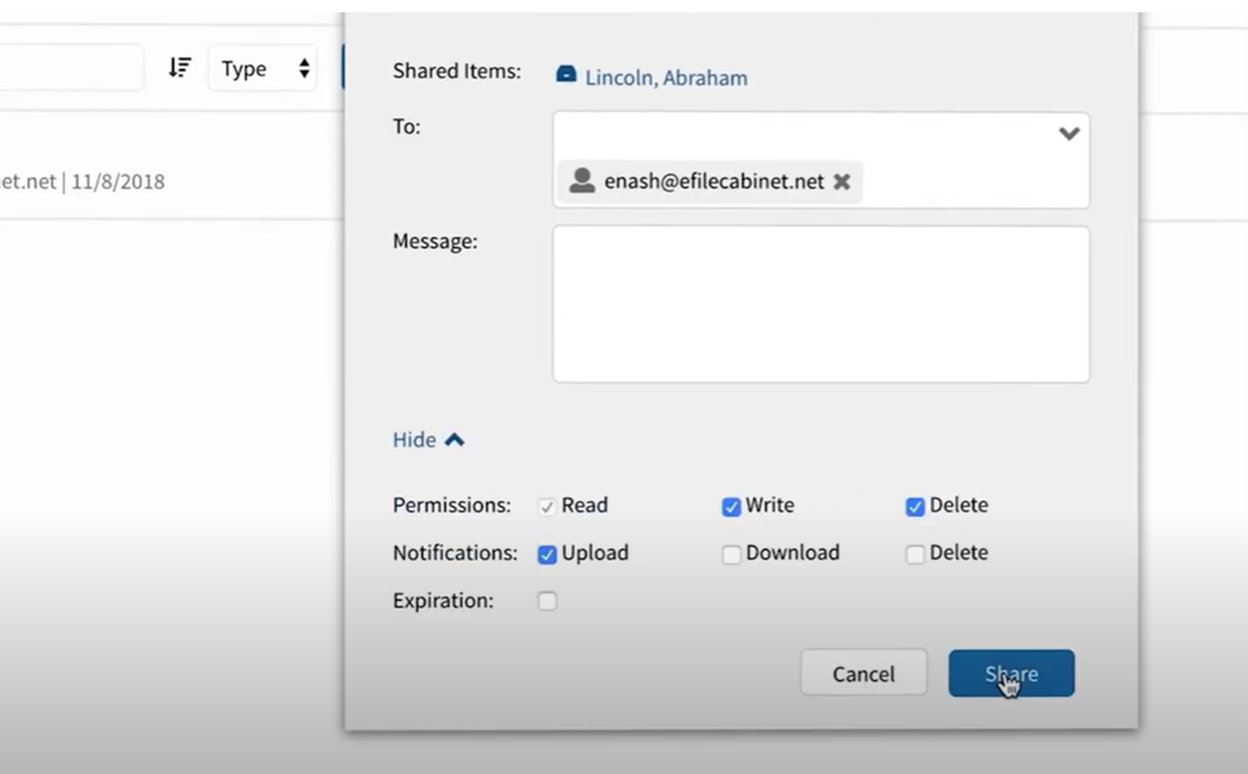 Securely share your files through Rubex's partner SecureDrawer, which allows you to select access permissions and notifications for each file you share. (Image source: Rubex by eFileCabinet)
Version Control
Rubex by eFileCabinet saves all the different versions of documents as they are edited, whether the changes are minor or major. It also archives previous versions of each document for later reference. Version control is one of the most important features we looked for in our review, allowing teams to collaborate on documents without fear of losing important information to accidental deletion or erroneous edits. Version control creates an auditable trail of a document's history and enables users to revert to a prior version should they need to recover it.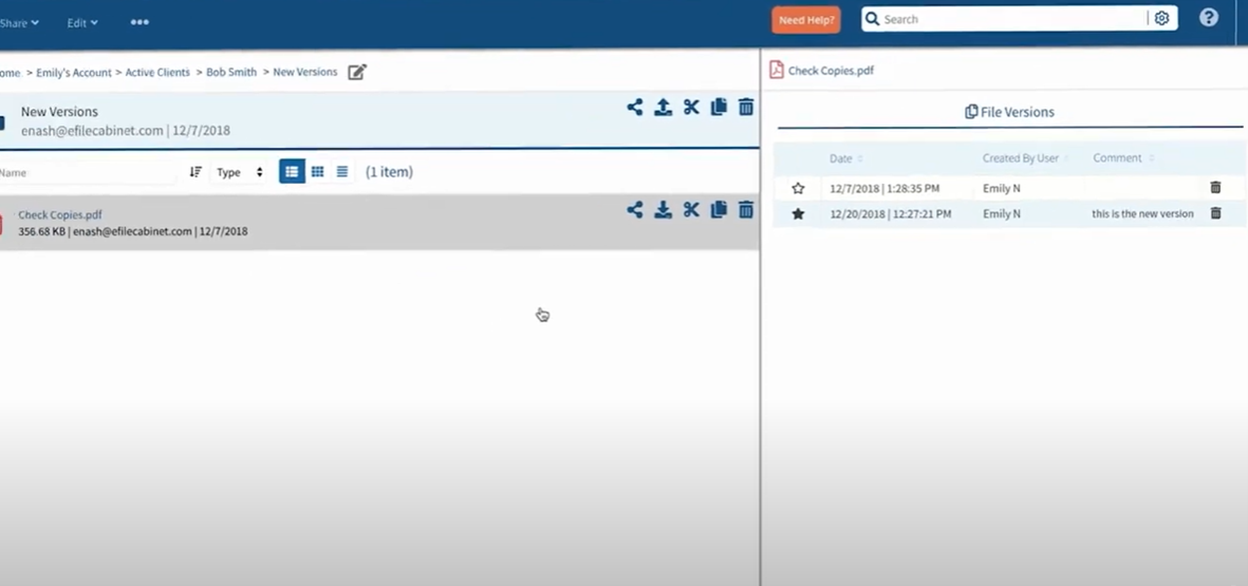 Rubex's version history allows you to check for any copies created within the system and see when it was created and by which user. (Image source: Rubex by eFileCabinet.)
User Permission Settings
Rubex by eFileCabinet allows system administrators to decide which users can access and edit files. Permissions can be assigned on both an individual and group basis, making it easy to set up general permissions, but one nice aspect of the software is that you can override these general permissions on a case-by-case basis as needed. User roles and permissions settings were one of the key features we looked for in our review, as document management systems often contain sensitive information that not every user should be able to access. 
Custom Templates
You can use templates to quickly generate common document types, like letters generated automatically on your company letterhead or invoices. You can choose from and then customize a variety of templates to automate the routine aspects of document creation for your business. We liked how effective this feature was for speeding up workflow when creating new documents in the system, as well as how it can ensure all users adhere to the same format to create a sense of uniformity and professionalism across the organization.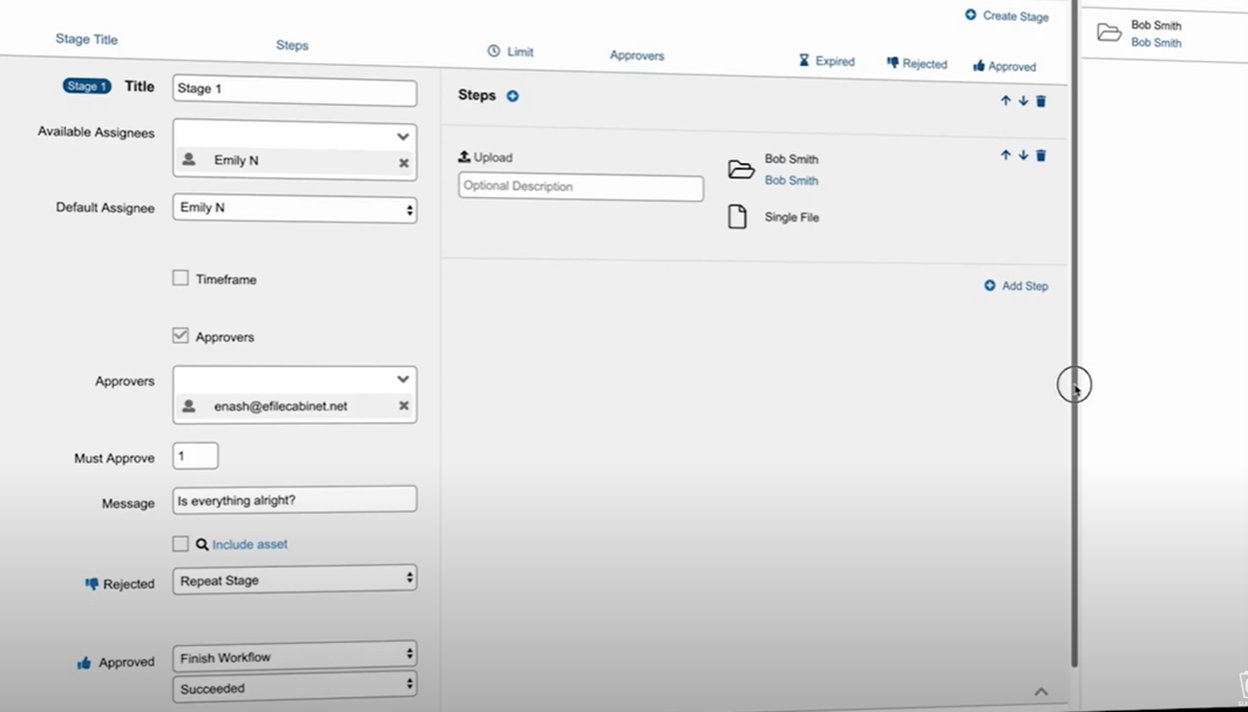 Rubex makes it simple to set up automated workflows that perform specific actions under defined conditions. (Image source: Rubex by eFileCabinet) 
OCR
The zonal OCR tool is used when scanning files or importing them into the system. OCR can read images, making the document fully searchable. It can also be used to automatically pull keywords out into the metadata fields, helping to automate the document organization process. OCR is another critical feature we looked for in our reviews, as it makes large digitization processes seamless, giving a baseline level of organization to your digital archive without much effort on the part of the user. 
Metadata
Metadata fields allow you to affix tags to a file, organizing it within the larger file cabinet structure of your document management software. Those keywords can also be used to quickly search for a file and any others with the same metadata.
To improve upon the baseline organization created by OCR, consider adding your own metadata and tags to documents manually. This makes them easier to retrieve later and can help you sort your digital archive, especially if you're storing a high volume of documents.
Rubex by eFileCabinet Cost
Rubex by eFileCabinet offers several plans for both small businesses and enterprises, which differ in storage space.The company was also transparent about its pricing plans when we reached out via live chat, which is something we didn't encounter with most other document management systems we reviewed. Most required prospective customers to obtain a customized quote after a call with a sales representative.  
Rubex by eFileCabinet provides three packages with multiple features:
Ignite: Starts at $699 per user per year (up to five users): The Ignite pricing package holds a cloud storage space of 1TB of data and includes secure file sharing, workflow automation, up to five custom and preset templates, up to three zonal OCR templates per user, profile tagging, e-signature tools, audit logging, email import, mobile access, and more.
Growth: Starts at $1,799 per user per year (up to 50 users): The Growth package is marketed as Rubex by eFileCabinet's best value. In addition to the features available in the Ignite plan, the Growth package offers 5TB of cloud storage space, up to 15 zonal OCR templates per user, up to 50 custom templates, up to 100 design and fill templates, and up to 5,000 concurrent document requests.
Enterprise: Starts at $2,399 per user per year (over 50 users): The Enterprise plan offers all the features of the previous plans, plus with 20TB of cloud storage capacity, unlimited custom folder templates, unlimited zonal OCR templates, unlimited document requests, and unlimited design and fill templates.
Setup
Users can easily integrate Rubex by eFileCabinet with existing systems. We liked how easy it was to download the unique desktop app or simply start the program directly on your browser. 
After installation, users are automatically directed to the Home tab, where they can reset their password. The Server tab allows you to download the package you purchased, modify IP addresses connected to the server and change the default storage settings. You can also configure automatic emails on the Email tab. Compared to other document management systems we reviewed, we found setting up Rubex by eFileCabinet to be intuitive and easy for new users.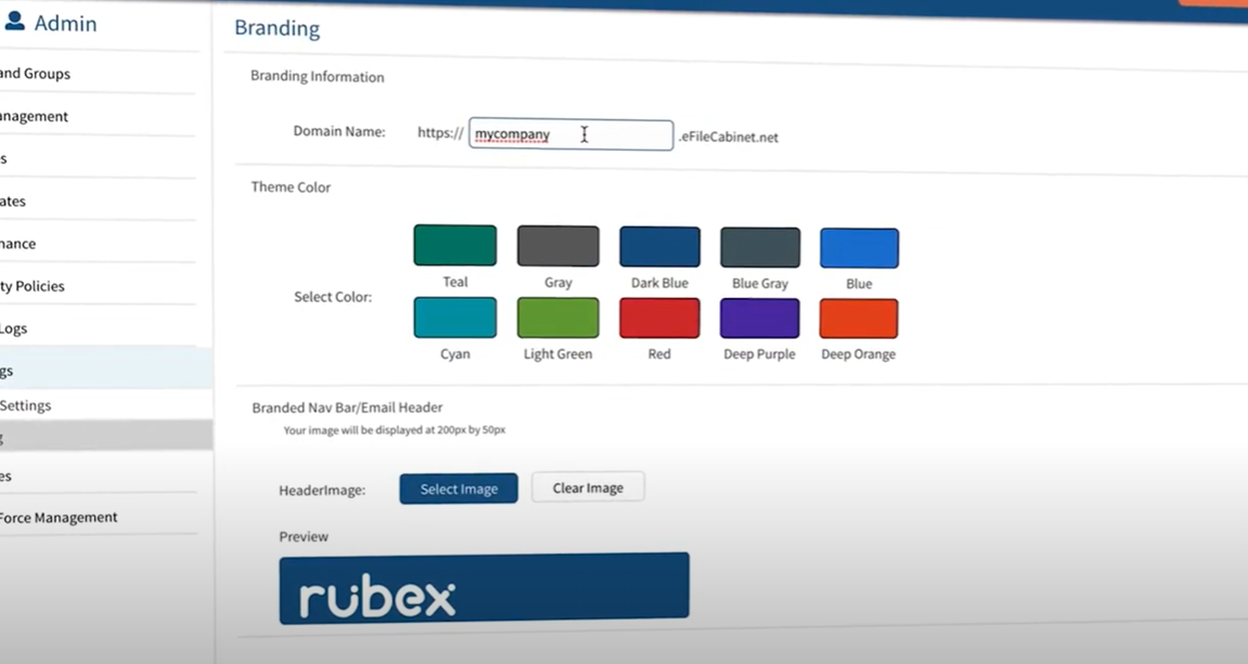 During setup, you can customize your Rubex interface with a company-specific eFileCabinet domain, theme color and email header. (Image source: Rubex by eFileCabinet)
Customer Service
Rubex by eFileCabinet's top-notch customer support was also one of the ways it stood out as one of the best document management systems. The three main ways to contact customer support are through a 24/7 live chat option, email and phone. Most of the other systems we reviewed do not offer 24/7 customer support. 
Rubex by eFile Cabinet's customer service was highly responsive and helpful via live chat when we contacted them for more information. Additionally, the levels of customer service you receive depend on the plan you choose: The Ignite and Growth plans offer standard customer support while the Enterprise plan offers premium customer support. 
Drawbacks
Many useful features are available in each of Rubex by eFileCabinet's packages. At $699 per user per year, the Ignite plan is comparable to the costs of other document management companies we evaluated. However, cloud storage options above 1TB are available only in the more expensive packages.
The interface itself is sleek, modern and minimalist. However, the multiple windows and icons will take new users some time to learn. The learning curve isn't very steep, but some users might require some training to grasp the less-intuitive aspects of the system. Still, Rubex by eFileCabinet shouldn't slow down your day-to-day workflow once your staff becomes proficient with the system.
Methodology
To help you find the right document management system, we researched all the vendors on our best document management systems list. We researched each provider by investigating its services, watching tutorials and how-to videos, testing out the system when possible, and reading user comments. We also considered the pricing listed on these services' websites.
During our research into the best system for storage capacity, we considered the range of capacities offered in each plan and the pricing of each tier. We also considered overall ease of use and the broader slate of features the system offered. Overall, we found Rubex by eFileCabinet to offer the most storage capacity while offering the critical features we looked for in our reviews.
Rubex by eFileCabinet FAQ
How does Rubex by eFileCabinet work?
You can configure Rubex by eFileCabinet for smart automation while receiving an in-depth review of your workflow stages. Additionally, you can leverage customized templates, secure document sharing between networks, a dual-screen previewer and automatic email imports.
Is there a cloud-based version of Rubex by eFileCabinet?


Rubex by eFileCabinet is cloud-based document management software. Users can rest easy knowing their documentation is secure and accessible from anywhere, whether they're at the office, working from home or presenting at an event.
Does Rubex by eFileCabinet offer file export?
Yes. Rubex by eFileCabinet is able to migrate old system data into the software. Your documents will also stay in their original format no matter the file type.
Overall Value
We recommend Rubex by eFileCabinet for …
Small businesses and enterprises looking for a document management solution with massive storage capacity options.
Small businesses looking for document management software that can grow with them as they scale.
We do not recommend Rubex by eFileCabinet for …
Large enterprises with more than 50 users.
Businesses that need over 20TB of cloud storage.

Rubex by eFileCabinet
The Verdict
Rubex is a low-cost document management software solution that includes a robust mobile application that works as well on mobile devices as it does on desktop. Its three pricing plans can fit the budget of any business.

Nicole Fallon
Community Member
Nicole Fallon has written hundreds of B2B-focused articles on topics such as marketing, business technology, leadership, and HR/organizational management. In addition to covering small business trends and software reviews, Nicole runs a digital marketing agency, where she and her team create high-quality content for a wide range of B2B and B2C brands.