DocuWare is our pick for the best document management software for integration. This software uses flexible workflow automation, which is perfect for small and midsize businesses with various workflow scenarios.
Pros
DocuWare's software can easily integrate with more than 500 applications — well beyond that of most competitors — including Microsoft Outlook, SharePoint, most CRMs and ERPs, Sage, QuickBooks, Oracle and more.
DocuWare integrates with business hardware including scanners, printers and more.
Users can combine their HR management and payroll tools to automate their workflow with digital employee records and forms.
Cons
DocuWare's storage allowance could pose a challenge for businesses that require a lot of paperwork.
DocuWare's lack of transparent pricing means businesses cannot budget for the program without first consulting a sales representative for a quote.
DocuWare's software can integrate with over 500 applications, so it works in tandem with your daily drivers.
The company offers various plan options at different rates so businesses of all sizes can access the software at a price that works for them.
DocuWare offers intelligent search capabilities that use artificial intelligence (AI) and optical character recognition (OCR) to index paper documents and make them fully searchable.
This review is for small business owners who are considering implementing DocuWare.
Business software integrations are critical for helping a small business's software solutions communicate seamlessly with one another. It's especially important for a document management system, the central repository of all of a business's files, to have strong integrations with key systems like accounting software and HR software. With over 500 integration options and an array of accolades, highly acclaimed DocuWare is our choice for best document management system for integrations.
DocuWare's software is a smart option for those looking to ditch their paper-dependent processes for a seamless workflow between their document management system and regularly used applications. The software offers cloud storage capabilities that range from 20GB to 250GB, perfect for small and midsize businesses with significant storage needs. Documents imported into the system are indexed via intelligent automated processes so businesses don't need to waste time with error-prone manual data entry.
DocuWare Editor's Rating:
9.6 / 10
Storage capacity

9.3/10

Features

9.6/10

Integrations

9.8/10

Ease of use

9.6/10

Workflow

9.6/10
Why DocuWare Is Best for Integrations
Among all the available options, DocuWare stood out as the best pick for integrations due to its array of more than 500 integrations, the most we found in our review of document management systems. DocuWare offers a secure and easy way to connect your file cabinet with the applications you use most, including payroll software, accounting software, HR software and more. Users don't need to worry about programming or how to code to create these integrations — everything is done for them with the click of a button. Between the breadth of integrations and the simplicity with which even new users can build them, we felt DocuWare was the clear choice.
Usability
Navigating the DocuWare software is simple. The platform features an intuitive user interface that is made easily navigable by its drag-and-drop functionality. We liked that paper documents can quickly be uploaded in a number of ways, including via mobile device, which enables flexibility for the workflow that is best for your team. DocuWare also automatically classifies and indexes uploaded documents, making it easier to organize your digital archive without a lot of extra work on the front end. Users who want to take it one step further can manually add more metadata to each document, enabling detailed, customized organization of your digital files.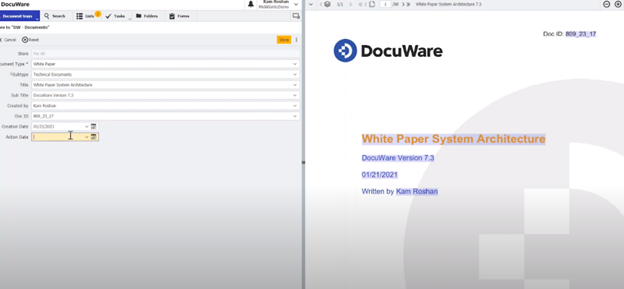 DocuWare's file naming fields allow you to enter and view advanced metadata, making it easier to search for and retrieve specific documents later. Image source: DocuWare
In addition, users can easily integrate their most important programs, such as Salesforce and Microsoft Outlook, for seamless workflows. However, Mac and Linux users have fewer options with DocuWare; they must rely on the web-based application, as the desktop application is only available for Windows operating systems at this time.
Users can set up the program using premade configurations, or they can create custom workflow automations that are right for them. Custom workflows don't require any programming knowledge, and the system's drag-and-drop functionality extends to this feature, so it's easy for any user to design a workflow. Users can access resources in the Knowledge Center to learn more about setting up their workflows correctly and quickly.
DocuWare Features
| | |
| --- | --- |
| Integrations | DocuWare can integrate up to 500 different applications and makes building new integrations easy for any user. |
| Smart connect | With a single click (and without programming), users can seamlessly connect any application to DocuWare to streamline redundant tasks. |
| Drag-and-drop user interface | Users — even those without technical skills — can use drag-and-drop capabilities to create custom workflows. |
| AI indexing | Intelligent indexing organizes your files quickly and efficiently by using AI to capture and scan key data fields on paper documents. |
| Version control | Edits made to documents are saved as new versions, capturing a full edit history of each document. |
| Onboarding and employee documentation | Using DocuWare's software, confidential employee information can be securely stored and encrypted, and employees can save time and resources utilizing the self-service options. |
Integrations
DocuWare offers unparalleled integration options, which are available for up to 500 different applications, including Oracle, Sage, Infor and Microsoft Dynamics. Integration options include simple click-and-connect options, along with deep API-based integrations for those looking to customize their system further. DocuWare also offers dedicated connectors for Outlook, SAP and more.
These integrations are especially important in a document management system since it houses every digital file an organization needs. The ability to seamlessly communicate with all other business software in the ecosystem means your entire digital archive is available to your other software. We especially liked that if you use software that isn't already integrated with DocuWare, you can easily build a new connection.
Smart Connect
Smart Connect allows users to reveal all the documents associated with a specific process — including invoices, contracts, emails, receipts and resumes — with a click of a button to remove any redundant data entry tasks. This is also helpful for categorizing files by their purpose. For example, you can create a folder for all payroll-related items and a separate one for any HR files.
Thanks to DocuWare's integration capabilities, once Smart Connect helps you organize your files, you can easily share any data they contain with other key systems. For example, your payroll documents can help you update your payroll software and accounting software accordingly, reducing the amount of manual data entry work needed.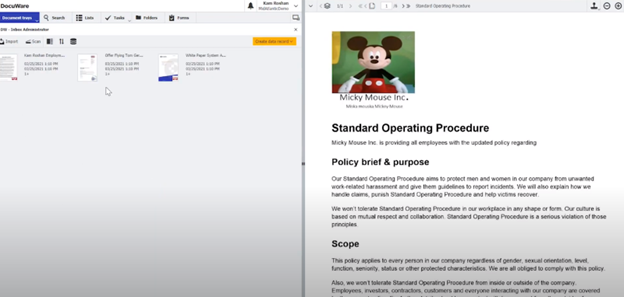 DocuWare's intuitive document tray makes it easy to visually view and organize your files. Image source: DocuWare
Drag-and-Drop User Interface
In our review of document management systems, we found DocuWare's drag-and-drop capabilities to be a standout usability feature; it allows users to easily customize their workflow to suit their own processes. DocuWare employs its drag-and-drop features in a way that eliminates the need for any programming knowledge to build integrations or custom workflows (though if you do know how to code, you can create even deeper customizations.)
AI Indexing
You can use DocuWare's AI to intelligently convert documents of any into readable versions for fast, automated indexing. Documents can be read and converted automatically within seconds, taking manual processes off employees' plates so they can focus on bigger tasks. This gives your digital archive a basic organizational hierarchy and searchability even without manually entering any metadata or tags. We liked how this feature could streamline big digitization projects and eliminate the need for tedious manual entry.
To get the most out of the system, we strongly recommend devising your own organizational structure and updating metadata and tags accordingly.
Version Control
Versioning is an essential feature we looked for in every document management system we reviewed. Version control allows users to actively collaborate on editing documents while still retaining old versions. This is useful for living documents that need to be regularly updated, and gives users the peace of mind that old versions can be referenced in case of an audit or reverted to if a mistake occurs. Version control is critical for a document management system that's being actively used and updated by a team, rather than simply serving as a digital archive.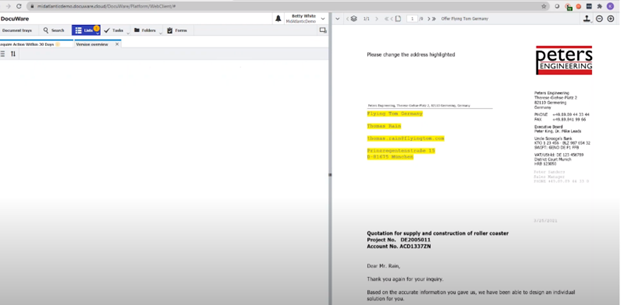 With DocuWare's collaborative versioning functionality, multiple users can leave comments and change requests on each iteration of a document. Image source: DocuWare
Onboarding and Employee Documentation
Employee processes, including most HR tasks, can be handled directly within the DocuWare software. We liked that you can use the software to create, store and fill out documents such as employee records and resumes from anywhere. You can also use e-signatures to collect legally binding signatures when needed. This functionality means you can use DocuWare to fulfill some basic HR functions, though for more comprehensive HR processes the system can also integrate with your HR software.
DocuWare Cost
DocuWare offers four pricing plans: Base, Pro, Enterprise and Large Enterprise. Unlike the comparable options at many companies, each DocuWare plan includes a full-featured version of the product; only storage space and the number of users supported depend on the plan you choose. The Base plan offers 20GB and licenses for four users, Pro comes with 50GB and supports 15 users, Enterprise offers 100GB of storage and supports 40 users, and Large Enterprise comes with 250GB of storage and accommodates 100 users.
According to a DocuWare representative we spoke with, businesses can expect to pay between $25 and $100 per user per month for the full-featured cloud system. On-premises pricing can begin as low as $5 per user per month. For more specific pricing, contact the company directly to get a quote or to schedule a product demo. Sign up for a 30-day free trial to get started; the trial period does not require your credit card information.
While some companies offer product demos, many document management services don't offer free trials for businesses. However, DocuWare stands behind its software and offers a free trial to ensure businesses have the chance to see how the system fits their needs on their own time.
DocuWare Setup
DocuWare offers free live demos to help you set up the system and train employees on the features that are most important to successfully implementing the platform. During the demo, businesses can discuss a realistic timeline for getting their DocuWare software up and running, so teams can begin learning the product ahead of time. DocuWare suggests a business should take about 90 days to transition to its paperless system.
This 90-day period involves digitizing paper records and creating an organizational hierarchy for indexing them. DocuWare's AI indexing takes some of this heavy lift off users, but some manual entry is encouraged to get the most out of the system. Once the initial foundation for a paperless system is in place, users can begin implementing DocuWare in their day-to-day workflow. While the software is relatively intuitive compared to some other systems we reviewed, we highly recommend training with the DocuWare team.
DocuWare is available as a download-free web service, and Windows users can download a desktop app. The company also offers a mobile app for iOS and Android operating systems.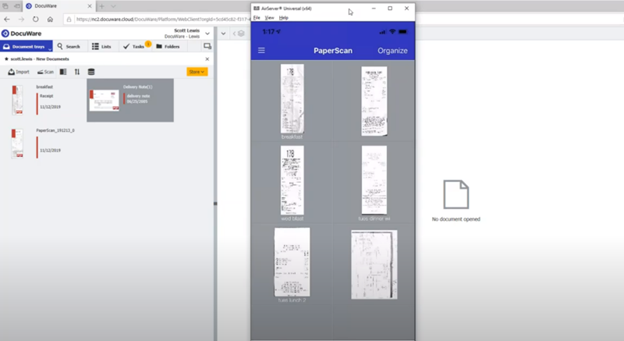 With DocuWare's mobile PaperScan app, you can easily digitize important documents by uploading photos from a mobile device. Image source: DocuWare
DocuWare Customer Service
Compared to others in the industry, DocuWare offers a competitive level of customer service with a range of options, including a knowledge center and community forums. Users who are just getting started can access DocuWare's Knowledge Center, including the How-to Portal, for step-by-step guides to help set up your system.
Those with business-critical questions or more specific questions about their configuration can find answers through DocuWare's support portal, which you can access by logging in with your credentials and filling out the online form. Users can submit requests for help from an expert and browse answers to previously asked questions. Support via the portal is available 24 hours a day, five days a week (Monday through Friday).
Users can also seek help by asking the DocuWare community questions in the community forums.
DocuWare makes it easy to get the help you need through various customer support channels. In addition to taking advantage of the company's online resources, customers around the world can contact customer support at their provided number or email address or by filling out a contact form online.
DocuWare Drawbacks
Businesses looking to use a document management system as their primary storage space may find that the 20GB storage capacity (in the Base plan) does not offer much leeway. Those on the Large Enterprise plans can quickly reach their storage limit as well, since the 250GB storage space is shared among 100 users. Businesses should consider their storage needs when looking at DocuWare. If you need a document management system with expansive storage capacity, consider our FileHold review for a system that offers up to 4TB of storage.
In addition, businesses should take stock of the operating systems their employees use, as DocuWare's desktop application is only available for Windows operating systems. This means Mac and Linux users must rely on the web browser application, which can potentially cause collaboration problems among the team.
Methodology
In our review of document management systems, we researched and analyzed dozens of options. We began with a pool that included all the vendors on our best document management software list. We researched each provider by investigating its services, watching tutorials and how-to videos, testing out the system when possible, and reading user comments. We also considered the pricing listed on these services' websites.
During our research into the best document management system for integrations, we considered the scope of pre-built integrations, the ability to build new integrations with an open API, and how easy it was to create new integrations. We also considered overall ease of use, security measures, workflow abilities, mobile access and customer service. We found DocuWare offers the most pre-built integrations and the easiest method to create new ones, as well as an intuitive system that most users could learn and adapt to quickly.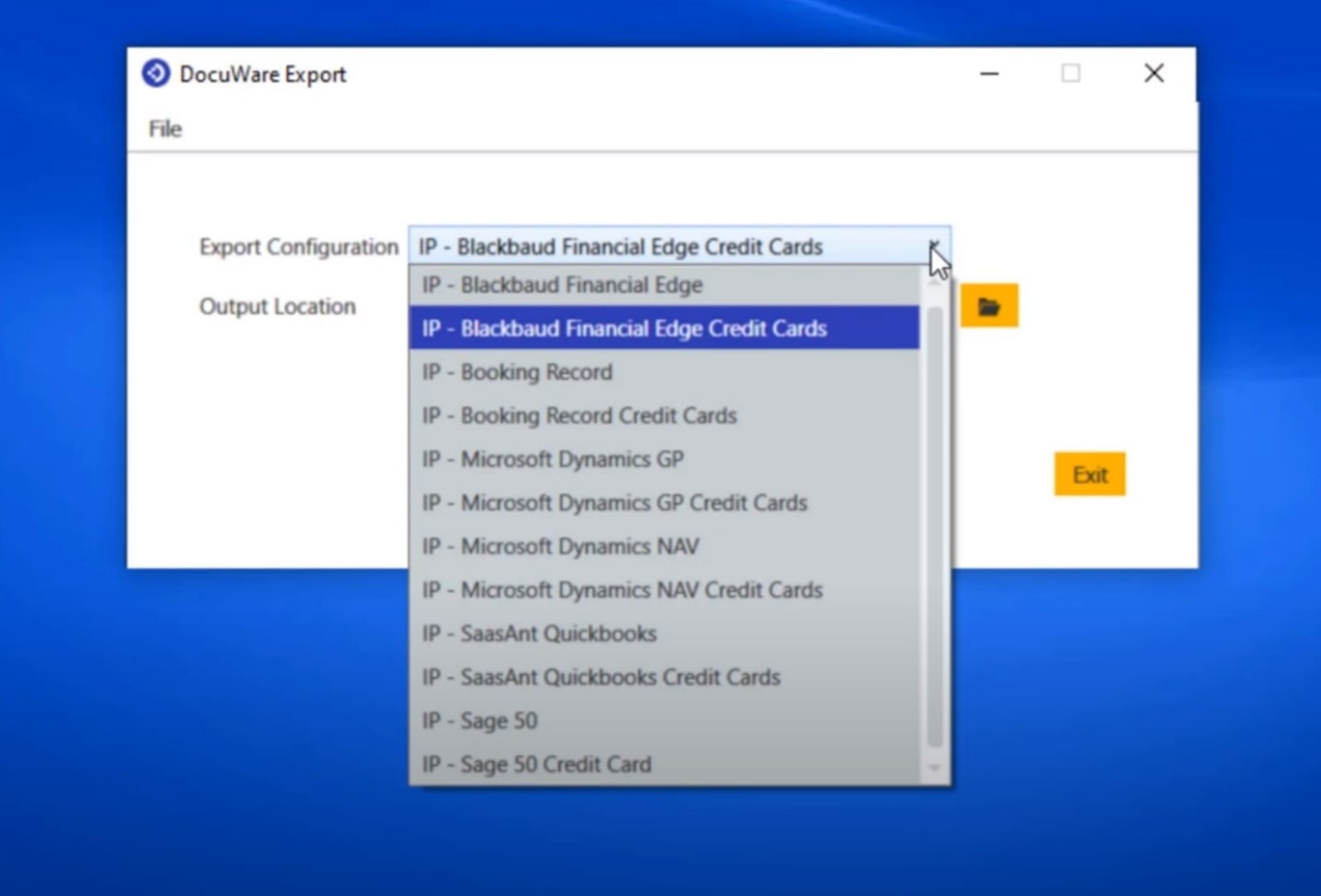 DocuWare allows users to easily configure and export data to their desired location. Image source: DocuWare
DocuWare FAQ
DocuWare is a cloud-based document management software that allows businesses to automate their workflows as well as securely digitize and store all their documents in an easily accessible system.
DocuWare uses Microsoft Azure to offer protection from viruses as documents that are contaminated are easily detected and not archived. DocuWare is regularly subjected to important audits to ensure its services are secure.
Among its many features, DocuWare offers intelligent indexing, which converts documents into indexing terms using AI-based technology. It also offers numerous integration features, such as the ability to integrate archived data and documents into other programs you use every day. Other key features include data export, versioning, the ability to import from any email account, and mobile upload capabilities.
Overall Value
We recommend DocuWare for …
Small to midsize businesses looking to streamline their paper-dependent processes.
Businesses looking for an abundance of integration options.
Those in need of a cloud-based storage solution under 250GB in capacity.
We do not recommend DocuWare for …
Companies with a mix of Mac, Linux and Windows users.
Businesses looking for a storage solution with a large amount of space.
Large organizations with over 100 people.