Amazon Stores can help your small to midsize business expand its brand and reach new customers.
You can use Amazon's analytics tools to further refine your platform.
Weigh the pros and cons of Amazon's individual and professional seller plans to find one that works for your business.
This article is for business owners who want to grow their brands. 
As a small business owner, you probably know how hard it can be hard to differentiate yourself from other companies within your market. That can be especially true on the Amazon seller marketplace, since Amazon is so saturated with products from nearly every industry. However, the online retailer offers a solution in Amazon Stores. 
What Is Amazon Stores?
Amazon Stores are high-quality, image-rich webstores that sellers can create on Amazon. They're landing pages meant to convert potential customers to buyers and encourage repeat purchases from current customers. An especially strong Amazon Stores page can stand in for your business website if you only have money to invest in one of the two.
The Amazon Store for the brand Lark & Ro is a great example of what an Amazon Store should look like. Its eye-catching top banners appear customized and elevated above the typical Amazon storefront aesthetic. Keep scrolling and you'll see products. The idea is that you'll catch the customer's attention with a sleek design and then smoothly transition them to making a purchase.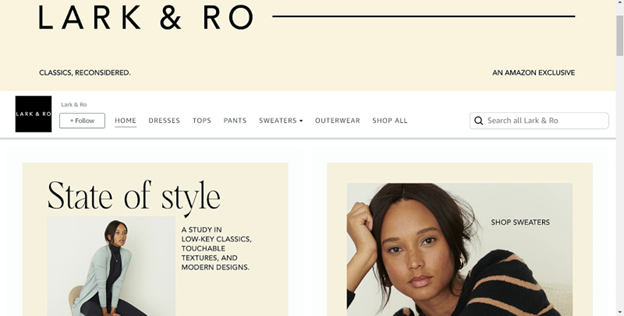 Lark & Ro's Amazon Stores page looks much like what you would expect from a business website. It also includes ecommerce functions so the merchant can sell directly to users on the page. (Credit: Amazon)
How large is the Amazon Seller marketplace?
Amazon Stores caters to over 30,000 small and midsize businesses originating from every state in the U.S. and more than 130 countries. Collectively, these businesses have sold over 250 million items to over 70 million customers. There are around 30 main product categories and over 25,000 subcategories to help customers narrow their searches.
In addition, around 85% of brands that use Amazon Stores say the service has helped them add new jobs. For stores not selling through Amazon, the corresponding figure is 52%. According to Amazon's Small Business Impact report, small businesses selling on Amazon have created more than 1.8 million jobs. Additionally, through Amazon Business, small businesses can access more resources in greater volume at lower prices.
Who should use Amazon Stores?
Amazon Stores provides the most benefit to businesses that want to grow their brand but have hit a wall in terms of marketing. A visually appealing online storefront can help newer organizations create a brand-tailored shopping experience that attracts a loyal customer base and keeps them coming back. Additionally, the included analytics tools that measure the storefront's effectiveness can help businesses further refine their brand image. 
Web development can be expensive, especially for an e-commerce website. Costs vary, but a basic small business website can cost $1,000, while a custom e-commerce website can cost up to $10,000. For many small businesses, either expense might be prohibitive, but not having an e-commerce website can limit sales and lead to missed revenue opportunities. 
Amazon Stores offers a cost-effective alternative for small businesses that want to create an e-commerce website but don't have the budget for custom web development. To qualify for Amazon Stores, you need a Professional seller account, but the Amazon Store itself is free of charge. A Professional seller account costs $39.99 per month – much more manageable to most small businesses than a $10,000 upfront investment in web development.
If your brand is starting to stagnate or your web development budget is limited, an Amazon Store can be a great way to boost your business.
Selling on Amazon
You can still sell successfully on Amazon without an Amazon Store. Before getting started, though, it's essential to understand how selling on Amazon works, what scams you should be wary of, and how you can succeed by selling on Amazon.
There are two basic plans for Amazon sellers: Individual and Professional. The Individual plan costs $0.99 per unit sold, while the Professional plan is priced at $39.99 per month. There is also an approval process for the Professional plan. 
It's important to understand both plans and choose the one that best applies to your business. Do your research before you decide how you want to proceed with selling your goods on Amazon. Amazon recommends the Individual plan for sellers who expect to sell less than 40 items per month, don't have an advertising plan, or are still testing the market and deciding on what to sell. Amazon recommends the Professional plan for sellers who sell more than 40 units per month, have an advertising plan in place, and need access to data analytics. 
Once you have your account set up, you can start selling your products in the predefined categories on the website. With an established operation, you can set up a feature like Fulfillment by Amazon to encourage customers to purchase your products.
The Individual seller plan is a good way to test the waters and see if Amazon is right for you. If you enjoy your experience, you can switch over to the Professional plan for more options.
How Amazon Stores adds a new element to selling on Amazon
Selling on Amazon is a lucrative business, and selling your products via Amazon Stores can allow your small business to shine. One of the strengths of owning a small business is your connection to the community and the products you create. Use that connection to build your brand's story and create a product that people will want, no matter where in the U.S. they live.
Max Freedman also contributed to this article.