Snapchat is known for its fun, creative and sometimes goofy filters that users can add to spice up their selfies and make shareable videos. Most of the filters you typically see are made by Snapchat and are universal to all users, but you may have noticed some that are specific to your location, whether it's a city or other public space.
Businesses can also have their own filters, making Snapchat a great marketing tool to not only impress customers but also get them sharing your brand and place of business with their Snapchat followers. Fortunately, setting up a Snapchat Geofilter is easy and affordable.
What are Snapchat Geofilters?
A Snapchat Geofilter is a location-restricted visual effect that Snapchat users can add to photos or videos they take through the app. The filter's location restrictions mean that all geofilters are only available to people within a certain radius of a given location. This distinction is where these filters' marketing power comes into play.
Snapchat Geofilters can help small businesses achieve the following social media marketing goals:
Market locally. Since Snapchat Geofilters are only available to Snapchat users within a certain proximity of a given point, they're excellent for local marketing. If you set the center of your geofilter's radius as your storefront, then any time someone within that radius goes to use a Snapchat effect, they'll see your company's filter. The result is quick, simple engagement with your local audience.
Market affordably. As you'll see later in this article, Snapchat Geofilters cost extremely little – sometimes, not even double-digits. Few marketing approaches are so inexpensive yet effective.
Market quickly. Snapchat Geofilters don't have to be complex. Graphic designers can often sketch them in just a few hours, and the Snapchat interface makes it easy to transform your design into a functioning filter.
Snapchat Geofilters are a low-cost, quick way to reach a local target audience.
Examples of Snapchat Geofilters
Some of the best Snapchat Geofilter examples come from the corporate giants below:
1. McDonalds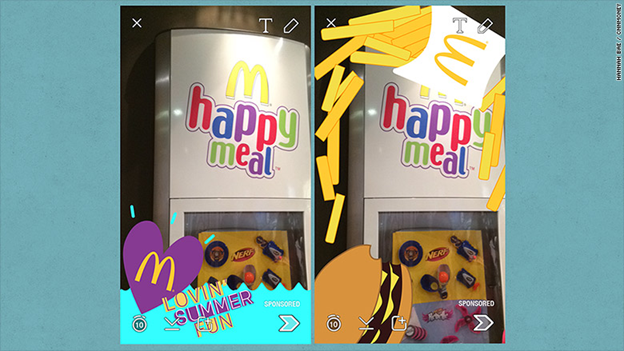 In the summer of 2015, McDonalds implemented Snapchat Geofilters near all its locations. This meant that not just customers in the restaurant, but ordinary passersby could use the filter. The result may have been more people casually out on the town spontaneously deciding to stop in for a burger and fries.
2. Disney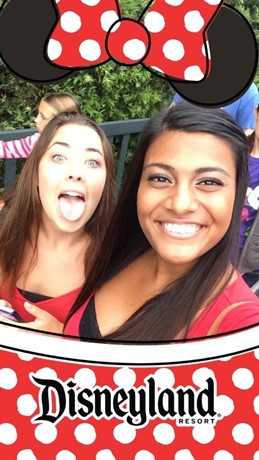 Few things in life are more memorable and exciting than a trip to an amusement park, and Disneyland knows this well. The park's Snapchat Geofilters, such as the one above, are only available at the park, but they've reminded many people much farther away that a trip is in due order.
3. Taco Bell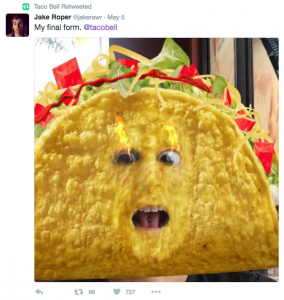 On the somewhat more horrifying side of things, Taco Bell's old taco Snapchat Geofilter went so viral that countless internet users were reminded that Crunchwrap Supremes exist. Presumably, this geofilter – which was available in the vicinity of any Taco Bell – drove a lot more hungry people to their nearest Taco Bell location.
How do you make your own Snapchat filters?
Follow these simple steps to make your own Snapchat Geofilter:
First, pick which category of geofilters you want. You'll see choices for "Community Filters" and "Filters" next to option for lenses and Snapchat ads. Community filters are free and showcase cities, neighborhoods, schools and landmarks. Users can also share individual moments with special filters, such as going out with friends for lunch or parties.
In the Filters menu, you can design a filter for either personal or business use. Personal filters cost less than business filters; they create temporary geofilters that anyone can share for personal events, such as weddings and parties, and other purposes, as long as they don't promote a business's brand.
A business filter is meant for companies that want to create a filter with their branding to use for promotional purposes. These filters have a "Sponsored by" label at the bottom of the screen. You'll have to submit your business's name for this purpose and ensure you have all of the necessary permissions.
2. Design your filter.
When designing a filter for your business, you have access to several templates from Snapchat, but you can also upload your own images and designs. Images you add to the filter need to be PNGs with transparent backgrounds. Your PNG should be less than 300KB and have a resolution of 72 dpi and 1080 x 2340 pixels.
Any images you upload for use in Snapchat Geofilters must be PNGs under 300KB with resolution of 72 dpi and 1080 x 2340 pixels.
Your filter must be appropriate and meet Snapchat's filter submission guidelines. Filter submissions must be reviewed and approved by Snapchat before they're added.
3. Pick your location and dates.
The price of your geofilter depends on how big of an area you want to target and how long you'd like the geofilter to be available. The minimum area is 20,000 square feet, which you can select with a fence tool on an interactive Google Map. You then select the length of time you want the filter to be up.
Finally, you preview and submit your geofilter. For long-term geofilters, you can contact Snapchat to discuss an annual plan for your campaign. You should plan your geofilter a few weeks in advance in case Snapchat rejects your submission and you need to redesign and resubmit it.
4. Make a plan for your geofilter.
Besides submitting your geofilter, you should make plans to integrate it into your business's overall marketing plans. Ensure your filter design is appealing and something users will want to share with their friends and followers to spread your brand.
Turn your geofilter into a promotion, informing customers that they can receive a discount if they make a snap with your filter. For example, restaurants or cafes can give a 10% discount off the bill if customers make a snap of their meal or drink.
Your geofilter doesn't have to be limited to your place of business. For example, you can set it up at a pop-up location or a convention you're attending to draw people in. In the filter, you can inform users where they can find your business, such as, "[Your business'' name] at CES booth #108."
How much is a Snapchat business filter?
Snapchat Geofilters are fairly inexpensive yet provide a lot of value. The average cost of a geofilter over 22,000 square feet can run from $5 to $20.
Snapchat charges per geofilter. For $5, you get about 8 hours for an event in a major city. For $30, you get up to 25 hours for an event and about 81,000 square feet.
There are a few factors that influence pricing. First, where you want to establish your geofilter will affect the price; some cities and areas cost more than other geolocations. Second, how big of an area you want to target and how long you want the geofilter to be available will bump the price up.
What software can I use to design a Snapchat filter?
There are a number of applications that allow you to make your own Snapchat filter. Most are simple to learn. One of the easiest applications for designing a Snapchat filter is Adobe Spark Post. You do not need to know how to design or code anything to be able to use Adobe Spark Post. With this application, you can create backgrounds, colors, images and text to create and personalize your own Snapchat filter. The interface is simple to use, and you can master it quickly.
Another option would be a creative presentation tool like Canva. This application allows you to create a new geofilter or modify an existing one. Canva has a library of stickers and graphics that you can add to your design.
In your hunt for ways to design filters, do not forget that Snapchat has its own filters already in the application. This makes it really simple to create your own Snapchat Geofilter without ever leaving the app.
Using Snapchat Geofilters is a great way to advertise, especially for small or local businesses that may not be able to afford traditional ad campaigns on Snapchat.