monday.com Review 2023
Monday.com is a work operating system that supports HR workflow customization and automation for onboarding, recruiting, employee engagement and more.
The system includes project and task management tools to help HR teams collaborate effectively.
Monday.com features a large selection of HR workflow templates and automation recipes.
This review is for small business owners who are considering implementing monday.com as their HR software.
Monday.com is not traditional human resources software, but you can use the service to manage your company's HR workflows, including recruiting, onboarding and performance management. The platform includes a number of project management features, including task assignments and project tracking dashboards. Where the service really shines is in its workflow customization and automation tools. Employers can build custom workflows to automate common tasks, activities or communications. Because of the platform's advanced customization options and large library of workflow templates, we selected monday.com as the best HR software for custom workflows.

monday.com 2023
The Verdict
Monday.com Editor's Score: 88/100
| | |
| --- | --- |
| Features | 75/100 |
| Pricing | 95/100 |
| User interface | 90/100 |
| Integrations | 100/100 |
| Customer service | 80/100 |
Why monday.com Is Best for Custom Workflows
Users can customize just about everything in monday.com, including automated workflows and data visualizations, making it one of the most flexible HR platforms we reviewed. We consider the workflow customization and automation features some of the most valuable tools for small businesses, because they can save time while improving organization and consistency in onboarding, employee engagement and recruiting practices. 
You can set up features such as custom employee surveys or onboarding workflows and then automate them so that nothing is overlooked. Your HR team doesn't have to remember to do a 90-day check-in with a new hire; employers decide what they want to ask and at what intervals, and the software does the rest.
Workflow customization doesn't have to be complicated. Monday.com offers hundreds of templates to help streamline the process.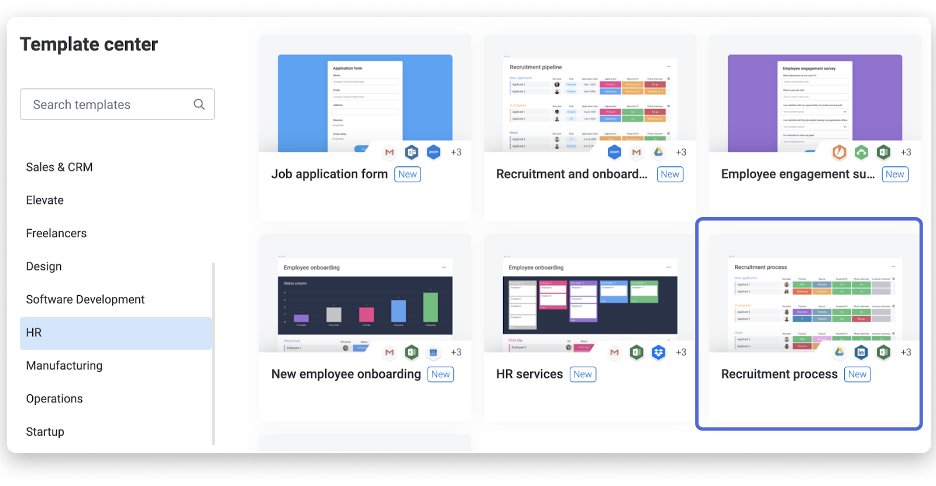 Monday.com offers a large library of templates to help employers build their HR workflows. Credit: Monday.com
Pros
Monday.com offers a high level of customization and automation for HR workflows.
The service offers greater task management and project management functionality than most other HR software platforms do.
Monday.com provides a transparent pricing structure and a free plan option.
Cons
Monday.com does not offer payroll processing, so companies will need to utilize separate payroll software for that task.
Employers cannot administer employee benefits on monday.com.
There is no publicly available customer support phone number; you must fill out an online form to request a call from a representative.
Usability
We found monday.com's user interface quite user-friendly. However, the navigation is more typical of project management software than of HR software. For users of programs such as Asana or Trello, the learning curve should be fairly minimal. However, users who are unfamiliar with those tools and are expecting a more traditional HR software interface, like the one offered by Zenefits HR software, may find the transition to monday.com more challenging.
Monday.com organizes information in a variety of easy-to-digest formats. Information you want to track is displayed on a board, but each board looks different based on the display each user chooses. Boards can be shown as tables, Gantt charts, calendars, Kanban boards, timeline displays or cards.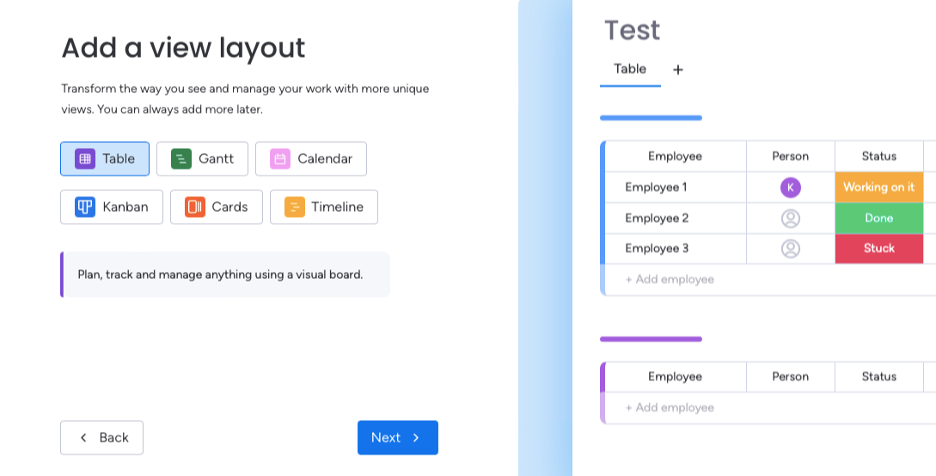 Administrators have several view options to allow them to organize information in various types of charts, boards or layouts. Credit: Monday.com
There are also dashboards, which are used for reporting and analytics. Whereas boards show all of the information in one view and are typically used for task and workflow management, dashboards contain different widgets and combine data from various boards to help you analyze data. We really like how you can customize the display settings for the boards and dashboard. In addition, it's very quick and simple to set up new boards and update the data within them.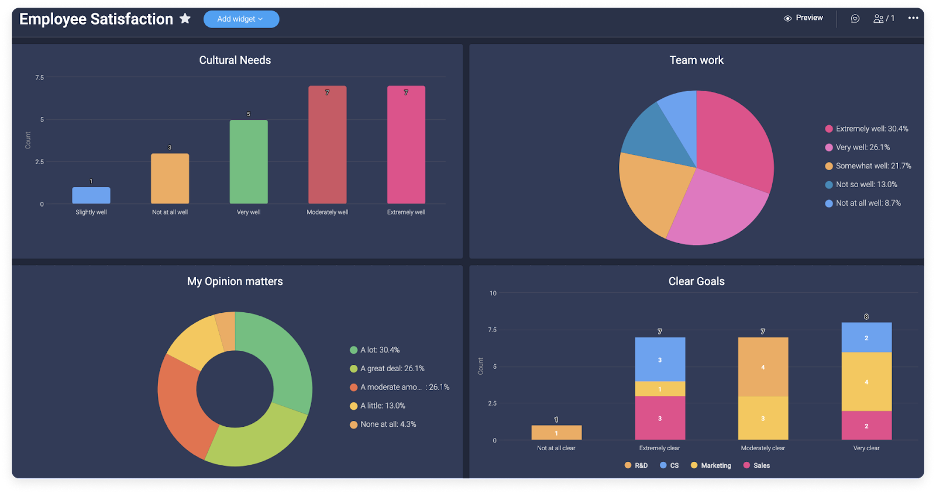 Dashboards can integrate different boards and widgets to provide a helpful analytics summary. Credit: Monday.com
Users have a lot of flexibility for setting up workflows in monday.com. You can build workflows from scratch and fully customize them, or you can choose one of monday.com's pre-built automation recipes to make things a bit simpler. Don't worry, though; even when you use a template, you can customize your workflow to fit your company's specific processes.
To set up a basic workflow, you start by choosing a trigger, which is the activity that should kick off a workflow. Next, you set a condition. The condition typically refers to a status that is listed in one of your board columns; it can be a change in employment status, assignment status or document status (such as when something goes from pending to signed). Then, you choose an action: whatever you want to happen when the trigger and the condition are met. For example, if an employee's status changes (trigger) to terminated (condition), you may want to notify the IT manager to deactivate their logins (action). Users can also set up multistep workflows.
Because monday.com is a bit different from other HR software options, we recommend that interested employers or HR managers sign up for a free plan and try the software themselves. Setting up a free account takes less than five minutes and does not require you to enter a credit card.
Monday.com Features
| | |
| --- | --- |
| Applicant tracking | Collect applications, communicate with candidates and track candidates' statuses with customizable boards and forms. |
| Employee onboarding | Build an onboarding template from scratch or from a customizable template; use this checklist to track onboarding tasks and automate onboarding processes. |
| Dashboards | Monitor key HR analytics in highly customizable dashboards. |
| Team collaboration and task management | Keep all team members in the loop on project statuses and facilitate collaboration through task management workflows. |
| Employee engagement surveys | Customize and automate employee survey workflows to consistently collect feedback from employees. |
Applicant Tracking
With monday.com, you can track applicants and keep up with candidates in the pipeline. You can create a board or use one of monday.com's templates for applicant tracking. Monday.com's Form View allows you to collect job applications and then pull the data automatically into an applicant tracking board. Then, recruiters can rate candidates, track their statuses and communicate with candidates, all from the board.
Creating custom automated workflows in monday.com can greatly help employers streamline the recruiting process. Businesses can set up automations to send notifications to internal HR staff or the hiring manager when a new application is received or to send a rejection email to candidates when their status changes to something like "not selected" in the system. Monday.com can even move new hires into the onboarding process, add them to your employee directory or perform other onboarding tasks when a candidate's status changes to hired.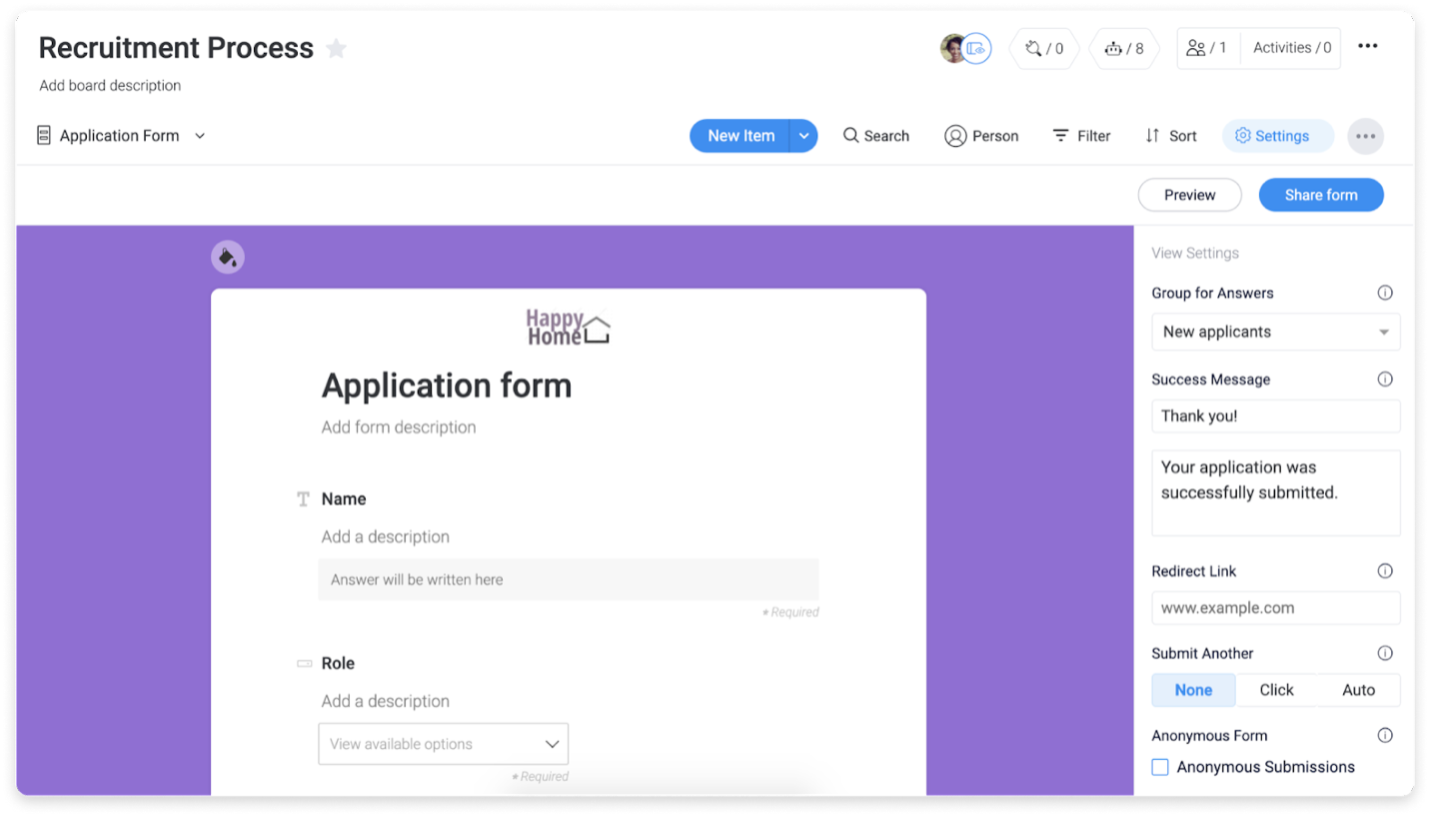 Employers can set up job application forms right in monday.com and seamlessly import the data into a tracking board. Credit: Monday.com
Employee Onboarding
Organizations can build a board with all of the necessary onboarding tasks. This serves as an onboarding checklist while also providing the ability to automate certain onboarding tasks. Monday.com provides a user-friendly onboarding checklist that groups different onboarding activities into different categories for better ease of use. Employers can customize their board to fit their organization's unique onboarding process.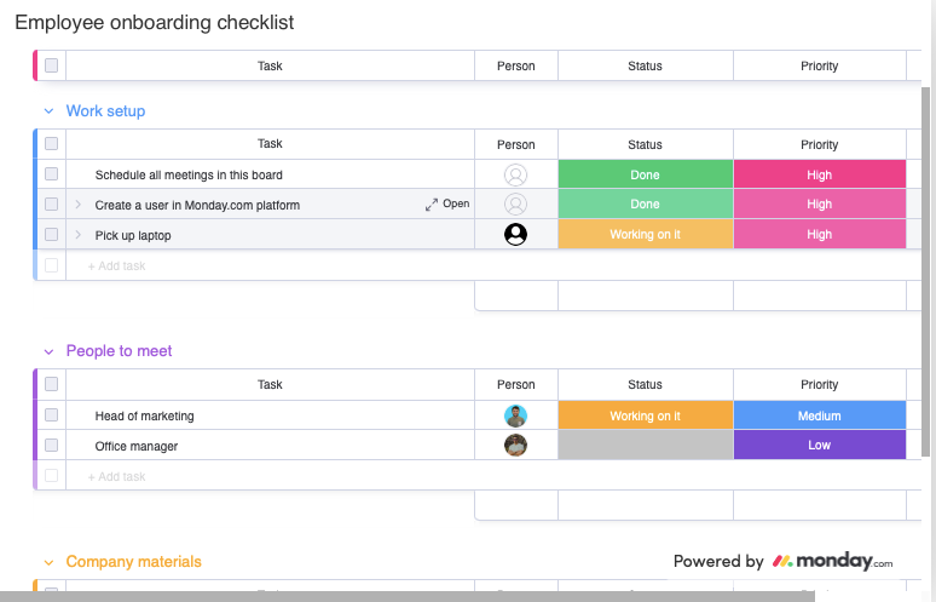 Employers can customize the employee onboarding workflow to fit their unique new-hire checklist. Credit: Monday.com
Dashboards
After workflow customization, the dashboards were our favorite feature in our testing of monday.com. Dashboards allow users to create summaries, custom reports and an analytics dashboard to keep up with different processes within the organization. Dashboards can combine multiple boards into centralized summaries to help managers get a high-level view of recruiting, employee productivity or other HR processes. Like boards, dashboard views are highly customizable.
Team Collaboration and Task Management
Monday.com emphasizes teamwork and collaboration more than most traditional HR software platforms do. The boards themselves are great collaboration tools, as they allow all team members to see what needs to be done, who is responsible for what, and where everyone is in different processes. The platform also makes it easy for managers to assign tasks to employees. This process can be automated if businesses want a certain status or action to prompt a task to be assigned to an employee. You can also set up dependency tasks to automate workflows so that once one person completes a task, the next person can be alerted to start their portion of the workflow.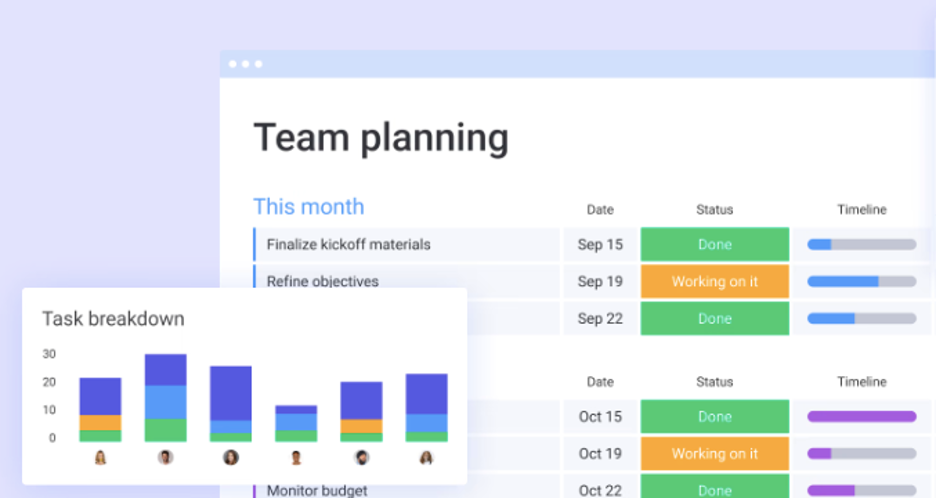 Teams can stay connected by viewing task breakdowns and task statuses to see what each person is working on. Credit: Monday.com
Employee Engagement Surveys
Monitoring employee engagement is important, and engagement surveys are a great tool for checking the pulse on your workforce. Monday.com includes tools to help you create and automate employee engagement surveys.
Employers can easily create a board with all of the employees who should receive the survey. Monday.com advises that the board should include key details, such as the employees' names, email addresses and start dates. Then, employers can set up a survey and customize questions to accurately measure employee satisfaction, engagement or wellness, and create an automated workflow to send surveys at set increments or milestones.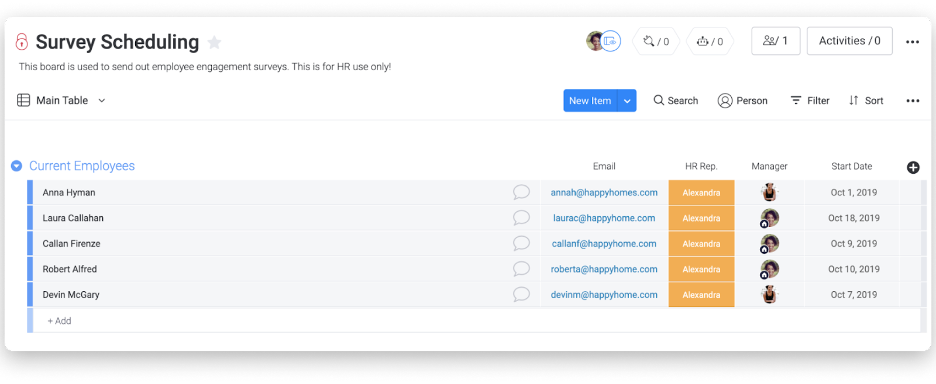 Employees can automate the employee engagement survey process by scheduling surveys to be sent automatically at key intervals in relation to the employee's start date. Credit: Monday.com
Monday.com Costs
Monday.com offers a transparent pricing structure with several package tiers based on the services and number of users your company needs. Many of the other HR software options we reviewed require you to contact a sales agent to get a custom quote, so we appreciated monday.com's clear pricing structure.
Plan

Pricing

Features

Individual

Free

Up to two users
Up to three boards
Unlimited documents
200+ templates
Over 20 column types
Mobile app access

Basic

$8 per user per month

Everything included in the Individual plan
Unlimited free viewers
Unlimited views
5GB of file storage
Prioritized customer support
One dashboard

Standard

$10 per user per month

Everything included in the Basic plan
Timeline and Gannt views
Guest access
Automations
Integrations
Dashboards that combine up to five boards

Pro

$16 per user per month

Everything included in the Standard plan
Private boards and docs
Time tracking
Greater automations
Dashboards that combine up to 10 boards

Enterprise

Custom pricing

Everything included in the Pro plan
Enterprise-grade security
Enterprise-level automations
Premium support
Tailored onboarding
Most organizations will outgrow the free plan fairly quickly, so it's not a strong long-term option for organization-wide HR management. However, we do appreciate that it allows users to try the platform and build their own customizable boards and workflows.
If you sign up for a full year on the paid plans, you can save 18 percent on a monday.com subscription compared with the monthly plans.
Monday.com Setup
We went through the basic account setup process when registering for a demo account with monday.com. We liked that the platform walked us through the process of setting up our first tablet by asking questions about what we wanted to track, our preferred view format and the data we wanted to input. New users are also prompted to visit the monday.com learning center, which has tons of quick tips and videos. It's also easy to invite users to the monday.com company account, although onboarding may take longer for employers with a lot of employees.
Monday.com also offers a directory where customers can find third-party partners to assist in the setup process. These partners can help employers customize accounts, onboard employees onto the platform, build integrations, and conduct on-site training with employees. There are also a variety of partners with industry-specific expertise in finance, technology, education and other industries.
Monday.com Customer Service
Monday.com offers support through email, live chat and a contact form. The company doesn't advertise a customer support number, so businesses that prefer to access prompt support over the phone may be better served by a competitor, such as what we found in our Paycor HR software review. However, Enterprise plan customers do get premium support with a priority queue for faster responses.
Monday.com also has a help center with tons of resources to help customers learn more about the company's products and features. The help articles provide easy-to-follow, step-by-step directions on how to complete certain tasks within the platform. There are also video tutorials available for customers who find that format more helpful.
Monday.com Drawbacks
The main drawback of monday.com as an HR solution is that it doesn't offer full payroll processing or benefits administration features. Many companies prefer an all-in-one HR solution like the one featured in our Rippling HR software review. Organizations that choose monday.com will need to work with (and pay for) separate payroll software.
Getting phone support for monday.com is a bit more challenging than it is with many other HR software providers. Most of the HR software vendors we reviewed have publicly available phone numbers that you can call to speak to a sales or customer support representative. Some competitors, like Paychex Flex, even offer 24/7 phone support. If you want to reach monday.com, you'll need to fill out a contact form to request a response or call from either the sales team or a customer service agent. There is also a live chat function that can connect you to a sales agent.
Methodology
We conducted comprehensive research and analyzed dozens of HR systems to identify the top HR software solutions on the market. We reviewed help articles and created a demo account to test monday.com firsthand. When selecting the best HR software for custom workflows, we looked for a software service that not only offered a high degree of workflow customization and automation but also delivered those features in a simple, user-friendly manner.
Monday.com FAQs
Does monday.com offer payroll processing?
No, monday.com does not offer payroll processing services.
Is monday.com HR software?
Monday.com is a project management system that can be used to manage HR processes, including recruiting, onboarding and performance management.
Is monday.com free?
Monday.com offers a free plan, but organizations that need more than two users will need to upgrade to a paid plan.
Overall Value
We recommend monday.com for …
Small businesses that want to customize their HR workflows and analytics dashboards.
Employers that are looking for project management or team collaboration tools.
Businesses that want to streamline their HR processes and don't mind managing payroll and benefits separately.
We don't recommend monday.com for …
Businesses that are looking for a comprehensive all-in-one HR software solution.
Small businesses that need payroll support and other HR tools in the same platform.

monday.com 2023
The Verdict

Kaylyn McKenna
Contributing Writer
Kaylyn McKenna is a freelance writer specializing in business, tech, and leadership. She received her MA in Industrial-Organizational Psychology from Touro University, and enjoys using her industrial psychology background to share management, HR, and organizational effectiveness tips with small business owners. She has covered topics related to business law, compliance, employee retention, company culture, and management strategies.