Credit-card processors have changed a lot in recent years, and if you've been in business for a while, you might be thinking about upgrading your systems.
Signs you may need to upgrade your POS system
Business owners should be on the lookout if they have had the same POS system for some time. After several years, issues with the system will likely pop up. The following are a few signs that you may need to upgrade and get a better version as a way to streamline payment processing:
Payments take a long time to process. If customers have to sit and wait for long period of times for transactions to process, you may need to update your system or consider working with a top credit card processor. You may have also started noticing issues such as freezing or processing disruptions.


The POS system lacks mobility. Older systems were not created to optimize mobile-user experience. You want to make it as easy as possible for customers to finalize purchases across platforms. POS systems should never have limitations on being easily integrated.


Customers and staff have reported technical issues. If poor user experience is being reported frequently in regards to the POS, you may want to evaluate the old system and invest in an upgrade.


The POS system lacks reporting capabilities. According to Leebro POS, modern POS systems that generate reports in real-time help business owners make real-time decisions. Reports should include options such as sales tracking, employee time tracking, and return totals.


Hardware issues are occurring. If your POS system has issues like power failures then you need to consider a more modern solution. Most companies that upgrade are choosing cloud-based systems. Cloud-based POS systems not only save all your data, but they also save you from common hardware headaches. Older POS systems can be expensive to repair and you may not want to keep investing money in an outdated system.
Perhaps you are looking to get an EMV chip reader, or want to add near-field-communication (NFC) technologies to your reader for processing mobile phone and wearable tech transactions. Whatever the reason for needing new card readers, there are a few things to keep in mind as you choose a vendor.
What to consider when upgrading your POS system
This article is focused on adding card readers to an existing point-of-sale (POS) system. Review our guide on how to accept card payments if you're looking for a new POS system.
If you're in the market for an entirely new POS package, check out our POS system buying guide.
POS, credit card and reader compatibility
Your new card reader must be compatible with your existing setup. You may be able to find lower-priced options online rather than from your merchant service, but request a list of compatible card machine models from them to ensure that you purchase the correct versions. If you require assistance, it may benefit you to pay for a technician to help you add the card readers to your existing POS system.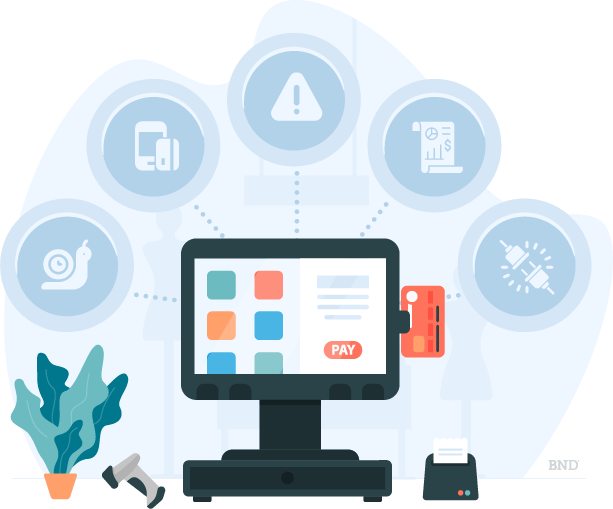 EMV chip and PIN readers
Due to EMV compliance and liability reasons, you should upgrade to readers that can process chip debit and credit cards. The liability shift took place in October 2015, which means that now merchants can be deemed liable in a fraud issue if they are not compliant. Compliance involves more than simply having a chip reader, but that is one part of it. Most EMV card readers also include a magnetic card reader as well to accommodate your customers who do not have chip cards yet.
Editor's note: Looking for the right credit card processor for your business? Fill out the below questionnaire to have our vendor partners contact you about your needs.
NFC card readers
Near-field-communication technology can help you process payments from mobile wallets or emerging wearable tech, such as rings, smart watches, stickers or key chains. Acquiring this tech is reasonably priced and worth considering if you think your customers will want to make payments using this type of technology. This tech is also necessary if you want to process mobile-wallet-type loyalty or gift cards.
Long-term commitments
You may feel pressured to enter a long-term leasing agreement. If you can, avoid it. Online reviews are laden with bad experiences and tales of warning. In the long run, you could save thousands by purchasing the card readers outright, even if you have to use a credit card to do it. Most new EMV chip- card readers are about $200 for a single unit. If you lease the readers, you might pay $50 or more, per month per machine, for three years. That adds up to $3,600, which is significantly more than just buying the readers. Some leasing agreements will even include an automatic contract renewal, so if you are not paying close attention you may find yourself in another three (or more) year agreement that may prove difficult to get out of.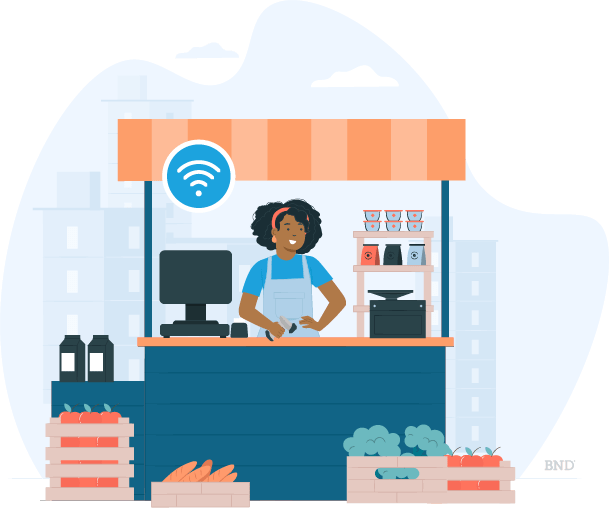 Payment agreement methods
There are a variety of technologies available for your customers to consent to payment. The most common way is entering a PIN, so many credit-card machines will have a connected PIN pad. But you may also want to include a signature device for those who need to sign for their credit card purchases. You can choose from one that allows customers to sign on a screen or on a signature pad. As mentioned, you may also want to consider adding NFC technologies for additional options. Biometric technologies are beginning to become available, but are not commonly used at this time.
Ways to connect
Card machines can connect to your payment processor and POS system in a variety of ways, so be sure to choose the type of technology that works best with your system. Some connect by Bluetooth, Wi-Fi, USB, cable or Ethernet connection. The lowest-priced options often physically connect with wires, but if you desire a cleaner sales counter with fewer cords, you may want to consider a Bluetooth or Wi-Fi option.
If you sell products away from your business's home base, such as at an outdoor market or a convention center, you may also want a mobile option. Often merchant services will add mobile processing for no additional cost over regular transaction fees.
There are many affordable, capable credit-card terminals available to help you upgrade your point-of-sale experience. Once you put together your buying list, you can easily find compatible and compliant card machines.