Pinterest is a visual social media platform where users can create and share pins, create boards, and shop.
The benefits of using Pinterest for business include brand exposure and a wider potential customer base.
You can create a business account on Pinterest from scratch or convert your personal account to a business one.
This article is for small business owners or marketers who want to learn how to use Pinterest for their business.
If you're not using Pinterest to market your products or services, you're missing out. More than 87% of Pinterest users have bought a product because of the site, making it a great opportunity to reach customers.
Before you sign up and start pinning, here's everything you need to know about using Pinterest for your business.
Pinterest basics
On Pinterest, users share and save content to virtual collections called boards. Most of the 175 million active U.S. Pinterest members are female (81%). Some 2 million of those members save content to a shopping board on a daily basis.
While you can find just about anything on Pinterest – the website's categories include everything from art to technology – it's known as a hub for craft projects, recipes, fashion, home decor and health-related information.
If you want to use Pinterest to promote your small business, it's important to sign up for a business account. Business Pinterest accounts, which are free, give you access to sales-minded features such as analytics. If you already have a personal account, you can switch it to business or just create a new account.
Pinterest terminology
Pins: All content shared on Pinterest is a pin – i.e., ideas to inspire you. When you click on a pin, it links back to a website.
Pincodes: Sort of like QR codes, Pincodes are special codes you can create to unlock your business's curated boards and profile on Pinterest. Users can enter the code to be taken directly to your suggested boards.
Pinners: This is what Pinterest calls its users.
Boards: Sort of like visual bookmarks or digital bulletin boards, boards are how you organize your pins.
Group boards: A group board is a collaborative board owned by one user. Owners can add other users to contribute to the board. You can ask to join a group board, but the board's owner has to send you an invite.
Archived boards: You can archive a board you no longer use but don't want to delete. Archived boards won't show up on your profile, and you'll stop seeing suggestions related to the board. For example, you can opt-out of seeing wedding dresses after the big day has passed.
Feed: Similar to a Facebook or Twitter feed, this is a group of pins from people you follow or what Pinterest thinks you'd be interested in.
Hashtags on Pinterest: Hashtags on Pinterest work like they do on other social media platforms like Instagram – they make it easy for other pinners to find your pins and relevant content.
Lens: This feature in the Pinterest app uses your smartphone's camera to suggest pins based on the pictures you take. For example, if you snap a picture of an outfit, it'll show you similar outfits.
Comments: You can add comments to other users' pins.
Save: When you click on a pin, you have the option to save, send or hide. When you save, you pin it to one of your boards.
Sending pins: You can send pins to other users or non-Pinterest users in private messages.
Tagging: You can tag other users using the @ symbol.
Messages: You can send private messages to other Pinterest users.
Key takeaway: To use Pinterest, you should understand terms such as "pins," "boards," "lens" and "tagging."
Why should your business use Pinterest?
Pinterest can benefit your business in a variety of ways. These are some of them:
Large user base
As the fourth most popular social media platform in the U.S. and with over 235 million monthly international users, Pinterest can open your business up to millions of new customers.
Visual platform
Pinterest is a great place to display your business visually. It's also the only social media platform that currently supports visual search, so it's a good idea to jump on this trend early.
Commercial activity
Consumers often use Pinterest to determine whether they want to make a purchase. In the 2019 Pinterest Seasonal Insights report, 83% of users said they have made a purchase based on what they've seen about a product on Pinterest.
Brand exposure
Pinterest can boost your exposure to new customers, with a majority of users reporting that they discover new brands and products through Pinterest every week.
Key takeaway: The use of Pinterest for your business can expose your brand to a wide audience and influence your customers' buying decisions.
How to create a Pinterest profile
There are three main ways to create a Pinterest account: You can add a business profile to an existing personal account, convert your personal account to a business account, or create a business account from scratch. Here's how to create a profile from scratch, step by step:
If you already have a personal account, you'll need to log out of it. Enter your email and password. It's a good idea to use a business email here to help differentiate your accounts. Click "create account."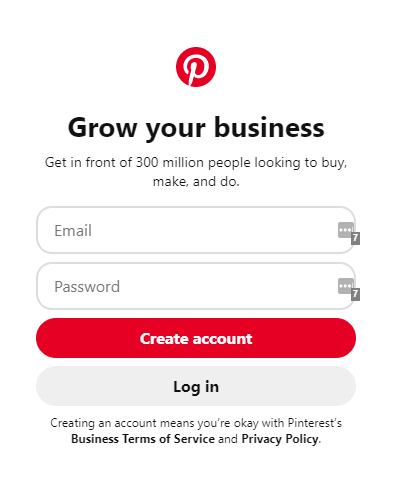 2. Choose your language and location, and enter your business name.
Select the description that best fits your business, and add a link to your website.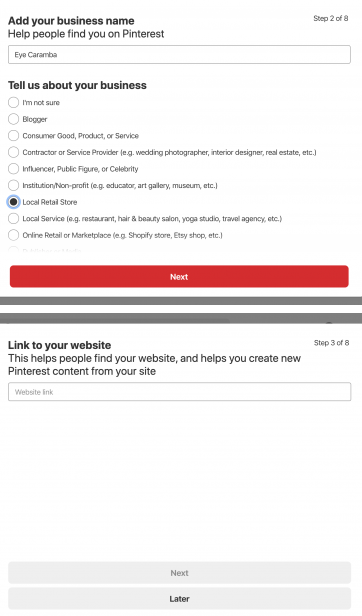 3. Connect your other social platforms.
If you have other social media accounts for your business – such as on Instagram, Etsy or YouTube – you can link them to Pinterest so that pins from those platforms will be attributed to your business and you can track the analytics.
4. Determine if you want to run advertisements on Pinterest.
You can always change this preference later, and you can also include your contact information so that a Pinterest ads rep can reach out to you.
5. Edit your profile.
Upload a profile picture, pick a custom username, and write a summary of your business on your Pinterest profile. Profile picture dimensions should be 150 x 165 pixels, and be sure to incorporate some keywords in your About section.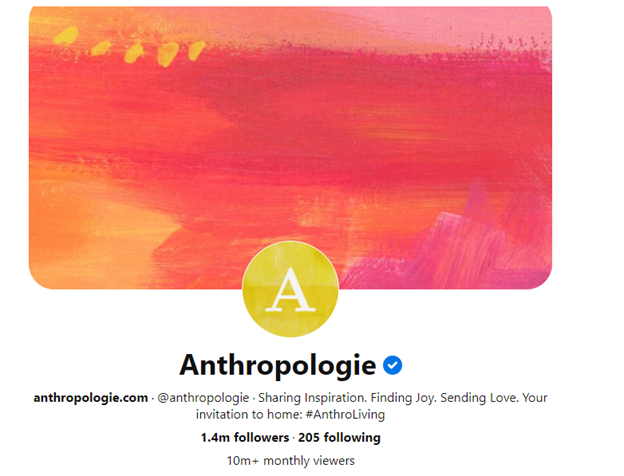 6. Claim your website analytics.
In the menu on the left side, click "claim." This will allow you to track your website analytics, as well as analytics on any pin that links back to any of your claimed accounts.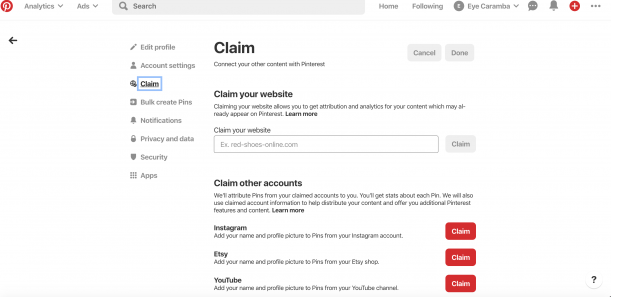 7. Start creating and pinning.
Now that you have your account all set up, you can start creating boards and adding pins.
How to create boards, add pins and follow other users
To get started, click the Create Board button that's accessible from your profile or when you save a pin. Once you have created a couple of boards, you can start uploading pins in a few ways. The first is by going to the board you want to pin to and clicking "Add a pin." Then, follow the directions to create a pin. You can also access the Add a Pin button at the top of your feed with the + button, which is near the search bar. If you're using the Chrome browser, you can get an extension that allows you to pin right from the website you're on.
In the Pinterest mobile app, you can now use your phone's camera to find ideas. You simply open the app and point the camera at anything you're interested in. The app will return with suggestions for similar things you might want to pin. For now, the company says this function is best at home decor ideas, clothing, and food.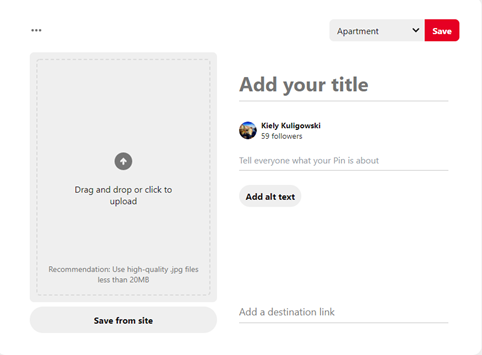 Key takeaway: There are seven main steps in creating a Pinterest account. You can create a business account from scratch or convert your personal account.
How to use Pinterest for business
1. Share creative, inspiring and actionable pins.
Pinterest is, first and foremost, a website for sharing pictures and inspiring ideas. If you want to succeed on Pinterest, you need to create and share visually pleasing and engaging pins. According to Pinterest, the most successful pins catch people's attention and make them want to learn more. Great pins are typically vertical and show how to use a product or service.
2. Look at trending topics and keywords.
Trends on Pinterest can help you decide what content to pin or what your next product should be. For example, if you see that DIY projects are trending, that would be a good time to find and share DIY content that relates to your business, making your business more discoverable on Pinterest.
Content marketing consultant Camilla Hallstrom suggests using trending keywords to determine what type of content to create.
"Find relevant keywords by typing in a keyword in the search bar and checking the keyword suggestions you see right below the search bar," she said. "Then, include those keywords in your titles and descriptions."
For insights that may influence what you pin, see Pinterest's Pinsights for Business.
3. Advertise on Pinterest.
Pinterest ads, or Promoted Pins, look like regular pins. The only difference is that you're paying for your pins to be seen by more people.
"You can use geographic targeting so your ad will only be shown to people in your specified area," said Marc Andre, owner of finance blog Vital Dollar. "Depending on the topic and keywords used, Pinterest advertising can be pretty affordable … Some users will see your ad and re-pin it, and you'll get that additional exposure from their re-pin without paying for it."
Promoted Pins can have a snowball effect that drives more visibility to your pin than you're paying for. It's important to make Promoted Pins look helpful and like a regular pin, said Andre.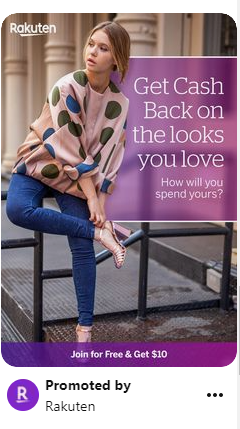 4. Study Pinterest Analytics.
Pinterest Analytics gives you information about those viewing your page and pins. You can learn your audience demographics, the devices your visitors use and your most popular pins. You can also see data on your profile's average daily impressions and viewers, your average monthly viewers, and average monthly engagements.
5. Add the Pin It button to your website.
Have you ever gone to a website, hovered over an image and seen a little red Pinterest button pop up? That's the Pin It button, and it allows Pinterest users to pin your content to their boards directly from your website. Adding the Pin It button to your website makes it simpler to share your content, meaning more people are likely to do it.
6. Create fun, unique content.
There are many ways you can create fun and unique content while promoting your brand:
Create widgets. You can make a widget for each of your boards and promote them on your website. Just click on the three dots by your board's name on the Pinterest desktop app and click the Create Widget button. On the next page, you can decide if you want the widget to appear as a square, sidebar, or header or create your own dimensions. Once you pick a size, copy and paste the code to your website.
Create gift guides. For holidays or other occasions, create a new board that can be used as a gift guide. Include products from other brands as well as your own so it doesn't look like one giant advertisement for your business. Take advantage of Pinterest's special features. For example, in the 2017 holiday season, Pinterest rolled out a feature called Pinterest Secret Santa that allowed shoppers to look for lists of personalized gift ideas based on their friends' and families' boards.
Show off playlists. You're not limited to pinning images. Try pinning music videos from YouTube to create a playlist board. With a huge fitness community on Pinterest, for example, this could be a good way for fitness-related companies to stray from the norm of sharing workout guides and exercise gear.
Make a reading list. Save thoughtful articles and books related to your business with Pinterest by creating boards of all the good reads you think your customers would be interested in. You can also create secret boards with all the articles and books you're dying to read in your spare time so they don't get lost or forgotten in your bookmarks folder.
Do giveaways. If you're holding a contest or promotion, pin it to the relevant boards on your Pinterest page.
7. Use Rich Pins.
Rich Pins are special pins that make using the platform more straightforward and seamless. These pins include information beyond the image, click-through link and pinner's description. Currently, there are four types of Rich Pins:
Article pins: Article pins make it so users can automatically see the article's headline, author, and story description, making them much more searchable and distinguishing them from other content on the platform.
Product pins: Product pins make shopping on Pinterest a lot easier. They show where the product you're pinning can be purchased, the current price, and a direct link to the product page. Product pins' prices update in real-time.
Recipe pins: Unlike a regular pin, which would show an image and a description that the pinner manually enters, these recipe-specific Rich Pins show important information such as ingredients, cooking times and serving sizes.
App pins: Pinterest's newest addition to the Rich Pins family allows you to share and download apps directly from the platform.
You can find out more about applying for and enabling Rich Pins on Pinterest's developer's page.
8. Participate in and create group boards.
A group board is a collaborative board owned by one person who can add others to contribute to it. This is a great resource if you're planning a big event or working on a project because multiple people can look at the board and pin ideas.
It's also an easy way to get your pins in front of a lot of people because more people typically follow group boards. The board owner's audience sees the boards along with any of the collaborators' followers.
"I write relevant blog posts with valuable content, create attractive pins with compelling headlines, and pin them to the relevant boards on my profile as well as larger group boards with tens of thousands of followers," said Kristin Marquet, founder and creative director of Fem Founder.
9. Think of Pinterest as a search engine.
While Pinterest is a social media platform, it has a powerful search function. Many people go on the site to look for something in particular.
"When people are using Pinterest, they are often actively typing in searches to find what they're looking for," said Brian Wulfe, founder and CEO of Effective Spend. "On traditional social media, on the other hand, the audience is passively browsing the site."
Since Pinterest is similar to a search engine, it's important to properly label and categorize each pin and board.
Key takeaway: To be successful with Pinterest for business, utilize Pinterest Analytics, group boards, Promoted and Rich Pins, social media integration and search functions, and trending topics and keywords. 
Kiely Kuligowski contributed to the writing and research in this article. Some source interviews were conducted for a previous version of this article.