As the gig economy continues to grow around the world, new professions have arisen to service the changing technological and economic demands of multiple industries. One such job is commercial drone pilot.
According to a Research and Markets report, companies across myriad industries will spend over $16 billion on drones and drone services and catalyze the drone service market to create 100,000 new jobs by 2025. For prospective drone pilots who are enterprising enough to leap into this novel occupation, work that is both thrilling and profitable awaits.
What does a commercial drone pilot do?
At the most basic level, commercial drone pilots fly drones for companies in a range of industries for varying purposes. Some companies use drones to take aerial photos and videos for marketing purposes, while other companies use drones for aerial surveillance. Commercial drone pilots execute different drone needs for different businesses.
Our research found that most companies hire drone pilots for freelance jobs. Many companies don't employ full-time drone pilots, but bring people in to fly drones for specific projects. This can require a significant amount of travel to work sites.
What's the difference between a drone, a UAV and a UAS?
A UAV is an unmanned aerial vehicle. Another common term used in this industry is UAS, which refers to unmanned aircraft systems. You may see different terminology depending on the source. The Federal Aviation Administration (FAA) frequently uses UAV to refer to drones, while most mainstream media outlets use the term drone, as it's better known to the average reader. For the most part, those terms are used interchangeably.
"UAS," on the other hand, refers to more than just the aircraft. A UAS includes the whole system, including steering and the pilot, so the UAV is a part of the UAS.
If you want to get technical, UAVs are more advanced versions of drones. A $100 drone for recreational purposes won't be referred to as a UAV, but an expensive UAV can be considered a drone. As we mentioned, the FAA uses the term "UAV" frequently, and that's the official term for what commercial drone pilots use.
How much money does a commercial drone pilot make?
The salary of drone pilots varies, especially since many pilots work as freelancers. The hourly rate also varies by project and industry. Glassdoor lists the 2022 annual salary of drone pilots at $70,000. However, per a DroneU survey, rates can land between $800 and $1,200 for a single day of work for the highest earners. It's hard to get an exact estimate of  how much a drone pilot will make, but there is potential to earn hundreds of thousands of dollars per year. Achieving that goal means taking on a significant number of projects, of course.
To become a commercial drone pilot, you will need three things: a drone pilot license, professional drone insurance and a drone.
Steps to become a commercial drone pilot
1. Get a drone license.
The first step in becoming a drone pilot is obtaining a drone license. Selling drone photos without a license could earn you a $1,100 fine from the FAA. The government has mandated that anyone who flies a drone for a commercial, non-recreational or governmental purpose must have a special license to do so. This license is called a Part 107, named after the rule that governs it.
To get this license, you have to register with the Integrated Airman Certification and Rating Application (ICARA), then register online for the written test, which costs $175 and can be taken at an FAA-approved location. These are often local flying clubs or airports. This test involves 60-plus multiple-choice questions that cover setting up, operating and safely using a drone. You must answer 70% of the questions correctly to pass.
Applicants must be at least 16 years old and have a government-issued picture ID. Additional requirements from the FAA include the ability to speak, read, write and understand English, as well as being in the physical and mental condition necessary to complete a drone flight. Depending on your location, you may be placed on a waiting list for a few weeks before taking the test. There are about 700 testing locations in the United States.
To give you some idea of the test's difficulty level, here's a sample question: A stall occurs when the smooth airflow over the unmanned airplane's wing is disrupted and the lift degenerates rapidly. This is caused when the wing:
Exceeds the maximum speed.
Exceeds the maximum allowable operating weight.
Exceeds its critical angle of attack.
The FAA offers an online study guide and a free two-hour training course, which you must preregister for. If that's not enough, there are plenty of sites that can teach you the rules and regulations of flying a drone, such as Remote Pilot 101 and UAV Ground School. The latter offers to pay the fee for your Rule 107 test if you don't pass. Taking practice tests is a good way to increase your knowledge and feel more comfortable when the actual test rolls around.
After you take the test, your score will be uploaded in 48 hours. Then you can apply for your Remote Pilot Certificate. You must pass a background check from the TSA before you can print out a certificate.
The FAA summarizes its process for becoming a drone pilot in six steps. The first three are the most noteworthy:
Schedule your drone test through a Knowledge Testing Center.
Pass the aeronautical knowledge test.
Complete FAA Form 8710-13.
After you complete those tasks and pass your background check, you will receive an email notification. Your remote pilot certificate will be mailed to you. Keep your certificate with you when flying your drone.
2. Purchase drone insurance.
The next thing you will need is professional drone insurance. Don't assume that your home, personal or professional insurance will cover this. Most modern policies exclude drones from coverage. Instead, get a professional drone insurance policy from a company such as AIG or Avion that offers sufficient coverage for any accidents. This should include coverage for your equipment, the cameras that you attach to your drone, and enough to protect you if your drone crashes into something or somebody (which is probably inevitable).
One interesting and usually lower-cost option is Verifly. This company offers policies that you can buy on the spot and provide up to $10 million in coverage. There's even an app that allows you to buy on location for a fixed amount of time. You can purchase drone insurance for intervals as short as one hour.
3. Pick a drone.
Finally, you'll need the drone itself. If you are shooting video for a client, they will want professional-looking footage that has sharp detail and bright, clean color. Although you might be able to get away with a cheap drone like the $789 DJI Mavic Air, you would be better off investing in a larger, more flexible drone, like the DJI Inspire 2 combined with a camera like the Zenmuse X5S. This combination will allow you to shoot the same smooth 4K video that you see on nature documentaries. It isn't cheap, though: This combination will cost you about $5,000.
Whichever drone you decide on, register it. The FAA requires anyone who flies a UAS or drone that weighs between 0.55 and 55 pounds to register their device. Registration costs $5, and you must renew it every three years.
4. Get flying.
You'll need to abide by certain rules as a commercial drone pilot. According to the FAA, the following rules require a waiver.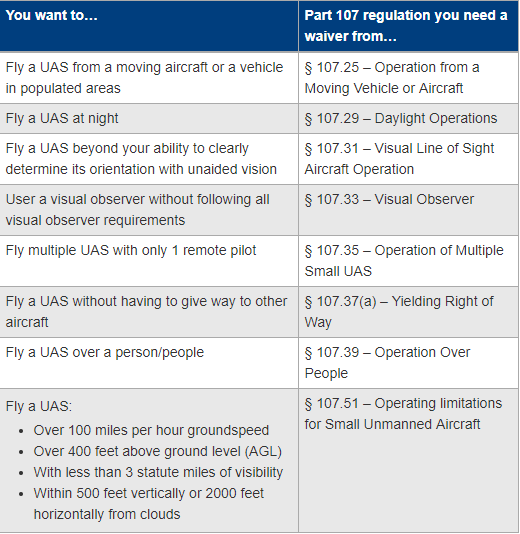 Before you start flying, make sure you're either following all of the Part 107 rules or that you receive a waiver for the above specifications. Look for hands-on training as well, as you're unlikely to land many high-paying projects without proving that you have more than the basic knowledge to pass your drone license test.
A quick Google search should yield dozens of potential in-person training options. It's worth spending the money to take one and learn how to fly your drone properly, rather than trying to become a commercial drone pilot without hands-on training.
Upon following the rules and completing training, you should feel comfortable flying your drone commercially. The more experience you get once you start flying and completing commercial projects, the more money you will be able to charge for your services.
Cool business uses for commercial drones
So far, businesses have used drones largely in video and photography, especially for marketing purposes, but there are many other applications of UAV technology that might surprise you, like agriculture or emergency services.
Here's how some pilots are already using drones, and how they might be used in the future.
Agriculture: Farmers can benefit from drones in several ways. Many in the UAV industry cite agriculture as an enormous area of opportunity for drone technology. Not only can drones save farmers money by helping them identify failing plants early and take inventory of crops, but the machines can also be used to map and study the farmland and its irrigation systems.
Architecture and construction: Architectural firms and construction contractors are also benefiting from the use of drones. Architects can use images and footage of a property to create 3D renderings of the structures they intend to build.
Delivery: Drone-based delivery services constitute one of the most obvious applications. While still restricted to a low maximum load-bearing weight (55 pounds, including the drone itself), delivery by drone is yet another promising application.
Emergency services: Using drones for emergency response services, particularly for medical needs, presents new opportunities for life-saving measures. Using drones to get eyes on a difficult situation, or to deliver medical supplies to stranded victims, could enhance the ability of emergency response physicians to offer care in difficult situations.
Engineering: Engineering firms are also using drones for projects like oil pipelines, transmission cables and maintenance inspections.
Environmental monitoring and conservation: Much like how farmers use drones to monitor crops and animals, drone technology can be used to keep tabs on ecological environments. UAVs are discreet and can monitor animal populations without disturbing them. This type of monitoring offers important insights into conservation efforts, migration tracking, habitat management and flood assessment, which is particularly useful on the coasts.
Media: Another obvious use for drones is in media coverage. Previously, aerial shots were available only to large news corporations that could afford a news helicopter. Now, local journalists and small-scale media outlets can easily capture aerial footage for news coverage.
Training: New technologies mean the need for education and training. Companies like DARTdrones not only train people on how to fly UAVs, but also educate them around FAA regulations and specific use cases.
Online drone courses: For drone pilots with a wealth of experience behind the controller, producing online courses for those interested in drone piloting could be an inexpensive and high-revenue business strategy. Experienced drone pilots can build a curriculum based on topic, industry and level of expertise while generating a steady passive income.
Drone rental services: If you are a drone pilot with a top-of-the-line drone or collection of drones, consider renting your drone out to pilots, companies or other interested parties. Peer-to-peer marketplaces like Fat Llama and Up Sonder provide a forum for drone rental businesses.
Insurance claim processing: According to FAA data cited by Deloitte, 17% of commercial drones are used for insurance claim processing. The crux of this business model lies in the relationships drone pilots forge with local insurance companies and adjusters. Strong business partnerships between drone pilots and insurance professionals can expedite photographic damage assessment and draft reports in record time, allowing adjusters to turn their attention to those who have suffered from loss or damaged personal property.
This year is a good time to become a commercial drone pilot, and the field can be lucrative. It will, however, take some money to purchase the equipment, training courses and insurance necessary to become a pilot. If you want to become a commercial drone pilot, you have to be committed to the startup costs.
Bennett Conlin and Richard Baguley contributed to the writing and research in this article.