Adobe Creative Cloud Express helps individuals without graphic design experience to create a strong brand.
Crafting a corporate identity across the web is an integral part of growing your business.
Formerly Adobe Spark, Adobe Creative Cloud Express integrates all of Spark's tools into a single app for ease of use.
This article is for small business owners or solopreneurs who are looking to create sophisticated marketing materials but have little graphic design experience.
Adobe Creative Cloud Express, formerly Adobe Spark, is a suite of integrated cloud apps targeted to non-designer marketers, solo entrepreneurs, small businesses and professionals who seek a sophisticated way to connect with customers. Adobe's Creative Cloud Pro apps may be too much of a good thing, and Microsoft Word's features may be too little. Businesses that don't have the time for art school or money to hire design professionals can rely on the Express app to make an online splash for a product or service.
Design is integral to branding. Your eyes take 2.6 seconds to focus on a specific element of a webpage when it loads, and you quickly form an opinion based on what you see. If you can't afford a web designer, you can design your website with Squarespace or other DIY web builders.
Adobe Creative Cloud Express offers the opportunity to create branded stories, helping you craft your own corporate identity across graphics, video and web content to connect with customers and generate a following. It provides an easy way to create professional-looking event flyers, Instagram memes, product demo videos, animations, photo journals, and websites for sharing on desktop, laptop and mobile.
Express takes a template-first approach to creating content, providing built-in access to stock images and other assets. It is designed to be more accessible for the typical user than many of the Adobe Creative Cloud apps. While Express is similar to its predecessor, Spark, there are some key differences – the most important of which is that all of its capabilities are unified into one single app, as opposed to Video, Page and Post apps for different needs.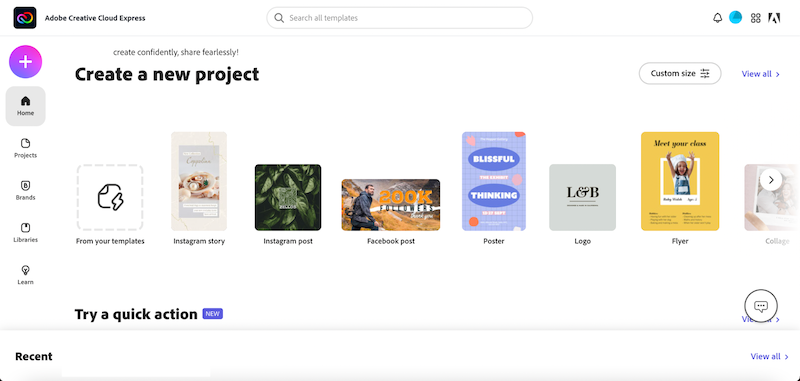 Who can access Express?
Any Creative Cloud subscription – from the $50 monthly package to the $10 monthly Photography plan – offers free access to the Express app. Users can opt for a free version of the app or pay $9.99 per month for a more sophisticated version, which offers additional capabilities and access to a larger stock library.
Free users will have access to a portion of Adobe Stock, the platform's library of images and other assets. About 1 million images and assets are available with the free version. Premium plan users have access to a much larger library of assets, which includes 175 million photos and 20,000 fonts. Premium users can also use Photoshop Express and Premiere Rush, which are separate apps.
The Express app is available free of charge and without subscription for anyone not interested in the custom branding features. Basic editing and photo effects are available for all in-app users as well.
For those interested in the premium plan, there are tons of customizable branding features, as well as photo and video editing capabilities, that will allow you to expand your brand.
Building a brand
You can use your own logo or create an original one in Express. Just upload your current logo into the Express system and then select elements such as colors, fonts and a brand name. Express uses Adobe's artificial intelligence engine to generate complementary color palettes and pair curated fonts to create personalized templates and themes so that your look is polished and professional.
Express will then generate a host of branded templates, themes and surfaces, including business cards, stationery, social media covers, flyers, page headers and footers, video stamps, and outros. Any changes you make are universal across templates. You can also create specific variations so that different logos or themes can represent different aspects of your business or seasonal messages.
With all the competition you face on the internet, just having a website isn't enough. Make your business website a strong part of your brand – and make sure it's mobile responsive – to generate maximum connections with customers.
Get started with Express
1. Launch Express on the web and click Add Brand to open an interface that lets you start creating your brand identity.

Adobe Creative Cloud Express screenshot by David Cotriss

2. If you already have a logo design, upload the file in PNG format. Otherwise, use the tool to help you build a text-based logo. Use a transparent PNG to ensure your logo can be used with any color or patterned background.

Adobe Creative Cloud Express screenshot by David Cotriss

3. Express will take your primary color and generate a palette of complementary colors. Experiment with the colors until you're pleased with the result.

Adobe Creative Cloud Express screenshot by David Cotriss

4. Select your font. Most non-designers are not font experts, but Express lets you select from a slate of curated fonts to find the one that best represents your company.

Adobe Creative Cloud Express screenshot by David Cotriss

5. Name your brand.

Adobe Creative Cloud Express screenshot by David Cotriss

6. After you choose a main font from categories such as Classic, Loud, Clean, or Natural, Express automatically pairs it with a companion secondary font that goes well with your selection.

Adobe Creative Cloud Express screenshot by David Cotriss

7. Express will generate custom templates for numerous types of documents, including business cards, social media covers, flyers, stationery and video stamps.

Adobe Creative Cloud Express screenshot by David Cotriss

8. Choose video and graphic themes to use with any other branding assets so that all your business communications have a common logo, color and font set.

Adobe Creative Cloud Express screenshot by David Cotriss

9. Experiment with variations on your theme – your initial choices are not set in stone. Express makes it easy to alter the look and feel of your branding at any time. If you choose a new font or color setting, the app's style-linking feature automatically updates all the document types and themes that font or color appears on.

Adobe Creative Cloud Express screenshot by David Cotriss

10. To change a single template for a special or seasonal promotion, click on the one you want to use. The Start From control lets you change only that item without applying changes to other templates.

Adobe Creative Cloud Express screenshot by David Cotriss

11. You'll be able to make granular choices in layout, color scheme, background and text. You'll also be able to swap out logos, keeping all changes confined to a certain number of templates. Use template elements to change your design, layout, palette, background and text.

Adobe Creative Cloud Express screenshot by David Cotriss

12. The Express app provides access to video editing tools that let you choose how to brand your videos in the same manner as your posts and pages.

Adobe Creative Cloud Express screenshot by David Cotriss

13. You can adjust many different aspects of Page themes, such as color and font. 

Adobe Creative Cloud Express screenshot by David Cotriss

15. Work on the go. Everything you can do from the web app can also be accomplished on the mobile app for iPhone and iPad. If you enable syncing, all changes automatically appear in all locations.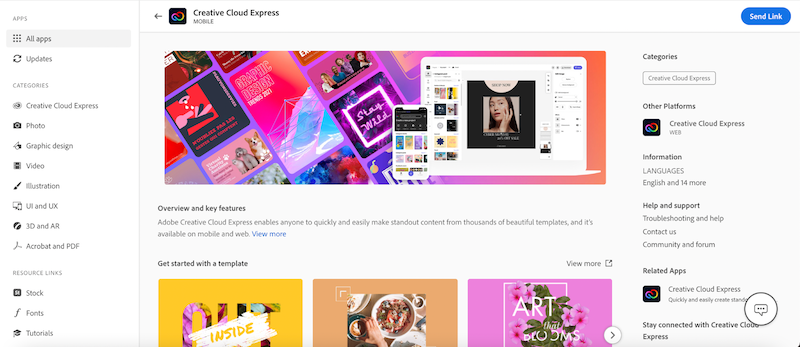 User-friendly design with Adobe Creative Cloud Express
If you're looking for a polished online presence with content that includes graphics, video and web, Adobe Creative Cloud Express may be your alternative to design school. On the Express website, Adobe offers tips on getting started and best practices for using both the web app and the mobile app. If you are already a Creative Cloud subscriber, Express is a no-brainer. If you're not, you don't have to plunk down cash right away. Try Adobe Express apps online or via iOS free of charge to get a feel for what the service offers. If you don't mind Adobe Express branding – the free version won't allow you to remove the Express watermark from your projects –  you never have to pay a dime. However, if you want to push your own brand, Express makes that easy for $9.99 per month.
David Cotriss contributed to the writing and research in this article.