Layoffs continue to pile up across several industries thanks to inflation — and there might be more still to come in 2023.
Professionals in product management, quality assurance and marketing are the most likely to worry about budget and job cuts.
With the right strategies, you can tighten your balance sheet and navigate economic turbulence without letting workers go.
This article is for small business owners seeking advice on how to avoid layoffs, or those who want to execute layoffs properly if necessary.
Massive layoffs — at a pace nearing the early days of the COVID-19 pandemic — have rocked the workforce as the global economy inches toward recession. Within weeks, Twitter, Meta, Salesforce, Goldman Sachs, Amazon and other high-profile companies have laid off thousands of staff as businesses scramble to get ahead.
Small businesses also joined the layoff bandwagon with 15% of employers dismissing workers in December 2022, up from 8 percent the month prior. An average of 74 percent of employers have also instituted hiring freezes, citing rising inflation and labor costs, higher interest rates, reduced revenues, and fears of an impending recession. Still, despite the flurry of firings, some industries are safer than others. 
Where have layoffs occurred already?
While it's hard to quantify the exact number of layoffs in each sector in recent months, data from the U.S. Bureau of Labor and Statistics shows 1.4 million people were laid off in November 2022 alone.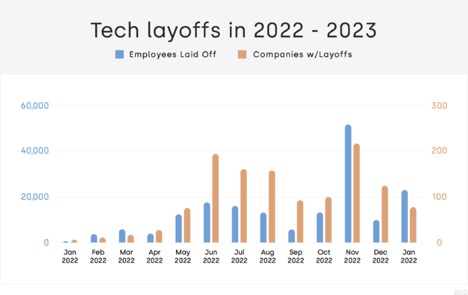 (Source: Layoffs.fyi)
Challenger's Job Cuts in 2022 report found that the technology industry leads the layoff pack, as companies grapple with falling valuations, dipping stock prices and lower funding rounds. Layoffs.fyi, a crowdsourced database that's been tracking tech layoffs since the pandemic, reported that more than 154,000 tech workers were laid off in 2022 — mostly in November. That includes employees at tech majors like Intel, HP and Microsoft Corp.
But the reductions aren't entirely in the tech sector. Several other industries were affected by layoffs, including finance (Citigroup, Morgan Stanley) and FinTech, media (CNN, Netflix), trade, transportation, automotive, healthcare/product manufacturing, utilities, leisure and hospitality, real estate, and construction. 
Where are layoff concerns the strongest?
There are no signs of the job cut trend slowing down. In 2023, an estimated 6 in 10 companies are likely to enact layoffs, affecting 30 percent or more of the workforce. So, who is most at risk for future layoffs?
LinkedIn's Workforce Confidence Index captured the anxiety levels among workers and the specific roles they hold. About 31 percent of the 5,000 U.S. survey participants worry their employer plans to enact layoffs and budget cuts, particularly in roles closely associated with new product rollouts. These include:
Product management: 46%
Quality assurance: 40%
Marketing: 39% 
Finance: 37% 
Information technology (IT): 37% 
These figures coincide with Revelio Labs' findings, which show many job cuts — particularly in Big Tech firms — happened in talent recruiting, sourcing and marketing roles. 
"The majority of laid-off workers either have highly compensated roles or are entry-level recruits," said John Willis, founder of Convert Free and senior software developer. "Waves of layoffs crushed workers in retail, recreation and tourism at the onset of the pandemic. Since there are fewer of those workers available as the pandemic subsides, higher-paid workers are suddenly the ones receiving layoff notices. The IT industry is leading the reductions."
The tech industry is leading the way when it comes to layoffs, though firings are now economy-wide. The workers who feel most at-risk include those in product management, quality assurance, marketing, finance, and IT roles.
Not all workers are feeling layoff pressures
Although layoffs are getting a lot of attention and raising anxiety levels for many, LinkedIn's Workforce Confidence Index report shows they don't represent the overall job market. In other words, not all workers are feeling the layoff jitters equally.
Professionals with the least stress about getting laid off are those categorized as problem-solvers in fields, such as:
Accounting (26%)
Military and protective services (25%)
Community and social services (25%)
Administration (23%)
Legal (22%)
Workers in the tech and finance industries are the hardest hit by the ongoing massive layoffs, particularly those in roles associated with new product rollouts.
What is the economic outlook for small businesses?
Despite the cuts, the overall economy is still creating jobs with the labor market boasting roughly 10.5 million job openings and 6.1 million hires. However, while the overall job market remains resilient, companies are still actively planning for a downturn.
JP Morgan Chase's 2023 Business Leaders Outlook survey found that 65 percent of midsize business leaders in the U.S. expect a recession in 2023. An overwhelming 91 percent of the leaders decry rising costs as inflation bites, with 51 percent thinking it'll get worse now that the midterm elections have passed. Only 8 percent are optimistic about the global economy in 2023, compared to 34 percent in 2022.
NFIB's Small Business Optimism Index shows 32 percent of small business owners cite inflation as the single most important problem in operating their business. Other factors include the dramatic interest rate hikes and rising input costs (supplies, inventory, energy and labor). 
Despite their negative views on the economy, though, most business leaders expect to retain or even add staff in 2023. About 65 percent of leaders are still optimistic about their own companies' performances despite the bleak economic outlook, and 88 percent expect to add or keep their employees. About 86 percent from JP Morgan Chase's survey are bullish about their revenues, while 76 percent expect to increase or maintain their capital expenditures.
Although small businesses are not optimistic about the economic outlook, they are confident their businesses will continue to grow — some even plan on hiring additional employees.
Tips for small businesses to avoid layoffs
Traditionally, employers resort to budget and job cuts during recessions to save money. However, layoffs have detrimental long-run costs, including tarnishing a company's reputation, creating knowledge gaps, lowering employee engagement and customer retention levels, and diminishing trust among workers and customers.
"Our team of employees is the lifeblood of our business, and we'll run a loss before laying anyone off," said Carlson Lang, cofounder & COO, Test Prep Insight. "Other small businesses might not have that luxury, but to the extent you can weather the storm and keep people employed, I believe you'll be better off for it in the long run. This recession may last less than a year, and you don't want to be scrambling for talent at the same time everyone else is when this is over."
Like Lang and the 90 percent of midsize business leaders who expect to hire new staff or keep their current teams, small business owners can potentially avoid layoffs by:
Applying for funding for working capital: Leverage many government programs available to individuals and businesses, like crisis assistance funds, SBA small business loans, grants, or tax deferrals that will improve your situation.
Cutting expenses that don't directly contribute to your return on investment (ROI): Review your discretionary spend and trim peripheral perks, such as office snacks, social events or free laundry services without affecting your work culture or employee productivity. 
Increasing marketing campaigns that generate leads to support sales: Update your marketing strategies and ramp up efforts to generate demand and reach new customers. Perform a thorough analysis before investing to ensure your marketing campaigns will generate an acceptable ROI.
Renegotiating terms with suppliers: Renegotiate contracts with your contractors, suppliers, vendors and other associates to create cost savings for your business. If possible, you can consolidate as much of your purchasing to a single supplier — vendors would willingly work with a buyer who can purchase over longer periods.
Enacting a hiring freeze: Think twice before recruiting new hires and replacement hires. You can reallocate staff to other areas in the organization that have a greater impact on customer value or revenue, ‌ protecting your most loyal employees.
Pivoting to a remote-first policy: 62% of workers feel more productive when working remotely or from home. Adopting a fully remote or hybrid work model can also help you cut down on recurring costs like rent, furniture, utilities and maintenance. 
Other layoff alternatives include offering temporary furloughs, converting employees into contract or temporary workers, shortening work days and implementing flexible working schedules.
Lincoln Electric requires employees to accept flexible assignments — including one with a lower salary — and work extra or shorter hours depending on demand. When orders fell during the Great Recession, the company avoided layoffs by moving some factory workers into sales.
How to lay off employees if necessary
No layoff is good, but sometimes they're necessary if you want your business to survive. The goal is to let workers go as painlessly as possible and avoid public blowback. Some steps you can take include:
Informing the employee directly and privately: Giving layoff notices is always a tough conversation. Let them know it's not their fault, giving as much information as you can. Meet each employee directly — in-person or via video conferencing — and privately. Make it short and polite. Then give them a day or so to process the news and discuss it with their families.
Making a decisive cut, leaving no room for a second round of layoffs: Don't procrastinate over the decision or overpromise employees that their jobs will come back. Try to make your first round of cuts your only one; otherwise, morale could take a big hit and the remaining employees could look to jump ship.
Explaining the decision to your remaining team members and being transparent about the business's outlook: Employees who remain at the company after a layoff are also frustrated after seeing their colleagues go. Recognize their feelings and communicate transparently about the company's situation honestly. Listen while they process survivor guilt and help them shift their focus to their jobs by connecting work to purpose.
Being sensitive to the fact that team members may be upset and offering support: Emmanuel Logedi, owner of Wibblex, says small business owners should handle layoffs with care and concern for the impact on personnel. "Support for laid-off employees, such as outplacement services, may also be beneficial," Logedi said. You can also offer a severance package plus health coverage, assistance navigating unemployment benefits, or allow a transitional period (for those interested) with a retention bonus for staying as they search for new work.  
Lighten the load of the layoff process
Layoffs are always bad news for everyone involved. Consider all your options thoroughly to ensure you exhaust all alternatives before laying off staff. That way, you can make the process easier on everyone while ensuring your leadership and business experience the least damage possible.