Fora Financial offers loan terms of 15 months at most, with an easy online application process and fast funding — plus no collateral or personal guarantees needed. For these reasons, Fora Financial is your best bet for short-term business loans.
Pros
Fora Financial has a quick and easy online application with similarly fast fund disbursement.
The company's maximum loan term is 15 months, minimizing interest payments.
The lender's borrowers don't face prepayment penalties; instead, they could potentially get discounts.
Cons
Fora Financial has a slightly high monthly revenue requirement.
The lender only offers two types of loans, limiting your options.
Businesses with under six months of operating time can't apply for the company's funding.
Short-term loans, like those offered by Fora Financial, are a valuable small business tool because you don't have to worry about incurring a lot of interest over several years.
You should look for a short-term lender like Fora Financial that has an easy online application, quick approval times and fast funding, with flexible loan terms and no extra fees.
We selected Fora Financial as our best pick for business owners seeking short-term loans because the company offers loans of up to $1.4 million with terms no longer than 15 months and has relaxed qualification requirements.
This review is for business owners who are thinking about applying for a loan from Fora Financial.
Fora Financial has extended more than $3 billion in funding to more than 35,000 small businesses since it was founded in 2008. This lender limits its terms to 15 months for short-term loans, won't hit you with extra fees and provides fast funding, all of which are important attributes for a short-term lender. If you need funding to chase a growth opportunity or purchase more inventory, you don't want to wait days to get your money or have to worry about the interest that'll pile up over the years. With these qualities in mind, Fora Financial is our choice for the best alternative lender for business owners in need of short-term loans.
Fora Financial Editor's Rating:
9.4 / 10
Collateral

10/10

Online application

10/10

Quick funding

10/10

Credit requirements

10/10

Variety of loan types

7/10
Why Fora Financial Is Best for Short-Term Loans
Business owners seeking short-term loans will find an appealing lending partner in Fora Financial. The company's online application is easy, plus the turnaround time is quick, the qualifications are low and the loan terms are at most 15 months. Even so, you'll never pay prepayment penalties on a Fora Financial short-term loan — early payment may qualify you for discounts. You won't need to put up collateral or sign a personal guarantee to obtain your loan either, thus minimizing your risk.
We also like that you can use your Fora Financial funds however you see fit, including to cover payroll, inventory or equipment costs. This distinguishes Fora Financial from other lenders that separate short-term loans and, for example, equipment loans. Those financiers may isolate loan products so that they can set higher rates on different loan types and earn more money. In contrast, Fora Financial, which also offers revenue advances, prioritizes loans that won't build up tons of interest in the long run. Profit isn't its main motive. Instead, the company focuses on providing meaningful, short-term small business assistance.
Short-term loans are a popular funding option among small business owners, and there's a good reason why: You don't get stuck paying compounding interest for a long time.
Borrowing Costs
The interest rate on a Fora Financial loan depends on your credit score. The higher your credit score is, the lower your interest rate will be. Fortunately, even if you're stuck with a higher interest rate due to low credit, you won't have to worry about prepayment penalties, and you may even qualify for a discount on the remaining balance if you pay the loan off early.
These prepayment policies distinguish Fora Financial from traditional lenders (and even some alternative lenders) that penalize you for prepayment. It also gives Fora Financial a slight edge over competitor SBG Funding. Whereas SBG Funding only offers prepayment discounts on one of its loan types (bridge capital), these discounts are par for the course with all Fora Financial products.
Interested in loans with amounts, payments and terms adjusted to your needs? Read our SBG Funding review to learn why this lender is our top pick for flexibility, even if it doesn't outshine Fora Financial when it comes to short-term loans.
Once you're approved for a loan, Fora Financial sets up a repayment plan. With its revenue advance product, for which repayment periods vary, the payment is deducted automatically from your business checking account daily or weekly. We like that you have to make frequent payments because it means you'll avoid paying a bigger amount at the end of the month. These frequent payments aren't common with the lenders we reviewed; Balboa Capital requires monthly payments, for instance.
Fora Financial also stands out because, unlike other lenders such as Crest Capital, it doesn't charge a documentation fee. [Of course, Crest Capital has its own merits — for example, we highly recommend reading our detailed Crest Capital review if you're specifically looking for an equipment loan.]
Applying for a Loan
Fora Financial makes it quick and easy to apply for a short-term loan of up to $1.4 million, which is a real plus. The more paperwork-intensive the process is, the longer it will take for you to get the money you need. For short-term borrowers that could mean missing an opportunity or incurring more debt. That's not an issue here, thanks to the company's quick application process. Once you apply, the lender makes an approval decision within 24 hours and, if you're approved, your loan will be funded within 48 hours. This funding time is on par with many other lenders.
To get the process started, you can either fill out an online application on Fora Financial's website or apply over the phone — the paperwork requirements are thankfully limited. The company asks for basic information, including your business's name, email address, phone number, monthly gross sales and years in business. In addition, you need to show three of your business's most recent bank statements. However, you don't need to provide collateral, which is a major upside. Some of our other picks for the best business loans require collateral, which can be concerning for some small business owners.
Fora Financial has relatively relaxed loan qualifications too. To qualify, you need to be in business for at least six months, generate $12,000 or more in gross monthly sales and have no open bankruptcies on your record. That revenue requirement might be hard for some newer or tiny businesses to meet, but we're pleased that Fora Financial requires a credit score of only around 500, which is comparable with some of our other top picks for business loan providers. Noble Funding, for example, sets the same minimum credit score for its short-term loans. Read our Noble Funding review to learn why this lender is our top choice for business owners prioritizing customer service.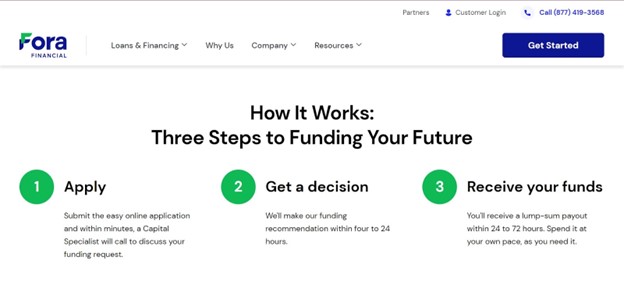 Fora Financial has a simple application process, but you may want to negotiate your business loan once you receive an offer. Source: Fora Financial
Loan Types
Fora Financial offers two types of loans: short-term loans and revenue advances. This is advantageous in that, given its narrow breadth of loan products, Fora Financial is truly masterful at administering short-term loans. However, if you want to try out a long-term loan as well, you'd need to work with another lender. Were you to start with, perhaps, BusinessLoans.com, which also offers long-term loans, this wouldn't be a hurdle. See our BusinessLoans.com review to find out why we named the company our top pick for businesses that want to compare loan options.
All that said, Fora Financial's short-term loans stand out given their lack of prepayment penalties, collateral or personal guarantee requirements and super-short 15-month terms. Alongside these loans, Fora Financial provides revenue advances, which are similar to merchant cash advances but based on your revenue, not credit card sales. You can take however long you need to repay these advances, although the longer you take, the more you pay. [Have you seen our roundup of the best credit card processors? Credit card processing is a vital part of taking in revenue.]
Loan Terms
We chose Fora Financial as our best pick for those looking for short-term loans because its terms for this loan product last only 15 months at a maximum. That means you won't pay as much compounding interest as you would if you were to take out a longer-term loan.
We also appreciate that Fora Financial's loans are unsecured, meaning you don't have to offer up collateral, such as real estate or a piece of equipment, to back the loan. A personal guarantee isn't required, either, which is unusual in the alternative lending marketplace. It means if you default on the loan, this lender won't come after your personal assets.
Fora Financial's brief term length, lack of a collateral requirement and limited application paperwork, combined with the company's one- or two-day turnaround, won us over. When you partner with this financier, you won't have to do much work upfront to get approved, your assets will be safe and you won't accumulate all that much interest over time.
Fora Financial doesn't require tons of documents during its application process, but they could request more documentation, such as tax returns and profit and loss statements, before you're ultimately approved.
Fora Financial Features
| | |
| --- | --- |
| Short terms | Fora Financial's loan terms are no longer than 15 months. |
| Easy approval | Fora Financial has relaxed qualification requirements. |
| No restrictions | Funds from Fora Financial can be used for any business expense. |
Short Terms
One of the reasons we selected Fora Financial as the best lender for short-term loans is that, for this loan product, its terms are capped at 15 months. That means you won't incur interest over a long period or, worse, owe money long after the reason you borrowed the funds has lost its value.
Easy Approval
Fora Financial requires its business borrowers to have a credit score of at least 500 and at least six months of business history. That means this lender is willing to work with borrowers who may have credit challenges. Other lenders, like Fundbox, require credit scores of at least 600, which can be one of the issues keeping you from getting a loan.
No Restrictions
You can use the funds from Fora Financial for any business purpose, such as payroll, inventory, expansion or equipment. By contrast, banks and some alternative lenders typically restrict what you can use the proceeds for. This flexibility means you can rest assured knowing that, whatever your capital needs are, Fora Financial can meet them.
Customer Service
While Fora Financial can provide customer service via phone and email, we were impressed to see the company highlights its New York and Florida office locations on its website for those who want in-person assistance — there are even links to directions. But if you want to stick with phone or email communication, we like that the lender specifies different phone numbers and email addresses depending on your need. Fora Financial also has several valuable resources on its site, including an informative blog, frequently asked questions (FAQs) and case studies.
Notably, Fora Financial has been accredited with the Better Business Bureau since 2011 and has an A+ rating.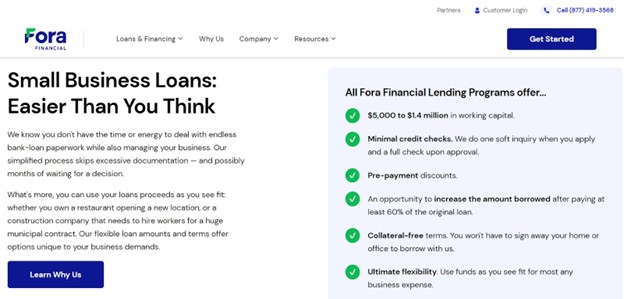 Overall, Fora Financial has relaxed minimum qualifications for its two financial products. Source: Fora Financial 
The more prepared you are before applying for a loan, the quicker the process will be. A lender can promise same-day funding, but if you have to spend extra time digging up the required documentation and uploading it to your computer, it will slow down the entire process.
Drawbacks
Fora Financial's main limitation is that it requires $12,000 in monthly sales, which may be a high hurdle for startups and some very small businesses. Some of the other lenders we looked into, such as SBG Funding, require only $10,000 in monthly sales, which may still be a struggle for some business owners to meet. Meanwhile, SBG Funding and Fora Financial's respective monthly sales thresholds are significantly lower than that of Biz2Credit, which requires $20,833.33 in monthly sales. Still, read our Biz2Credit review to learn why this lender is our top pick for marketplace loans.
The other potential downside with Fora Financial is its lack of loan options — you can only obtain short-term loans and revenue advances through this lender. Other providers, such as BusinessLoans.com, offer long-term loans and credit lines as well. If you're set on short-term loans, this limitation isn't truly a drawback. Fora Financial is your best bet because of its short-term loan expertise.
Methodology
To identify the top lenders for businesses in need of short-term loans, we compared several reputable financiers' repayment periods, approval requirements and application processes. We looked especially closely at lenders that primarily offer short-term products and sought the shortest terms available. We then compared all of the relevant loan providers to find the one that best met our criteria.
Fora Financial emerged as our top pick for short-term funding because its maximum term is 15 months and applying and qualifying for these loans is fairly easy. Plus, Fora Financial is the rare lender that neither requires collateral or a personal statement nor charges prepayment penalties. Loan discounts may accompany prepayment. All of this makes Fora Financial the best choice for any business seeking fast funding it can repay quickly. For more insight on determining whether Fora Financial is the right financing provider for you, check out our guide to choosing a small business loan.
FAQs
Yes, Fora Financial is a direct lender. The company funds and administers all its loans.
Fora Financial launched in 2008, so it's been in business for roughly a decade and a half.
To get approved for Fora Financial, start by completing the lender's short online application. You'll need to provide your three most recent bank statements and, in some cases, financial statements and tax returns.
Overall Value
We recommend Fora Financial for:
Borrowers who want a loan they can repay quickly.
Business owners with low credit scores who may face barriers to favorable loan terms with other lenders.
Borrowers who don't want to provide a lot of paperwork during the application process.
We don't recommend Fora Financial for:
Businesses with fewer than six months in operation.
Businesses that generate less than $12,000 a month in sales.
Business owners who may want to expand from short-term loans into other loan products with the same lender.