Campaigner is the best email marketing software for larger businesses because its features allow them to scale their email efforts at the right price. These features include customizations, automated workflows and social media integrations.
Pros
Customizable features: Email automation, reports, personalization and experimentation are just a few of the customizable features Campaigner offers. For example, you can automate responses, test your subject lines, and segment your contacts to send a foolproof email that's fine-tuned to capture the attention of your target customer.
Automated workflows: Campaigner helps you devote your time to where your business needs it the most. Built-in marketing automation manages the exact emails sent to a certain group and at what time without you monitoring every stage.
Social media integration: You can embed your company's social media feeds directly into your emails, which can boost your engagement through a multichannel marketing strategy.
Cons
A credit card is required for the free trial. Campaigner offers a free trial, but you have to enter your credit card information to access it. Your card will only be charged if you agree to the plan after the 30-day trial; however, most email marketing solutions do not require you to provide a credit card for a free trial at all.
There's no free version. Campaigner only offers paid options, unlike other email marketing solutions we reviewed.

Campaigner is the perfect email marketing software for midsize and larger businesses ready to scale up their email strategies.
Campaigner provides key services for large businesses that other email marketing software programs lack, such as autoresponders and automation workflows.
Midsize and large businesses can use Campaigner to integrate with social media and optimize custom features.
This review is for small business owners considering Campaigner as their email marketing software. 
Many businesses use email marketing to expand their target market, connect with loyal consumers, and scale their brand. While many email marketing tools are available today, few of them provide seamless integrations and quality features that give large businesses the chance to win over their target audience. Campaigner enables marketing teams to do so with ease, creating campaigns in the most manageable way possible for their workflows.
Campaigner Editor's Rating:
9.2 / 10
Pricing/value

8.8/10

Features

9.5/10

Customizations, add-ons and integrations

9.4/10

Ease of use

8.8/10

Customer support

9.4/10
Why We Chose Campaigner as Best for Larger Businesses
We chose Campaigner as the best email marketing software for larger businesses for its ease of use and customizable features, which allow you to increase your email marketing efforts to reach a wider audience.
Campaigner offers functionality its competitors lack, including detailed automation workflows and autoresponders. With these features, you can customize your messages and automate triggers that will send emails based on a date or action you specify. You can schedule an email to send on each customer's birthday, for example, or send a welcome message when a user first subscribes. These triggers come in handy for larger businesses that require follow-ups with multiple contacts.
Campaigner also allows you to integrate your email marketing efforts with social media platforms. For example, you could embed your company's social media feed into emails, encouraging customers to follow you on social as well.
Campaigner offers customizable features that its competitors lack, including automation for triggered emails. It also helps you wade through long contact lists while ensuring each recipient feels valued and engaged with personalized emails.
Usability
Campaigner's drag-and-drop editor is easy to implement into your daily workflow. With over 900 templates, you can customize emails with your company colors, images, and your logo. The platform is easy to navigate as well, with every tool organized into a series of logical drop-down menus at the top of the screen. Even new users should be able to find what they're looking for without much trouble.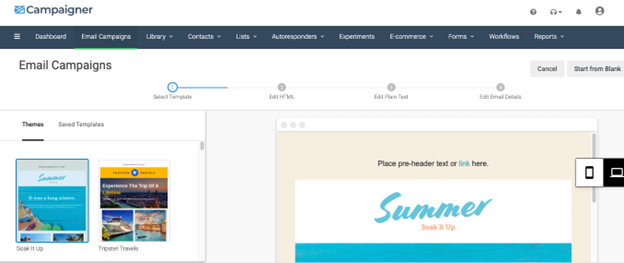 Additionally, Campaigner's Reputation Defender helps ensure your brand's image stands strong. This tool can improve campaign engagement, deliverability, and ROI while ensuring your emails go to legitimate addresses so you don't risk your security. This makes campaign management straightforward, even if you're new to email marketing.
Campaigner Features
| | |
| --- | --- |
| Workflows | Drag and drop elements to create custom workflows. |
| Autoresponders | Send emails automatically with triggers such as a customer's birthday, holiday or customer sign-up. |
| A/B split testing | Create slightly different versions of an email and test each to see which performs better. |
| Full email editor | Use ready-made templates or create your own design for email campaigns using Campaigner's drag-and-drop features. |
Workflows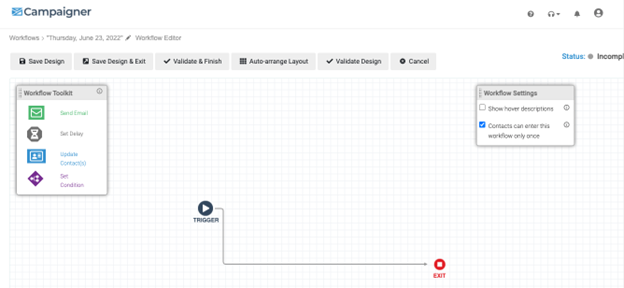 You can create complex email automation sequences with Campaigner's drag-and-drop workflow builder. This effective form of automation helps you and your team customize your own workflows while nurturing leads, winning customers, fostering repeat business, and turning loyal consumers into brand advocates. If you use multiple triggers throughout the buyer journey, your emails will automatically go out for important events – from a customer's first sign-up to their subsequent purchases and other interactions with your brand – or based on metrics you set, such as conversion values or contact fields. You can customize messages based on where a recipient is in the customer journey, tailoring your marketing techniques to their place in the sales funnel.
Autoresponders
Autoresponders are instantaneous emails sent in response to certain triggers. For example, if a customer replies to your email, Campaigner's automation of reactive messaging ensures they aren't left waiting for a response, wondering if you even got their email.
If a customer takes another specific action, such as making a purchase or requesting a demo from you, they can automatically receive a thank-you message, a welcome email, a purchase confirmation, or another automated response you've set. You can also create recurring messages to touch base with your customers, calling attention to renewal notices or incomplete purchases to reduce your cart abandonment rates.
Campaigner's autoresponders let you personalize email messages for milestones such as customers' birthdays or anniversaries. This helps you retain your customers' interest in your emails, no matter how large your email marketing contact list.
A/B Split Testing
A/B split testing optimizes emails to increase engagement, interactions and conversions. With this feature, you can make tweaks to an email and send out the different versions to see which provides a better overall experience for readers. For example, you can test different subject lines, the design of the email, the "from" name, and your call to action.
Campaigner will then detect which version has the best results and send that email to subscribers. Based on the test emails, it can also determine when to send the email for the best open rates. [Learn how to write email subject lines that improve your open rates.]
Full Email Editor
Campaigner's email editor boasts various features, including tables and customizable elements. Using a drag-and-drop editor, plain text, or HTML, you can create your own design or build on Campaigner's ready-made templates to produce eye-catching email campaigns. These templates are fully responsive on all platforms, so you can design your emails on your desktop, smartphone, or tablet.
Not sure how to create a professional-looking email that will draw in readers? Campaigner provides video tutorials on how to create top-notch emails with its editing tools while keeping the process simple.
Campaigner Cost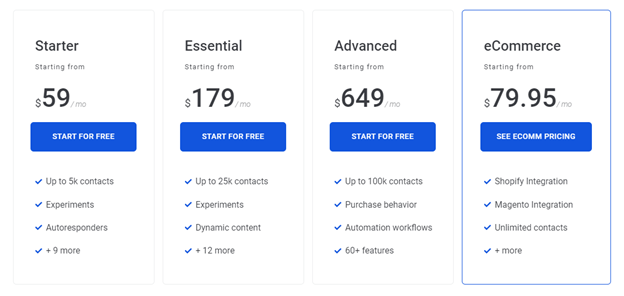 Like other email marketing platforms, Campaigner prices its product based on your number of subscribers. Each Campaigner plan has various features, such as media hosting, a drag-and-drop editor, geolocation, custom footers, A/B split testing, email reports, autoresponders, social media integration, customer segmentation tools, and over 900 email templates.
The Starter, Essential, and Advanced plans can be billed either monthly or annually, saving you 18% if you choose annual payments. These are the prices and features you get with the month-to-month model:
The Starter plan begins at $59 per month for up to 5,000 contacts.
The Essential plan is $179 per month and supports up to 25,000 contacts. It includes the Starter plan's features as well as dynamic content and exclusion lists.
The Advanced plan is $649 per month and allows 100,000 contacts. It has all the features in the Essential plan as well as automation workflows, reports on purchase behavior, API access, static segment sampling and sales engineering.
The additional eCommerce plan starts at $79.95 per month. You can add this on to get Shopify and Magento integration as well as unlimited contacts.
Campaigner does not offer a free plan, but it does have a 30-day free trial that supports up to 1,000 contacts. During this trial, you can access each feature of the paid plans. The free trial requires you to provide your credit card information, though – a stark difference from other email marketing services we evaluated.
Campaigner Setup
Campaigner offers tutorials, tips, and how-to content on its website, making it quick and easy to start working with the platform. Share these setup tips with your team during the onboarding process to make sure everyone knows how to implement the software and how it will fit into their daily work schedule based on their role.
When you implement Campaigner, you can integrate it with Google Sheets and Forms, Eventbrite, LinkedIn, SurveyMonkey, and other platforms to utilize in your email campaigns.
Campaigner Customer Service
You can reach Campaigner by phone, email or live chat on its website. The live chat customer support answered our questions in a friendly and timely manner. Campaigner has further tools in the resource center on its website, including infographics, webinars, video tutorials, and case studies.
Campaigner's customer support team is available from 4 a.m. to 8 p.m. EST, Monday through Friday. In case you have questions outside these times, Campaigner's knowledge base has over 350 articles in over 25 categories and video guides to help you navigate the software, troubleshoot, and make the most of its tools.
Drawbacks of Campaigner
While Campaigner is designed to support hefty email lists, which is perfect for large businesses, it does have its limitations. For example, the 30-day free trial requires a credit card to sign up, and the software doesn't have a free version, unlike other email marketing services. Also, the large price tag may put Campaigner out of reach for small businesses on a budget, so we recommend it for larger businesses with high marketing budgets and lengthy contact lists. [Follow these best practices to maintain your email marketing list.]
Methodology
To find the best email marketing software, we first created a list of popular email marketing platforms and services based on online research. Next, we assessed each service's online reputation and narrowed it down to a few finalists. Finally, we conducted in-depth research by investigating each finalist's offerings, evaluating pricing structures, testing the customer support, watching tutorials, reading user reviews, and even trying out the software when demos were available. Campaigner is our best pick for larger businesses thanks to its ease of use, ability to support massive email lists, and customizable features.
Campaigner FAQs
Campaigner offers two ways for readers to unsubscribe from emails: list-level and account-level unsubscribes. It allows you to choose the method that works best for your business model and your customers.
With the list-level unsubscribe option, contacts can unsubscribe from specific mailing lists (like monthly newsletters or a "daily deals" list). Contacts who choose the account-level option unsubscribe from all Campaigner mailing lists connected to their account.
Campaigner charges you based on your business's number of email subscribers. The four pricing tiers are billed monthly or annually. If you pay for an annual subscription, you receive an 18% discount off the monthly rates.
The Account Owner has full account access. Only one user is assigned to this role.
Designers direct various content capabilities for email campaigns and experiments while using autoresponders, forms, and campaign assets.
Email Marketers have full account access, not including user management settings and user billing information.
List Managers are in charge of sorting contacts, lists, custom contact fields and segments.
Reporting Users can view, manage and export various report types.
SMTP Users can send Simple Mail Transfer Protocol (SMTP) messages – emails sent from one designated email account to another via the internet – and view SMTP reports while managing user preferences.
API Users can use their credentials as authentication for Campaigner's RESTful API.
Overall Value
We recommend Campaigner for …
Midsize and larger businesses.
Businesses with at least 5,000 email contacts and various email lists.
Businesses ready to integrate email campaigns with their social media.
We do not recommend Campaigner for …
Small businesses that don't have many contacts yet.
Businesses with low budgets for email marketing.
Businesses searching for a free version of email marketing software.