NA Bancard is our choice for the best payment processor for high-risk businesses.
Pros
NA Bancard offers merchants free equipment, which saves them money in the long term.
It offers a smooth onboarding process with a dedicated account manager to assist you from start to finish.
NA Bancard can service merchants of any size, type or industry, regardless of their sales or transaction volumes.
The processor gives merchants flexible terms and risk-free month-to-month or three-year service agreements.
Cons
While NA Bancard says it doesn't charge termination fees, some users have complained about being charged without notice. 
NA Bancard's processing fee structure isn't published on its website, which means potential customers must contact the company for more information. 
NA Bancard is our choice for the best credit card processing company for high-risk merchants.
Its free equipment, multifaceted solutions, easy onboarding process and low rates help merchants get set up quickly, seamlessly and securely accept payments, and grow their businesses.
NA Bancard works with high-risk merchants in different verticals, which most credit card processors don't support. 
This review is for merchants in the high-risk category who are considering NA Bancard accounts to process their customers' transactions.
We chose NA Bancard as the best credit card processor for high-risk businesses because it serves merchants of any type, size, industry and high-risk vertical. Besides free equipment, the company offers a full suite of products, services and multifaceted payment solutions, such as credit, debit, online payment gateways, recurring payments, gift and loyalty cards, and reputation management.
NA Bancard Editor's Rating:
8.2 / 10
Pricing

7.5/10

Business tools

9/10

Contract

9/10

Setup

8/10

Customer support

8.5/10
Why NA Bancard Is Best for High-Risk Businesses
We chose NA Bancard as our best pick for high-risk merchants looking for a processor that can support their operations. The company serves merchants of all sizes, types, industries and specific high-risk verticals — something most processing companies aren't able to do. Onboarding high-risk merchants sets NA Bancard apart from big-name competitors like Worldpay and Elavon, which won't touch any of those verticals.
We love that NA Bancard offers free equipment — terminals, card readers, point of sale (POS) systems, and mobile POS (mPOS) — that saves you money in the long run. Not all providers offer truly free hardware, as some are associated with exorbitant costs or other drawbacks. For instance, you may get a "free" POS app or virtual terminal, but the equipment is tied to a contract. We found this in our review of Chase, which requires merchants to sign a long-term contract to use its free Chase Mobile Checkout app. That's why it's important to read your contract's fine print.
NA Bancard also offers invoicing, inventory management, customer and employee management, check services, gift card and loyalty programs, simplified PCI compliance, and reputation management.

NA Bancard's invoicing tool lets you create, schedule, send, and manage onetime or recurring customer invoices that are customized with your brand and business information. Source: NA Bancard
NA Bancard services high-risk merchants in verticals, such as CBD, nutraceuticals, telemedicine, credit repair and debt collection, areas that many of its competitors don't support.
Usability
NA Bancard works with Payanywhere — a one-stop payments platform — and PayTrace for its hardware and software. If you want to set up a NA Bancard merchant account, you'll go through its all-in-one Payanywhere platform's equipment options and feature set to determine what works for your business. 
Hardware offered through NA Bancard also comes from Payanywhere. You can access a free card reader, terminal, and app to accept credit card information. We found the Payanywhere interface easy to navigate with options for printing receipts for each sale, customizing your inventory using custom or specific menus for your type of business, and in-depth reports on your customers and employee activity. 
We also liked its robust smart POS system, which is similar to Clover POS. This system is available for free once you sign up for a NA Bancard account.
NA Bancard Features
| | |
| --- | --- |
| Point of Sale | NA Bancard's free, versatile POS and omnichannel mPOS modernize your storefront, streamline your business, and help you expand sales. You can accessorize with add-ons such as a barcode scanner, cash drawer and printer connectivity, and access to NA Bancard's secure online merchant portal. |
| Credit card reader | NA Bancard offers a free wireless credit card reader that works with mobile devices and takes magstripe cards, Europay, MasterCard and Visa (EMV), and NFC contactless payments. You can also use the Payanywhere Smart Terminal for countertop and on-the-go acceptance or Smart Keypad for EBT and PIN debit payments. |
| Invoicing | Create automated emailable invoices, send reminders for overdue invoices, and use autopay for recurring billing so your customers can pay promptly and you can keep your cash flowing. |
| Check services | NA Bancard has a customized solution for merchants who already accept checks and ACH payments or who want to expand their payment options. |
| Loyalty and gift card program | With NA Bancard's loyalty and rewards program, you'll ramp up consumer spending, drive repeat visits, and increase cash flow. |
| Business management tools | Use NA Bancard's business management tools from its merchant portal or your payment hardware to manage your inventory, customers and employees. |
Point of Sale
Part of NA Bancard's free equipment is its standard POS system, which offers value-adds such as recurring payments, gift cards and loyalty and reward programs, and reputation management. So, NA Bancard is not just a credit card processor but also a software solutions company.
We love that its POS systems can be further accessorized with a cash register and printer, barcode scanning, and access to NA Bancard's secure merchant portal.
Restaurants, in particular, can benefit from NA Bancard's premier MICROS partner status to maximize their profitability. By using innovations, such as the MICROS RES 3700, they can get detailed reporting and analytics, enhanced security, real-time business intelligence tools and more.
Credit Card Reader
During our demo, we learned that NA Bancard's POS, credit card readers, and terminals run on the Payanywhere system. This allows the company to offer merchants software solutions such as gift cards, reputation management, a virtual terminal and more. These free terminals and card readers include the following:
Bluetooth credit card reader 
Smart Terminal
Smart Keypad
Smart PINPad Pro
Smart Flex 
NA Bancard's wide selection of card readers and terminals let you accept magstripe, EMV, EBT, PIN debit and NFC contactless payments. Many of them also come with a built-in printer, cameras for barcode scanning and internet connectivity.
NA Bancard also offers the Ingenico iCT 220 — a small, light payment device that takes EMV chip card and magstripe card payments.
Merchants will benefit from these terminals and mobile card readers because they simplify payments by offering business-specific solutions along with dedicated support in case you encounter any issues with the hardware.
Invoicing
Invoicing is a key feature with many credit card processors. It helps them create automated, emailable invoices from NA Bancard's app or merchant portal and send reminders for unpaid or overdue invoices. 
We love NA Bancard's autopay feature, which lets your customers pay recurring invoices automatically using the card you have on file for them. It's a fast and convenient feature with configurable frequencies and due dates that ensure you get paid so your cash keeps flowing.
You can create one-time or recurring branded invoices with itemized or custom amounts and send them to customers via SMS text or email so you never miss a payment.
NA Bancard offers free dispute management tools within its Payments Hub portal so you can respond to cardholder and card-issuer disputes while mitigating chargebacks. 
Check Services
While most merchants accept cash, card or mobile wallet payments, some — like NA Bancard — still take check payments, even though these are considered outdated. We were impressed by NA Bancard's fast, reliable ACH payment processing and electronic check. This method means you can increase sales and reduce losses from returned checks, credit card processing expenses and chargebacks. 
Loyalty and Gift Card Program
A loyalty and rewards program is a great way to attract new customers, ramp up consumer spending, encourage repeat business, and drive incremental revenue to your store. NA Bancard supports merchants by providing a loyalty and rewards program suited to their business needs. The program is available for multiple locations, works with most credit card terminals, and can be customized to different point and reward levels.
Business Management Tools
A credit card processing company wouldn't be complete without business management tools. NA Bancard provides the following: 
Inventory management tools. Stock tracking, barcode scanning, low stock alerts and exportable reports help get your inventory in order.
Customer management. Receive insights on your number of visits, total sales amounts, customer spending, first-time or repeat buyers, and more to know your customers better.
Employee management. Get employee flash reports on volume and number of transactions, net sales, discounts, taxes, tips, voids, labor costs, and payment methods to keep your business humming.
NA Bancard recently partnered with Virtualitics — an artificial intelligence and data analytics company — to arm merchants with data on hidden patterns and trends. This can help them make data-driven decisions and prevent payment processing fraud.
NA Bancard Cost
NA Bancard doesn't publish its processing fees on its website. However, the company offers different pricing options and models:
Dual pricing or Edge, which covers 90% to 95% of your processing fees
Interchange-plus tiered pricing
Flat rate pricing
Its processing fees are a bit higher than other providers like Square, Helcim and Stax, which means it's expensive for high-volume merchants. But you can get custom pricing based on your processing volume and transaction amounts.
Card-present transactions: 69% 
Keyed-in (virtual terminal and invoices and recurring payments): 49% + $0.19
Apple Pay invoice payments: 69%
A monthly $3.99 inactivity fee applies for merchants who don't process transactions for 12 months. Once they resume processing, the inactivity fee will no longer be charged. If this fee is a dealbreaker for you, we recommend using Square for its pay-as-you-go structure.
NA Bancard offers competitive same-day or next-day funding, weekend settlement, and risk-free service agreements. There are no hidden fees, no forms and no third-party requirements. Plus, you can securely accept payments online, at the counter, or on the go with hassle-free PCI Plus compliance of up to $100,000 in breach forgiveness protection.
We also liked NA Bancard's flexible terms, which allow merchants to pay monthly or sign a three-year contract. Through its Edge program — a comparable version of cash discounting, which is compliant in all 50 U.S. states — NA Bancard can reduce interchange rates for certain payments by including supplemental transactional data for commercial or corporate cards.
NA Bancard Setup
We liked NA Bancard's simple onboarding process. You can complete the merchant application on the company's website or work directly with one of NA Bancard's customer service representatives, who will walk you through the process.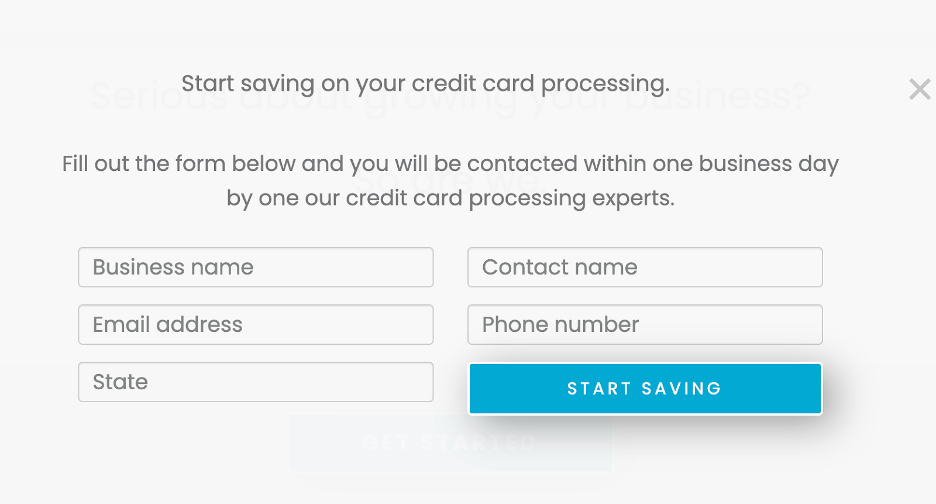 NA Bancard's onboarding process is simple and straightforward. Source: NA Bancard
If you choose to onboard yourself, you'll start by filling out and submitting the online form. NA Bancard will send an automated email acknowledging receipt of your submission. Its payments experts typically reach out within 24 hours, but if you need immediate assistance, you can call their customer support team. 
You can complete your application either online or call NA Bancard's support team for assistance. Once you provide some personal and business information to the account manager, you can select the type of equipment and pricing to complete your application. 
You'll receive an email to review your order, which includes the equipment type and shipping method, as well as a link that you'll click to agree to the company's terms. After signing up, you'll get a free POS device with software solutions for accepting payments and managing your business. 
NA Bancard Customer Service
As a business owner, you need the peace of mind in knowing your processor is easy to reach when you have a query or problem. NA Bancard understands this need, which is why it offers 24/7 customer service for its merchants to get assistance day and night. The processor provides dedicated account managers to walk you through every step, from setup to onboarding to business management, and more. 
We tested NA Bancard's response times by filling out the online application. We received an automated acknowledgement email within a minute or two, followed by an email from an NA Bancard sales representative 10 hours later. This is within the company's 24-hour response window. However, we found this response time much longer than Helcim's — which took six to seven hours — but better than Square's, which took two days.
Unlike Square, NA Bancard doesn't include a live chat feature nor does it maintain a knowledge base of FAQs. We think this is a limitation for merchants who need urgent assistance.
NA Bancard's processing fees are costlier than most processors we've reviewed, but you can negotiate for custom pricing depending on your processing volumes and transaction amounts. Helcim and National Processing are more affordable alternatives for high-volume merchants.
NA Bancard Drawbacks
We like that NA Bancard works with every business, including high-risk merchants that are prone to chargebacks and fraud and who may have a tougher time finding a processor for their needs. Although NA Bancard stands apart as one of the few processors that accepts high-risk businesses, they charge more in processing fees and chargebacks to mitigate some of the risk. 
On the Better Business Bureau's site, some merchants report being charged termination or cancellation fees, while others complain about the company imposing unexpected fees. 
While NA Bancard offers 24/7 support (day and night), it's characterized by long wait periods between messages, which may frustrate merchants when they run into an issue and need urgent assistance. 
Methodology
To conduct this review of NA Bancard's credit card processing service, we spent 30 days researching and conducting interviews and product demos with company representatives. In addition, we trawled review sites to find user sentiments and reviews about the company and its offerings. To make our decision, we used various criteria, such as ease of use, features and processing fees relevant to high-risk merchants. We also reviewed NA Bancard's hardware and software for usability and reliability; scrutinized its contract terms, pricing model, processing fees and payouts; and compared them to other processors we've reviewed. Finally, we tested the company's customer support, evaluating available support channels, agent (chat bot or human) availability and knowledgeability, and response times.
NA Bancard FAQs
North American Bancard (NA Bancard) is a large technology company in the payments business that offers multifaceted solutions, including credit card processing and reputation management, which benefit merchants of any size, type or industry.
NA Bancard uses dual pricing/Edge, interchange-plus and flat rate pricing models. Processing fees depend on the payment method: the fee for card-present transactions is 2.69%, the fee for keyed-in (virtual terminal and invoices and recurring payments) is 3.49% + $0.19, and the fee for Apple Pay invoice payments is 2.69%. Custom pricing is available depending on your processing volume and transaction amounts. 
NA Bancard offers flexible same-day or next-day (one business day) payouts so merchants will always have enough cash on hand to meet payroll, inventory purchases and tax payments.
ProMerchant is an NA Bancard alternative with high approval rates for high-risk merchants in similar verticals, such as gambling, debt consolidation or hemp businesses.
Overall Value
We recommend NA Bancard for …
High-risk merchants.
High-volume businesses.
We don't recommend NA Bancard for …
Businesses with tight startup budgets.
Low-volume businesses.
Seasonal businesses.