Podium Review
Podium's centralized inbox aggregates all communications into one platform.
Podium pricing is customized based on what features you need access to.
Podium has a mobile app that lets you send out review invitations, manage and respond to customer messages, assign conversations, and monitor reviews on the go.
This article is for small businesses that want to learn more about Podium, the best reputation management service for managing reviews.
Unlike other online reputation management companies that incorporate review management as part of an overall strategy, Podium focuses all of its efforts on this area. It has aggregated inbox features, chat-to-text capabilities, and response automation, making it our choice as the best online reputation management service for managing reviews. Podium's software compiles user reviews from multiple review sites into one easy-to-manage platform, so you don't have to search every review site manually for mentions of your business. The dashboard hosts a variety of features that can help you acquire new reviews, promote the best ones and quickly respond to negative comments that need your attention. Instead of providing full-service reputation management strategies, Podium focuses primarily on review acquisition and management, and offers features to enhance your customer interactions.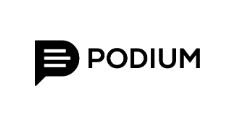 Podium
The Verdict
Podium provides all the tools needed to acquire and manage your reviews across all of the sites where reviews of your business are posted. It is our choice as the best online reputation management service for online review management.
We chose Podium from dozens of reputation management services. To learn more about how we selected Podium and to see all of our recommendations for reputation management services, visit our best picks page.
Podium Pricing and Plans
Podium understands that each business is unique and requires different review management services, so the company offers customized packages (and pricing). Podium has an industry-specific director who analyzes your company, your current reputation, and your desired results and will recommend one of Podium's plans.
When we contacted a Podium representative, they told us the average cost for its small business services ranges from $350 to $450 per month. However, your monthly rate may differ based on your specific requirements and other factors such as the number of locations your business has.
New Podium users must commit to using the service for 12 months. You can pay Podium either upfront or in monthly installments. Podium offers a free starter plan, but its capabilities and the duration of the plan are limited.
Key takeaway: Podium offers customized pricing, but new users must commit to a 12-month contract (paid annually or monthly).
Podium Features
Podium offers a series of review management features that allow businesses to connect with leads, get customer feedback, improve customer service and stand out among the competition. The software centralizes all reviews into one location. Instead of offering additional reputation management services (such as content creation, social media management or press releases), the agency focuses on review acquisition and management to help boost your online image.
Here are some of Podium's primary features:
Review acquisition and management: The Podium platform offers several ways to modify how new reviews are acquired. You can choose from preset review templates or create your own message to send to users, asking for a review. The platform sends text messages to your customers, which they can use to leave reviews directly onto your chosen review sites, such as Google, Yelp or Facebook. The Podium platform lets you set up alerts so you're notified when reviews are published, allowing you to promptly reply to comments that warrants a response.
Customer feedback: Podium has a feature that elicits customer feedback by allowing you to communicate with them via text. This is especially helpful for those who want to quickly resolve customer complaints. The feature comes with functions like feedback scheduling, a Net Promotor Score, automated responses and analytics.


Centralized inbox: The Podium software compiles all your online messaging into one location. This enables you to quickly respond to each message customers send, regardless of whether they are communicating via Facebook, Google, Instagram, text messages or your website. Having a tool to see all your messages in one place can improve your response time and increase customer satisfaction. You can assign conversations to specific business locations or employees, set access restrictions and filter conversations. You can also set automated responses to customers who try to connect after business hours.


Webchat:One of Podium's unique features is its webchat messaging platform. This feature lets you add a widget to your website for customer questions and inquiries. Instead of using a traditional live chat option, customers can leave a name and number on the webchat that you can respond to via text. Text messaging is many consumers' preferred method of communication, and this feature allows you to connect with them when they're not at their computer.
The Podium software is also available via an iOS or Android mobile app, which lets you send review invitations, manage customer messages, monitor incoming reviews and more.
Key takeaway: Podium lets you acquire customer reviews and feedback via text, automate responses, and interact with customers through one centralized location.
Limitations
Although Podium is our choice for the best reputation management software for review management, it has some limitations. One potential downside is the mandatory 12-month contract. Although this may not be a deal breaker for all businesses, many competitors offer month-to-month contracts, which are more desirable for businesses that aren't ready to make a long-term commitment.
Another potential limitation is Podium's lack of additional services. Most competitors offer additional strategies to boost your online image, including search engine optimization, content creation, social media management and press releases. But if you don't need these additional services, Podium is a great choice for helping you generate and manage reviews.
Podium is not an accredited member of the Better Business Bureau and has a D- rating with the agency. However, Podium's negative rating is based on six customer complaints filed over the past three years, and it has several positive ratings from various other review sites.
Key takeaway: Podium does not offer extensive services like content creation, search engine optimization, and crisis management, and instead offers features to generate and manage online reviews.
Podium Customer Service
Podium's website provides helpful resources for potential clients, including reputation management information, customer stories and e-books. If prospective customers have additional questions about Podium, they can contact the company by phone, a contact form on the website or text. Most competitors do not offer text capabilities. When you become a client, Podium provides a dedicated customer success manager, helping to ensure you get the most benefit from the software.
When we contacted Podium, posing as a business owner interested in a review management software solution, we were satisfied with the support we received. When we reached out via the chat-to-text feature, we never received a response from the company, but when we completed the contact form, we received assistance from a representative quickly. The Podium representatives were polite and helpful, answering all of our questions. They offered to show us a demo. We would advise those seeking support to use the contact form on Podium's website.
Key takeaway: Podium customer support can be reached via phone, contact form or chat-to-text.
Image Credit: Rawpixel / Getty Images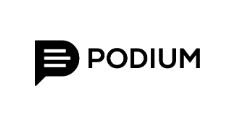 Podium
The Verdict
Podium provides all the tools needed to acquire and manage your reviews across all of the sites where reviews of your business are posted. It is our choice as the best online reputation management service for online review management.

Skye Schooley
Business News Daily Staff
Skye Schooley is a staff writer at business.com and Business News Daily, where she has written more than 200 articles on B2B-focused topics including human resources operations, management leadership, and business technology. In addition to researching and analyzing products that help business owners launch and grow their business, Skye writes on topics aimed at building better professional culture, like protecting employee privacy, managing human capital, improving communication, and fostering workplace diversity and culture.