CyberGhost VPN Review

Jeff Hale
Business News Daily Contributing Writer
Updated Dec 20, 2021
We selected CyberGhost as the best VPN for network size because of its massive network of servers in dozens of countries around the world.
CyberGhost VPN was among the fastest VPNs services we examined.
CyberGhost has a NoSpy data center in Romania that protects against mass surveillance.
This review is for business owners and IT managers who are considering CyberGhost VPN for their virtual private network provider.
A chief concern among users of virtual private networks (VPNs) is internet speed; they don't want their online activity to slow down when they're connected to a VPN. Having a large stable of servers is how VPN providers ensure optimal performance. We selected CyberGhost VPN as our pick for the best VPN provider for network size because it boasts an impressive 7,273 physical and digital servers in 113 locations across 91 countries, making it one of the largest VPN providers in the world and one of the best VPN services on the market.

CyberGhost VPN
The Verdict
CyberGhost VPN offers an excellent mix of speed and geographic diversity, and it emphasizes data protection and online privacy through its Romanian servers.
Although the company was founded in Germany, it is now headquartered in Bucharest, Romania, where the National Supervisory Authority for the Processing of Personal Data guarantees "fundamental rights to private life and to the protection of personal data." CyberGhost also publishes a quarterly transparency report detailing the number of data requests it receives from authorities covering Digital Millennium Copyright Act complaints, malware activity flags and police requests. The company says it does not keep logs or hand over private data to the authorities. 
CyberGhost VPN Editor's Score: 95/100
| | |
| --- | --- |
| Pricing | 95/100 |
| Privacy | 90/100 |
| Speed | 100/100 |
| Network size | 100/100 |
| Customer service | 90/100 |
Why CyberGhost VPN Is the Best for Network Size
With a growing fleet of 7,273 servers, CyberGhost has the largest network of the VPN providers we reviewed. Network size affects speed and server options. While a more extensive network doesn't guarantee higher speeds, it is still fair to expect that a larger network will be less crowded and thus result in better performance for all users. As such, CyberGhost is a top option for businesses that want to ensure their VPN has a minimal impact on internet speeds. 
Another benefit of a massive server list is the likelihood of finding a server near your location to offer the best performance possible. A larger international server footprint also increases the chance of finding an uncrowded network all over the world.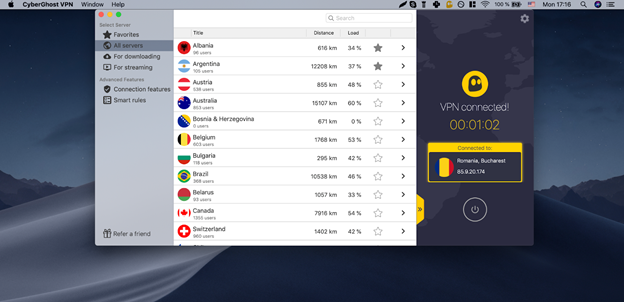 Pros
CyberGhost VPN is one of the fastest VPN services we tested.
It has added layers of privacy, thanks to its NoSpy servers in Romania.
There are many valuable privacy features.
Cons
Access to the NoSpy data center in Romania requires an additional fee for monthly subscribers.
Internet service providers (ISPs) can see that you're using a VPN service.
There's no third-party auditing to verify the company's privacy claims.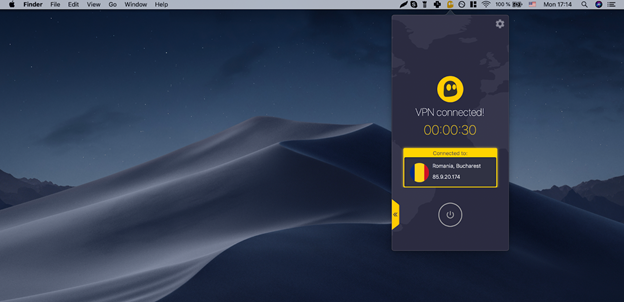 Usability 
Aside from privacy, which is essential, speed is the most influential factor in the usability of a VPN. CyberGhost was among the fastest VPNs we reviewed, reaching a 384.8 Mbps download speed and a 420.8 Mbps upload speed when we connected to a local (San Francisco) server in our tests. Those are relatively minor drops from our non-VPN speed test benchmarks of 557 Mbps and 406.7 Mbps, respectively, in Los Angeles, and it's more than enough bandwidth to handle HD streaming and downloads on multiple devices without interruption.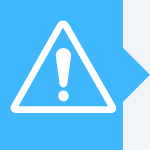 Did you know? All VPN services significantly reduce the available bandwidth on your network. However, variables such as your hardware, location and starting speed determine how much the VPN affects internet performance.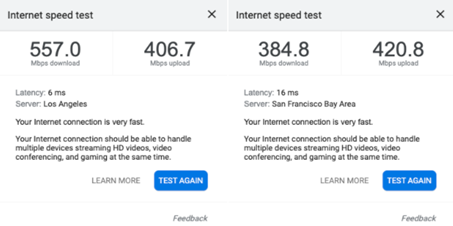 We like how CyberGhost VPN offers a list of servers that are optimized for streaming and downloading; you can find both of these lists on the left-hand side of the main dashboard. However, the process of swapping between networks can be a bit cumbersome. We experienced a few longer-than-expected load times and were forced to restart the program more than once to connect to our desired network. This issue was prevalent on macOS while we used the kill-switch feature and switched between servers quickly.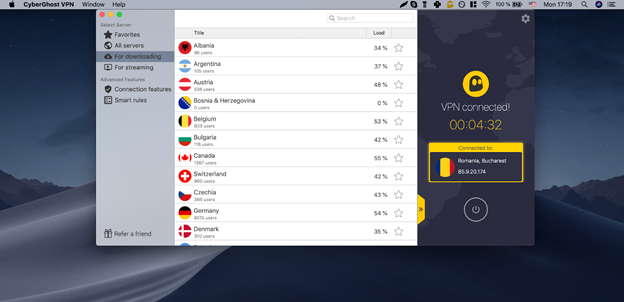 Features
| | |
| --- | --- |
| Massive server network | There are more than 7,272 servers on CyberGhost's network. |
| NoSpy servers | End-to-end management of Romanian servers goes beyond standard privacy levels. |
| Leak monitor and password checker | This service keeps you up to date on potentially harmful data breaches. |
Massive Server Network
With a massive network of 7,273 servers in 113 locations across 91 countries, CyberGhost VPN's mix of physical and virtual servers gives it the most extensive network of the VPN providers we reviewed. This expansive network greatly increases your chances of connecting to a server that's close to your location for the highest possible speeds. The widespread infrastructure also means you can connect to servers thousands of miles away with the reasonable expectation of solid performance all over the world. 
NoSpy Servers
CyberGhost VPN's NoSpy data center in Bucharest, Romania, was built with the stated objective of keeping data safe from mass surveillance and isolated against third-party tampering. These physical servers feature high-performance hardware and a dedicated uplink, thus offering greater speed and performance over other servers across the network. Perhaps most important, these servers are located in an area that does not enforce data retention laws. CyberGhost manages this location end to end to further insulate these servers and their data. Access to these servers costs an additional $59.88 per year for subscribers who don't have an annual VPN plan; annual subscribers get access to this data center's servers.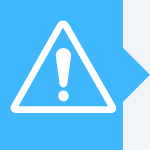 Did you know? CyberGhost VPN's NoSpy data center features 256-bit AES encryption, which adds to the high level of privacy.
Leak Monitor and Password Checker
Other great privacy features, such as the password monitor and email leak monitor, uncovered more exposed account data than some of the similar services we used with other VPN providers, thus leading us to believe CyberGhost was a bit more thorough in its analysis of our test email. If you sign up for these free services, you'll also receive a breach status report every two weeks to keep you up to date on any significant threats to your email address, passwords, names, usernames, IP address, social media profiles, device information, license plates, phone numbers, geographic locations and more.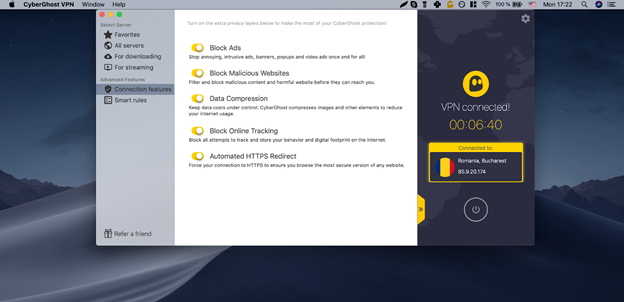 Pricing
CyberGhost VPN offers four subscription options that vary by the length of commitment and price. 
| | |
| --- | --- |
| Commitment length | Cost |
| Month to month | $12.99 per month |
| Six months | $6.39 per month (billed as $38.34 every six months) |
| Two years (first two months free) | $2.25 per month (billed as $58.50 for the first two years and yearly thereafter) |
All plans include unlimited VPN data on seven devices simultaneously, which is slightly above average among the VPN services we reviewed. Add-ons are available, including access to CyberGhost's NoSpy servers for $59.88 per year. You can also get a dedicated IP for an extra $5 per month and the password manager for $3.49 per month. Both are discounted with longer commitments.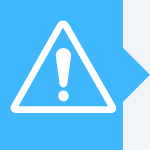 Did you know? All annual plans include a 45-day money-back guarantee and access to CyberGhost's NoSpy servers, while the monthly option includes a 14-day money-back guarantee without NoSpy server access.
Setup
The VPN setup for computers and apps is very straightforward, which was the case with all of the VPNs we reviewed. Once you've downloaded and installed the software or app on your device, you just choose a country to connect to, and click the button. 
It's also easy to customize your preferences by using the drop-down menus for protocols and boxes to check for items, including beta updates and your preferred startup rules. Installing CyberGhost on a router is a bit more complicated and might require some technical expertise or the ability to follow instructions very carefully, as is the case with all VPNs.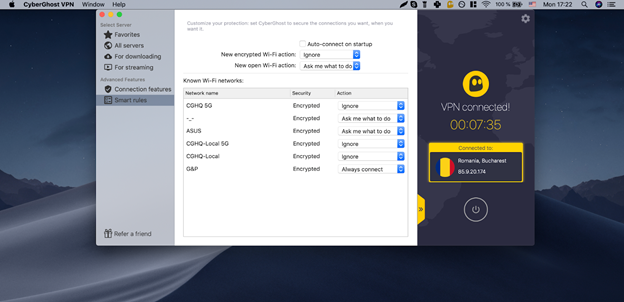 Customer Service
CyberGhost VPN offers 24/7 live customer support through online chat and a robust contact forum with enough details to ensure your problem is sent to the right person for a speedy resolution. Although the company does not list its response time, we were able to get support quickly while using the chat function. Support is available in English, German, French and Romanian.
However, CyberGhost lacks phone support. We would have liked to see this option, as it is a beneficial and efficient way for customers without VPN experience to troubleshoot their issues. 
Drawbacks
Although CyberGhost VPN publishes transparency reports, the lack of recent third-party audits does not necessarily inspire confidence. CyberGhost VPN's parent company, Kape Technologies PLC (formerly Crossrider), has a less-than-stellar history, with a 2016 study conducted by the University of California, Berkeley and the Australian Commonwealth Scientific and Industrial Research Organisation classifying CyberGhost's formerly available free version as malicious after it appeared to show signs of malware. The most recent third-party audit of CyberGhost VPN was conducted by QSCert in March 2012; if you prefer to use a service that has been audited more recently, you may want to consider NordVPN, which was last audited in 2018. Learn more in our full review of NordVPN.
Another downside of CyberGhost VPN is that the lack of obfuscation increases the chances of your intellectual property being tracked and your traffic being seen by an ISP. This is worth consideration in countries where VPNs are heavily restricted, including China, Turkey and the United Arab Emirates. Users with especially high privacy concerns should review the privacy policies of both CyberGhost and its parent company. 
Methodology
We reviewed several of the industry's best VPN services. Over the course of two weeks, we switched between VPN services regularly during our normal web activity across multiple computers, smartphones and other devices. For testing purposes, we most frequently utilized the free trial accounts that many VPN providers offer. In some instances, we paid for a one-month subscription and ensured the money-back guarantee worked as promised where applicable. We examined a number of factors, including speed, features and pricing. When selecting our best pick for network size, we looked for a VPN provider with a large network of servers in locations spanning the globe.
What Is a VPN?
A VPN, or virtual private network, routes your web traffic through an encrypted virtual tunnel, keeping everything you do online anonymous. VPNs can hide your identity and allow you to project your location from physical and virtual servers around the world. A growing number of businesses are utilizing VPNs to provide their remote employees with secure access to company networks. Most VPNs work on computers, smartphones, web browsers, routers and other internet-connected devices.
CyberGhost VPN FAQs
Is CyberGhost VPN free?
No, CyberGhost VPN has discontinued the free version of its VPN service. The lowest-priced option is $2.25 per month.
Is CyberGhost VPN legal?
Yes, CyberGhost VPN is legal in most of the world, including in the United States. Some countries with especially strict internet laws – such as Belarus, China, Iraq, North Korea, Oman, Russia and the UAE – have banned or heavily restricted the use of VPNs. 
Bottom Line
We recommend CyberGhost VPN for …
Users who care a lot about server locations and related laws regarding privacy and data protection.
Users who are looking for relatively high speeds and a massive global server network.
We don't recommend CyberGhost VPN for …
Cost-conscious VPN users who are primarily concerned with general online privacy. 
Residents of countries where VPNs are prohibited. 

CyberGhost VPN
The Verdict
CyberGhost VPN offers an excellent mix of speed and geographic diversity, and it emphasizes data protection and online privacy through its Romanian servers.

Jeff Hale
Business News Daily Contributing Writer
Jeff Hale is a writer and editor based in San Diego with a background in business development and marketing. He has identified new market opportunities for Fortune 500 companies and developed communications strategies and digital branding for tech startups and small businesses. Jeff covers emerging technologies and business solutions with a focus on efficiency and growth. He holds a Bachelor's degree in English from the University of California, Irvine, and an MBA from Chapman University.