Earlier invoice payments mean more cash for expansion, payroll, debt payments and other small business needs.
Companies are offering unique loan options, such as QuickBooks' next-day deposit and Mastercard's Start Path program.
With next-day deposit features for QuickBooks' account holders, your invoices can be paid several days earlier than normal.
This article is for small business owners interested in bolstering their cash flow by taking advantage of atypical offers.
Cash flow can be a major hurdle for businesses of all sizes, but small businesses may be suffering the most. Many small businesses experience an aging accounts receivable with a backlog of overdue payments. Unfortunately, many just lump it up, waiting on payments they need to run their business as liquid capital dries up. 
Editor's note: Looking for information on accounting software? Use the questionnaire below, and our vendor partners will contact you to provide you with the information you need:
Nearly 31% of SMB owners estimate it takes more than 30 days to get paid
Having to wait a month or more for payment is only the beginning of cash flow problems in small businesses, according to QuickBooks' State of Small Business Cash Flow survey. The study found that 61% of companies regularly struggle with cash flow, and nearly a third have been unable to either pay vendors, loans, themselves or employees.
The survey also found that 69% of small business owners surveyed have been "kept up at night by concerns about cash flow."
Approximately 3 in 5 businesses often struggle with cash flow, according to a QuickBooks survey.
[Read related article: Guide to Accounting Ratios and Formulas]
When cash flow becomes an issue, employees can often suffer too. According to the survey, 32% of small business owners have paid their employees late for this reason. Creating a cash flow solution means building in features so that you can get the money you need as quickly as possible.
One cash flow solution is QuickBooks' next-day deposit feature.
[Read related article: Accepted GAAP Rules and Standards for Accountants]
Why small businesses benefit from next-day deposit
Next-day deposit means that small business owners don't have to wait the standard three to five business days for a payment to process, which can have a huge impact on cash flow as expenses mount. 
[Interested in accounting software for your small business? Check out our best picks and reviews.]
Next-day deposit gives small businesses the financial flexibility to deal with a number of natural business expenses, including the following.
Expansion: As you grow your company, you'll likely need to make all manner of purchases. Some of these purchases may be time-sensitive. When that's the case, you'll likely need cash ASAP. Next-day deposit tools can help you get that cash if you don't have it.
Debt: When you're facing a debt deadline after which you'll owe additional expensive fees, fast cash can save the day. Next-day deposit features can offer you exactly that rush of funds you need to service the outstanding debt on your books.
Payroll: When cash flow is tight, some business owners ask their employees to wait longer than usual for pay. Though this approach keeps the business in the black, it can frustrate employees and lead to higher turnover rates. This turnover can prove costly, but next-day deposit eliminates that issue.
Expenses: Occasionally, running a business means facing unexpected, expensive obstacles – like replacing technology. Next-day deposit features can help you cover these costs sooner than later. This way, you can patch up any emergencies before they worsen.
Real estate purchases: Buying commercial real estate is typically quite an expensive proposition. It might cost less in the short term if you can put more money down now. You might find yourself searching high and low for that money. Next-day deposit tools can be a viable solution to ensuring you have access to the capital you need.
Currently, QuickBooks is the only company that offers next-day deposit to its clients in which the company processes invoices. However, it is only a matter of time before other invoice processors follow suit. 
Next-day deposit can help with expansion, payroll, debt, real estate purchases and sudden expenses.
Next-day ACH payments and how QuickBooks can help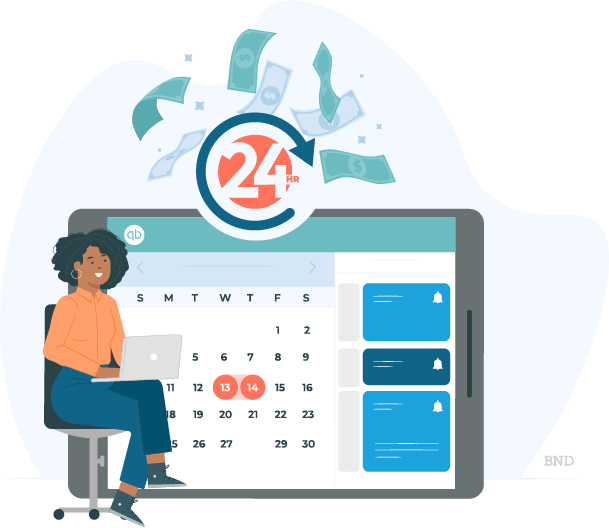 Next-day payments mean small businesses owners can get their money way faster than traditional methods. QuickBooks processes $37 billion in payments every year. By adding next-day ACH payments to its arsenal, it is becoming a leader in B2B payments.
[Related content: Knowing When to Hire a CPA]
"With the addition of next-day payments for credit card and ACH, we are giving small businesses and the self-employed a powerful suite of payments tools that allows them to get paid both fast and affordably," said Rania Succar, business leader for QuickBooks Payments and Capital, in a statement.
Next-day payments provide business owners with the opportunity to get started on projects faster, pay workers on time and manage their businesses more effectively. If, for example, you operate on a payment structure of 50% upfront and 50% due at the end of a project, you'll be able to use that first payment for materials, overhead costs and labor costs almost immediately.
Of course, this new feature is only relevant to your business if QuickBooks is processing invoices for you. As of right now, QuickBooks is one of the only major payments solution providers offering next-day funding.
The future of small business payment
As technology develops, banking and lending are two areas where new solutions are emerging to meet small business needs. Mastercard is one major solutions provider that is investing in the future of SMB payments.
Mastercard's startup program, Start Path, has nurtured countless startups with big banking and loan ideas for the small business space. While B2B technology was once overlooked compared to its B2C counterpart, companies like QuickBooks and programs like Start Path are forging ahead to push the industry discussion forward. [Check out our full review of QuickBooks Online.]
Cash flow is a big issue for small business, and companies like QuickBooks and Mastercard are striving to find an answer for it. If you're not using QuickBooks or another Intuit product for your business, it's important to learn more about how your business can benefit and if next-day payments or other solutions are ideal for your company. [Read related article: Billing Best Practices for B2B Companies]
Max Freedman contributed to the writing and research in this article.